Weekly News
A Place of Grace -April 10, 2021
All-Beethoven Piano Concert Coming
Join us Saturday, April 24th at 7pm to hear Sam Rotman, an accomplished professional pianist. He'll be treating us to his All-Beethoven Concert.
Our Church Family Fellowship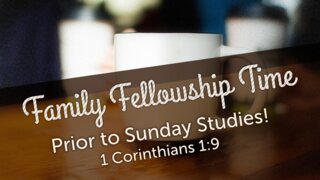 After an unprecedented year, it is great to "get back together." Join us after the morning worship service for a church-wide family fellowship time before Sunday Study Groups meet at 10:30am. Enjoy coffee, tea, and donuts and catch up with one another after a busy week.
Reading Plan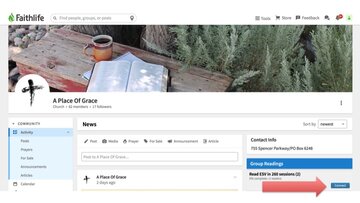 Join our church family as we read through the New Testament. To join go to your faithlife page, the A Place of Grace Group and check the activity feed or look under group readings on the right and choose CONNECT.
Missions: New Church Plant!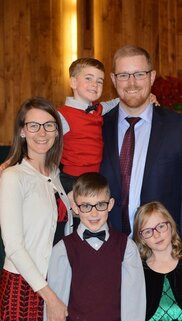 Pastor Ryan King and his family are excited to be heading up the new church plant they are a part of--along with our church! Pastor Ryan shares some updates with you all here at this link. We will continue to keep you informed and up to date on how God is doing some amazing work through you and the churches on the front range in reaching communities for the Lord!
Our faith story in an ABC board book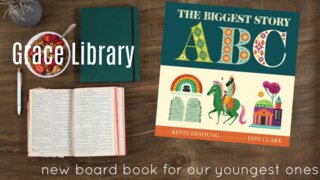 Parents, check out this amazing ABC board book to share The Biggest Story with your child. See HERE for more detail.
The print and MEDIA libraries are open on Sundays between the morning worship service and Sunday Study Groups. Come browse the shelves and check out books, magazines, DVD's and audio items in the back of the sanctuary and in the fellowship hall.
You may also come in to the church on Tues, Thurs, or Fri., from 10-2 or contact the office (285-9862) to request an item before Sunday and the office can set it aside for you to pick up.
You can browse our library online by clicking HERE: you can also get here anytime by going to the church website at aplaceofgracegbc.com . At the top left triangle menu click: "connect," "resources," and then "search our library."
Prayer Life @ Grace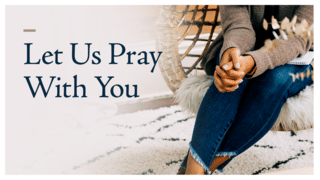 Want to stay up-to-date on prayer requests of the Grace Bible family? Go to the church app and click on prayers or visit the activity page at faithlife HERE. You can share a request by e-mailing the office@aplaceofgracegbc.com.
Want to connect with Grace online?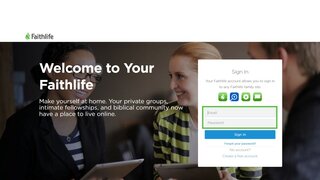 Connecting with our church family online all begins by getting a faithlife membership at faithlife.com, then adding "A Place of Grace" under groups . Besides having a place to read and share prayer requests (and so much more) you may get free access to faithlifetv and Logos Bible study. Contact the office if you need any assistance. We're happy to help (285-9862)
Our Grace Bible Church app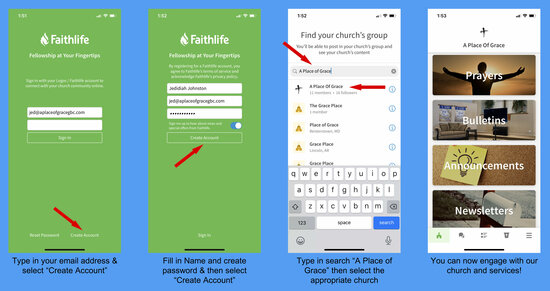 Want to stay caught up with what's happening at Grace? See this...
A PLACE OF GRACE
Our address is: 755 Spencer Parkway/PO Box 6248