Weekly News
Place of Grace -April 24, 2021
TONIGHT* All-Beethoven Piano Concert
Join us Saturday, April 24th at 7pm to hear Sam Rotman, an accomplished professional pianist. He'll be treating us to his All-Beethoven Concert.
VBS Workers: T-shirt Transfers
Would you like a t-shirt transfer for VBS? Purchase or use a t-shirt you already have and let the office know you'd like a transfer ($1) by May16th and we'll get you one to iron on. (285-9862 to leave a message)
Needs for VBS
Please see the master list in the entry (so we don't have duplicate purchases) to sign up for items needed for VBS this year. Here's the list:
-Toilet paper rolls / paper towel rolls
- 160 - 8" X .5"skicks
-240 Little Bells
- 6 Lg. Bags of Sand
- Foam Sheets Different Colors
- 240 Little Sea Shells
- Acrylic Paint
- Jewels
- 480 Individual Address Labels
- 80 Magnets / Roll
- Paper/ Feed Bags
- Black/ Brown/ Red/ Orange/ Green Spray Paint
- Chocolate Gold Coins
- Treasure Chest
- Palm Leaves
- Brown Packing Paper
- Blue/ White/ Tan Rolls of Bulletin Paper
- Iron on Printable Sheets
- Palm Trees
-Flower Lays
- Box of Individual Bags of Skittles
- 500 - 5oz. Clear Plastic Cups
- 80 Small Red Cups
-80 Small Gray Cups
- 240 small individual plates
- 160 Clear Plastic Spoons
- 8 Large Boxes of Blue Genatin
- 300 Individual Sea Creature Gummies
- 6 Lg. Cartons of Whipping Cream
- 8 Lg. Boxes of Whale Cheddar Crackers
- 8 Lg. Boxes of Bugle Snacks
- 160 googly eyes
- Gray Foam Sheets
- Lg. Bag of Powdered Sugar
- 5 Lg. Bags of Individual Rolos
- 4 Lg. Bags of & Pretzels
- 6 - 16oz. Soft Cream Cheese
- 3 cups of Parmesan Cheese
- Salt
- 6 Lg. Bags of Pretzel Sticks
- 6 Lg. Flats of Golden Sandwich Cookies
- 80 Capri Suns
- 2 Lg. Containers of Blue Tropical Punch
- 2 Lg. Containers of Pink/Yellow Lemonade
- 4 Lg. Bags of Hershey's Nuggets (No Nuts)
- 6 Lg Boxes Instant Vanilla Pudding
- 2 Gallons of Milk
- 1 Lg bag of Mini M&M's
- 4 Different Color Sand Pails w/ Shovels
- 4 Different Color Towels
- 4 Different Color Flip Flops
-4 Different Color Sunglasses
- Borrow a Lg. Sprinkler
- Water Balloons
-4 Different Color Beach Balls
- 4 Bug Nets
- Old Socks
- 4 Lg. Fishing Nets
- 4 Lg. Rubber Fish
- Lg. Sea Shells (Borrow)
- 12 - 6in. foam/rubber balls
- 2 Lg. Balance Beams/ Wood (Borrow)
- 70 Black Balloons
- Lg. Cardboard Boxes
- 4 Lg. Squirt Guns
- 4 - 8X10 Tarps (Borrow)
- 6 ropes (Borrow)
- 2 Med.Swimming Pools (Borrow)
Missions: New Church Plant!

Grace Bible Church of Parachute was a church plant before we ever became a church and we, in turn, have been a part of planting churches. At an IFCA meeting it was noted that there was a need for another church plant on the front range and all churches were encouraged to begin praying and supporting this endeavor.
God has been moving things VERY quickly in response to prayers and the plant already has a pastor. Also, an opportunity has arisen from a church who were going to close their doors... for the plant to take over their building and for those who want, to join the new church that's just beginning!
Please be praying for their upcoming first meeting as a new church as Peak Bible Church, for Jesus to be the center of their planning, for all the details as they work on founding documents, choose leadership, and more.
Pastor Ryan King and his family are excited to be heading up the new church plant they are a part of--along with our church! See updates with Pastor Ryan HERE.
See HERE for all missions updates.
Library: Being a Light in the Darkness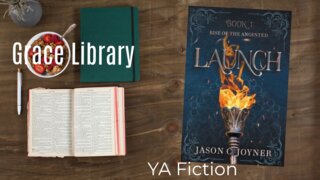 A new youth fiction series is out. Check out Book 1 by Jason C. Joyner. See HERE for more detail.
The print and MEDIA libraries are open on Sundays between the morning worship service and Sunday Study Groups. Come browse the shelves and check out books, magazines, DVD's and audio items in the back of the sanctuary and in the fellowship hall.
You may also come in to the church on Tues, Thurs, or Fri., from 10-2 or contact the office (285-9862) to request an item before Sunday and the office can set it aside for you to pick up.
You can browse our library online by clicking HERE: you can also get here anytime by going to the church website at aplaceofgracegbc.com . At the top left triangle menu click: "connect," "resources," and then "search our library."
Youth Coffee House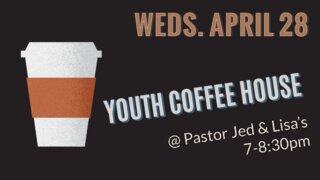 Youth grades 6-12 are welcome to coffee house at Pastor Jed and Lisa's on Weds., April 28 from 7-8:30p.m. See you there!
Prayer Life @ Grace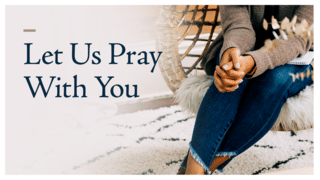 Want to stay up-to-date on prayer requests of the Grace Bible family? Go to the church app and click on prayers or visit the activity page at faithlife HERE. You can share a request by e-mailing the office@aplaceofgracegbc.com.
Want to connect with Grace online?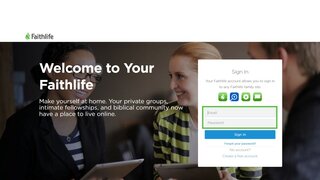 Connecting with our church family online all begins by getting a faithlife membership at faithlife.com, then adding "A Place of Grace" under groups . Besides having a place to read and share prayer requests (and so much more) you may get free access to faithlifetv and Logos Bible study. Contact the office if you need any assistance. We're happy to help (285-9862)
Our Grace Bible Church app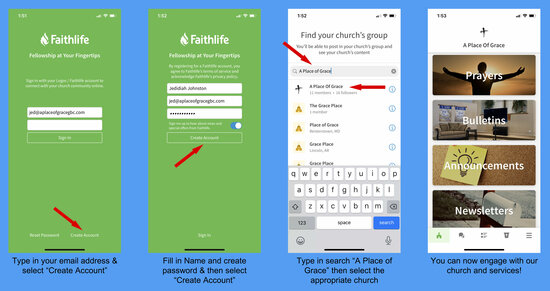 Want to stay caught up with what's happening at Grace? See this...
A PLACE OF GRACE
Our address is: 755 Spencer Parkway/PO Box 6248