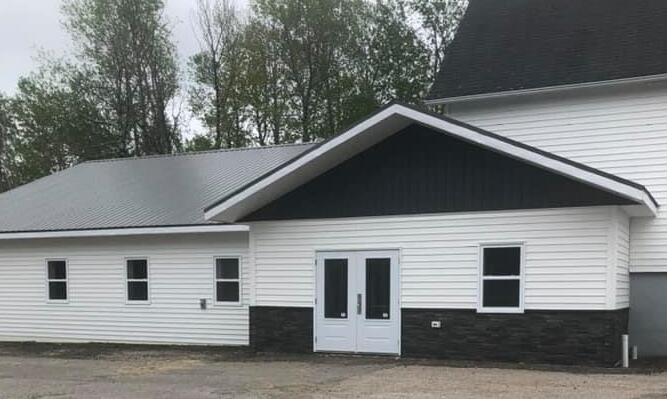 Bear River East Baptist Church (NS)
Weekly Info
Weekly Bulletin for May 29, 2020
Bear River East Baptist Church (NS)
Weekly Info May 29, 2020
Hello Folks:
Another week has gone by and here in Nova Scotia we are slowly seeing COVID-19 restrictions being eased a bit. However, to this time no information has been released as to when we will be able to come together as a congregation.
If you have driven by the church recently you will see the exterior of the new addition finished with siding. The entrance to the new section was finished on Thursday. It looks really nice and thanks goes out to all who were able to make this possible. Thanks goes to Ken Trimper for taking pictures and allowing us to use them on our Facebook Profile and Website Page.
The interior of the building is being finished little by little and soon will be ready for occupancy when the restrictions are dropped. It is a time that is difficult to wait for.
You are receiving this bulletin info through email, but it is also posted on our website. Go to bearrivereastbaptistchurch.com. and click on connect and then bulletin. You will see a picture of the new addition to our church at the top of the page.
Prayer Requests:
Annapolis Royal Nursing Home: Dot Wright, Don Cress.
Wolfville Nursing Home: Emily Bigelow
Mountain Lea Lodge: Alice Trimper
Our Community & Beyond
Debbie White, Marilyn Robinson, Fred & Lois Cress, Marion Mullen, Joan Corkum,
Listed below are the upcoming birthdays :
June 8 Angie Wright
June 16 Joan Corkum
June 17 Sandi Aitken
June 17 Ashley Barteaux
June 21 Wendy Carter
June 25 Austin Gillis
While we are in self-isolation please give the person celebrating a birthday a call, email or message to wish them a Happy Birthday.
Our Tithes & Offerings:
Offerings for this past week amounted to $1255.00. As pastor I am honoured and proud to be part of a church family that supports the work that we are doing together. May God richly bless you in the coming days!
Weekly Devotional - When We Can't, Jesus Can
John 9:3 (NIV2011)
3 "Neither this man nor his parents sinned," said Jesus, "but this happened so that the works of God might be displayed in him.
Because the man was born blind, his chances of working were limited. in his day people didn't have much use for blind people, so his only real option was to beg for a living. It was humiliating. most people who saw him assumed that God was punishing him, either for his sins or for the sins of his parents. He had done nothing to deserve this.
The truth is, neither the blind man's sin or those of his parents had anything to do with his condition. On the contrary, his condition was a matter of divine appointment. His problem was to intersect with the life of Jesus.
Jesus used the blind man's situation to display his own power. Healing got people's attention. Jesus often did this to show to people that he had power to forgive sins. This was exactly what happened that day.
Jesus can use our deficiencies and setbacks to put himself on display in our lives. Our physical shortcomings, our emotional scars, and our lack of ability are all areas where Jesus can make himself know.
When we can't, Jesus can. When we are weak, Jesus is strong. The thing that we may wish was different about our life, may be the very thing Jesus wants to use to do his greatest work.
May our prayer be, Lord, enable me to see the value of my life, especially in the areas that don't seem to work the way that I think they should.
God Bless You, Stay Safe
Pastor Fred
Let us get to know you!
Please take a moment to send us your information so that we may stay connected with you. Your information is carefully managed and protected.
How did you hear about us?