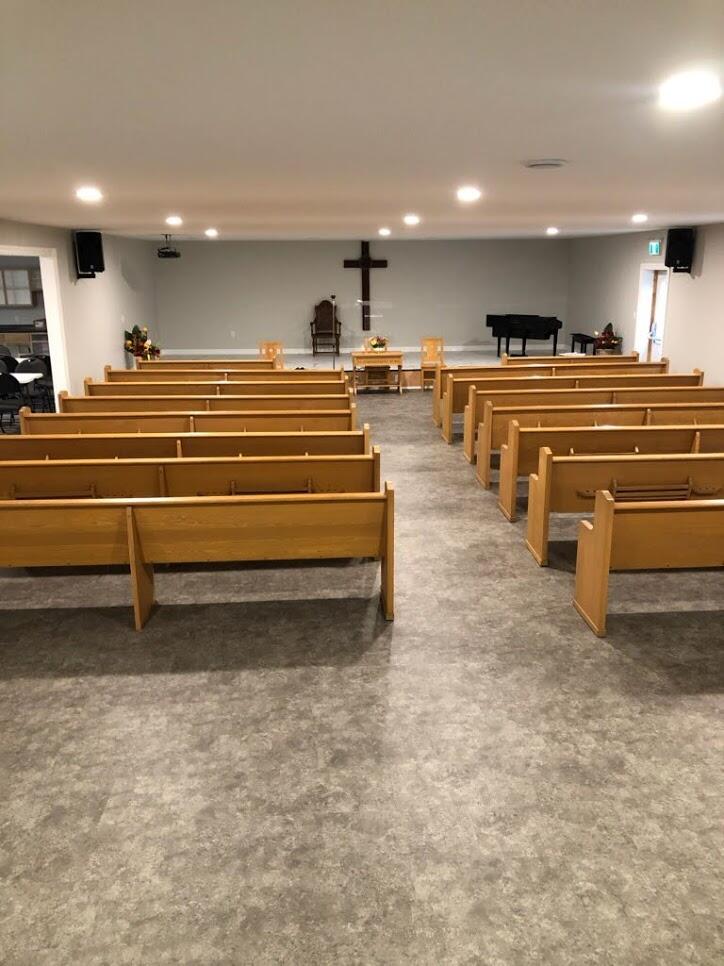 Bear River East Baptist Church (NS)
Weekly Info Sheet
Weekly Info Sheet June 12, 2020
Hello Folks:
Hope this info sheet finds you doing well and enjoying the warmer weather. Summer is on its way!
The new addition to our church is getting to look more like a church as each day passes. much of the furniture from the church has been moved down into the new sanctuary. The Above picture taken by Ken Trimper shows what it looked like after the pews were brought down Tuesday evening. Thanks goes out to all those who helped in any way this pass week, to make the new church closer to being ready when restrictions are lifted.
Bible Study on Thursday was live streamed on Facebook from the new sanctuary and we plan to live stream Sunday's message from there as well.
You are receiving this bulletin info through email, but it is also posted on our website. Go to bearrivereastbaptistchurch.com. and click on connect and then bulletin.
Prayer Requests:
Annapolis Royal Nursing Home: Dot Wright, Don Cress.
Wolfville Nursing Home: Emily Bigelow
Mountain Lea Lodge: Alice Trimper
Our Community & Beyond
Cliff Jones, Debbie White, Marilyn Robinson, Fred & Lois Cress, Marion Mullen, Joan Corkum,
Listed below are the upcoming birthdays :
June 8 Angie Wright
June 16 Joan Corkum
June 17 Sandi Aitken
June 17 Ashley Barteaux
June 21 Wendy Carter
June 25 Austin Gillis
While we are in self-isolation please give the person celebrating a birthday a call, email or message to wish them a Happy Birthday.
Our Tithes & Offerings:
Offerings for this past week (June 7th - June12th) amounted to $690.00. Thank you for your Tithes and Offerings. May God's richest blessings be upon you!
Upcoming Events
Sun. June 14, @ 10 AM Pastor's Message will be Live streamed on Facebook from the new sanctuary.
Thurs. June 18th Bible Study on The Gospel of John 6:1-21. This study will be uploaded on to Facebook and Youtube for viewing on Thursday.
Sun. June 21st @ 10 AM Pastor's message Live Streamed on Facebook.
Weekly Devotional - God Speaks To Us
John 1:1 (NIV2011)
1 In the beginning was the Word, and the Word was with God, and the Word was God.
From the first pages of Scripture, God speaks. every time he says a word, things happen. in Genesis He says, "Let there be light," and light comes into being and He keeps talking until our entire universe is filled with order and life.
He calls out a people from among the nations and reveals His purposes through them. He chooses prophets to deliver His messages when those people are in danger and need to return to Him. And when He sends His own Son to live among us, the Son is called "the Word." It is very plain and clear that we do not serve a silent God.
Many people cannot say with any certainty that God still speaks today, much less to them personally. They can accept His written Word as His voice, of course only for those who will read it. But for personal conversations and direction, they search and strain to hear it. As Christians we are told that God is quite vocal, even if our experience tell us He isn't.
To be able to hear God we have to believe that He still speaks today. We have to be convinced of that in order to press through the frustrations on the way to hearing Him. Low expectations will undermine our efforts. If we know He is the Word who always has something to say, we will not give up easily in our attempts t hear Him. Most of all we will believe, which is necessary to receiving anything from God. Faith opens our ears.
Believe not only that God will speak, but that He is speaking to you. He calls you into relationship, and relationships are based on communication. Conversation with God are normal, we were designed for them. Believe and listen and know that you will hear.
Pray and ask the Living Word to speak to you. Ask that He might open your ears to hear. Listen for the sound of His voice and know His thoughts. In faith, listen!
******************************************************************
That's all folks for this week's Info Sheet. May God's richest blessings be with you in the week to come.
Please let us know how we are doing and if there is anything we can do for you during this time in our lives.


In Service for Christ,
Pastor Fred
Let us get to know you!
Please take a moment to send us your information so that we may stay connected with you. Your information is carefully managed and protected.
How did you hear about us?