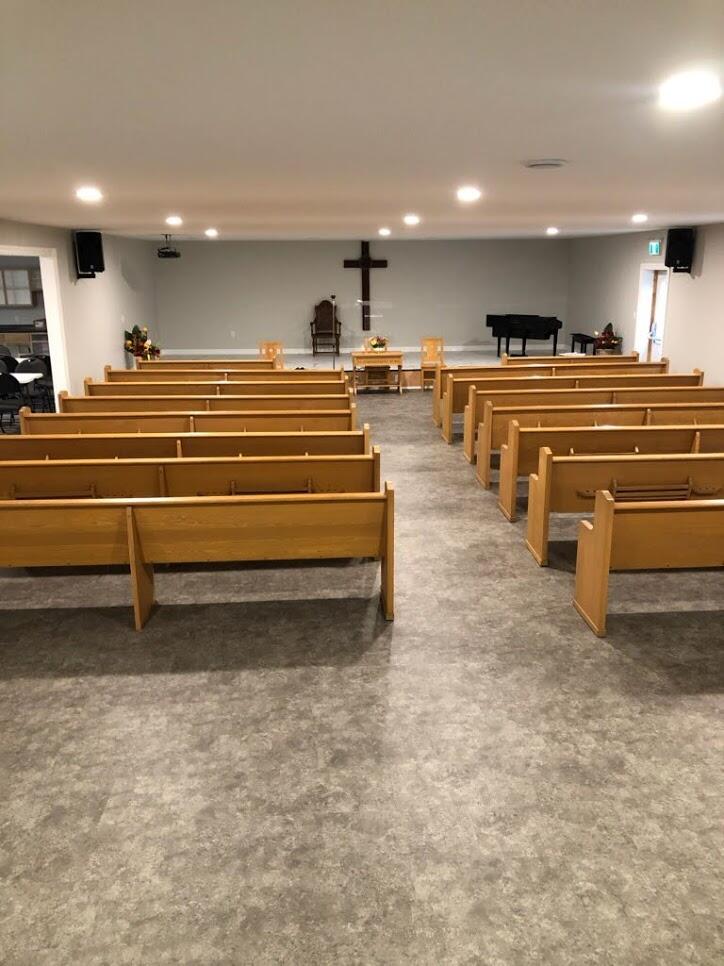 Bear River East Baptist Church (NS)
Weekly Update
Weekly Bulletin July 31, 2020
Hello BRE Baptist Church Congregation:
We are starting the month of August which being the second full month of summer. Many of us are not able to do the regular things that we would normally be doing. in the summer months. Sports are being played with restrictions, no large gatherings such as concerts, no exhibitions which many of us enjoy this time of year.
Also, in the upcoming month children and students would be preparing to go back to school and higher levels of learning colleges and universities. This year with the pandemic still in our midst the excitement about going to school and higher levels of learning has been taken over by fear and uncertainties.
This is also being carried over into the church as we look at how we will shape our ministries for the future. We have opened Sunday with the restrictions laid down by the Nova Scotia Health Authority. We are planning to have Bible Study in September and the rules for the study will be given then. We may have to think of setting up small groups.
In our worship services starting this Sunday, all who attend are encouraged to wear a non-medical facial mask unless for medical reasons one cannot do so. Singing is not encouraged by the Health Authority at this time and worship is not quite the same without it. We are trying to see how we can include singing in some form. We are using videos when we are not live streaming the message.
The weekly online bulletin and info sheet will continue for a while yet as we are not to be passing out paper bulletins at church. I know that makes it difficult for those who like to have the bulletin with them during the service. If you are planning to be at worship and want to follow along, you will need to print the order of service from this email.
BEAR RIVER EAST BAPTIST CHURCH
WORSHIP SERVICE
AUGUST 02ND, 10 AM
We will be meeting for prayer before the service at approx. 9:45 AM in the area for the pastor's office.
ORGAN PRELUDE
WELCOME
PRAYER
INSTRUMENTAL MUSIC & MEDITATION:
1. Father God 141 GB
2. Jesus is Lord of All 599 GB
3. Holy Spirit, Thou art Welcome 387 GB
Robert's Pick
LIVE STREAMING ON FACEBOOK WILL BEGIN AT APPROX. 10:15-10:20 AM
WELCOME AND INFO FOR ONLINE VIEWERS
CALL TO WORSHIP: Psalm 92:1-4
PRAYER
SCRIPTURE READING: Acts 2:14-40
MESSAGE: "The Message of the Witnessing Church"
COMMUNION SERVICE
HYMN: "Blest Be The Tie That Binds"
BENEDICTION
ORGAN POSTLUDE
We welcome you to BRE Baptist Church. As you worship in the sanctuary may you feel God's presence and realize how much He has blessed us.
Prayer Requests:
Annapolis Royal Nursing Home: Dot Wright, Don Cress.
Wolfville Nursing Home: Emily Bigelow
Mountain Lea Lodge: Alice Trimper
Our Community & Beyond
Debbie White, Eleanor Moore, Cynthia Peck Cress, Snooky Potter, Vivian Potter, Cliff Jones, Marilyn Robinson, Joan Corkum,
Upcoming Birthdays : Upcoming Anniversaries:
Aug. 08 Royce Riley Aug.23rd Susan & Clyde Baltzer
Aug. 29 Marilyn Robinson
Please give the person celebrating a birthday a call, an email or a message to wish them a Happy Birthday.
Our Tithes & Offerings:
Offerings for this past week (July 26th – July 31st ) amounted to $1343.00. Thank you for your Tithes and Offerings. May God's richest blessings be upon you!
You may also read this bulletin and past ones on our website: bearrivereastbaptistchurch.com. click on connect and then bulletin.
Upcoming Events
Sun. August 02nd @ 10 AM Worship Service & Communion. The Pastor's Message will be Live streamed on Facebook. We ask you to wear a non-medical facial mask if you are attending worship. If you are not attending the worship service but wish to follow along with Communion please have a piece of bread and a small glass of juice ready. Preparer's for the Communion Service: Kelly & Jackie. The communion will be set up down by Robert's station and at the beginning of the Communion Service the pastor will announce for those in one row at a time go and pick up the elements.
Please Note, the Sunday school will be reopening August 02nd at 10:00 AM
GUIDELINES FOR CHILDREN ATTENDING SUNDAY SCHOOL
1. One parent will enter the Education Centre and come to the top of the stairs. Questions will be asked similar to the questions asked when attending worship. Children must sanitize their hands on entering and leaving the building.
2. The child's and parent's or guardian's name will be recorded each Sunday.
3. Children must stay in the Sunday school room and use the washroom only in an emergency. Physical distancing will be practiced as much as possible.
4. Each child will have their own table and craft supplies which cannot be shared with another student.
5. Children may bring their own water but must take it home with them when they leave. No food will be given to the children.
6. Parents who pick up their child(ren) will one parent at a time come to the top of the stairs to receive their child(ren).
7. Sunday school teachers and helpers should wear a mask unless for medical reasons are unable to so
Wed. Aug. 05th Bible Study on The Gospel of John 8:31-59. This study will be uploaded on to Facebook and Youtube for viewing on Wednesday.
Sat. Aug. 08th 9:00 AM – 2:00 PM Yard and Bake Sale at the church. If you are donating yard sale times they can be left at the church Friday evening July 31st after 6:30 PM. If you are donating baked goods they can be brought to the church on Friday Evening August 07th at 6:30 PM.
Sun. Aug. 09th @ 10 AM Worship Service at the church. Pastor's message will be Live Streamed on Facebook. Please wear a mask.
Sat. September 12th the Social Committee is planning a Take-Out Supper. More info to follow.
We will continue to live stream the Pastor's message on Facebook approx. 10:15 AM – 10:20 AM. We will upload it to our Youtube channel (Bear River East Baptist Church) following the service.
If you are planning to attend the worship service at BRE Baptist Church, listed below are the regulations you are asked to follow and adhere to.
Please exercise physical distancing as much as possible.
Inside the door you will be asked a few questions, and your name will be recorded that you had attended. You will need to sanitize your hands upon entering.
Everyone who will be worshipping at BRE Baptist Church is expected to wear a non-medical facial Masks starting August 02nd unless for medical reasons you cannot wear one.
An usher will escort you to a seat, where you are to remain until the service is over. You may bring a bottle of water or juice, but you must take the container back out with you. Also, whatever items you bring in with you for personal use, must be taken out with you.
Families will sit together. Total number of worshippers including the pastor is 50% of our capacity as long as physical distancing is applied.
Every third pew will be used to honour physical distancing.
You can greet people with a hello or hi, but not a physical greet like, a handshake, a hug, or touch another person.
Offering plates will be near the entrance if you wish to leave your tithes and offerings. If you have been using e-transfer you may continue to do so.
Washrooms are available for emergency use.
It has been strongly emphasized by the Nova Scotia Health Authority that members of a congregation refrain from singing, so we will not be singing until further notice.
After the Service:
Households are to leave together. Sanitize your hands on leaving.
We understand that some will be nervous about attending worship for a time. We want our worship services to be a positive experience for everyone. So, come back when you are ready to do so. As mentioned earlier, we will continue with live streaming the message on Facebook and uploading it to our Youtube channel.
Let us get to know you!
Please take a moment to send us your information so that we may stay connected with you. Your information is carefully managed and protected.
How did you hear about us?