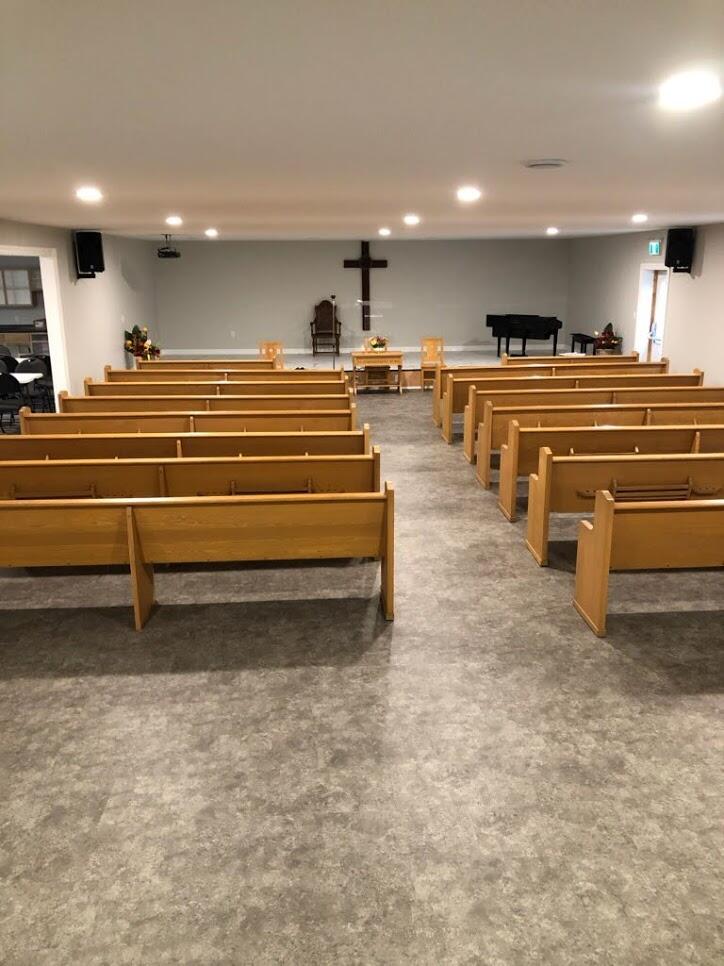 Bear River East Baptist Church (NS)
Weekly Info Sept. 13, 2020
Sunday Bulletin Sept. 13, 2020
Hi Folks!
As I prepare this, my weekly info and church bulletin, we have almost made it through the first week of September. Days are getting shorter and the evenings are a bit cooler. I hope everyone is adjusting and preparing to enjoy the fall season.
Be in prayer for the Social Committee as they prepare the Cold Plates for those who have pre-ordered them. Thank you to all who have supported this fundraiser by buying a meal and to everyone who donated food and are helping out.
A few of the men are continuing with the upgrades to the downstairs area of the original church. The office is nearing completion and a storeroom is in the process of being built.
A special thanks goes out to the men who have worked most of the year building and renovating BRE Baptist Church. We are able to enjoy the facility we have at present due to the support and hard work done by the members of our congregation.
A BIT OF HUMOUR:
There are several men in the locker room of a private club after exercising. Suddenly a cell phone that was on one of the benches rings. A man picks it up and the following conversation ensues:
"Hello?" "Honey, It's me." "Sugar!" "Are you at the club?"
"Yes." "Great! I am at the mall 2 blocks from where you are. I saw a beautiful mink coat... It is absolutely gorgeous!! Can I buy it?" "What's the price?" "Only $1,500.00" "Well, OK, go ahead and get it, if you like it that much..." "Ahhh and I also stopped by the Mercedes dealership and saw the 2020 models. I saw one I really liked. I spoke with the salesman and he gave me a really good price ... and since we need to exchange the BMW that we bought last year..."
"What price did he quote you?" "Only $60,000..." "OK, but for that price I want it with all the options." "Great!, before we hang up, something else..." "What?"
"It might look like a lot, but I was reconciling your bank account and...I stopped by the real estate agent this morning and I saw the house we had looked at last year ... it's on sale!! Remember? The one with a pool, English Garden, acre of park area, beachfront property..." "How much are they asking?" "Only $450,000... a magnificent price, and I see that we have that much in the bank to cover..." "Well, then go ahead and buy it, but just bid $420,000. OK?" "OK, sweetie... Thanks! I'll see you later!! I love you!!!" "Bye... I do too..."
The man hangs up, closes the phone's flap and raises his hand while holding the phone and asks to all those present: "Does anyone know who this phone belongs to?"
BEAR RIVER EAST BAPTIST CHURCH
WORSHIP SERVICE
SEPTEMBER 13TH, 2020 10 AM
There is a prayer time before the Sunday Worship service at approx. 9:45 AM. This takes place near the new office.
ORGAN PRELUDE
WELCOME
PRAYER
INSTRUMENTAL MUSIC & MEDITATION:
#23 "Joyful, Joyful, We Adore Thee"
#119 "Did You Think To Pray?"
#250 "I Don't Know About Tomorrow"
Susan's Solo
LIVE STREAMING ON FACEBOOK WILL BEGIN AT APPROX. 10:15-10:20 AM
WELCOME AND INFO FOR ONLINE VIEWERS
CALL TO WORSHIP: Psalm 113:1-3
PRAYER
SCRIPTURE READING: Matthew 8:23-27
MESSAGE: "Not Letting Fear Overtake Us"
BENEDICTION ORGAN POSTLUDE
Welcome to the Bear River East Baptist Worship Centre. As we meditate on the music being played and hear God's word being explained may we give praise to Him for all our blessings.
Prayer Requests:
Annapolis Royal Nursing Home: Dot Wright, Don Cress.
Wolfville Nursing Home: Emily Bigelow
Mountain Lea Lodge: Alice Trimper
Our Community & Beyond
Gerald Stoddard, Cynthia Peck Cress, Cliff Jones, Marilyn Robinson, Joan Corkum,
September Birthdays : September Anniversaries:
Sept.10 Marta Harvey Sept. 02nd Marta & Chris Harvey
Sept.12 Cathy Berry Sept. 02nd Ede & Ted Weekes
Sept. 09th Rachel & Chris Fowler
Sept. 25th Sharon & Royce Riley
Please give the person celebrating a birthday or an anniversary a call, an email or a message to wish them a Happy Birthday.
Our Tithes & Offerings:
Offerings for this past week (Sept. 06th – Sept. 10th) amounted to $910.00. Thank you for your Tithes and Offerings.
Upcoming Events
Sun. September 13th @ 10 AM Worship Service & Sunday school. We encourage you to wear a non-medical facial mask if you are attending worship or Sunday school.
Mon. Sept. 14th @ 7 PM Advisory Board Meeting
Wed. Sept. 16h 10 AM Online Bible Study this week. John 12:1-50
Wed. Sept. 16th @ 6:30 PM Meeting for those interested in singing and being part of the music ministry the church.
Sun. Sept. 20th @ 10 AM Worship Service and Sunday school.
Thurs. Sept. 24th @ 7:30 PM Bible Study at the church Revelation 2:1-29
More Humour – Stupid Signs:
In an office:
AFTER TEA BREAK, THE STAFF SHOULD EMPTY THE TEAPOT AND STAND UPSIDE DOWN ON THE DRAINING BOARD
Notice in a farmer's field:
THE FARMER ALLOWS WALKERS TO CROSS THE FIELD FOR FREE, BUT THE BULL CHARGES.
Spotted in a safari park:
ELEPHANTS PLEASE STAY IN YOUR CAR
ATTENDING WORSHIP AT BRE BAPTIST WORSHIP CENTRE:
If you are planning to attend the worship service at BRE Baptist Church, listed below are the regulations you are asked to follow and adhere to.
Please exercise physical distancing as much as possible.
Inside the door you will be asked a few questions, and your name will be recorded that you had attended. You will need to sanitize your hands upon entering.
Everyone who will be worshiping at BRE Baptist Church is encouraged to wear a non-medical facial Masks unless for medical reasons you cannot wear one. If you forget to bring a mask, the church can provide you with one. Once in and seated, you may remove your mask if you wish to, but must put it back on when leaving your seat.
An usher will escort you to a seat, where you are to remain until the service is over. You may bring a bottle of water or juice, but you must take the container back out with you. Also, whatever items you bring in with you for personal use, must be taken out with you.
Families will sit together. Total number of worshippers including the pastor is 50% of our capacity as long as physical distancing is applied.
Every third pew will be used to honour physical distancing.
You can greet people with a hello or hi, but not a physical greet like, a handshake, a hug, or touch another person.
Offering plates are near the sound booth if you wish to leave your tithes and offerings. If you have been using e-transfer you may continue to do so.
Washrooms are available for emergency use.
After the Service: Sanitize your hands on leaving.
GUIDELINES FOR CHILDREN ATTENDING SUNDAY SCHOOL
1. One parent will enter the Education Centre and come to the top of the stairs. Questions will be asked similar to the questions asked when attending worship. Children must sanitize their hands on entering and leaving the building.
2. The child's and parent's or guardian's name will be recorded each Sunday.
3. Children must stay in the Sunday school room and use the washroom only in an emergency. Physical distancing will be practiced as much as possible.
4. Each child will have their own table and craft supplies which cannot be shared with another student.
5. Children may bring their own water but must take it home with them when they leave. No food will be given to the children.
6. Parents who pick up their child(ren) will one parent at a time come to the top of the stairs to receive their child(ren).
7. Sunday school teachers and helpers should wear a mask unless for medical reasons are unable to so
Let us get to know you!
Please take a moment to send us your information so that we may stay connected with you. Your information is carefully managed and protected.
How did you hear about us?