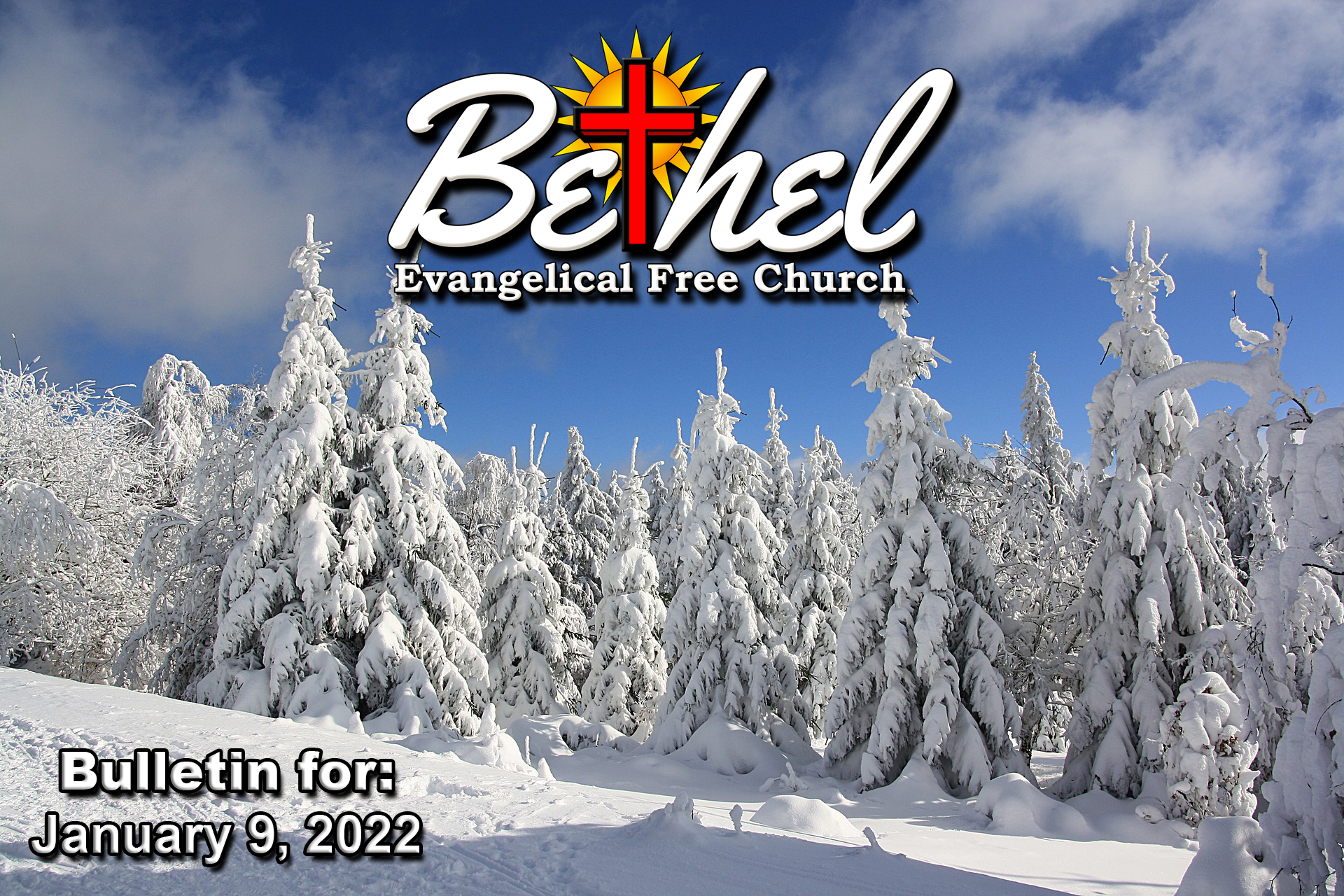 Bethel Evangelical Free Church
Bulletin for: January 9, 2022
Welcome!
Thanks for joining us today! If you are visiting with us, we have a special gift for you. Stop by the sound booth in the back for your gift. Please fill out a visitor information card so we may have a record of your visit. You may place the completed card in the offering box in the lobby. We will not put your on any mailing list, but we will send you a sincere "thank you" for attending. We hope your visit with us is enjoyable and meaningful!
Offering Boxes
We have not been placing offering plates, but have placed an offering box on the table at the entrance to the sanctuary. Thanks for faithfully honoring God with your tithes and offerings. Thanks to your faithful giving, we were able to finish 2021 ahead of budget. Thank you so very much!
Let's Stay Healthy
We would encourage you to wear a mask until you are seated for the service. Once you are seated, you may remove it until the service is over.
Giving Envelopes
We have placed new giving envelopes for 2022 in your mailbox in the south hallway. Please do not use old giving envelopes from previous years, as your giving number has changed for this year. If you have old unused envelopes, you may turn them into the church office, as they can be used by the tellers for other purposes. If you did not receive giving envelopes for 2022 but would like a set, please let Pastor Dean know and he will provide you with a set.
Next Food Distribution
Our next Food Distribution is Wednesday, January 19th from 11am - 1pm. If you know anyone who would benefit by receiving a box of food, please encourage them to come. It you can help out with the distribution, see Sharon. Thanks for your help and prayers.
Deacon's Meeting
We will be having a Deacon's Meeting today following the worship service in the library behind the sanctuary. If you are a deacon, please plan to stay for this meeting.
Third Sunday Offering
Normally, we take an extra offering on the third Sunday of the month for our Deacon's Fund, but this month we are doing something a little bit different. This month we are going to use that extra offering to help support the efforts of reaching Jews with the message of the gospel. Scripture says we should take the gospel to the Jews first, so we are going to use the extra offering on January 16th to help Chosen People Ministries in their efforts of Jewish evangelism. You may remember a few years ago Rich Flashman was with us, and he shared with us about this ministry to the Jews. Please pray about what part you may have in this special offering.
New Years Resolutions
A good goal to set for the year is to read through God's Word in 2022. Sometimes we "nibble" on God's Word, reading a few verses here and there, instead of "feasting" on God's Word. Scripture tells us that God's Word is like milk, meat, bread, and it is even sweeter than honey! If you would an aid to help your reading through God's Word, there are some schedule/checklist sheets available at the back of the sanctuary to help you get through all of God's Word. All it takes is reading 3 chapters a day, you can read the whole Bible in a year!
Check Your Mailboxes
Before you leave today, be sure to check your mailboxes in the south hallway for any Christmas cards, Our Daily Bread booklets, or other info that may be there. It's easy to forget to check your mailboxes on the way out of church, so make a special point to do that today.