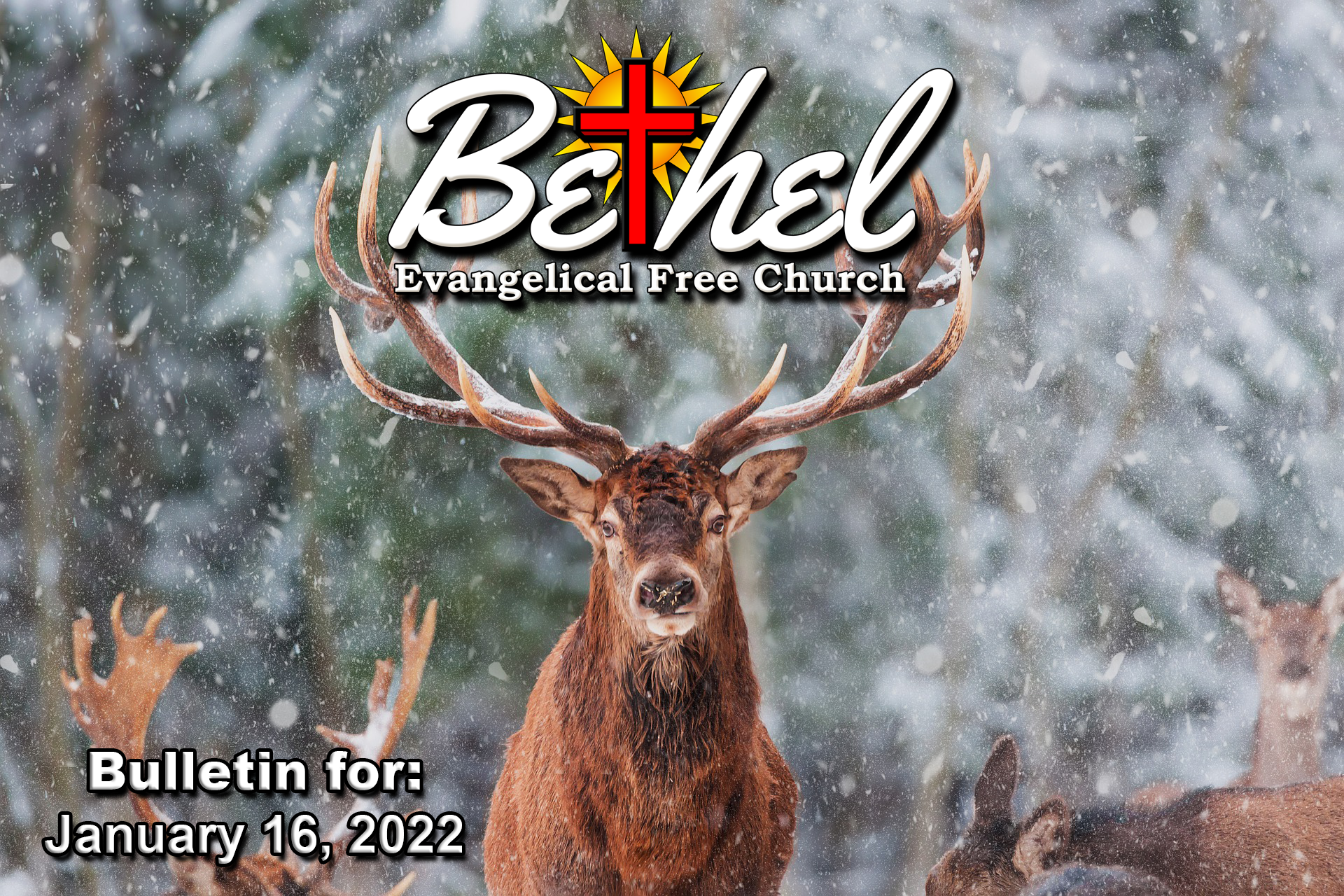 Bethel Evangelical Free Church
Bulletin for: January 16, 2022
Welcome!
Thanks for joining us today! If you are visiting with us, we have a special gift for you. Stop by the sound booth in the back for your gift. Please fill out a visitor information card so we may have a record of your visit. You may place the completed card in the offering box in the lobby. We will not put your on any mailing list, but we will send you a sincere "thank you" for attending. We hope your visit with us is enjoyable and meaningful!
Offering Boxes
We have not been placing offering plates, but have placed an offering box on the table at the entrance to the sanctuary. Thanks for faithfully honoring God with your tithes and offerings. Thanks to your faithful giving, we were able to finish 2021 ahead of budget. Thank you so very much!
Let's Stay Healthy
We would encourage you to wear a mask until you are seated for the service. Once you are seated, you may remove it until the service is over.
Next Food Distribution
Our next Food Distribution is this Wednesday, January 19th from 11am - 1pm. If you know anyone who would benefit by receiving a box of food, please encourage them to come. It you can help out with the distribution, see Sharon. Thanks for your help and prayers.
Year End Giving Statements
We will be placing statements in your church mailbox for your giving to the church this past year. If there are any questions about the totals or if a certain amount seems to be incorrectly recorded, please contact Darcel, our Recording Secretary. Thank you so very much for your faithful giving to the Lord this past year.
Third Sunday Offering
Normally, we take an extra offering on the third Sunday of the month for our Deacon's Fund, but this month we are doing something a little bit different. This month we are going to use that extra offering to help support the efforts of reaching Jews with the message of the gospel. Scripture says we should take the gospel to the Jews first, so we are going to use the extra offering on January 16th to help Chosen People Ministries in their efforts of Jewish evangelism. You may remember a few years ago Rich Flashman was with us, and he shared with us about this ministry to the Jews. Please pray about what part you may have in this special offering.
New Series
Today we are going to be looking at Revelation 1 and John's vision of the resurrected Christ. Then over the next two months we will be looking at Christ's message to the seven churches of Asia Minor in Revelation 2 and 3. Feel free to read over the messages contained in these chapters ahead of time, so that God can begin preparing your heart for the message He has for you.
Potluck Dinner
We will plan for a potluck dinner on February 13th. The d=deacons will provide a baked potato and Chili car with all the toppings. We ask that everyone bring a side dish or dessert. We hope you can join us for this great time of fellowship.
Let us get to know you!
Please take a moment to send us your information so that we may stay connected with you. Your information is carefully managed and protected.
How did you hear about us?