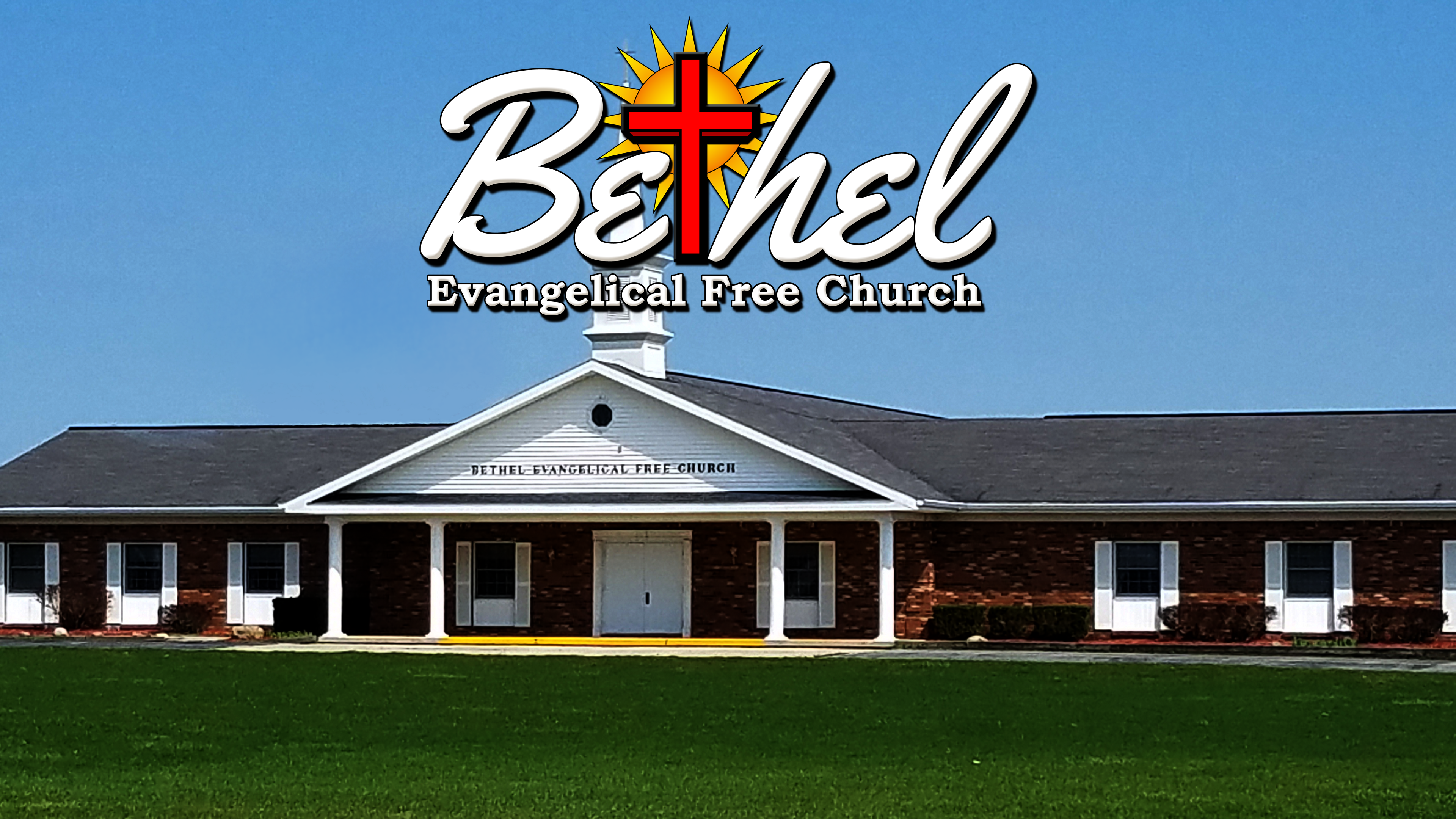 Bethel Evangelical Free Church
Bulletin for January 30, 2022
Welcome!
Thanks for joining us today! If you are visiting with us, we have a special gift for you. Stop by the sound booth in the back for your gift. Please fill out a visitor information card so we may have a record of your visit. You may place the completed card in the offering box in the lobby. We will not put your on any mailing list, but we will send you a sincere "thank you" for attending. We hope your visit with us is enjoyable and meaningful!
Offering Boxes:
We have not been placing offering plates, but have placed an offering box on the table at the entrance to the sanctuary. Thanks for faithfully honoring God with your tithes and offerings. Thanks to your faithful giving, we were able to finish 2021 ahead of budget. Thank you so very much!
Let's Stay Healthy:
We would encourage you to wear a mask until you are seated for the service. Once you are seated, you may remove it until the service is over.
Next Week: Communion:
On the first Sunday of every month, we celebrate our great salvation by taking communion together. This is a chance for us to remember the body and blood of Jesus. We eat a piece of bread to remember the body of Jesus that was broken, and we drink a small cup of juice to remember the blood of Jesus that was shed for us. If your faith is in Christ and your heart is pure, we invite you to join with us in this great celebration.
Potluck Dinner:
We will plan for a potluck dinner on February 13th. The deacons will provide a baked potato and Chili bar with all the toppings. We ask that everyone bring a side dish or dessert. We hope you can join us for this great time of fellowship.
Food Pantry:
We celebrate the way God has continued to provide for us to be able to share boxes of food with our community. The Food Bank in Lansing will be providing all our food orders for FREE through at least June of this year. And Owosso Public Schools just sent in a check for $421 from the fall food drive. Thank the Lord!
Seven Churches:
Today we are going to be looking at Revelation 2 and seeing God's message to the church at Smyrna. Over the next two months we will be looking at Christ's message to the churches of Asia Minor in Revelation 2 and 3. Each of these churches had their own unique strengths and weaknesses - just like each of us. Hopefully you will be able to see Christ's message to them as an encouragement to you as well. Feel free to read over the messages contained in these chapters ahead of time, so that God can begin preparing your heart for the message He has for you.
Baby Shopping:
Do you know anyone looking to buy gently used baby clothes or baby items? If so, have we got a solution for you! Need a gift for a baby shower? No problem! The Shiawassee Pregnancy Resource Center in town operates a store open to the public: Elizabeth's Resale Shop. Located at 224 N. Ball Street, the store is open to the pubic: no need for appointments to shop. The hours are:
Monday: 2-7PM
Tuesday: 2-7PM
Wednesday: 10AM - 3PM
Thursday: 12-5PM
All proceeds go toward the operating expenses of the center. So not only will you get a great deal, but you'll also be helping a great cause! Fliers are available in the lobby if you'd like to share the information with a friend.
COVID Resources:
Did you know that you can get three at-home COVID testing kits from the government? If you go to the website www.covidtests.gov you will be able to order three test kits for free. If you have difficulty accessing the internet or need additional support placing an order, you can call 1-800-232-0233 for help ordering these kits.
Also, there will be free N95 masks available at a number of pharmacies in the area in the days ahead. Each person may get three masks free of charge. There masks provide a much greater level of protection that the simple paper of cloths masks that we readily available to the general public. Be sure to ask about these when you are out shopping at Meijer, Kroger, Walgreens, etc.
Monthly Check-up:
We come to an end of the first month of the year this week. This is a great time to do some personal evaluation. How faithful have you been to the Lord in January? Have you been faithful in Bible reading? Praying? Giving? Witnessing? Worshiping? If you need to improve any area, now is a great time to get back on track.