BHUMC Weekly What's Up! Guest Pastor - Rev DeGuzman this Sunday!
November 5, 2021
Looks What's Happening at BHUMC!
Check out our website for the latest sermons, worship, and news:


Please read below for some important things happening this week at BHUMC!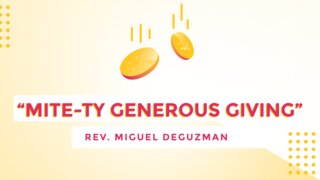 JOIN US FOR WORSHIP!
BRING COINS ON SUNDAY!
Carlos Cueva will be leading us in Worship - LIVE in person as well as on Facebook and YouTube from Belmont Heights UMC Courtyard!
Guest Pastor Reverend Miguel DeGuzman will deliver the Word.
We invite all to attend our service in the church courtyard on Sunday November 7, 2021 at 10:30 a.m.
Come join us this Sunday!
Pre-service music begins at 10:15 and worship at 10:30 am.
Please note: This is our new and permanent time change.
All Worship is on our Facebook page - www.facebook.com/belmontheightsumc/
We Have Come This Far By Faith - Updated Protocols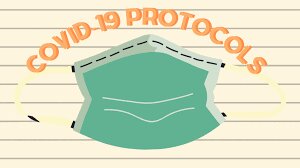 Dear Beloved Community,
The news keeps getting better and better! Transmission and hospitalizations are down and we celebrate this blessing! In addition, our own Conference has granted permission to "follow state and local guidelines" in updating any protocol. At BHUMC we continue to follow a protocol that best embodies Love of God and Love of Neighbor.
Effective immediately, we will once again loosen some of our restrictions. Please note the following guidelines and protocols for worship and gathering at our church campus.
1. Masks are required for every person over the age of 2 or who has a physician's diagnosis that precludes mask-wearing.
2. Social distancing outdoors is still recommended, but not required. We will still social distance indoors by household and as much as possible under space contraints.
3. Discontinuation of temperature checks.
4. Congregational singing and response are allowed, when outdoors and fully masked.
5. No consumption of food or drink is allowed during gatherings for meetings or worship. Please refrain from bringing any food or drink item that would require you to remove your mask to consume. The only exemptions are those leading worship.
6. Use of hymnals and special large print lyric books are available for those who are vision-impaired or by request
7. Masks must be worn at all times when visiting the campus, whether indoors or outdoors.
The following will remain in place:
1. Masks will be required to be worn in all areas of the campus.
2. We will continue to collect contact information from all attendees of worship and meetings.
3. Symptom and exposure questions will still be asked at the gate by the greeters.
4. No "Passing of the Peace" or other personal/touching contact outside of your household. "Elbow" bumps allowed, but please no hugging or handshakes.
5. No serving of food or drink.
I do hope the food or drink serving and consuming can be lifted soon. We are closely following the Conference for advice.
I thank you for your continued perseverance and know that we are all committed to the health and safety of all those in our midst.
Blessings and grace,
Pastor Lisa
How can we pray with you today?

Share your praises, joys, concerns, illnesses and gratitude so we can pray collectively with you! Contact the church office with your requests!
Free Shred Event - Tomorrow!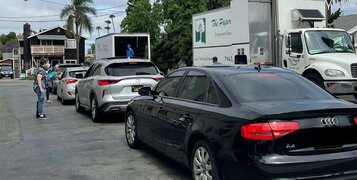 Once again Belmont Heights United Methodist Church is offering a Free Shredding and Recycling event with our partners The Nest SoCal Group of Keller Williams Realty. Free Shredding and Free E-Recycling of TV's and Monitors only.
9am-1pm located in the Parking Lot
Bring Document/Paper to Shred
E-Waste is taking TV's and Monitors ONLY
Shredding is good until truck is full!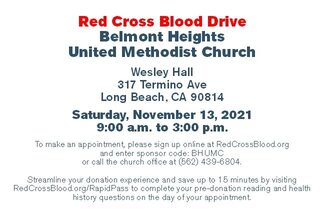 Any and all musical people welcome! - Starting soon!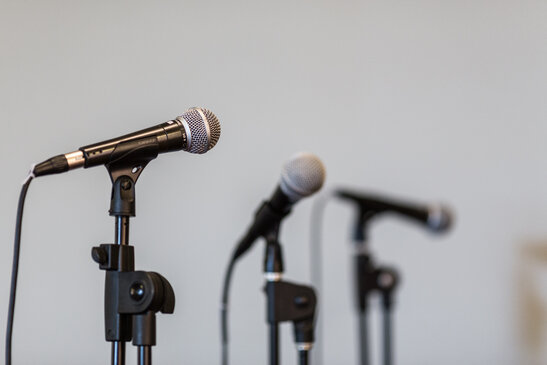 Dear church family,
Greetings! Can you believe that It has been five months since I began my journey with you? It has been a pleasure to get to know some of you as we worship together on Sundays. As the Associate Worship Leader it is my job and my privilege to lead us forward into growing in our understanding of genuine worship and expanding the ministry of praise and worship of our church. I have a big vision for this ministry and I am excited to share it with you. I must admit that it has been a slower process than I had anticipated. The inability to gather as we did pre-pandemic has been frustrating I know for all of us, but as they say the show must go on. I believe it is time to move forward in anticipation of things returning to normal. That being said, I am excited to invite any and all musical people (singers and musicians) to a regularly scheduled worship team rehearsal each Thursday at 6:30pm in the Choir room. We will rehearse the songs for Sunday mornings each week and then add the repertoire for our Christmas Eve service soon after. Please contact me if you would like to be involved. Start date to be announced soon! I look forward to meeting you and working alongside you.
Carlos
No Coffee with the Pastor 11/9

Coffee with the Pastor will resume November 16th.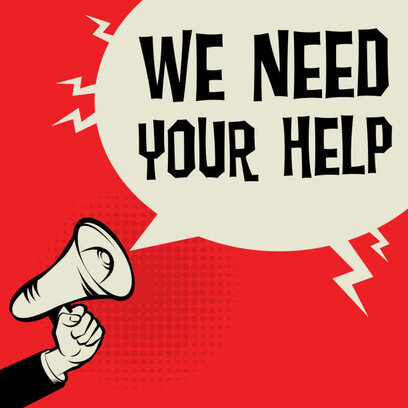 Join the fun behind the tech desk!
We need help with set up and tear down, as well as sound and media tech. Please contact Pastor Lisa or the church office!
Nurture Ministry team is looking for friendly people to sign up to be Greeters/Ushers.
Please email Nurture@belmontheightsumc.org if interested.
Birthdays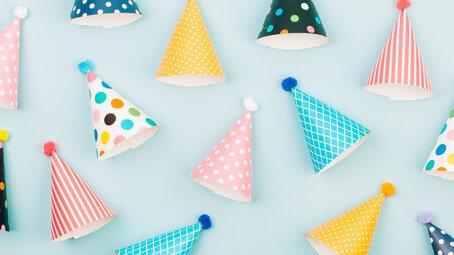 Check out our Monthly Newsletter for our Birthday List!
If you aren't on our list, please let the church office know so that we can celebrate you!
Belmont Heights United Methodist Church; A church of, for, and with our community. Making Disciples of Jesus Christ for
Our address is: 317 Termino Ave, Long Beach, CA 90814, USA