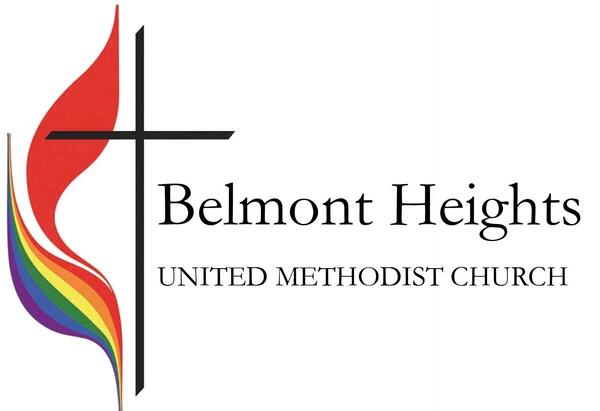 BHUMC Weekly Word
February 24, 2023
Check out our website for the latest sermons, worship, and news:


Look at what's happening at BHUMC!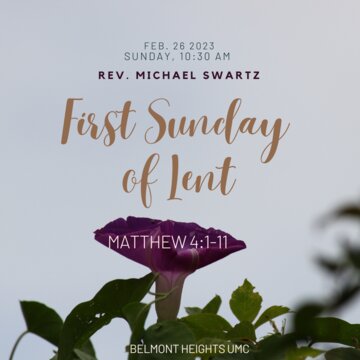 Sunday, February 26th
JOIN US FOR WORSHIP THIS SUNDAY!
Join us Sunday in the Sanctuary or on our Live-Stream on YouTube and Facebook!
Rev. Michael Swartz will be delivering the Message!
Carlos Cueva will be leading us in Praise and Worship!
Come join us in-person or online this Sunday!
Join us for Coffee & Fellowship after Worship in Wesley Hall!
YouTube https://www.youtube.com/belmontheightsumc
Facebook page - www.facebook.com/belmontheightsumc/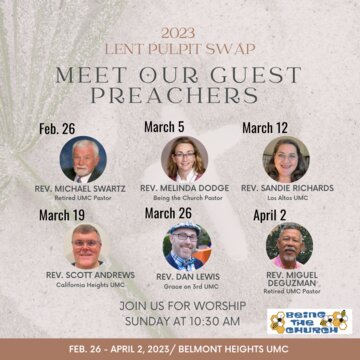 Click -HERE- to view the newest BtC (Being the Church) video!
Being the Church, Long Beach is a collaborative movement of the United Methodist Churches in Long Beach, California.
Starting THIS Sunday: Feb 26th!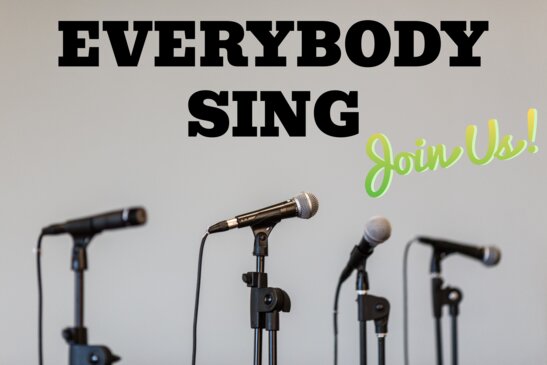 Everybody Sing!
Do you want to sing with the band but don't have time for a
weekly rehearsal? I get it. We are all busy.
Do you have five minutes? If you do, you can join us!
On Sunday mornings, arrive and be ready by 10:15am for a quick run through of our opening song.
Our opening song is usually an up-tempo number meant to get people excited and ready to engage with the service while we
shout out a praise to the Lord.
Beginning this Sunday Feb 26th, I would love to make this opportunity available to you. I hope to see you there!!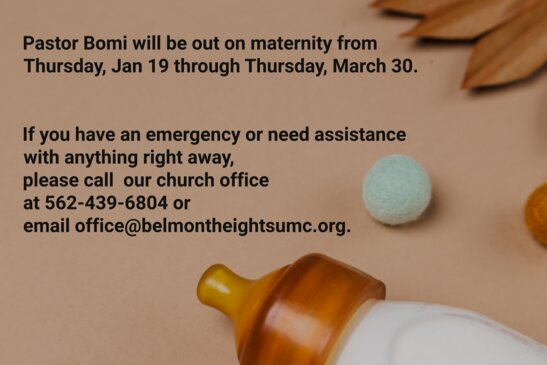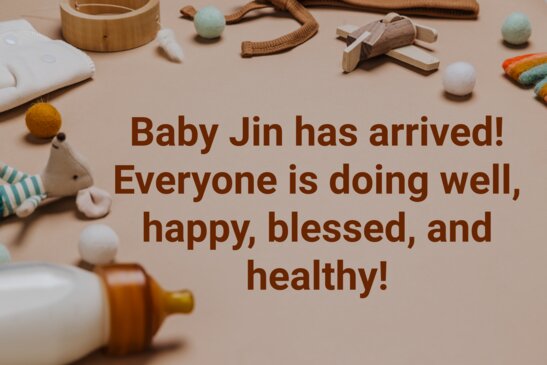 Food Donation Drive - Feb 25th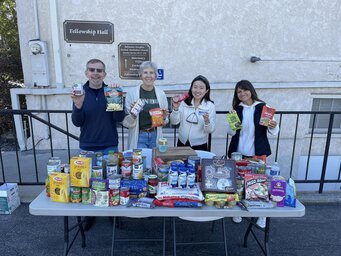 The Belmont Heights Community Association and Belmont Heights United Methodist Church will be having our collection drive next week to be donated to Long Beach City College's Viking Vault.
Date: Saturday, February 25, 2023
Time: 9:00 AM - 11:00 AM
Location: WESLEY HALL - look for the gate on Mira Mar
Requested Item List:
canned meats
peanut butter
soup
hygiene items (body wash, shampoo, lotion, deodorant, & laundry soap)
See you there!
RAIN OR SHINE!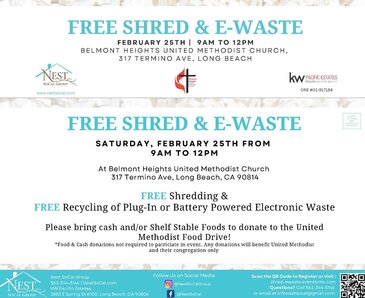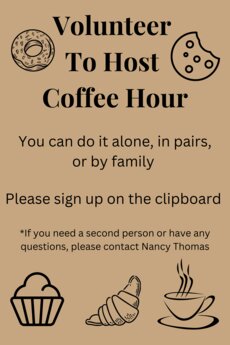 Coffee hour provides refreshments directly following Worship. Coffee Hour serves more than the purpose of fulfilling snack attacks and satisfying caffeine withdrawal.
It brings us together for fellowship!!
If you are looking for an opportunity to foster fellowship among our congregation and guests, this may be the ministry just for you!
A sign up sheet has been posted in Wesley Hall, sign up online below, or see Nancy Thomas for more information!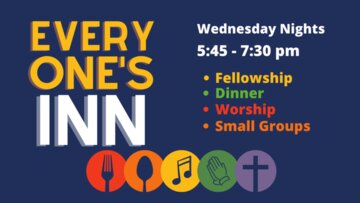 Everyone's Inn Dinner Church
Wednesday evenings - January 11 - May 18
(Inn closed Feb. 15, April 5 & 12)
5:45pm - 7:30/45pm
$7 per person/$25 per family
Everyone's Inn offers a simple and yummy meal, short worship and lots of all ages fellowship and fun.
Click HERE to register
Following dinner on most weeks, we gather in small groups for children, youth and adult where we study Bible stories and pray together. Certain weeks, we will serve together in various ways such as making lunches for our houseless neighbors. All weeks, we grow together as the Church of Christ.
Questions? Please contact Pastor Melinda (E: Melinda@BeingtheChurchLB.org)
Location: Los Altos UMC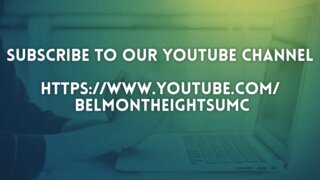 Did you know we Live Stream our services on YouTube?
Click HERE to subscribe to our YouTube channel!

How can we pray with you today?
Share your praises, joys, concerns, illnesses and gratitude so we can pray collectively with you!
Fill out a Prayer Card or Contact the church office with your requests!
Email: pastor@belmontheightsumc.org and please make sure to note PRAYER REQUEST as the subject and if we can share your prayer request!
Prayers for Pastor Bomi, Brian, Jun, and BABY JIN!
Prayers for a member having shoulder surgery in March
Prayers for our Lenten Journey
Prayers for those who struggle - may they feel the light and love surrounding them.
Prayers for our church family.
Prayers of healing of mind, body, and spirit.
Prayers of thanks for all of our blessings.
Prayer:
Dear Lord, help us not to become complacent in our faith but to strive for a better relationship with you always. Amen.
(From the Upper Room - 2023)
BHUMC February Birthdays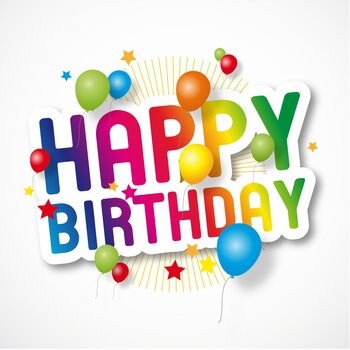 February 3rd - Pam Nolte
February 13th - Ava Niren
February 14th - Brian Wakayama
February 17th - Nancy Thomas & Brittaney Kimmel
February 20th - Irene Ryan & Hudson Kimmel
Februray 23rd - Melissa Tanaka
If you don't see your special day listed or any information is incorrect, please email office@belmontheightsumc.org so we can all celebrate your blessed day with you!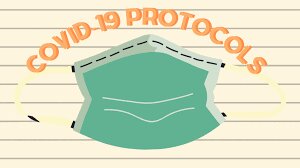 BHUMC Covid Protocols will align with the mandates and recommendations of the Long Beach City Health Department.
We recommend that everyone bring a mask and wear them when interacting closely with any vulnerable person, indoors or outdoors.
Belmont Heights United Methodist Church; A church of, for, and with our community. Making Disciples of Jesus Christ for
Our address is: 317 Termino Ave, Long Beach, CA 90814, USA