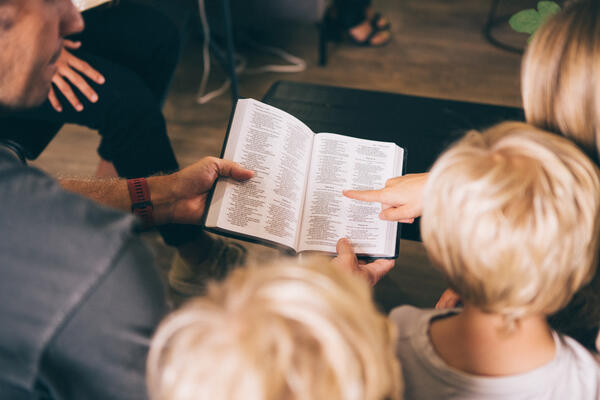 A Challenge Letter For Family and Friends
November, 2021
Choices
Remaining messages in our series
Nov. 7 — Christian or Coward?
Nov. 14 — 1st or 2nd Commandment?
Nov. 21 — Grateful or Entitled?
Dec. 5 — Serving or Being Served?
Dec. 12 — Holiday or Hollowday?
What's Your Choice?
"There is a Creator God who loves you intensely and wants you to experience the most fulfilling life possible, followed by an eternity with Him. And He'll always tell you the truth.
But there is also an evil enemy who despises you since you are made in God's image, and he wants to deceive and destroy you."
— Tom Claibourne, in "Discerning or Deceived?", October 31.
Celebrate Blessings Together
Sunday November 21
9:30 — Bible classes for all ages
10:30 — Praise and thanksgiving as we step away from the stresses of everyday life to celebrate God's goodness.
12:15 — Annual Thanksgiving feast in the gym, concluding with a special time of reflection and praise sharing. Sign the papers in the foyer so we can make sure all food categories are covered.
(No evening programming that day)
Leadership Retreat
November 13
4:00 - 8:00 pm
in the Cafe
This important time of prayer and planning
will focus largely on the "Healthy Church
Assessment" results filled out by each leader between October 31 and November 7.
Thoughts From Tom
"Memories That Make Me Grateful"
A spirit of thanksgiving is dependent upon remembering. Therefore, one of the most meaningful and beneficial things we can do to prepare for the Thanksgiving holiday is to make times for silent contemplation of our life and its blessings.
When I do that, several images pass through my mind from mission travel experiences: The sidewalk dwellers in Amman, Jordan; the lady and child sifting through the trash in Argentina; the squalor and poverty of City Soleil in Haiti; the devastation in South Florida after Hurricane Andrew, and in New York after Super Storm Sandy; the Cairo dump dwellers; the scenes of horror at the former concentration camp at Auschwitz, Poland; the Christian couple in Hungary bubbling with excitement when we carried Christian printed materials into their house church; the slum church in Colombia, South America; and poor but joyful villagers along the Amazon River.
Those images remind me that I enjoy a prosperous, comfortable life, even with some of the current challenges in America.
Genuine thanksgiving, however, is not just prompted by dramatic images. Several other simple realities stir gratitude in my heart.
Growing up in a Christian home; observing an amazing sunset; voting yesterday without hindrance or intimidation (after having the privilege of showing my photo ID); eating 3 meals yesterday; relaxing in a warm, dry house.
I am blessed and grateful. How about you?
Remembering,
Tom
The Word
"But thanks be to God, who always leads us in triumphal procession in Christ and through us spreads everywhere the fragrance of the knowledge of him." — II Cor. 2:14
Remember and Pray for Persecuted Christians
While you count your blessings and enjoy your comforts, please remember others who are suffering for Jesus in many places around the world. (www.persecution.com, www.opendoorsusa.org)
Counting Our Blessings
Counting our blessings is a good practice.
1. It helps us get along better with people.
2. It makes us look outward instead of at self.
3. It makes us more considerate, sympathetic.
4. It prompts us to live for others, not ourselves.
5. It makes us a blessing instead of a burden.
6. It improves our perspective of life.
7. It strengthens our inner resources of faith and hope.
8. It increases our confidence for living.
9. It increases our awareness of God.
The Word
"Come, let us sing for joy to the LORD; let us shout aloud to the Rock of our salvation. Let us come before him with thanksgiving and extol him with music and song. For the LORD is the great God, the great King above all Gods."
— Psalm 95:1-3
Thanksgiving Invitation
Some of our American Thanksgiving traditions come from 1623, when Governor Bradford of Plymouth Colony issued this invitation (2 years after the first Thanksgiving gathering);
"To all ye Pilgrims:
In as much as the great Father has given us this year an abundant harvest of Indian corn, wheat, peas, beans, squashes, and garden vegetables, and has made the forests abound with game and the sea with fish and clams, and inasmuch as he has protected us from the ravages of the savages, has spare us from the pestilence and disease, has granted us freedom to worship God according to the dictates of our own conscience; now I, your magistrate do proclaim that all ye Pilgrims, with your wives and ye little ones, do gather at ye meeting house, on ye hill, between the hours of 9 and 12 in the day time, on Thursday, November ye 29th, of the year of our Lord one thousand six hundred and twenty-three, and the third year since ye Pilgrims landed on ye Pilgrim Rock, there to listen to ye pastor and render thanksgiving to ye Almighty God for all his blessings. William Bradford, Ye Governor of Ye Colony."
Contrary to the historical revisionism of recent years, America's Thanksgiving was meant to be God-focused and God-honoring, something
affirmed by the later proclamations of George Washington (1789) and Abraham Lincoln (1863).
Let's return to the original focus for this important festival, and celebrate with a heart of thanks, a mind focused on God, a voice of praise, an open Bible, and an extended hand.
The Word
"Through Jesus, therefore, let us continually offer to God a sacrifice of praise—the fruit of lips that confess his name. And do not forget to do good and to share with others, for with such sacrifices God is pleased." — Hebrews 13:15,16
Operation Christmas Child
Share the Good News of Jesus Christ by filling a shoebox for a child. Pick up a shoebox with labels and fill with gifts. Return boxes to church no later than November 21st.
See Danielle & Miriam Truesdell, or visit website www.Samaritanspurse.org. for more information.
Life is Too Short
· to hold grudges that will destroy us.
· to miss making friends because we are too busy making money.
· to let past mistakes cloud our future.
· to put off following Jesus Christ.
· to wallow in self-pity.
· to live in fear.
· to ignore the Bible.
Thanksgiving: The Lighter Side
"Thanksgiving dinners take 18 hours to prepare. They are consumed in 12 minutes. Half times take 12 minutes. This is not a coincidence."
— Erma Bombeck
Mark Your Calendars
Nov. 6 - Church Work Day, 8:30 am
Nov. 10 - Leadership meeting, 7 pm.
Nov. 13 - Leadership Retreat, 4 - 8 pm
Nov. 17 - Adult & Teen Bible reading classes,
7:00 pm
Nov. 21 - BCC Thanksgiving dinner
Nov. 25 - Thanksgiving Day
Dec. 1 - Office Ministry, 3:00 pm
Dec. 5 - Sounds & Tastes of Christmas,
hosted by Countryside
Dec. 8 - Shepherding meeting , 7:00 pm
Study With Us!
Our Sunday morning sermons are Bible-based and very important, but make sure you don't miss the opportunities to dig deeper in the Bible through our Bible reading programs and our Sunday morning Bible classes (9:30 am).
Volleyball
Weekly volleyball began Nov. 2 and will continue each Tuesday at 7:00 pm.
Our address is: 505 Bethlehem Road, Winchester, OH, 45697