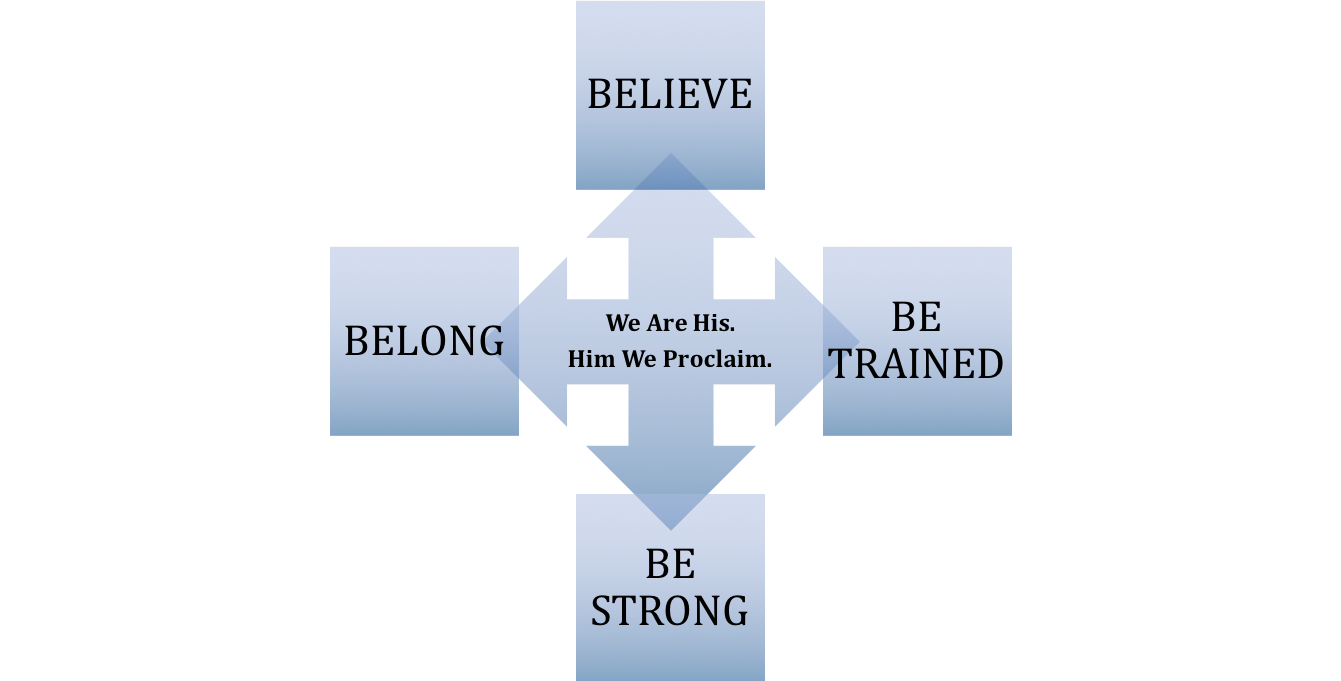 Branson Bible Church
Sunday Service 9.4.2022
WELCOME!
Praise To The Lord The Almighty

INTRO: How many of you just love waiting? Waiting in a long line, waiting in traffic, waiting for someone to get out of the bathroom, waiting…

Waiting can be miserable, or waiting can be refining and preparatory.

That's where we find the Apostles in our study of Acts. Waiting.

Do you recall why are they waiting, and what are they waiting for? [Review] Well, in our last section in Acts (Luke's prologue, vv. 3-11), Jesus prepares his Apostles for continuing the advancement of his kingdom. He does so by confirming for them convincingly (in his final 40 days of making appearances on earth) that he is indeed risen bodily, and that he is reigning as sovereign over God's present spiritual kingdom of God on earth. Jesus then commands them to wait for the baptism of the Holy Spirit, and he clarifies for them that although kingdom consummation is not yet (and that the timing isn't for them to know), the present phase of the kingdom is part of God's plan and is still marching toward that final consummation. So in conjunction with the command to wait for the Spirit, Jesus gives them the promise that it is the Holy Spirit's presence and power that will provide the means for them to be the witnesses Jesus has commissioned them to be (cf.

Mt 28:18-20

). Finally, the Lord's ascension reaffirms that he is indeed reigning on high, but also the message of the two angels that Jesus is returning is a sure persuasion/motivation that we must be about our Master's business when he comes.

And so the first task of the Apostles was quite literally to wait. How did they respond to this command and promise? We will see that first the Apostles

obeyed

by waiting, and then that they

prayed

while waiting, and finally [which we only mention here and will study next week] that they also planned while waiting. (Important note: This planning was in accordance with what they were certain was revealed in the Scriptures.)

Let's read the passage together, and then we'll do our best in the brief moments we have to understand it in their situation and calling in order to apply it to our own faith and situations.

Then they returned to Jerusalem from the mount called Olivet, which is near Jerusalem, a Sabbath day's journey away. And when they had entered, they went up to the upper room, where they were staying, Peter and John and James and Andrew, Philip and Thomas, Bartholomew and Matthew, James the son of Alphaeus and Simon the Zealot and Judas the son of James. All these with one accord were devoting themselves to prayer, together with the women and Mary the mother of Jesus, and his brothers.

In spite of the uniqueness of their situation and specific outcomes (for the Apostles), there are principles to be derived from their practice that can serve as a model for our own posture and practice in waiting on God's promise. (whether it is the long-term promise of fulfillment, of our reaching the promised land of perfect rest in the eternal presence of God… or whether we are waiting for clarifying wisdom on difficult issues or for refreshing from God in times of great difficulty,

1 Pet 5:10

)

Like the Apostles, our response to God's command to wait on his timing, to experience the fulfillment of His promise, ought to be that…

We Wait on the Lord by

Obeying

. (vv. 12-13)

Notice in v. 12, after receiving the reminder from the angels that Jesus had given them a command to go and wait in Jerusalem for the coming of the Spirit, that the Apostles immediately obeyed.

They returned to Jerusalem from the Mt. of Olives (cf.

Lk 24:50

), which is close by Luke notes, so close as to be only the distance that they were allowed to walk on the Sabbath. (The point isn't what day it was, but the distance: about 2,000 cubits, or 1/2 a mile. In other words, not far.)

Entering the city, they went back to the upper room where they apparently had been meeting regularly during this time period after the Lord's death and resurrection. (Recall that they're all from Galilee, so they would have needed places in and around the city to stay as guests, and certainly some place, which would have been a nice house, with an upper room large enough to pack in about 120 people (v. 15).

Who are the Eleven who led by example in their immediate obedience?

These Apostles are really important to the foundation of the church, and so Luke mentions them again by name (cf.

Lk 6:13-16

), in what reads as 2 groupings of four and one group of three. There may not be a whole lot of meaning to that, except it does appear that Peter and John are listed first likely because of their prominence in the group (previous listings instead had family members grouped together: Peter and Andrew, James and John).

Because these men are so important and because the majority of them are

not

mentioned again (only Peter, James, and John), I'd like to review briefly what we know of each of them, in the order they are listed. [Much of this is taken from Eckhard J. Schnabel (

Acts

, Expanded Digital Edition., Zondervan Exegetical Commentary on the New Testament (Grand Rapids, MI: Zondervan, 2012),

Ac 1:13

.)]

Peter's

Hebrew name was Simon. He fished for a living on the Sea of Galilee, was married, and had come from Bethsaida but owned a home in Capernaum. Jesus called him 'Peter,' of which the Aramaic equivalent was Cephas (

כֵּיפָא

), a deliberate play-on words because they both mean "rock." Peter was originally about as pliable as stone, but Jesus would change him and mold him to become a useful rock to be leader and spokesman of the Twelve, who form the foundation of the house being built in the new messianic community, the church.

John, one of the sons of Zebedee, was a fishermen from Bethsaida. John was unique among the Twelve to witness the crucifixion (

Jn 19:25-27

) and possibly unique among the Apostles to live to an old age. Early tradition marked him as the author of the fourth Gospel, which seems quite reliable, making him "the disciple whom Jesus loved" in those pages, as well as the author of the Apocalypse (which means 'the appearing of Christ'), or Revelation, and three shorter epistles preserved in the NT cannon under his name.

The James mentioned third is none other than the John's elder brother (listed before John in other lists), another son of Zebedee, and a fisherman too. He and John got the nickname "Boanerges" from Jesus, "sons of thunder" (

Mk 3:17

), most likely because of they were intense and aggressive. (They brashly asked to sit at Jesus' right and his left in his kingdom, and they wanted to call down fire from heaven on a Samaritan village for rejecting Jesus,

Lk 9:54

.)

Andrew was Simon-Peter's brother and had also been a disciple of John the Baptist before following Jesus. Andrew was among the first to begin following Jesus, who was present when John the Baptist called Jesus the Lamb of God. He then went and told Simon-Peter that "We have found the Messiah" and took him to Jesus,

John 1:35–42

.

Like the first four, Philip was also from Bethsaida, and it was Philip (in John's Gospel) who was approached by some Greeks who wanted to see Jesus, and he then told Andrew and then they brought them to Jesus (

Jn 12:21-22

). The Apostle Philip should not be confused with the Philip later in Acts who became of member of the seven deacons (

Ac 6:5

) and who preached the gospel in Samaria (

Ac 8:4-24

).

Thomas, who also had the nickname

Didymus

, The Twin, showed courage as a disciple (

Jn 11:16

"Let us also go, that we may die with him"). And after the resurrection, when he was present for the

second

appearance to the group, Thomas confessed Jesus as "My Lord and my God" (

Jn 20:28

). It's not in the Bible, but according to later tradition, Thomas went as a missionary to India.

Seventh in this list is Bartholomew, whom we believe to be the same as Nathanael, who was from Cana in Galilee (

Jn 21:2

). "His Aramaic name may have been Nathanael Bar-Talmai (

בַּר תַּלְמַי

, "son of Talmay")." (-Schnabel) So the name Bartholomew, as it is given in these lists, could have come as a derivative of his surname. If this Bartholomew is one and the same with Nathanael, then he had one of the more interesting interactions with Jesus when he first became a follower:

The next day Jesus decided to go to Galilee. He found Philip and said to him, "Follow me." Now Philip was from Bethsaida, the city of Andrew and Peter. Philip found Nathanael and said to him, "We have found him of whom Moses in the Law and also the prophets wrote, Jesus of Nazareth, the son of Joseph." Nathanael said to him, "Can anything good come out of Nazareth?" Philip said to him, "Come and see." Jesus saw Nathanael coming toward him and said of him, "Behold, an Israelite indeed, in whom there is no deceit!" Nathanael said to him, "How do you know me?" Jesus answered him, "Before Philip called you, when you were under the fig tree, I saw you." Nathanael answered him, "Rabbi, you are the Son of God! You are the King of Israel!" Jesus answered him, "Because I said to you, 'I saw you under the fig tree,' do you believe? You will see greater things than these."

That's Nathanael-Bartholomew.

[subtitle again]

Then comes Matthew, also called Levi, called both names even by Luke himself (

Lk 5:27-32

,

Mt 9:9

, &

Lk 6:15

). The intrigue with Matthew surrounds the fact that he was a hated tax collector before becoming a follower of Jesus. Matthew-Levi is also credited with penning the first Gospel in your NT Scriptures (much of which would have been first-hand eyewitness testimony, as with John).

James son of Alphaeus might also be the one in

Mark 15:40

referred to as James the younger (whose mother was another Mary present with the other faithful women at the cross, and whose brother Joses was also likely known to the early church).

Simon the Zealot is probably so-called because, before following Christ, he was likely among those known for being zealous for God's law with a particular focus on liberation of God's people. Simon may (or may not) have been "a Jewish nationalist prepared to engage in active resistance against the Romans." (Schnabel)

Finally, the one whom Luke calls Judas the son of James is almost certainly the same as Thaddaeus, which is the name Matthew and Mark list. (Luke probably gives his formal name, while Matthew the name he went by in the group.)

These eleven set the example by their obedience to Christ in waiting on God's promise.

Are we obeying God in Christ Jesus?

Consider the model of the Apostles.

Why

did they obey Jesus, and do so immediately? Because he is their Master. They have no other. - If my master is myself, I obey what I want, what I think is best. (The Bible explains, though, that when I think I am master, I have allowed the arch enemy of God, Lucifer/Satan, to become my master.)

Notice then just how reasonable it is to put our faith only in Christ, only in God himself. Although we couldn't have faith in Christ without the quickening of the Spirit (being made spiritually alive — regenerated). We come to understand more and more as we follow Christ just how reasonable our faith is. Faith in anything else, anyone else, leads to destruction. But if Jesus is indeed the way, the truth, and the life (

Jn 14:6

), how

unreasonable

to put faith in anyone else?

Paul calls this submission to Christ "obedience of faith" in his letter to the Romans (

Rom 1:5

&

Rom 16:26

). Saving faith is initiated at a point, conversion (which is itself an act of obedience). And then obedience of faith continues to bear itself out as we obey Christ's command to abide in Him (

Jn 15

) and to carry out his commands: summarized in loving God, loving one another, and loving the "others" by bringing them the news of reconciliation to God through the Lord Jesus Christ. That is the call, that we lay down our lives, like Jesus. We follow his lead, and we obey his command.

What seems so simple, though, is quite complex in the situations of our lives. So we add these two thoughts more:

It will take a lifetime of studying and teaching the whole counsel of God because this process of sanctification means conforming our lives completely to obeying Christ. But what better thing do we have to invest ourselves in than grasping God's character to adore him more, and His command to obey him better?

Secondly, in this particular context their is a command that requires waiting on the Lord to do for us what we cannot do for ourselves. This turns out to be an integral part of the entirety of the Christian life. Just as you came to Christ, so walk in him (

Col 2:6-7

). This plays out in trusting patience and trusting dependence. We must obey God in waiting on his timing by not running ahead of what God is doing by efforts of our own strength and ingenuity. And when we don't know for sure what God is doing, we wait on the Lord patiently to reveal it in his timing.

The absolute best thing that we can do in the waiting is to commit ourselves to the Lord in dependent prayer. … That is precisely what we find the small company of first Christ followers doing in the waiting: devoting themselves continually in prayer together.

We Wait on the Lord by

Praying

. (v. 14)

There can be no question that prayer is inextricably intertwined with waiting on God. In this period of waiting for the Spirit, which they did not know how long it would be, the Apostles and the others were devoting themselves to

prayer

.

What is prayer? Prayer is talking to God in submission and dependence upon him. I know illustrations are imperfect, but I wanted to think of something, for my sake and yours, that helps us understand how critical dependence on God in prayer really is.

Imagine that the Christian life is a human body, and that God has now given us a heart of flesh that is actually alive spiritually. That life which God has given is the pump (the heart), and the work of the Holy Spirit is the oxygenated lifeblood in our veins.

The problem is that in this world we are living much of our lives in polluted air. God has life-giving oxygenated air for his people in his truth delivered to us, the Bible. But submissive and dependent prayer is actually breathing, it's worshipping God on his terms.

We must go to God in dependent prayer for the clean oxygenated air of the work of the Spirit through His Word. To not do that is to hold our breath, to deplete our oxygen, and to try to do God's work in our strength, running on fumes. We might see what appears to be success, but it will soon evaporate with the heat. We need the life-giving work of the Spirit from His Word for ourselves and others. Dependent prayer is the inhaling and exhaling of God's clean air of his character and will revealed in his Word, to be refreshed and renewed with God's power and wisdom from his Spirit at work in us.

And therefore, dear Christian, who believes God's word is valuable: How foolish would we be to even come to our reading and study of the Scripture holding our breath? No, we come to God taking deep breathes of dependence and submission. Prayer is breathing in what God has for me. (Inhale more of God, exhale less of me. [repeat])

That's prayer. … We don't know for sure what they prayed, but here are some possibilities:

Praising and thanking God for glorifying himself in Christ Jesus. For his faithfulness to his promises and fulfillment through Jesus. For his sovereign choice in making them the foundational members for the spread of Jesus' spiritual kingdom.

Praying for God to conform their hearts to His plan. For faithfulness (lives that confirm the message), for boldness/courage, for clarity, to not shrink from opposition… even for patience in the waiting…

Praying for guidance from God if they should take any particular action (any planning in the waiting, which they end up doing)...

Are we demonstrating dependence and submission through prayer?

There are two emphases in our text about this prayer of the Apostles and the others who were with them: They prayed in unity and continually. (Both of these are convicting for us individually and as a local community of believers serving and spreading the gospel together.)

"With one accord" means unified, with one mind, together. And no doubt nothing builds unity more than submissive and dependent prayer together.

I'm immediately convicted of the need to be intentional about making prayer together a focal point in our interactions with one another, from our largest gatherings to our smallest (from corporate worship to meetings of leaders and meetings of volunteers, to small groups and one on one relationships and phone calls.

I confess that this is so important and an area of such needed growth for me personally and I believe for our church family that I, as a servant leader among you, have yet to plumb the depths of the ways in which we can practice this better. Let's be praying on it and making suggestions together.

The second emphasis is that "they were devoting themselves to prayer," which indicates in the Greek structure of the verb that this was something ongoing during this timeframe of waiting. They were praying continually (frequently), and undoubtedly it means they were investing focused and significant amounts of time to this endeavor.

Here again, application is plentiful. But I'm inclined to feel ashamed at the fact that I don't safeguard enough time for prayer. Instead of wallowing in guilt, I need to be thinking of ways to conform my life to this need of prayerful dependence and submission. Here are just a couple: For staying focused, try keeping a journal while you pray. That means literally writing down your prayers to remain on task. Much of our problem is wandering minds. Secondly, in some gatherings with fellow believers, have everybody pray. (A group of 120 might have only the leaders all pray aloud, but they might also divide up into groups of ten and everyone prays.) Thirdly (even though I said a couple ideas ;-)),

make

time alone and use opportunities alone to pray instead of filling it with other noise and distractions (driving alone, hiking alone, before the kids are up or after they go to bed, etc.).

Who are the others who joined in unified and continual prayer with the Apostles?

There's no way that I have time to talk about this today, so we'll include it with our discussion for next time.

[Also for next week, which will be our primary emphasis then…]

We Wait on the Lord by Applying Scriptural

Principles

to Guide Our Plans. (vv. 15-26)

(searching, studying, submitting, memorizing, meditating)

Conclusion: Let us wait on the Lord together in prayerful obedience.

Because we are always waiting on God's timing, and ultimately on his final fulfillment of his promises, our entire lives must be marked by 1. immediate and joyful obedience to what he has commanded, and 2. by this kind of waiting in submissive and dependent prayer.

We might pray for peace and comfort and patience in the waiting, for confidence in Christ/in the work of the Spirit and not in our own strength, for clarity of direction, for discernment in applying biblical principles, etc. …

Finally, is the waiting itself not a part of the preparation? Trusting God (abiding in him… making him our home, our resting place), Remaining dependent on Jesus through the work of the Spirit

While we wait on his promise, let us prayerfully obey him in abiding dependence and submission.

Communion is an ongoing act of trust and dependent submission. We depend on the work of Christ already completed and on the ongoing work of our Lord even now as he reigns from on high and rules in our hearts by the Holy Spirit he has given us. God is glorified to continue making his worth known, and one of the chief ways he does so is by the praises of his people and by his Spirit at work to continue making a people for his own possession (through discipleship to Jesus Christ), so that together we may grow up to reflect his perfections… until we reach the final culmination of his kingdom promise.
Let us get to know you!
Please take a moment to send us your information so that we may stay connected with you. Your information is carefully managed and protected.
How did you hear about us?