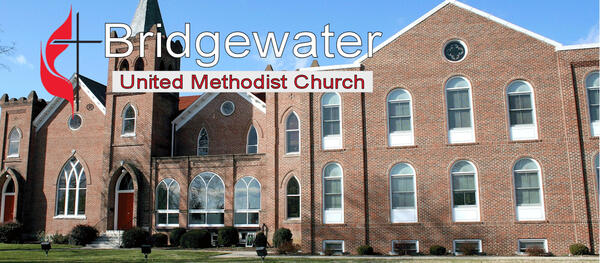 Friday BUMC eBlast for September 10
NURSERY IS BACK!, Who did you invite to the Back to School Carnival on Saturday, Sept. 18 and to Back to Church Sunday on Sept. 19? Thank you from UMCOR
BUMC NURSERY IS BACK! Nursery Services available on Sunday for 8:30 a.m. service, Sunday School, and 11 a.m. service.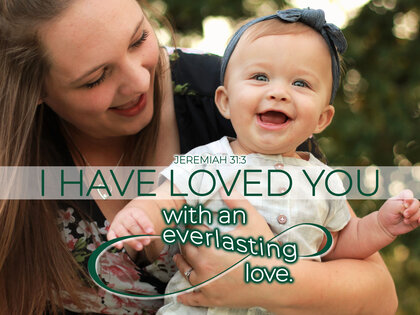 Nursery Room and Children Church Staff from Bridgewater College
Grace Kellar - Grace will be our Nursery Coordinator. She lives in Harrisonburg and is a graduate student at Bridgewater College studying Digital Media Strategies. Grace has worked with children professionally for 6 years, most recently as a nanny, in addition to working in the BUMC nursery prior to COVID. We are glad to have her back.
Hannah Barnett - Hannah will be leading our Children's Church. She is from Lynchburg, VA and is a junior at Bridgewater College studying Health and Exercise. She has experience in working in the nursery at her home church along with chairing their children's ministry. She says that she loves creating a healthy space for
children for learning and growing.
J'Quaycia Brown - J'Quaycia is from Halifax, VA and is a sophomore at Bridgewater College studying to become a child psychologist. She runs track and cheers for BC. Her experience with children includes working at her local YMCA as a summer camp counselor, as well as a Parent's Time Away Attendant.
Tiara Madera - Tiara or T as she is called by her friends, is from Severna Park, MD, and is a Bridgewater College student majoring in Family Consumer Science. She has taken a lot of coursework in child development and has had a lot of experience with children from babysitting her cousins as well as helping in her church nursery.
Autumn Flickinger - Autumn, or Flick as she likes to be called, is from Rehobeth Beach, DE and is a "super senior" (5th year) at Bridgewater College studying Information Systems. She worked in our BUMC nursery prior to COVID, and we are happy to welcome her back.
Noel Harrison – Noel is from Woodbridge, VA and is part of the Color Guard at Bridgewater College. She loves to sing and says that music is a big passion of hers. Her experience with children includes helping in her home church nursery and with VBS. She also has worked as a Teacher's Assistant. She is wanting to become a Pediatric Occupational Therapist
Don't forget!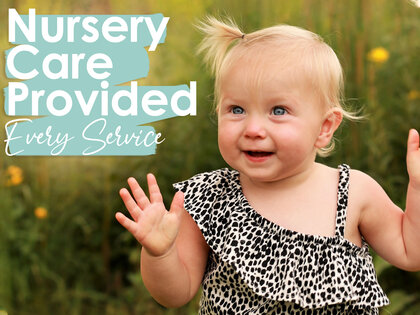 Nursery services are available for Sunday Worship Services and Sunday School.
Getting Ready for Next Sunday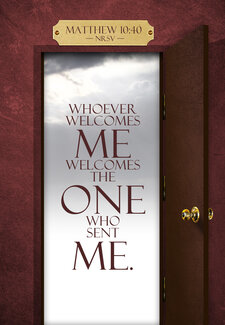 Saturday, September 18-BUMC Back to School Carnival
Sunday, September 19-BUMC Back to Church Sunday


Be sure you have invited all your family, friends, co-workers, and anyone else to the Carnival and Back to Church Sunday.


How much do all the activities at the Back to School cost?
Everything is free.


What happens at a Back to School Carnival?
We'll have 10+ games, prizes at the games, candy, an obstacle course, cotton candy, and popcorn.




Don't forget to ask your favorite clown for a glow stick!


Thanks to all the youth and adults who are volunteering and helping run the games.
"Whoever Welcomes" artwork from Newsletternewsletter.com used with permission.
Bridgewater College students meet BUMC Reach and Relate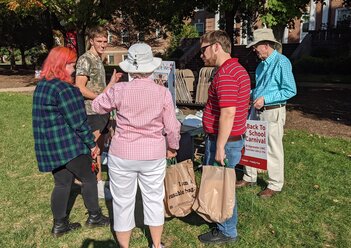 Pastor Jonathan Lamb, Tony and Laura Mancari, and Judy and Jim Tongue welcome Bridgewater College students to our BUMC Reach and Relate Table during BC's Campus and Community Fair on the Campus Mall, September 8. The team of five shared about our congregation and passed out 100 gift bags.
Photo submitted by retired Pastor Jim Tongue.
SOUP & YOU RESTARTS WEDNESDAY, SEPTEMBER 15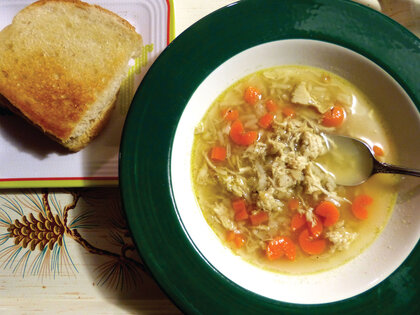 SOUP & YOU RESTARTS WEDNESDAY, SEPTEMBER 15 AT NOON in the BUMC Fellowship Hall.
The biggest change that effects those who plan to attend is that you will not need to bring any food to share. For the next several months, Nurture Team members will be making the soups in our Church Kitchen. We will make 2 soups. We will also provide crackers, a drink, and a dessert.
Healthy Church Team/PRG Meeting Results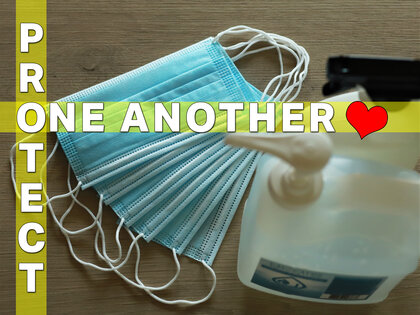 Below is a short summary in draft form of our discussion at the Healthy Church Team/PRG for your review.
1. Mask policy?
We will have signs that encourage the wearing of masks and to practice social distancing as appropriate. We will also continue to encourage hand sanitizing. With the uptick in delta variant cases, the Virginia Dept. of Health is recommending that everyone over the age of 2 wear masks indoors.
2. Greeting bottleneck - how to make this easier - better list, pew pads, etc.
Is affecting the number of volunteers that will greet.
We will have a new list (all on one page) where greeters can just high-light names and see if this helps. Pastor Steve will also work on "Connection Cards" where people can write down their own information and drop off the cards.
3. Food service - church dinners, etc. policy?
Pastor Steve has been working with the appropriate church groups to either prepare food in the church kitchen where we know everything is sanitized or to have pre-packaged foods. Servers should be masked and wear gloves.
4. Children's ministry protocols
Stress the importance of wearing masks, especially with those that can't be vaccinated.
5. Keep Mt. Solon Commons open for more social distancing opportunities?
Joan Kenney and Ramona Evans are working to see if the hand-bell choir can set-up and practice in choir room to allow for ease in having the Mt. Solon Commons available for more seating.
6. Other ?
The VA UM Conference stresses the importance of vaccinations to help control the covid-19 virus and we can all do our part to stress this to our friends and family members.
Again, thanks for your dedication and service. We continue to face changes we may or may not like but we want to ensure that we can "Welcome Back" folks to BUMC safely and continue to be a "Beacon in the Heart of Bridgewater".
Dan Plecker, PRG/Healthy Church Team chair
UMCOR Thanks BUMC for our support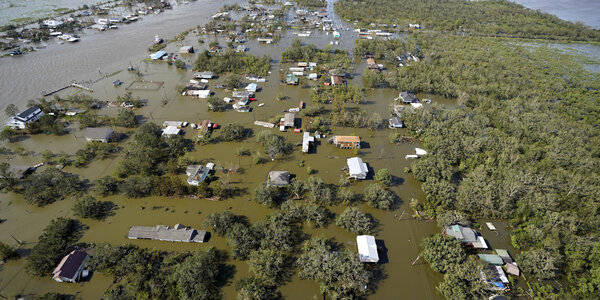 Photo above Hurricane Ida's devastating impact was provided by UMCOR. Much of the green that you see is not grass, trees, or bushes but green colored water.
'... when you have done it for one of the least of these brothers and sisters of mine, you have done it for me." Jesus (Matthew 25:40 CEB
Dear Friends in Mission,
Thank you!
The dear people you helped with your gift to UMCOR may never have the opportunity to meet you, but if they did, I am certain their response would be - Thank you!
And through your financial support you are serving within a vital network of interactive relationships in the U.S. and in more than 60 countries in which UMCOR and partnering agencies engage in direct ministry to persons in need.
May we continue to reveal the love of God for men, women, and children of all ethnic, racial, cultural, and national backgrounds the healing power of the gospel with those who suffer.
Roland Fernandes, UMCOR General Secretary
Supporting UMCOR - Where Most Needed
Gift Amount $2,540.00
Received 08-05-2021
Editor's note: As you can tell by the photo above, Hurricane Ida has created many challenges for UMCOR. Whether it is dealing with people trying to survive the fires in the west, whether it is helping people to rebuild in Haiti, whether it is supporting displaced persons in the Congo, giving assistance to Afghans in need, or helping people all around the world deal with COVID-19, UMCOR is there. Thank you for your support.
For more information, go to umcmission.org/umcor.
Thank you from Dr. Bob's family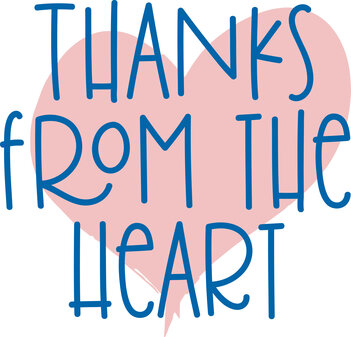 Dear Bridgewater UMC Staff,
Your kindness means the world to me and my entire family.
Thanks so much for the various roles you each played in the service that both celebrated my father's (Dr. Bob McDonald's) life on earth and was a powerful worship experience. It was the Holy Spirit at work in all of us that brought it all together.
Steve - Thanks for orchestrating it all and graciously allowing Jim Harris to deliver the message.
Jonathan - Thanks for your role in the service, but even more thanks for your beautiful prayer and supporting us the day dad died.
Joan - The choral rendition of "Jesus Love Me" with the great grandkids was probably my favorite part of the service. Please relay my appreciation to the choir for being a huge part of the service.
Drew - Thanks for playing the organ so masterfully. My dad love hearing all those old comforting hymns.
And now may God bless you and keep you, and make his face to shine upon you, and give you (and me) peace.
Lee Anne McDonald Steffe
3568 Peakwood Drive SW
Roanoke VA 24014-31090
Thanks from Bridgewater Rotary Club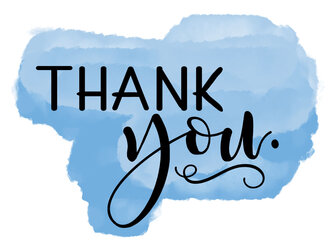 Bridgewater United Methodist Church
Thank you for letting the Rotary Club of Bridgewater use you Social Hall for our family picnic on August 31st. We especially appreciate the work of Paul McFarland in expediting this last minute request due to rain. Thanks so much.
Rotary Club of Bridgewater
Thank you for your prayers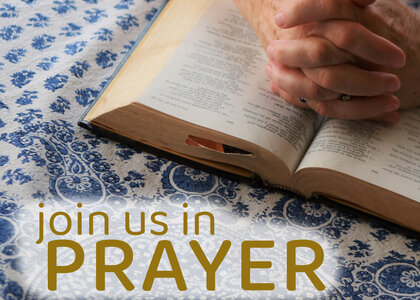 PRAYERS OF SYMPATHY FOR THE FAMILIES
AND FRIENDS
Sharon Harris - Jim Harris' sister-in-law
JOYS AND ANSWERED PRAYERS!
Dorothy Harper - recovered from broken leg (Christine Harper)
Tony Nesselrodt - recovered from knee surgery (Christine Harper)
Steve and Darlene - recovered from COVID (Janice Harper)
Nancie Lambert - recovering, continues to make progress
CURRENT PRAYER CONCERNS
COVID - for less transmission, for safety and protection
The people of Haiti
The people of Afghanistan
People affected by hurricane Ida
The people affected by flooding
People affected by fires in the west
Delaney Blaine, Laura Powell's grandfather
Min - four week old daughter (Dan)
Greg Helmick - on comfort care, former BUMC member
Henry Graham - several issues, at home
Galen Dellinger—waiting on test results
Jeanette McMillion-waiting on test results
Krystal Kenney—surgery on Sept. 9
Bob and Corine Gaines– health issues,
Bob and Corine are Gloria H.'s father and step-mother
ONGOING NEEDS OF THE CONGREGATION
Mike Bennett
Grace Fishback
Betty Foley
Forrest Frazier
Vickie Gibson
Bob Holden
Anthony Joralemon
Roger Joralemon
Anna Keller
Glen Thomas
Nancy Thomas
Donald Usry
Leon Waters
We welcome prayer requests. Please share with us your prayer requests by filling out a prayer card and dropping it in the offering plate during the 8:30 or 11:00 Sunday worship service, or you can drop it off or mail or email prayer requests to the church office, or you can call the church office (828-0890) with your prayer requests.
Would you like to join the BUMC Prayer Chain? If you would like to be a member of our prayer chain partners, call the church office at 828-0890.
"Join us in prayer" artwork from Newsletternewsletter.com used with permission.
A Prayer for the Anniversary of Sept. 11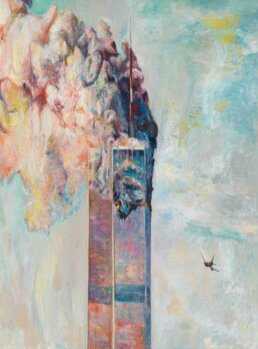 From Discipleship Ministries of the United Methodist Church
O God, our hope and refuge,
in our distress we come quickly to you.
Shock and horror of that tragic day have subsided,
replaced now with an emptiness,
a longing for an innocence lost.
We come remembering those who lost their lives
in New York, Washington D.C., and Pennsylvania.
We are mindful of the sacrifice of public servants
who demonstrated the greatest love of all
by laying down their lives for friends.
We commit their souls to your eternal care
and celebrate their gifts to a fallen humanity.
We come remembering
and we come in hope,
not in ourselves, but in you.
As foundations we once thought secure have been shaken,
we are reminded of the illusion of security.
In commemorating this tragedy,
we give you thanks for your presence
in our time of need
and we seek to worship you in Spirit and in truth,
our guide and our guardian. Amen.
The Rev. Jeremy Pridgeon is District Superintendent of the Pensacola District of the Alabama-West Florida Annual Conference of the United Methodist Church.
At times words and prayer flow freely. Occasionally, words fail to capture our grief, and we turn to other means of expression. You are invited now to pause for a brief dance reflection on the events of 9/11. 9/11 Tribute - Orchesis Dance Company
The feelings that may arise for such a moment as this can be overwhelming. This hymn reminds us that no matter what threats we face, God is always present. A Mighty Fortress is Our God
As we enter back into the day, receive this blessing:
"Christ be with me, Christ within me, Christ behind me, Christ before me, Christ beside me, Christ to win me, Christ to comfort and restore me, Christ beneath me, Christ above me, Christ in quiet, Christ in danger, Christ in hearts of all that love me, Christ in mouth of friend and stranger." ~St. Patrick
Request for Prayers for Afghanistan
Dear Friend,
Our hearts break for the many Afghans who are afraid for their lives and living with tremendous uncertainty. For our hundreds of staff in Afghanistan, the situation remains fluid.
In Afghanistan, conflict, drought, displacement, and COVID-19 have created a hunger crisis, with more than 2 million children on the brink of malnutrition. World Vision has been providing children and their families with food, clean water, sanitation, and healthcare — and we will continue to prioritize protection for children, as we have in Afghanistan for 20 years.
Would you join us in prayer for the people of Afghanistan? Pray for:
Hope and healing for the nearly 10 million children in need of humanitarian aid. It's critical that essential services continue.
Comfort and safety for children and families, especially girls and women, living amid fear and great uncertainty.
Children on the brink of malnutrition to get the food they need to survive.
Emergency response efforts to safely resume as soon as possible.
Our Lord is the ultimate protector, comforter, and healer, and we know He is with the people of Afghanistan. Thank you for joining us in lifting them up in prayer. We're so grateful for you.
From 'World Vision
Attendance and Giving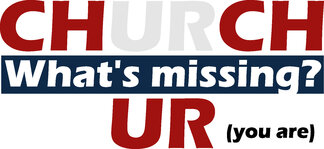 Thanks to all who have actively participated in worship services and giving. If you haven't been actively participating, there is still time.


Sunday, September 5
44 total in-person for 8:30 a.m. Worship Service
52 total in-person 11:00 a.m. Worship Service
80 estimated online attendance for August 5 to 11
176 Total estimated Worship attendance in-person and on line for week of September 5 to 11


In-person worship services at 8:30 a.m. and 11:00 a.m. are offered every Sunday.
OR participate in worship on our website by clicking the link below https://bridgewaterumc.com/sermons.
39 - Sunday School attendance for September 5
Youth (grades 6 to 12), Children (pre-school to grade 5), GIFT, Faith Bible, and Fellowship Sunday School classes
Monday, August 30 to September 5 Offerings
Last Week's Offerings of $5,443.08 includes all contributions to BUMC (general fund for operating expenses, electronic giving, mission, and special giving).
BUMC needs to average $9,478.85 a week in giving to the general fund to keep up with projected costs in 2021. The BUMC operating budget for 2021 is $492,900.
Thank you for your support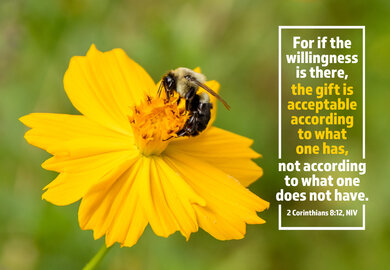 Thank you for all the time, efforts, support, and financial help that you have given to each other, to other members of our community, and to support the church's ministries.
Please remember the opportunities and ways you can provide financial and other support for God's ministries through Bridgewater United Methodist Church.
You can:
Give during BUMC in-person worship services at 8:30 a.m. and 11 a.m.
Drop a check off by the church office in person between 9 a.m. and 3 p.m. Monday through Friday).
Mail a check to the church at BUMC, 219 North Main Street, Bridgewater VA 22812.
Give through the BUMC website at www.bridgewaterumc.com/Giving.
NEW!! - App for Giving @ FaithLife.com - Download the app, find BUMC, and give through your smart phone!
NEW!! - Secure, locked outside box at Green Street entrance in which you can leave papers for the church office.
"Faithlife Giving" artwork from Faithlife.com used with permission.
Volunteers Needed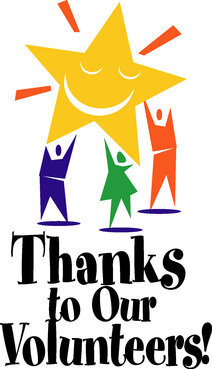 Bridgewater United Methodist Church is looking for individuals or groups to volunteer to perform a variety of functions such as but not limited to:
Volunteers to host 4th Sunday Coffees - All you have to do is make coffee (paper goods, coffee cups, sugar, sweetener, and creamer packets, and coffee provided by BUMC), provide and serve juice and donuts or some other form of pastry, and light clean up.
Worship Volunteers at both services - Greeters, Readers, Ushers, AV Operators
Tellers
Volunteer Administrative Assistants
Teachers and Buddies for children's Sunday School
Sextons to check building (lights off, outside doors locked) after worship services and other events and letting other persons or groups without keys into the church
Serve on boards or committees of the church
If you are interested in volunteering, please call the church office at 540-828-0890.
Thank you for your prayers and support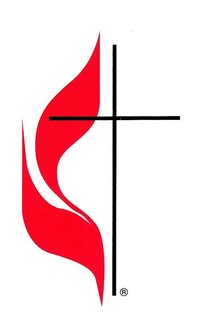 Bridgewater United Methodist Church
219 North Main Street
Bridgewater VA 22812
540-828-0890
bridgewaterumc@bridgewaterumc.com
Church office hours - Monday through Friday, 9 a.m. to 3 p.m. and by appointment
Bridgewater UMC Church Staff
Senior Pastor: Rev. Steve McMillion, 540-810-7118
SeniorPastor@bridgewaterumc.com
Associate Pastor for Congregational Care and Youth Ministries:
Rev. Jonathan J. Lamb, 540-742-1535
AssocPastor@bridgewaterumc.com
Admin Assistant: Paul McFarland, 540-828-0890
Bookkeeper: Drew Davis bookkeeper@bridgewaterumc.com
Children's Ministries: OPEN - Contact church office to apply.
Custodian: Edward Stoops 540-4763725
Director of Music: Joan Kenney joankenney@yahoo.com
Handbell Choir Director: Ramona Evans
Organist: Drew Davis davisas248@gmail.com
Webmaster: Ryan Hildebrand hildyr@gmail.com
Harrisonburg District Office
40 South Gate Court, Suite 101, Harrisonburg, VA 22801
District Superintendent: Rev. Dr. Victor Gomez
Office: 540-433-2382; Email: harrisonburgds@vaumc.org
A Place to Belong, A Place for You.
Our address is: 219 North Main Street, Bridgewater, VA, 22812