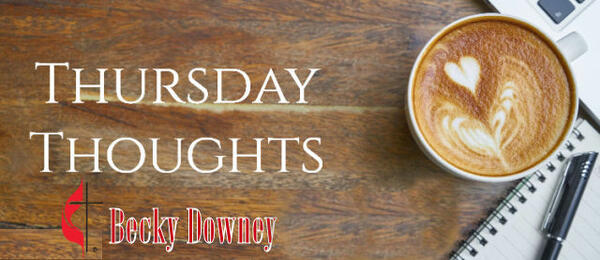 for August 16, 2021
See How the Flowers of the Field Grow
Let us not grow weary . . . .

The summer garden is about over. The last few scrawny tomatoes have been picked, the cucumbers have succumbed to the summer heat, the pumpkins and gourds are being harvested, and the myriad of flowers along the edge of the vegetable garden looks worse for wear but the pollinators find those last blooms to be a treasure trove of nectar. There are enough blossoms to share so I pick a vase of flowers for the house knowing that they will soon be a lovely memory. As I look at the stems in the vase, I see the cheerful, bright faces of zinnias who have withstood drought, beetles, and a wind storm that tried to knock them down. But they are brighter than the first blooms of the season. It reminds me of the scripture from 1 Corinthians 16:13: "Be alert. Be firm in the Christian faith. Be courageous and strong." There are many forces around us that 'want to take us down '.
I added a little mint to the vase as I like to add some sort of herb to every arrangement. If you have ever grown mint, you know it is tenacious and interfering, kind of like that robocall you get wanting you to extend your car warranty, only mint is useful and smells nice. Mint was used for the payment of temple taxes. I wish the IRS thought it was a worthy payment. I think of persistence when I think of mint. It grows in just about any soil and in any location. There is a lesson there for us: "And let us not grow weary of doing good, for in due season we will reap, if we do not give up." Galatians 6:9
There is a grass that I like in moderation blooming now, Northern Sea Oats. It is almost as bad as mint for popping up everywhere. The nodding seed head is so graceful as it bobs in the wind. They last a long time and give movement in an arrangement. Grasses are mentioned in scripture at least 56 times. My favorite is this, "And why do you worry about clothes? See how the flowers of the field grow. They do not labor or spin. Yet I tell you that not even Solomon in all his splendor was dressed like one of these. If that is how God clothes the grass of the field, which is here today and tomorrow is thrown into the fire, will he not much more clothe you – you of little faith?"
The simple little arrangement has a hellebore leaf as a collar at the top of the vase. This little leaf may not mean much to others, but it's a reminder to me that Spring will come again as hellebore's are the first to bloom in late winter. Seasons come and go with a rhythm that we can depend on as the years of our lives tick away. We are reassured in Ecclesiastes 3:1, "There is a time for everything and a season for every activity under the heavens."
I hope you will spend some time outdoors looking at the beauty all around. God's creation is a devotion ready to be explored.
Blessings,
Becky
A Place to Belong, A Place for You.
Our address is: 219 North Main Street, Bridgewater, VA, 22812