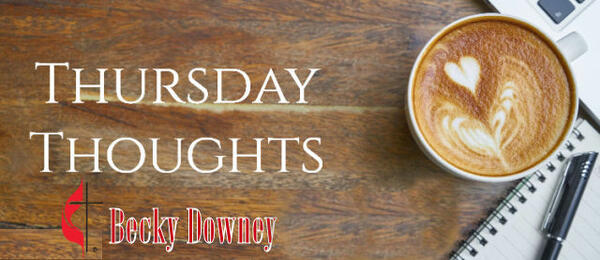 Thursday Thoughts by Becky Downey for September 23
More Earnest Prayer Time Needed?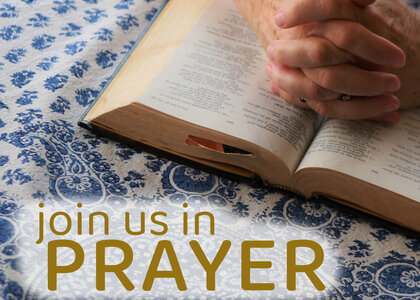 In the book, Prayer, by Richard Foster, the final chapter concludes with this statement: "Prayer makes our love flow freely, both vertically and horizontally. As we pray we are drawn into the love of God, which irresistibly leads us to our neighbor. When we try to love our neighbor, we discover our utter inability to do so, which irresistibly drives us back to God. And so we enter into that never-ending fellowship of love that gives Christian community its life."
Now go back and read that quote slowly and thoughtfully. Whoa! I can identify, can't you?
That takes us to Matthew 22:36-39: " 'Teacher, which is the greatest commandment in the Law?'" Jesus replied 'Love the Lord your God with all your heart and with all your soul and with all your mind. This is the first and greatest commandment. And the second is like it: Love your neighbor as yourself.'"
Prayers do not need to be flowery, sophisticated, or eloquent. We can hide nothing from God. He knows our heart before we think a thought or utter a word. There is nothing we can keep hidden from him. He knows our motives, our hurts, our joys, our needs. Nothing shocks or surprises him.
The most powerful person in the world is one who understands the need to pray and does so regularly. In the Message paraphrase, James 5:16 states, "Make this your common practice: Confess your sins to each other and pray for each other so that you can live together whole and healed. The prayer of a person living right with God is something powerful to be reckoned with."
What are we to do about those we disagree with? Those whom we think spout ridiculous claims, those who send negative and degrading messages, those who put themselves above others, those who are not like us, those whose belief system is antithetical to ours? It's not an easy answer to hear.
But here goes: Jesus says, "You have heard that it was said, love your neighbor and hate your enemy. But I tell you, love your enemies and pray for those who persecute you, that you may be children of your Father in heaven. He causes his sun to rise on the evil and the good and sends rain on the righteous and the unrighteous. If you love those who love you, what reward will you get? Are not even the tax collectors doing that? And if you greet only your own people, what are you doing more than others? Do not even pagans do that? Be perfect, therefore, as your heavenly Father is perfect." Matthew 5:43- 48.
Reread the first paragraph of this devotional. What would happen if we each increased our earnest prayer time? We grow closer to God and each other and we will also know the peace that comes from being in communion in God's presence. It isn't necessarily easy or convenient, and it may be a sacrifice on our part, but the outcome pays great dividends.
Blessings,
Becky
A Place to Belong, A Place for You.
Our address is: 219 North Main Street, Bridgewater, VA, 22812