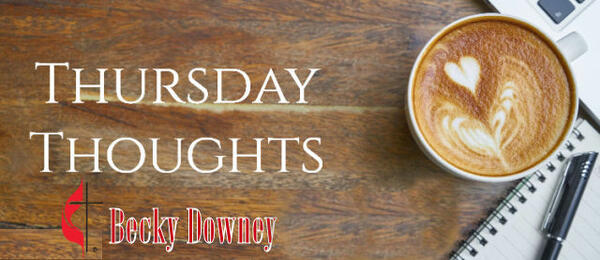 Thursday Thoughts for October 7, 2021
A New Thing
God Will Make a Way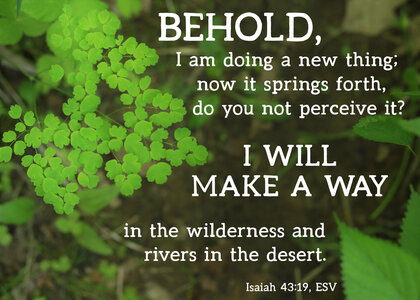 Today I was helping a friend with a fall chore of cleaning window screens. It had been some time since they had been taken out of the window frame, and they were stuck. I mean really stuck. After some wrangling, holding my mouth just right, and using some brute force, they came loose. My fingers and my temper were worn out with the struggle.
Are we sometimes spiritually stuck? Sure, it happens to all of us. Do our lives sometimes feel as if someone pushed the repeat button like we were a CD player and we repeat the same mistakes? Do we ever wonder how to move forward from some brokenness, illness, disappointment, or failure? Several years ago, there was a comedic movie about a grown man living with, depending on, and being enabled by his parents. The story was built around his failure to launch. Do we ever totally rely on others to spoon-feed our spiritual nourishment to grow? Have we allowed our faith life to languish in the same old place until it won't budge?
I recently saw a poster with sugar maples decked out in their fall colors. and this is what was printed across the beautiful scene: "The trees are about to show us the beauty of letting dead things go." What can we let go of that would move us from a place of spiritual stagnation? In Isaiah 43:18b-19 we find these encouraging words: "Forget the former things; do not dwell on the past. See, I am doing a new thing!"
There is a verse that is helpful to repeat each day, "Create in me a pure heart, O God, and renew a steadfast spirit within me." Psalm 51:10. We need a daily reminder to be moving toward perfection, as John Wesley taught. None of us will reach perfection on this side of heaven, but we are challenged to aim for it.
Continued below.
A new thing continued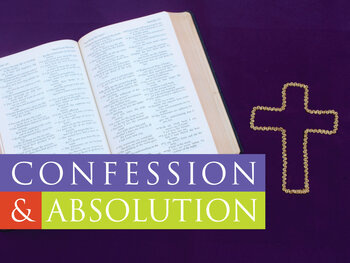 We find motivation and hope in 1 John 1:9 "If we confess our sins, he is faithful and just and will forgive us our sins and purify us from all unrighteousness." These words might be what we need to hear to get us unstuck.
Blessings,
Becky
A Place to Belong, A Place for You.
Our address is: 219 North Main Street, Bridgewater, VA, 22812