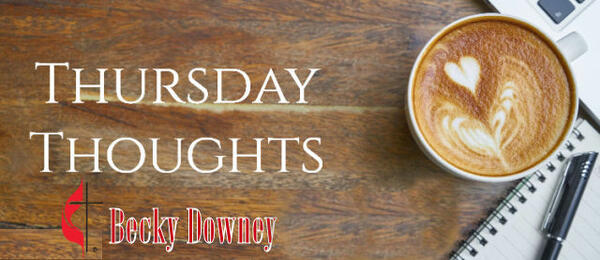 Thursday Thoughts from Becky
OPEN UP TO GOD
What are you saving for "some day"?
Mowing the lawn is a great time to think. It doesn't take a lot of brainpower to follow the mower as you guide it across the green carpet. So one day this summer when I was mowing, I started thinking about the material things I have kept for special occasions and how they stay on a shelf, in a closet, or drawer. When I die someone has to dispose of, give away or sell those items I have held for "someday". So when I finished mowing, I came in, got cleaned up, got a place setting of my china and a crystal goblet out of the china cabinet, and ate my supper on them while seated in the dining room and enjoying myself. I must admit, I haven't done it since but I intend to.
That got me to thinking about other things I have put away and I have decided to get out the quilts my maternal grandmother made for me and use them this winter. Grandma made these quilts out of love and wanted me to wrap myself in that love, not put them on a quilt rack and cover them up for the rest of my life.
So that brings me to ask this question: Do we wait until we really have something special to ask of God before we share the ups and downs of our lives each day? Do we wait and thank him for the really big blessings in our lives and just assume he knows our thankfulness for all the blessings we enjoy each day? Do we hold our prayers until we are in need of a big "favor"?
Oh, the joy, comfort, and peace we miss if we don't develop an everyday relationship with our Father. Philippians 4:4-7 gives us these words to cling to: "Rejoice in the Lord always. Again I say rejoice! Let your gentleness be evident to all. The Lord is near. Do not be anxious about anything, but in every situation, by prayer and petition, with thanksgiving, present your requests to God and the peace of God, which transcends all understanding, will guard your hearts and your minds in Christ Jesus." Don't we need to hear that each day?
He knows every hair on our heads (Luke 12:17). We all know that strong relationships depend on communication. In James 4:8 it is written: "Come near to God and he will come near to you." Is it that simple? Sure it is, but that kind of relationship takes discipline on our part. We are told in Psalm 9:10: "Those who know your name trust in you, for you, Lord, have never forsaken those who seek you."
I encourage you to get out whatever you have been saving for "someday" and enjoy it now. It is also a good time to reevaluate how we see God. Is he a deity we rely on when we have a special request and put him away until "someday" or is our relationship with God the Father, Son, and Holy Spirit a well-worn, comfortable, tender, loving, and fulfilling one?
Blessings,
Becky
A Place to Belong, A Place for You.
Our address is: 219 North Main Street, Bridgewater, VA, 22812