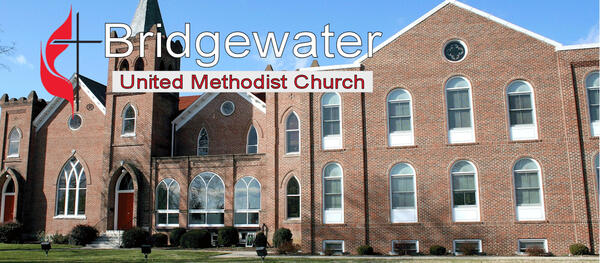 NOVEMBER BUMC eNEWSLETTER
AND FRIDAY OCTOBER 29 eBLAST
All Saints Sunday November 7th
It has been the tradition at Bridgewater United Methodist Church to honor our loved ones that have passed away since last All Saints Sunday. This year our celebration will take place on November 7th at both our 8:30 and 11:00 a.m. worship services.
All Saints Sunday is a time to bring the past and the present together. From the early days of Christianity, there is a sense that the Church consists of not only all living believers but also all who have gone before us. For example, in Hebrews 12 the author encourages Christians to remember that a "great cloud of witnesses" surrounds us encouraging us, cheering us on.
Charles Wesley, the great hymn-writer of the Methodist Church, picks up on this theme in his hymn that appears in our United Methodist Hymnal as "Come, Let Us Join our Friends Above," #709. In the first verse, he offers a wonderful image of the Church through the ages:
Let saints on earth unite to sing, with those to glory gone,
for all the servants of our King in earth and heaven, are one.
The great cloud of witnesses includes those who came before us and helped us come to know the good news of Jesus Christ. This includes those who first documented their witness of the life of Jesus like Matthew, Paul, John, and Luke We honor those who have shaped our faith traditions, like John Wesley, along with those who planted this church here in Bridgewater many years ago. We pay reverence to those who helped grow and sustain our church through their gifts, time, talents, faith, and witness. And most personally, we honor those who were closest to each of us individually who planted seeds of faith in our hearts, nurturing, and encouraging us on our faith journey. This may have been a relative who told Bible stories, a youth pastor, a camp counselor, or a friend from Sunday School. Maybe it was a stranger who shared our first witness, giving us the divine gift to know and experience God. These are the saints of our lives.
On All Saints Sunday, BUMC will publicly remember and honor those who have passed away since the last All Saints Sunday. During both services, we will be lighting a tapered candle in honor of each church member that has passed away since last All Saints Sunday, as their name is read aloud while the church bell tolls for them.
In addition, all those present during the worship service will have the opportunity to come forward and light a votive candle in memory of the loved ones in their own family that have died and await us in heaven.
We would be honored if you could join us at either the 8:30 or 11:00 a.m. worship services to help us remember the contribution that the saints have made in your life.
On All Saints Sunday, November 7th let us give thanks for both the saints in glory and those on earth, who have led us to Jesus. As they have shared the gospel with us, may we add our voices so someone else may hear about the grace and love of our Lord and Savior Jesus Christ.
A Word from Pastor Jonathan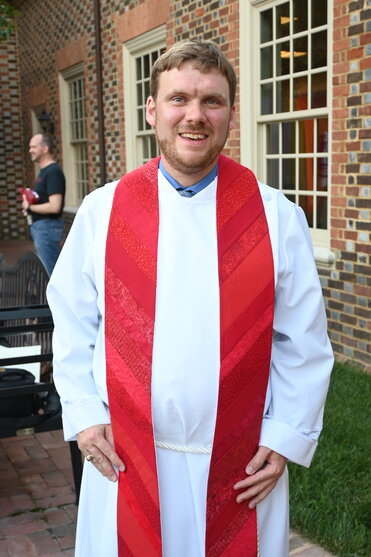 This Autumn has been filled with activities and tasks. I had to pivot away from providing weekly meditations. I miss providing these devotions for you all. Over the last month, I have taken on new responsibilities such as creating the slides for worship. I notice over the weeks I began to try to focus on being efficient or productive with my time. Yet, I notice this focus didn't provide me peace. That's when I remembered my calling isn't to be efficient, but to seek out being faithful to the Lord. I have been reminded the importance of spending time with God in prayer.
At the Youth's Spiritual Retreat, we talked about spending time with God. I specifically shared John Wesley's vision for us growing in our faith as he laid out in his sermon "The Means of Grace." He outlined three spiritual practices that we can use to grow in our faith. The first means of grace is to pray spending time daily in devotional prayers. Second means of grace is to search the scriptures and mediate on them. The Third is partake in Holy Communion as often as we can.
After sharing this with our Youth, I provided them an opportunity to help them grow disciples. I changed them to use the Upper Room Devotional, which provide a selection of scripture, short story, and pray to help you in your devotional life. I would like to invite you also participate in this challenge. Paper booklets of the Upper Room are available at the entrance of our Church building. You can also sign up to receive the devotions by email. Here is the link to sign up.
https://identity.upperroom.org/users/sign_up?locale=en
Also, to help you on your spiritual journey, I'll be recording YouTube videos of the Upper Room's Wednesday Devotionals. May these resources help you as grow in faith into the days ahead.
Let us pray.
Gracious God,
We thank you for the grace you have given us through your son, Jesus. Help us to remember you love us for simple existing. We love you Lord. We pray this in your Holy Name. Amen.
Fowler Memorial Service Sunday at 2:00
There will be a Celebration of Life for Helen Fowler, Rodney Hildebrand's mother, this Sunday October 31 at 2:00 in the BUMC sanctuary. Join us.
Fall Youth Events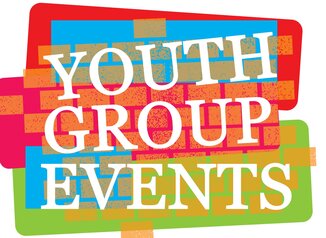 OCTOBER
Saturday, October 30th - Holy-Ween Party - Cancelled due to no sign ups
Sunday, October 31st - YOUTH serve as worship volunteers at 8:30 a.m. and 11 a.m. services. Call Pastor Jonathan at 540-742-1535 to volunteer.
NOVEMBER
Saturday, November 6 - 1:00 p.m. to 5:00 p.m.
Camp Light - Helping Set up for Christmas Wonderland
Interested? Please sign up at least a week in advance.
Saturday, November 13 - 10:00 a.m. to noon
Families help Pack for Operation Christmas Child + pizza for lunch
Interested? Please sign up at least a week in advance.
Sunday, November 14 - 5:30 p.m. to 7:30 p.m.
Youth's Friends-Giving
Interested? Please sign up at least a week in advance.
Are you an adult who feels like you are missing out on all the fun the Youth is having? Contact Pastor Jonathan to let him know that you want to volunteer to help.
SOUP & YOU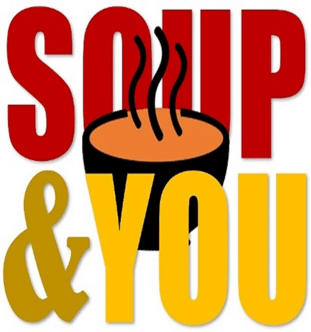 We are happy to be able to have our Soup & You fellowship resume. We are still following the United Methodist Church's guidelines regarding COVID-19.
In accordance with this guidelines, we can not serve any food that has not been prepared in our Church's Kitchen. For this reason, if you plan to attend you do not need to bring any food. We are preparing the soup and drinks at the Church. Each Soup & You menu will consist of two soups, crackers, cookies, and drinks. This menu will be in place through December 2021. At that time, a decision will be made based on guidelines as of January, 2022, as to whether we can resume the normal Soup & You activity.
The dates for Soup and You until year end are as follows:
Wednesday, November 17, 2021 at noon
Wednesday, December 15, 2021 at noon
If you have any questions, please call Mary Glover 828-3795 or Ann Teter at 828-0627.
HOPE TO SEE YOU THERE!
The Nurture Team
Celebrate our Veterans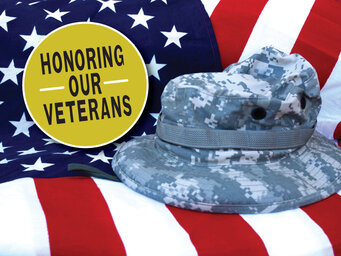 On Sunday, November 14, 2021, as part of the Veterans and Active Duty Personnel Recognition Sunday, Frank Vetting will be speaking during both church services in honor of Veterans Day. Frank served in the Army from 1972 to 1981. During that time, he served both within the United States and Germany. He was an Infantry Officer, supervising troop members and completing administrative duties. Frank spent three years in Germany also served here in the Untied States. He was stationed at Fort Jackson in South Carolina, where he met and married his wife Tara. Tara also served as a nurse in the Army Nurse Corp. We thank Frank for his his service to our country and also for agreeing to speak on behalf of veterans.
The Nurture Team
Note of Thanks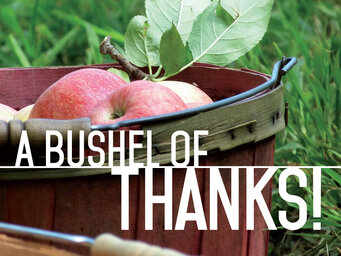 The Nurture Committee would like to thank Ann Teter for designing a card honoring our veterans. Each veteran will receive this card to acknowledge their time in service to our country.
Charge Conference Reports, Upper Rooms, and Paper BUMC Newsletters Available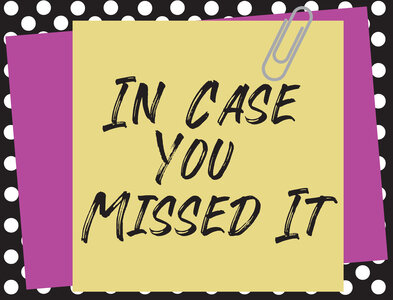 Paper copies of Charge Conference Reports, Upper Rooms for November-December, and the November BUMC Newsletter are available in the entryway/narthex and hallway to the Sanctuary.
ALTAR FLOWERS FOR THIS OCTOBER 31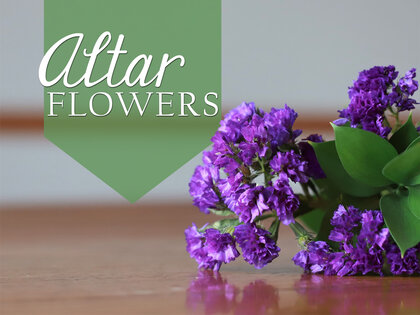 The flowers on the altar today are in celebration of the life of Helen Fowler and her heavenly presence.
November Birthdays and Anniversaries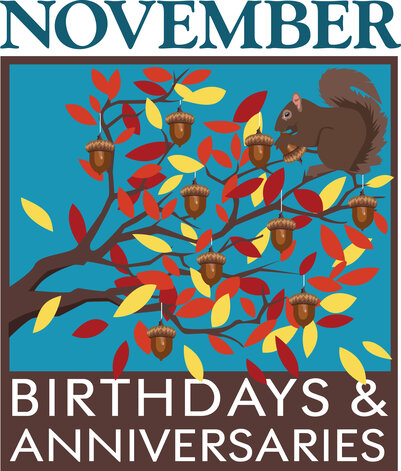 November Birthdays from Faithlife
3 - Caitlin Canada, Roger Joralemon
4 - Nathan Miller, Dewey Swicegood
5 - Mickey Dean, Derek Hemmis
6 - Robert Puffenbarger
8 - Jack Breeden, Logan Breeden, Kevin Kunowsky
9 - Taylor Ann Joralemon, Robert Stickley
10 - Marshall Runion
11 - Martha Canada
12 - Madison Huffer
14 - Dillina Stickley, John Dotson-Brooner
16 - Peggy Smythers
17 - Ethan Cook
18 - Patrick Snook
19 - Daniel Brubaker
20 - Robert McKenzie
22 - Melissa Kenney Gong, Wilda Long
24 - Conrad Wyrick
25 - Max Harper
27 - Rodney Hildebrand
28 - Natalie Snook
29 - Daniel Harris, Rhonda Johnson, Christy Rainey
November Anniversaries
18 - Wilton and Becky Fansler
Thank you for your support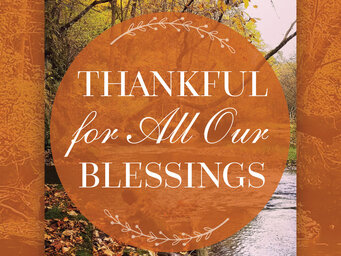 The Faith Bible Class wants to thank everyone who provided items in support of Baby Hope. These items will be used to benefit local babies and families of babies in need.
A Note from Hope Distributed -
Thank you so very much for your contribution to Baby Hope. So far, we have been able to help over 30 moms, grandmoms, and aunts help take care of the children.
Gratefully, The Baby Hope Team
Operation Christmas Child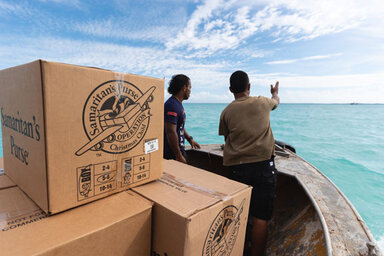 Photo above is of Operation Christmas Child boxes being delivered by boat.
The deadline for donations to Operation Christmas Child (OCC) is Sunday, November 7. This allows time for last minute shopping if needed.
Please put Saturday, November 13 from 10 a.m. to noon on your calendar for the family friendly BUMC Operation Christmas Child Packing and Pizza Party in the Fellowship Hall. Please let Johna McFarland know if you plan to attend, so we can get an idea about ordering pizzas.
We plan to send out 150 or more gift boxes to children around the world. We are responsible for covering world-wide mailing costs of nine dollars a box or $1350 for 150 boxes. This amount is covered by individual gifts to OCC through the church. OCC is a "designated", "stand alone" or "pass through" fund. Money does not come out of the BUMC General Fund to cover mailing or items that go into OCC gift boxes.


Donations to fill shoeboxes are also still needed for Operation Christmas Child. Items needed include:


Sets of 4 black pens
Pencil sharpeners (still need 50)
Jump Ropes
Sets of 2 matchbox type cars
Combs
Toothbrushes (still need 37)


Time is running out!
DS Victor Gomez Invites You to a Town Hall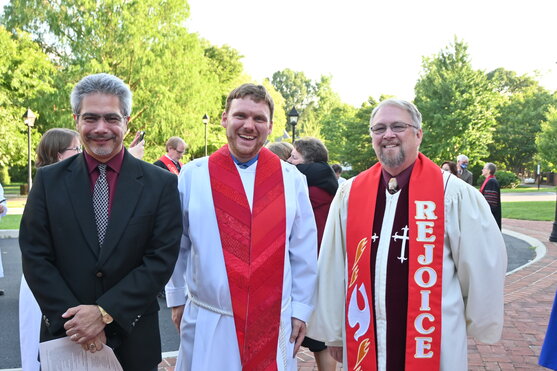 Please be reminded of the Town Hall meeting tomorrow, October 30th at 11:00 a.m. The Zoom Link is below.
On September 23, 2021, Bishop Sharma Lewis announced a District Initiative to convene a work team that will work on the creation of a new district and how to best use resources. You are invited to a Town Hall meeting where you can share your ideas. Members of the work team will be present to take notes. We are planning about one hour and hope you can attend.
Please remember to join DS Gomez in prayer and fasting on Saturday morning. At noon, DS Gomez will have a special prayer to give to God the closing of fasting. See you on Saturday.
Victor Gomez is inviting you to a scheduled Zoom meeting.
Topic: Town Hall Bi-District
Time: Oct 30, 2021 11:00 AM Eastern Time (US and Canada)
Join Zoom Meeting
Meeting ID: 967 3280 3295
Passcode: wesley
One tap mobile
8558801246,,96732803295# US Toll-free
Dial by your location
855 880 1246 US Toll-free
Meeting ID: 967 3280 3295
Find your local number: https://zoom.us/u/abZjPbddMO
In God's Service,
Rev. Dr. Victor Gómez
District Superintendent
Harrisonburg/Winchester Districts
Virginia Annual Conference
The United Methodist Church
I observe personal sabbath on Fridays
Be A Blessing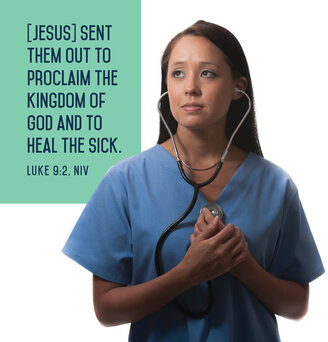 Would you like to support nurses in local schools who are trying to provide personal hygiene products to students in need?
Please support Be A Blessing by dropping off
children's toothpaste
children's toothbrushes
unisex deodorant
feminine hygiene items
in the box sponsored by UMW in the breezeway to the sanctuary.
Roanoke church gives gift cards to teachers that also pay it forward to help local business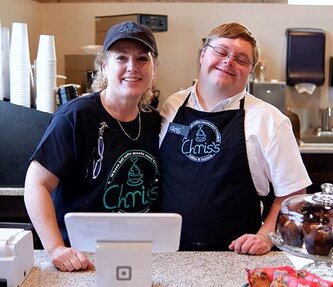 Members of Mount Pleasant United Methodist Church, Roanoke, presented over 60 gift cards to all teachers and staff at Mount Pleasant Elementary School earlier this year. Each year the church dedicates 100 percent of a special outreach offering to needs beyond the church family. Previous recipients have included global clean water initiatives and the Blue Ridge Women's Center. This year, the church wanted to show appreciation for the efforts of workers at "the school across the street."
"The church has a long history of working hand in hand with the school," said the Rev. Robert Stutes, pastor. During the last year and a half, many of these hands-on efforts haven't happened. The church decided to express its appreciation to staff members who have worked tirelessly and creatively during the pandemic.
Each staff person received a $25 gift card to Chris's Coffee and Custard, a new area business which is itself a wonderful form of outreach. Chris's opened in 2021 and creates opportunities for gainful and meaningful employment for individuals with intellectual, developmental, and physical disabilities. The business is named for Chris Woodrum, a young adult with Down's Syndrome.
YOUR Prayers are Needed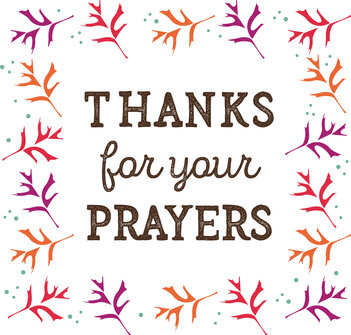 Bridgewater UMC Prayer List for eBlast 10/29
Prayers of Sympathy
Ronald Carrier COVID complications (Kathi Hemmis's daughter Angela's father-in-law)
Phil Ungar friend to many in congregation. Gifted potter and teacher
Johanna Runion
Chris Runion's sister-in law
Evelyn Ray COVID complications (Dennis Kenney's aunt)
Joys and Answered Prayers!
Vicki Kenney had successful surgery (Dennis Kenney's sister-in-law)
Ronnie Trobaugh doing well after surgery (Becky Downey's friend)
Vicki Kenney had successful surgery (Dennis Kenney's sister-in-law)
Crystal Curry had successful surgery and is recovering at home
Current Prayer Concerns
Lower COVID levels around the world - for children, youth, adults, and families who have COVID
The people of Haiti
The people of Afghanistan
The people affected by hurricanes, by flooding and the fires in the west
Becca Hall - hospitalized with blood clot in brain (Becky Downey's niece)
ONGOING NEEDS OF THE CONGREGATION
Mike Bennett Grace Fishback Betty Foley Forrest Frazier Vickie Gibson Henry Graham Bob Holden
Anthony Joralemon Roger Joralemon Anna Keller
Jeanette McMillion Ray Michael Bob Puffenbarger
Glen Thomas Nancy Thomas Donald Usry Leon Waters
How many came?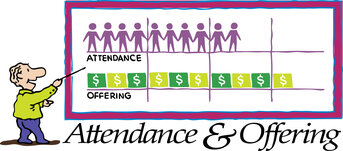 Sunday, October 24
52 total in-person for 8:30 a.m. Worship Service
72 total in-person 11:00 a.m. Worship Service
50 estimated online attendance for October 17 to 23
174 Total estimated Worship attendance in-person and online for week of October 24 to 30


In-person worship services at 8:30 a.m. and 11:00 a.m. are offered every Sunday.
OR participate in worship on our website by clicking the link below https://bridgewaterumc.com/sermons.
58 - Sunday School attendance for October 24.


Sunday School for young folks - all downstairs
Kindergarten to Pre-Kindergarten
Grade 1 and grade 2
Grade 3 to grade 5
Youth (grades 6 to 12)


Sunday School for the young at heart
GIFT and Fellowship classes upstairs
Faith Bible and New Beginnings classes downstairs
Monday, October 18 to Sunday, October 24 Offerings
Last Week's Offerings - $11,822.90
This includes all contributions to BUMC (general fund for operating expenses, electronic giving, mission, and special giving).
BUMC needs to average $9,478.85 a week in giving to the general fund to keep up with projected costs in 2021. The BUMC operating budget for 2021 is $492,900.
"Attendance & Offering" artwork from Newsletternewsletter.com used with permission.
Thank you for your help and support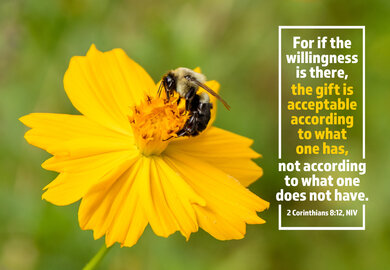 Thank you for all the time, efforts, support, and financial help that you have given to each other, to other members of our community, and to support the church's ministries.
Please remember the opportunities and ways you can provide financial and other support for God's ministries through Bridgewater United Methodist Church.
You can:
Give during BUMC in-person worship services at 8:30 a.m. and 11 a.m.
Drop a check off by the church office in person between 9 a.m. and 3 p.m. Monday through Friday.
Mail a check to the church at BUMC, 219 North Main Street, Bridgewater VA 22812.
Give through the BUMC website at www.bridgewaterumc.com/Giving.
App for Giving @ FaithLife.com - Download the app, find BUMC, and give through your smart phone!
Secure, locked outside box at Green Street entrance in which you can leave papers for the church office.
"For if the Willingness is There . . . ." artwork from Newsletternewsletter.com used with permission.
Thank you. We can accomplish much together.
Bridgewater United Methodist Church
219 North Main Street
Bridgewater VA 22812
540-828-0890
Church office hours - Monday through Friday, 9 a.m. to 3 p.m. and by appointment
Bridgewater UMC Church Staff
Senior Pastor: Rev. Steve McMillion, 540-810-7118
SeniorPastor@bridgewaterumc.com
Associate Pastor for Congregational Care and Youth Ministries,
Rev. Jonathan J. Lamb, 540-742-1535
AssocPastor@bridgewaterumc.com
Admin Assistant: Paul McFarland, 540-828-0890
Bookkeeper: Drew Davis bookkeeper@bridgewaterumc.com
Children's Ministries: Whitney Wright childrensministries@brdgewaterumc.com
Custodian: Edward Stoops 540-4763725
Director of Music: Joan Kenney joankenney@yahoo.com
Handbell Choir Director: Ramona Evans
Organist: Drew Davis davisas248@gmail.com
Harrisonburg District Office
40 South Gate Court, Suite 101, Harrisonburg, VA 22801
District Superintendent: Rev. Dr. Victor Gomez
Office: 540-433-2382; Email: harrisonburgds@vaumc.org
A Place to Belong, A Place for You.
Our address is: 219 North Main Street, Bridgewater, VA, 22812