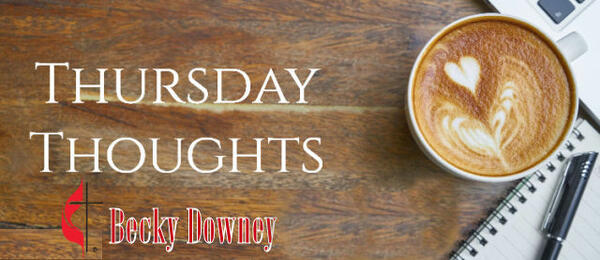 Thursday Thoughts
November 18, 2021
Thursday Thoughts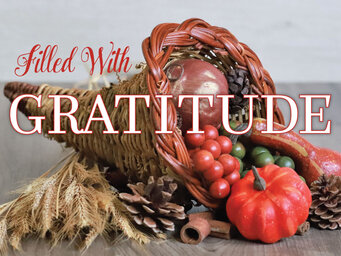 Thursday Thoughts
November 18, 2021
As we pause to celebrate Thanksgiving next Thursday, we take time to reflect on the blessings in our lives. We know the love of Jesus Christ and we are secure in the knowledge that we are saved to live with him in eternity. But many around us don't know the love of Christ. They live in an empty pit and are looking to fill it with worldly things to give their lives meaning and purpose. Let's stop and pray that God will use us to share the love and grace that only He can offer.
We thank God for answered prayer. We grow impatient when prayers are not answered on our schedule or if the outcomes are not to our liking. We ask God's forgiveness for our impatience and lack of faith. The prayer hardest to be uttered and sincerely meant is, "Thy will be done".
As we gather with family and friends we are grateful (most of the time), for being a part of someone else's life, sharing joy and struggles. There are those around us who are lonely. Many have said their earthly goodbyes this year. The memory of illness and suffering of their loved one is still fresh in their heart and the question, "Why?" may still be at the forefront of every thought. There are those for whom a relationship has ended leaving a broken heart and a fear that loneliness will be their companion for the rest of their lives. We pray that the Holy Spirit will lead us to offer friendship or to offer the right words that will bring comfort.
Are there children in your life? Do they bring you joy, wear you out, and get on your last nerve from time to time? Good. There are children in our community that no one wants, children who are barely tolerated, neglected, rejected, and abused. How will they grow to be loving, caring adults? Hug the children that you know, show them love, respect, discipline, and hope. Share the joy you know by loving Christ. The seeds of faith you plant in their hearts may not grow when they are planted but will take root in due time. Thank God for the children in your life and ask how you may serve children who need you.
Are there family members in the military who are deployed across the face of the globe and won't be joining you for Thanksgiving? Pray for them and their families.
Do you have a paycheck or a retirement check coming each month? Remember to be thankful. For many, the months stretch beyond the money. Many know the fear that comes from financial insecurity. Many in our community are experiencing homelessness or close to it due to medical expenses or other circumstances. Pray for those who live on the financial edge.
Do you enjoy relatively good health? We are always grateful but sometimes complacent about that blessing. Maybe you or your loved ones have suffered from Covid-19 or some other disease this year. Remember to offer prayers of healing for those who are unwell.
If you are happily married, give your spouse an extra hug and give thanks for that bond that is strong, trusting, supportive, forgiving, and loving. Many are not in happy marriages or whose marriage has collapsed this year. Pray for your spouse and your marriage as it is hard work.
Has there been a change in your life this year? Maybe you have welcomed a new baby into the family, a family member has married, a child has moved away from home to go to college or for a life on their own. Maybe your aging parents need more help or moved into a retirement center this year. Maybe a loved one has died this year. Has there been a change in your standard of living? Whatever the change, it can be stressful. We ask God for wisdom and endurance to handle change as it affects us all.
We thank God for our church. This has been a particularly difficult year for many churches, including our own due to the inability to gather as we would like, to be in ministry together and for financial reasons. However, the church is more than a building, committees, and a budget. The church is the Body of Christ, with Christ as the head and we are the body. We may have our differences, but Christ promised that the church would survive. Even with different opinions and viewpoints, we are all at the foot of the cross with Christ's blood spilling down upon each of us, claiming us for his own.
As we sit at the Thanksgiving table looking at the bounty, or plop down in a favorite chair to watch a football game, give thanks for your blessings and remember the needs of others and pray for them. It may be your prayer that leads the Holy Spirit to inspire you to be involved in helping others in some new and exciting way. You may be Christ's hands and feet as you give hope and share Christ's light to a hurting world.
"Rejoice always, pray continually, give thanks in all circumstances; for this is God's will for you in Christ Jesus." 1 Thessalonians 5: 16-18
Happy Thanksgiving,
Becky
A Place to Belong, A Place for You.
Our address is: 219 North Main Street, Bridgewater, VA, 22812