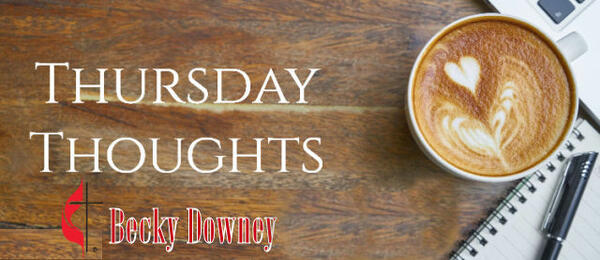 Thursday Thoughts from Becky
Joy Versus Happiness
How to Experience Everlasting JOY!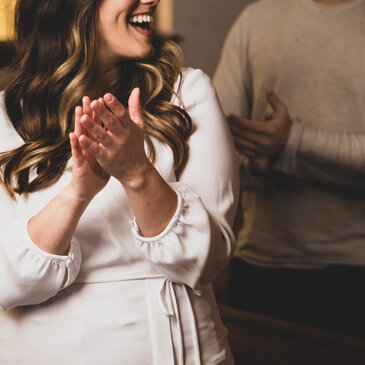 Thursday Thoughts
December 16, 2021
We will continue to look at the candles in the Advent wreath. This week we look at the solitary pink candle signifying Joy. But why pink? Pink or Rose is the liturgical color for joy. Some churches use blue candles instead of purple but joy is always represented by the pink candle.
What is Joy? And how is it different from happiness? Christmas joy is the response of the world to the tremendous news that the Savior, God Incarnate, Emmanuel had been born. In the English language, the two words happiness and joy are sometimes interchanged to express delight. But I believe they have different meanings. Here are my thoughts on happiness and joy.
Happiness depends on the current circumstances. For instance, I am happy when the sun is shining and the temperature is 75 degrees. Or it makes me happy to have a new recipe that turns out to be a keeper. I am happy when I see that my paycheck has been deposited into my bank account and I am happy to share a meal with friends.
But joy is different from happiness. Joy goes deep to the soul. It is not dependent on outside circumstances. Situations in life may seem dire but joy is a warm fire in the soul. The shepherds, who were low on the social order of the cultural ladder, were filled with joy at the angel's message of a Savior birthed in a stable. Finally, there was a reason for hope, peace, and joy. Imagine receiving this news after struggling with hopelessness for so long. Did the news make day-to-day existence easier or lift them up from their low socioeconomic status? No, the joy they felt was not related to their earthly circumstances. They were invited to worship at the manger/cradle of the King of Heaven and Earth. The shepherds were the chosen ones to first receive the Good News. Joy cannot be bought or sold. In fact, some of the most joyful people I know have not allowed worldly success or the lack thereof to weigh them down. They know material things may bring momentary happiness but no joy, so why spend time chasing after something so ephemeral.
I love for the choir to sing Natalie Sleeth's song based on Galatians 5:22-23, "There'll be Joy In the Morning". The lyrics read something like this, 'the light will dawn and the darkness will be gone. '
That's what joy does!
Advent is the perfect season to add some joy to your heart. Your stocking may be filled with things that bring happiness but joy keeps our soul hopeful. What does scripture say about joy?
In John 15:9-11, Jesus told his disciples, "As the Father has loved me, so have I loved you. Now remain in my love. If you keep my commands, you will remain in my love, just as I have kept my Father's commands and remain in his love. I have told this so that my joy may be in you and that your joy may be complete."
In Romans 12: 11-12, "Never be lacking in zeal, but keep your spiritual fervor, serving the Lord. Be joyful in hope, patient in affliction, faithful in prayer."
Romans 15:13 has some powerful words for us to hear. "May the God of hope fill you with all joy and peace as you trust in him. So that you may overflow with hope by the power of the Holy Spirit."
As we have observed the three past weeks of Advent, we see how hope, peace, and joy all work in tandem. And the closer we get to Christmas, the light from the candles glows brighter. May it be the same with you.
Becky
A Place to Belong, A Place for You.
Our address is: 219 North Main Street, Bridgewater, VA, 22812