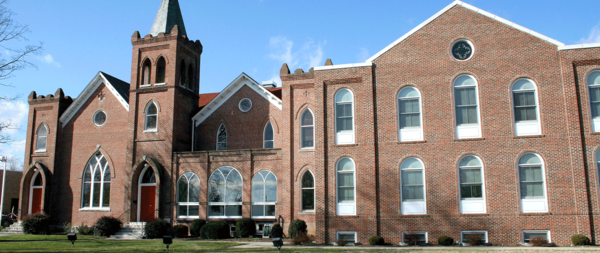 e-BLAST & JANUARY NEWSLETTER
Pastor Steve Announces Retirement
I want to begin this newsletter article by thanking everyone for the numerous Christmas gifts and cards given to Jeanette and me. Each one of them has been read and is on display at our dining room table, where they remind us of what a blessing it is to be your pastor, as well as the hope we have at Christmas. Despite Jeanette's fight with cancer, we had a wonderful Christmas with our family, and we believe that Jeanette's cancer will only be a memory among many that happened in 2021.
As we prepare to enter a new year, we often wonder what changes that new year will bring. Change can be good or bad, depending on how you look at it. I tend to be an optimist and look for the good in things. As a child of God, how can I do any less for is He not in control of everything and does he not make all things work for good for those who love Him and are called according to his purpose (Paraphrase of Romans 8:28)? We certainly have experienced a lot of change in the last two years here at Bridgewater UMC. 2022 will not be any different. As we move into the new year, let us remember Proverbs 3:5-6, "Trust in the Lord with all your heart and lean not on your own understanding; in all your ways submit to him, and he will make your paths straight."
One of the changes that this church will be experiencing in July of 2022 is a change in pastoral leadership. After thirty-three years of service to the United Methodist Church, I have decided to retire this year. I came to this decision for several reasons.
First, I will turn sixty-five in March, which probably got me thinking about the possibility of retirement.
The second reason that I am retiring is for health reasons. This church has supported Jeanette and I as we have dealt with her cancer. The cancer has caused me to reflect on what time the two of us have left in life a little more closely. Our health will continue to be more of a factor as we move forward in life for whatever time God has planned for each of us. One of my desires is to spend as much time as possible with Jeanette enjoying the things the two of us like to do.
The third reason for retiring now is that there are a lot of projects that I want to accomplish around our house. I love building and creating new things, so I intend to do many home improvement projects in the years to come.
I have already informed the Staff Parish Relations Committee (SPRC) of our church and our Bishop of my intention to retire in June of 2022. One of the beauties of the Methodist Church is our appointment process. In some churches, it could take years to replace the pastor of a church, but not in the Methodist church. Come July 1st; your new pastor will be here, ready to continue the work of this church.
Several things will be happening between now and then. The SPRC will meet multiple times discerning what characteristics in a pastor are needed to move the church forward. They will also create a church profile that determines the church's needs and the community of Bridgewater. These two pieces of information will be forwarded to our District Superintendent (DS). The SPRC will also meet in person with our DS to help refine what type of pastor is needed going into the future.
Then the real work of the appointment process begins with PRAYER. The DS, the SPRC members, and your Bishop will spend a great deal of time in prayer to discern God's will for who should be appointed to Bridgewater UMC. While this prayer vigil continues from January thru May, the Bishop and her cabinet, made up of all the DS in the Virginia Annual Conference, will meet many times. In these meetings, our DS will share the needs for a pastor at Bridgewater UMC with the cabinet. The DS and the other DSs will then prayerfully put forward a name of a pastor that meets the needs of our church.
Once a pastor is put forth, our DS will contact the new pastor and the SPRC of our church and arrange a meeting between the new pastor and the SPRC. This pastor meeting is designed to allow the SPRC and the pastor to discern further if the church and the pastor are a good match for each other. If so, the appointment is projected and will be fixed at Annual Conference in June. Your new pastor will begin starting in July.
Pastor Jonathan's Article
"The virgin will conceive and give birth to a son,
and they will call him Immanuel"
(which means "God with us"). – Matthew 1:23 NIV
The New Year is here! Many are no longer thinking of Christmas after December 25th. But did you know Christmas is a season on the Church calendar that lasts Twelve Days? Christmas continues until January 6th with Epiphany, when the Church celebrates the arrival of the wise men. This year, may we celebrate Christmas by following Jesus' teaching and the example he gave to us. As we celebrate God with us, it is a perfect time to look at the life and ministry of Jesus.
Joseph, who was a simple carpenter, received word from an angel that Mary would give birth to Jesus, "because he will save his people from their sins" (Matthew 1:21 CEB). God's promise through Jesus is revealed again and again through the Gospels. I want to invite you to join me in reading the Gospel of Matthew in January. You can do this by reading a chapter each day.
In this new year, we have an opportunity to journey with Jesus in the Gospel of Matthew. On this journey, Jesus will share about living a godly life, signs and wonders, passion, and His resurrection. May you be blessed as you embrace the start of your new year.
Let us pray.
Gracious God, we thank you for Jesus and all He has done on our behalf. Help us to continue to live into Jesus coming and saving us on our behalf. We pray this in Jesus, Name. Amen.
Youth: Church Lock-In Ice-Breaker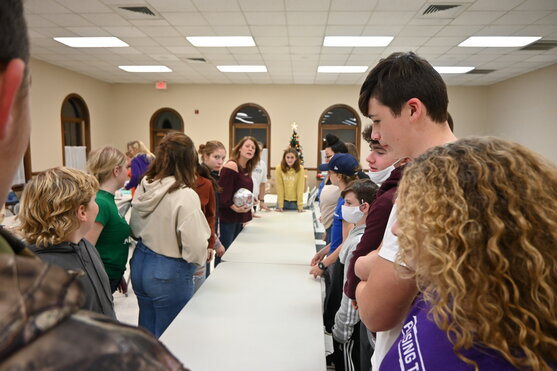 Our group was super excited to unwrap a plastic ball filled with candy, popcorn, cards, and other goodies. Then we took off for Wal-Mart to shop for a couple of needy families with middle schoolers.
Youth: Making Cards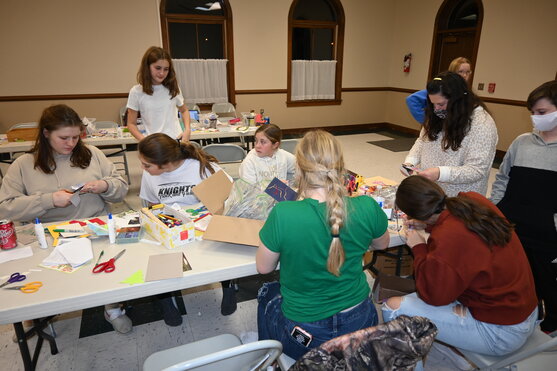 Chloe Leach, Audrey Hildebrand, Sydney Leach, Chloe Higgs, Angie Briggs, Hayden Briggs, Molly Early, and Molly Wright working on making cards for Bridgewater Retirement Community friends.
We join to make several crafts. This includes time to work on Senior Blankets, we give these out to Seniors on Youth Sunday in the Spring. We also made Christmas cards for our Church Family at Bridgewater Retirement Community residents in Joy House. I am certain you can tell we had an amazing time at the Lock-In!
Youth: Upcoming Events in Jan. 2022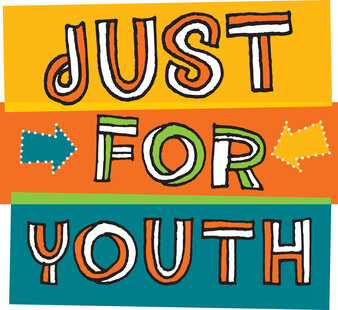 Wed. Jan. 12th 6:30 pm – 8:00 pm
Mission Trip Orientation
Our Mission trip is slated for June 17-23, but us to share about the details of the trip.
Jan. 14th – Jan. 17th * (Time Pending to Change)
Snow Tubing
If you are a youth and interested in Snow Tubing, please let Pastor Jonathan know by Sunday, January 2nd!
Fri. Jan. 21st 7:00 pm – 10:00 pm
Open Door Laundry
We will be serving the homeless by helping with their laundry.
Sun. Jan. 23rd 4:00 pm – 7:00 pm
Youth Movie Night
We will be having a study and movie night!
Sun. Jan. 30th 8:30 & 11:00
Fifth Sunday Worship
Youth will be helping Pastor Jonathan lead worship this Sunday.
If you have any questions about these events please let Pastor Jonathan know at AssocPastor@bridgewaterumc.com.
Devotions w/ Pastor Jonathan
Upper Room Devo.12.29.21
Title: "Change The World"By Jason JohnScripture: Luke 6:37-49
youtu.be
At Bridgewater UMC

Glenda Deaton January 1
Johna McFarland January 1
Brian Balser January 7
Tim Robinson January 10
Doyle Hess January 11
Mary Rawley January 12
Karen Early-Williams January 13
Mason Koogler January 13
Richard Robinson January 13
Wyatt Smith January 13
Marie Chaplin January 14
Ben Lescanec January 15
Dotty Ramsey January 16
Marisa Taylor January 16
Sandra Stroud January 16
Jamie Eanes January 17
Ann Teter January 20
Ann Scott January 22
Abby Davis January 25
Richard Phillips January 25
Anniversaries
Brian and Kelly Lescanec January 14
Julian and Joanne Fisher January 25
United Methodist Women Want You!!!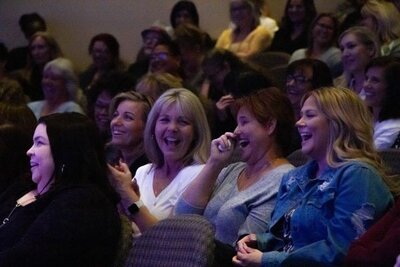 All women in our church are invited to be a part of the Bridgewater United Methodist Women. We invite you to become a member of one of our three Circles or to be an at-large member. Circles meet once a month January through May and September through December on the third Monday. Circle meetings are a wonderful time of fellowship, sharing, planning for service work, and Scripture study. We know you'll love being part of the Bridgewater United Methodist Women! For more information contact Johna McFarland 540-421-6483.
Monday, January 17 is the day for our first Circle meetings of the new year. Please contact Carolyn Van Dyck (Circle of Hope), Kathi Hemmis (Circle of Love), or Karen Chamblee (Circle of Faith) for more information about their groups. You can contact Johna McFarland (UMW President) for more general information or to become a member at-large.
We'd love to have you join us in our work for our church, our community, and our Lord.
The Service Team Chili Takeout Fundraiser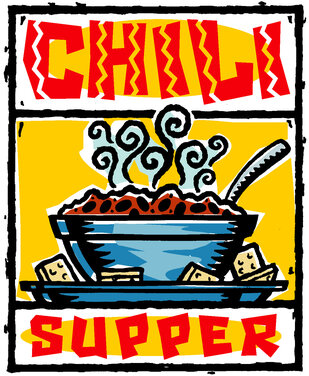 The Service Team is having a Chili Take Out Fundraiser on Saturday, January 15th. (Snow date: January 22nd) A Chili Supper is an annual fundraiser for the Service Team to raise funds to support the different mission opportunities our Team supports. We can deliver within the town limits of Bridgewater or you may pick up curbside on Saturday, January 15th between 4:00 to 5:00 PM. Our Chili will be in quart size containers and comes with four corn muffins. We are asking for a minimum donation of $10.00 per quart and encourage generosity of donations for this fundraiser. Sue Rexrode will be handing pre-orders and we encourage orders to be made by email.
Email orders for Chili to Sue Rexrode at rexrodsg@jmu.edu between January 1st and January 13th.
In your email, please state how many quarts of Chili/corn muffins you want to order and whether you would like it delivered to your home (town limits of Bridgewater only) or if you will pick up curbside at BUMC between 4:00-5:00 on Saturday,
Meals for Open Door Shelter January 17-22, 2022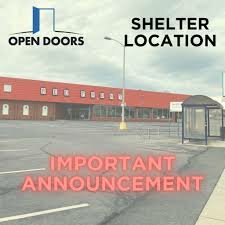 The Service Team is arranging evening meals for Open Doors for January 17-22, 2022. If you have never helped with this project and would like to, please contact me at 540-828-8690. Open Doors is always in need of men's and women's undergarments. We would like to have a drive for these items so if you would like to contribute, please put your items in the box in the hall prior to January 17th.
Dennis Rawley, Chair
A Place to Belong, A Place for You.
Our address is: 219 North Main Street, Bridgewater, VA, 22812