E-Blast for January 14th
Church Council
On Monday, January 10th the Church Council met and heard reports from the SPRC and Finance Team about the future of Bridgewater UMC. These two reports have led our church to take a new direction in church leadership starting in July of 2022.
The Finance Team shared a Financial Overview (see article below), which shows a steady decline in giving. The Church Council has organized a task force to look into various options as to how to deal with this situation. This task force will report back later this year with their recommendation.
The decision was made to move from two pastors at Bridgewater UMC to one Pastor. This came about as a result of Pastor Steve's pending retirement and the financial strain the church is currently experiencing. The SPRC (see SPRC article below) in their report recommended after a lot of discussion and prayer to make the change to one pastor starting in July 2022. The Church Council unanimously affirmed the SPRC's decision.
Financial Overview of BUMC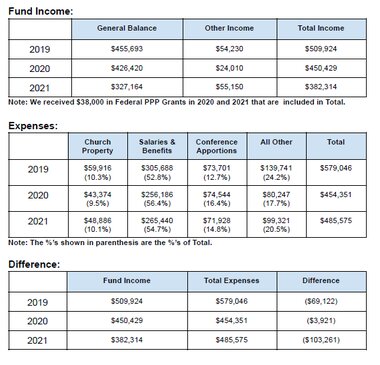 For the past 5 years, our giving at BUMC has been in a decline. The Fund Income, Expense, and Difference grids shown above will highlight our situation over the last 3 years.
Summary:
As you can see from the Difference Table we are operating at a deficit thus reducing our available cash reserves at a concerning rate.
The SPRC is taking a proactive position to reduce our expenses mid-year 2022 with further reductions realized in 2023. A Budget Task
Force Committee has been established to make recommendations to the Finance Committee on how to increase our revenue stream and review our expense structure. Your prayerful support is greatly appreciated.
SPRC
SPRC Recommendation for Pastoral Leadership
The SPRC of BUMC met on Monday, December 20, 2021, as well as on Wednesday, January 5, 2022, to discuss the SPRC & Pastor Joint Recommendation to the Cabinet on Appointment for the VA Conference of the UMC. The due date for our recommendation was January 7, 2022. The committee was informed prior to the meeting of Pastor Steve's decision to retire at the end of June 2022.
At the meeting in December, a discussion was held that in light of the financial situation of the church could BUMC afford to have 2 pastors? The committee asked for some additional information on the financial status of the church as well as attendance numbers over the past 16 years prior to our January meeting. In addition, Dawn Kern met with our District Superintendent, Dr. Victor Gomez, for his guidance and input and Karen Chamblee met with the pastor of River Road UMC in Richmond as they had recently made the transition from 2 pastors to 1 pastor.
This information was presented to the SPRC on January 5th and after some discussion, a motion was made for BUMC to go to just 1 pastor beginning July 1, 2022, thus eliminating the position of Associate Pastor. This motion also stated that a position of Youth Director (10 hrs/week) would need to be designated at a later date due to the fact that the Associate Pastor has been in this position. The motion was seconded. The vote was unanimously in favor. The recommendation to the Cabinet from both Pastor Jonathan and the SPRC was that we request a change in an appointment for Jonathan due to the elimination of his position. Pastor Jonathan shared that even though he would have liked to remain at BUMC for another year, he was open to wherever God called him. The committee then spent a great deal of time completing the SPRC Consultation form that highlighted our church and its needs for the future to help with the appointment process.
Even though the recommendation of the SPRC did not require a vote from Church Council, we did ask for the support of the Church Council with this decision, as it was not an easy one to make. Therefore, at the Church Council meeting on Monday, January 10, 2022, a motion was made and then seconded to support the SPRC's recommendation to the Cabinet on Appointment. A vote then followed, which was unanimously in favor.
Respectfully submitted,
Dawn Kern and Marc Craun, Co-chairs SPRC
Healthy Church Team
Policy Changes at BUMC
Due to the increase in local hospitalization and under advice from health professionals BUMC Healthy Church Team has directed that there be no singing for the foreseeable future during our worship services and everyone needs to wear a mask in church.
We can re-evaluate this policy on February 11 in hopes the number of cases is in decline by that time.
Let's continue to be vigilant and social-distant and wear masks so we can continue to meet for our weekly church services without making others sick.
BUMC Prayer List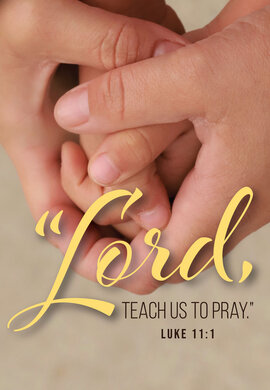 Prayers of Sympathy
Jim & Rosemary McIntire's 23 yr old daughter (JoAnne Simpkins) Alice Bryant (church member)
Carolyn Roundtree (BJ Jenkin's aunt)
Joys and Answered Prayers!
Sam Teter doing well after surgery
Sam Briggs' achievement at district track meet
Current Prayer Concerns
For the people affected by the wildfire in Colorado
for lower COVID transmission, for hospitals and medical workers being overwhelmed with first responders and all in the school system. For people recovering from natural disasters in the USA and around the world. For the people of all nations in conflict. For refugees around the world.
The Meshi family - recovering from COVID (Mary and Curtis Glover's daughter Julie's family)
Ongoing Prayer Needs of our Congregation
Mike Bennett
Anna Keller
Tammy Campbell
Grace Fishback
Betty Foley
Forrest Frazier
Bob Holden
Anthony Joralemon
Roger Joralemon
Jeanette McMillion
Ray Michael
Glen Thomas
Nancy Thomas
Donald Usry
Leon Waters
Calling all Artists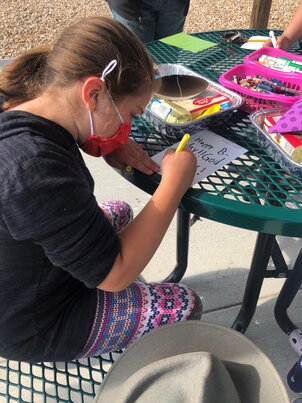 The Children's Ministry team is hosting their Creation Station in the fellowship hall on Sunday, January 30th at 4-6 pm! Join us as we use our creative gifts to make masterpieces! Contact Whitney Wright at 540-810-6691 with any questions.
Lets' Go Skating!!!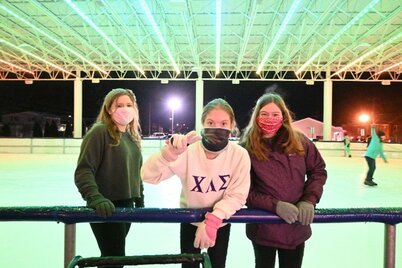 With the weather getting chillier, it's the perfect time to ice skate!! Along with the youth, children are invited to Generations Park on February 26th from 10am-12pm to enjoy fellowship, hot coco, and ice skating! With questions, contact Whitney Wright.
Sunday School Teachers Needed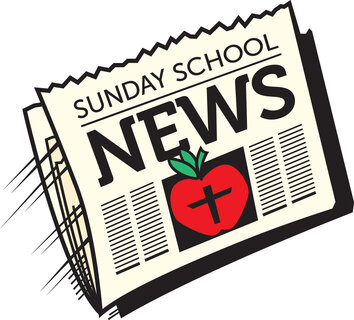 Ready to start the New Year on the right foot? Become a Sunday School Teacher! The Children's Ministry team is looking for a few more smiling faces to teach our children during the Sunday School hour. Not ready to teach? Be a Buddy! Either role is crucial for the success of Sunday School and we would love to have you one board! Contact Whitney Wright at (540) 810-6691 with any questions or to get started!
It's Finally here...Time For Chili Takeout !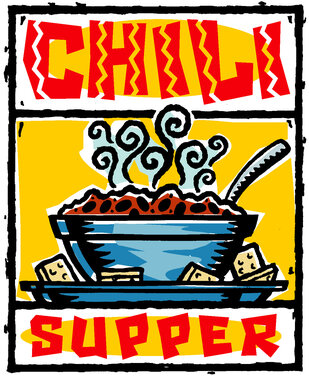 R-E-M-I-N-D-E-R!! Chili ordered should be picked up between 4:00-5:00 PM, Saturday, January 15th. (Snow date :January 22). For those requesting delivery, expect delivery to be between 4:00-5:00 PM as well. Thank you to all those supporting this fundraiser for the Service Team.
Dennis Rawley
A Heart to Serve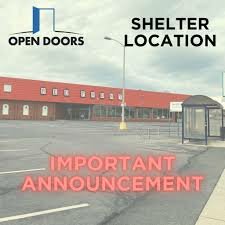 The Service Team is arranging evening meals for Open Doors for January 17-22, 2022. If you have never helped with this project and would like to, please contact me at 540-828-8690. Open Doors is always in need of men's and women's undergarments. We would like to have a drive for these items so if you would like to contribute, please put your items in the box in the hall prior to January 17th.
A Place to Belong, A Place for You.
Our address is: 219 North Main Street, Bridgewater, VA, 22812