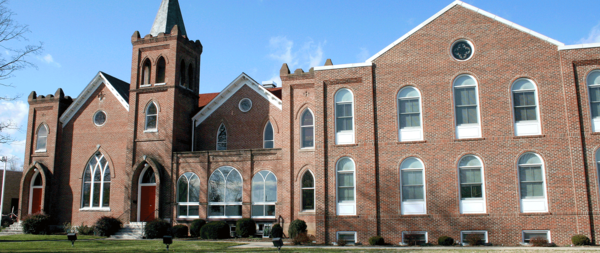 May e-Newsletter
& e-Blast for April 29th
Pastor Jonathan: "Carrying the Cross"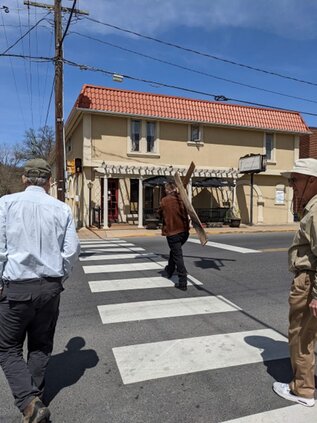 Recommended Reading
Matthew 16:21-28
Matthew 16:24 NIV
Jesus said, "Whoever wants to be my disciple must deny themselves and take up their cross and follow me."
On Good Friday, I had the opportunity to carry the cross for a moment. It was a holy moment, to carry the cross for a couple of blocks. I kept feeling the community was watching me and after a couple of blocks, the weight of the cross became more apparent to me. However, the discomfort that Christ Jesus felt was many times greater. He had been whipped nearly to death before carrying a burdensome cross. The cross was a symbol of death and it was the most shameful death you could die in the first century A.D.
The experience touched me, and I wrote a poem "A Little Cross Poem" to remember the feelings and thoughts that came to my mind when I carried the cross. I hope you can also take the time to join a crosswalk in the future! God desires us to deny ourselves and follow Him. This will often include us giving up many things and using the gifts God has given us for His kingdom. How can you use the gifts God has given you today?
A Little Cross Poem
This little cross of mine
doesn't amount to much,
It's a couple of worn boards.
I had a brief moment of discomfort.
I felt the eyes of the town on me.
The true cross burdensome was thine.
It was a backbreaking symbol of shame and such.
Your followers who saw you mourned.
In your hours you gave us, assurance.
You turned your eyes to heaven for thee.
A Prayer for Fridays (Book of Common Prayer, 123)
Lord Jesus Christ, by your death you took away the sting of
death: Grant to us your servants so to follow in faith where
you have led the way, that we may at length fall asleep
peacefully in you and wake up in your likeness; for your
tender mercies' sake. Amen.
Photo courtesy of Tony & Laura Mancari. A Little Cross Poem, written by J. Lamb.
Pastor Jonathan: New Appointment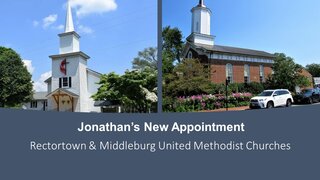 Last Sunday (April 24th), Pastor Jonathan announced his new appointment. Starting in July, he will be serving Rectortown and Middleburg Cooperative Parish.
Please pray for him, Rectortown, Middleburg, and the surrounding community.
Youth: Bridgewater & Dayton Combine!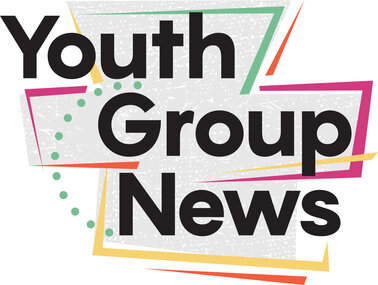 Bridgewater & Dayton Youth Groups Combine!
Over the last couple of months Bridgewater and Dayton Church leaders have discerned we would like to combine our efforts to help our Youth Ministry. We will be joining together in God's mission by sharing a Youth Coordinator.
Introducing Our New Youth Coordinator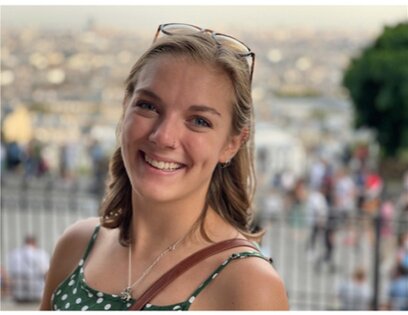 You will recognize her, Whitney Wright will be serving as our new Youth Coordinator. She will continue to serve as our Children's Coordinator. She will be starting her now position June 5th.
BUMC Prayer List
Prayers of Sympathy
Joys and Answered Prayers
Linda Wandless's daughter-in-law doing well (Judy Hulvey)
Current Prayer Concerns
· End to war in Ukraine
· For refugees around the world
· For all affected by grain and fuel shortages due to the War in Ukraine
· For local Ukrainian and Russian Families, communities, churches and students
· For those struggling with mental health problems, drug addiction and overdose
· People recovering from natural disasters in the US and around the world.
· Scott Flora (Leslie and Brad Intemann)
Ongoing Prayer Needs of our Congregation
Mike Bennett
Tammy Campbell
Grace Fishback
Betty Foley
Forrest Frazier
Vickie Gibson
Bob Holden
Anthony Jorelamon
Roger Jorelamon
Anna Keller
Doris McDaniel
Jeanette McMillion
Glen Thomas
Nancy Thomas
Donald Usry
Leon Waters
Ramona Evans
Youth's Easter Egg Hunt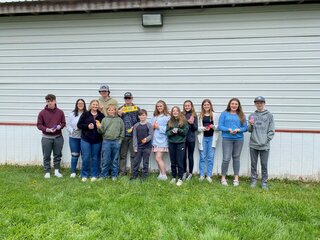 The Youth helped to hide eggs at the Children's Easter Egg Hunt. Then, Saturday, April 9th the Youth had their own Easter Egg Hunt. They found many prizes, but no one was able to find the golden egg, maybe next year? Rhonda Johnson read the Youth the legend of the Easter Robin, to remind all our Youth that Easter is about Jesus laying down His life for you and me, and then He rose from the grave!
Youth: Serving at Mission Central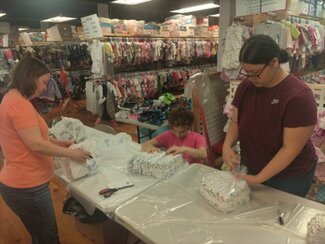 Thanks to everyone who helped collect new shoes for our Mission Central this April! We were able to bring three boxes filled with shoes to help out Mission Central on Sat. April 23rd. We also help fold over 1,500 diapers for children. Mission Central is currently serving nearly 700 families. They spend approximately $6,000—$8,000 on diapers every year. You can send you can send checks to support Mission Central to 1704 Smithland Rd. Harrisonburg, VA 22802. You can write in your check memo line: clothes closet, medical equipment, or diapers for specific funds.
Children's Ministry: Visits BRC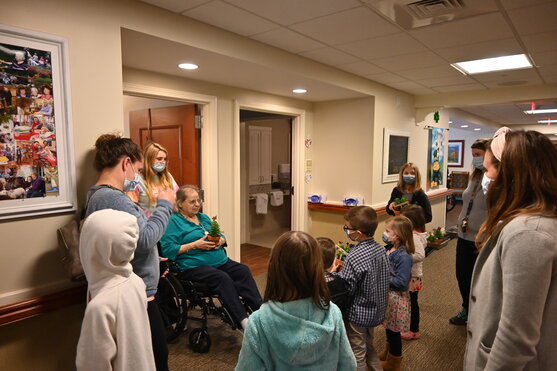 On Sunday, March 27th Children's Ministry went to Bridgewater Retirement Community for the first time since the pandemic. There were many older adults whose day was made by a visit by our youngest disciples. Our children gave residents potted paint to celebrate the coming of Spring.
Youth: Upcoming Events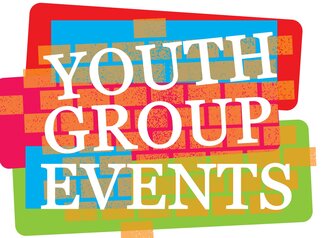 Upcoming Youth Events
Mother's Day Planning Fri. May 6th 6:30 pm—8:30 pm
Escape Room Sat. May 14th 10:00 am—1:00 pm
Planning for Youth Sunday Tues. May 17th 6:30 pm
Help at Community Garden Sat. May 21st 9:00 am—12:00 pm
Help with BRC Vespers Sun. May 22nd 3:00 pm—5:00 pm
Practice for Youth Sunday Sat. May 28th 10:00 am—12:00 pm
Youth Sunday: May 29th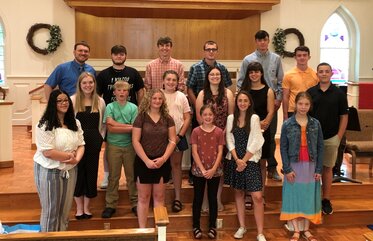 Join us to hear High School Seniors Testimonies!
Children's Ministry: Easter Egg Hunt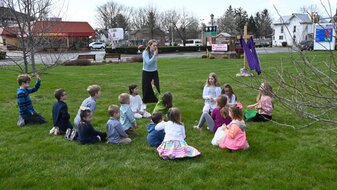 Then on Sunday, April 3rd Children's Ministry hosted a Easter Egg Hunt at Church. Our Children Coordinator, Whitney Wright shared with our children that it's not about the eggs or about the games. Easter is about Jesus and what He did for us!
Next Children's Event: Fri. May 6th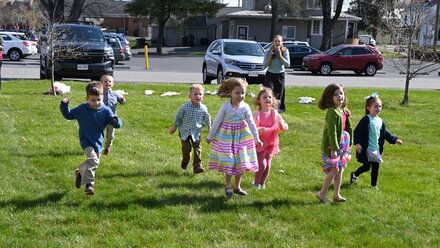 The Children's Ministry will join with the Youth Group on Friday, May 6th at 6:30 pm to partner in a Mother's Day Planning Event. We will meet in the Fellowship Hall. Contact Pastor Jonathan or Whitney Wright for more details!
Confirmation Class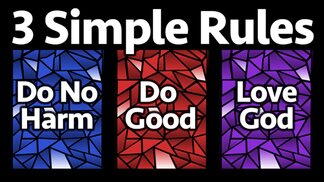 Confirmation Class 5 Sun. April 10th
"Sacraments"
We learned about the two Sacraments given to the Church by Jesus. Holy Communion in which we remember what Jesus did for us and we learn Jesus is spiritually present through the power of the Holy Spirit. Baptism is a one time event, we can experience at any age. Whether an adult or infant, baptism is a sign of God's grace in our lives.
Confirmation Class 6 Sun. April 24th
"On Loving God and Our Beliefs"
We learned about what we believe as United Methodists. We learned about John Wesley's General Rules 1) To do good, 2) To do no harm, and 3) to keep the ordinances of God. This last one has by interpreted as "Staying in Love with God." The ordinances include: join in public worship, listen to sermons, partake in Holy Communion, praying, reading Scripture, and fasting/abstinence .
Confirmation Sunday: June 5th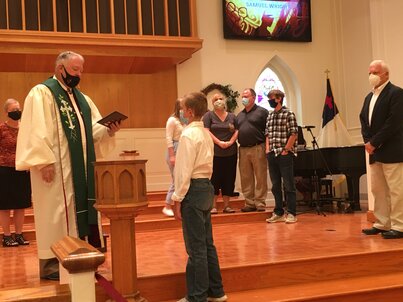 June 5th is Pentecost. We also will be having our Confirmation Students join the Church. Join us for this special celebration!
Altar Flowers: In Honor Page UMC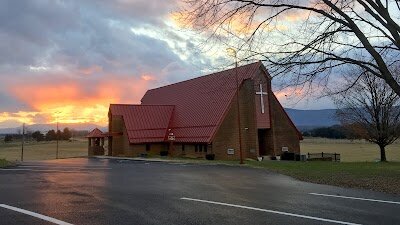 This Sunday, the altar flowers are given to the glory of God and in celebration of Page United Methodist Church Homecoming and 50th Anniversary (postponed due to the pandemic). This is Pastor Jonathan's home church.
Page Church was formed when the small country chapels merged: Oak Hill, Rileyville, and Springfield Methodist Church. Their first service was on May 3, 1970. Pastor Jonathan will be away this coming Sunday to help lead worship and celebrate this special occasion.
Photo by B.T. Thomas.
Corrected Engagement Announcement!nt!!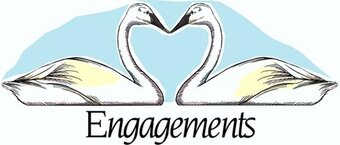 Scott and Karen Ridder proudly announce the engagement of their daughter, Michelle to Mr. Andrew Morrell. The wedding is being planned for January 2023.
2022 Stewardship Campaign Begins May 1st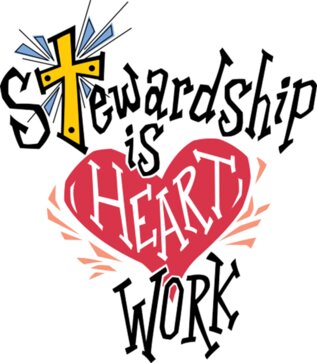 This coming Sunday, May 1st we will begin our 2022 Stewardship campaign, and will continue for the next two Sundays. On May 8th we will ask each person how they will be willing to give of their time and talents for the coming year. On the last Sunday May15th will be Commitment Sunday where you will be making your financial pledge for the rest of the year.
Giving is an important and meaningful way to express our love and gratitude to our Lord Jesus Christ. There are many verses that relate to giving. A very interesting verse is found in Acts 20:35 where Jesus said, "It is more blessed to give than to receive." Through our giving, we receive even more. The recipients of our gifts are blessed, but, as givers, we experience the joy of giving. God pours out special blessings to those who give faithfully and generously. (Proverbs 11:24-25; Malachi 3:10; 2 Corinthians 9:6). The real blessing that comes from faithful and cheerful giving will come one day when we will hear God say, "Well done, good and faithful servant!" (Matthew 25:23). Our giving is evidence of faithful and loving hearts, which allow us to enjoy an intimate relationship with our heavenly Father and his Son, Jesus. Is there any greater reward than this? The martyred missionary Jim Elliot understood the blessing of giving when he said, "He is no fool who gives what he cannot keep to gain what he cannot lose."
The apostle Paul wrote that giving is an "act of grace" (2 Corinthians 8:6). In writing to the church in Corinth, Paul referenced the example of the Macedonians who gave so generously to the needy Christians in Jerusalem (2 Corinthians 8:1-9). By grace, the Macedonians, in their extreme poverty, gave "beyond their ability" (vs. 3). They were so eager to give that they pleaded for the privilege of sharing with the needy in Jerusalem. Their giving, while they were in such a difficult economic position, gave witness to the trust they put in their Lord. God's grace makes it possible for those of us who have very little to give generously.
As you plan how you will continue to support Bridgewater UMC this year through your time, talents, and financial gifts know that your participation in the church is much appreciated. Your love shows in your contributions to our mission and ministry. How wonderful it is that so many in our church experience the joy of giving.
My God bless you as you continue the faithful stewardship of all that he has entrusted to you.

May 1 Chloe Leach
Clara Hildebrand
May 2 Drew Davis
Jim Tongue
May 4 Colton Click
Linda Swecker
May 5 Samuel Wright
May 7 David McAlister
May 8 Anthony Joralemon
May 9 Fontaine Canada
Jennifer Runion
May 10 Chad Blais
Nancy Flaherty
May 11 Jessi Higgs
May 13 Elizabeth Reese
Emily Kern
Harleigh Marshall
May 15 Jamie McDorman
Michael Deaton
May 17 Liam Knisley
May 18 Dorothy Lion
May 19 Barbara Kiracofe
Dennis Rawley
J P Mowery
Jennifer Click
May 20 Debbie Harter
Elizabeth Stieber
Leslie Intemann
Mary Kern
May 21 Adam Gilkeson
Geoff Floyd
May 22 Jeanie Kemp
May 23 Grace Mowery
May 25 Cora Hinkle
Hannah Cook
Katrina Davis
May 28 Ed Craun
Hayden Briggs
May 30 Scott Kiracofe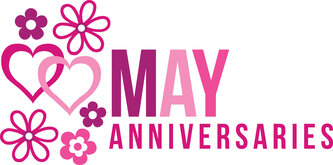 1 Scott & Karen Ridder
11 Drew & Rita Davis
16 Chuck & Dawn Kern
23 Vic & Amanda Taylor
24 Courtney & Tim Leach
25 John & Christy Marshall
26 Brad & Leslie Intemann
A Place to Belong, A Place for You.
Our address is: 219 North Main Street, Bridgewater, VA, 22812