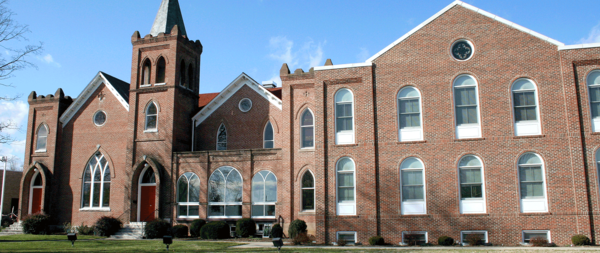 E-Newsletter and E-Blast for August 2022
Message from Pastor Mary, Team Jeremiah: Sharing Information about General Conference, Prayer Requests, Youth News, Children's Clothes Closet, Reach and Relate, Update on Edward Stoops
Focus on Goodness from Pastor Mary
The word that came to Jeremiah from the Lord: "Come, go down to the potter's house, and there I will let you hear my words." So I went down to the potter's house, and there he was working at his wheel.
The vessel he was making of clay was spoiled in the potter's hand, and he reworked it into another vessel,
as seemed good to him. ~ Jeremiah 18: 1-4
"And God saw it was good" Genesis 1:10b
Lately, I notice I've been using the word "goodness" more. I've always said, "Oh my goodness!" as an exclamation of surprise, but that's not quite it. Thanks to many of you, I received a whole basket of goodness--cards with prayers and well wishes, good eats, and good gifts. God's goodness is in the abundant flowers, song of the birds, the amazing views here. Laughter in the church is a gift of God's goodness. If you notice, goodness is one of the fruits of the Spirit. Sing with me: "God is so good, God is so good, God is so good, God is good to us...!"
I love the prophecy of Jeremiah because it has so many object lessons. This story is one of the best. What stands out for me today is how God "reworked [the clay] into another vessel, as seemed good to him." (vs 4)
Growing up in Harrisonburg, I took some summer art classes for kids at JMU. Turning kids loose in a college art studio was brave, and it was good! I remember learning to batik cloth with wax and dye, make paper, and sculpt with plaster. Most of all, I remember learning to shape clay at a potter's wheel.
It was so easy for the clay to get spoiled on the wheel! One moment, it seemed it would turn out beautifully. But if it wasn't right, it would wobble, tear, or even fly right off the wheel. I wonder if there is something in you that feels spoiled before God--for whatever reason. And don't we all have those days that fly right off the wheel and go splat even when we are trying our best? I wonder if we think--maybe we have even said--that something got "spoiled" in our church over the last couple of years. We can name those things and lift them in prayer to God.
The good news--did you hear it?--is that God reworks spoiled things for good. Good. And thank Goodness God does! God heals parts of us that seem spoiled. God is there and uses the days that go splat. God has big plans for our congregation and the big-C Church--the community of God in the world.
The solution--for the clay and for us--is centering. A potter must take time to center the clay on the wheel before trying to shape it. Our days are less wobbly, torn up, or fly away if we take the time to center on Jesus Christ at the beginning, end, and throughout our day. When we take time to center and pray, remember to thank God for the goodness that surrounds us.
Blessings to you all,
Pastor Mary
Prayer requests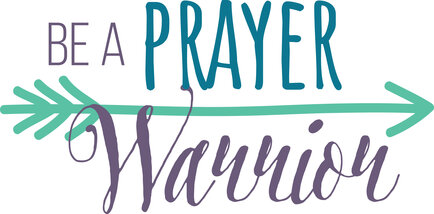 Joys and answered prayers
Edward Stoops is home at his brothers and doing better.
Sharon Witt (Carolyn VanDyck's sister) is doing well after surgery)
Current Prayer Concerns
For the victims and families of mass shootings
For an end to the war in Ukraine. For refugees from the war and around the world.
For all affected by grain and fuel shortages due to the War in Ukraine
For all struggling with mental health problems, drug addiction and overdose
For our friends and family dealing with COVID and for lower transmission
For our friends and family waiting for organ transplants
Christy Smith
Linda Moser
Edward Stoops
Sharon Witt
Alan MacNutt
Ongoing Prayers
Mike Bennett
Tammy Campbell
Mary Dadisman
Grace Fishback
Betty Foley
Vickie Gibson
Bob Holden
Anna Keller
Doris MacDaniel
Jeanette McMillion
Yvonne Taylor
Glen Thomas
Nancy Thomas
Doris Waters
Team Jeremiah: Sharing Information about General Conference
"For I know the plans I have for you," declares the Lord.
"plans to prosper you and not harm you; plans to give you hope and a future." ~ Jeremiah 29:11
Dear Friends,
As of August 1st, I will have been your pastor for about a month. Wow! Whew! It's been a busy, wonderful month. I have learned so much about our congregation and our church--not near enough-- but it's a start. Several people have asked me: "What's going on with the United Methodist Church and the decisions facing our General Conference?"
Yes, I agree we will need to find ways of sharing information about General Conference and discussing the topics and news together as a congregation. However, I think it is best done in relationship. I'm hoping you will give me a bit more grace to get to know you and you get to know me as we navigate this season.
There is a lot of information already available. There are books, articles, videos, sermons, websites, and podcasts. If you are asking questions, I encourage you to start doing some reading on your own. Be aware that while there is a lot of accurate information available, there is also some misleading information being shared.
Team Jeremiah is an up-to-date resource from the Virginia Conference (www.vaumc.org/teamjeremiah). They are made up of lay person and pastors who work together to share information about General Conference. Some are elected delegates to General Conference and some are not.
On July 12, I attended a webinar by Team Jeremiah that I commend to you. This excellent video answered questions regarding aspects the General Conference discussions. It is about 90 minutes long. I hope that you might view it on your own or plan to view it with a small group here at church. If you have specific questions, we can discuss or we can find out. The webinar is on the Team Jeremiah website at www.vaumc.org/teamjeremiah.
We will find other ways to share and discuss. Best of all, God is with us! We already have a solid foundation of our faith and the legacy and relationships of Bridgewater UMC. God has already provided this faith community worth celebrating and building on.
Grace & Peace, Pastor Mary
Ice Cream Social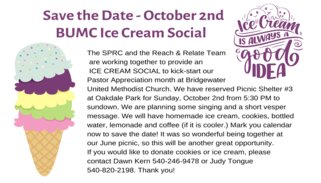 Please come and enjoy time together!
UMW News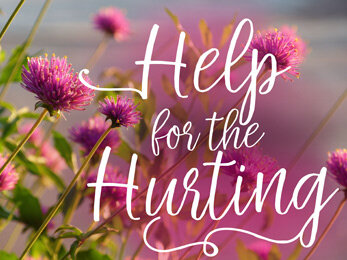 Bridgewater United Methodist Women are already planning for Kits for Conference 2023! While we are enjoying Back-to-School specials on school items and the tax-free weekend from August 5th through the 7th in the state of Va., please plan on purchasing some items for the School Kits.
Items needed to complete 100 kits are:
100 Boxes of 24 crayons (only 24 count boxes)
100 Blunt scissors (rounded tips only - no plastic scissors)
100 Packs of loose-leaf notebook paper (wide or college ruled)
(100 - 200 page packs accepted)
300 One-subject spiral notebooks (1 Subject Only)
(No marble composition books)
100 Handheld pencil sharpeners 1 inch or longer
600 Unsharpened pencils
100 Erasers (2" or longer)
100 Rulers (12" or 30 cm long - Sturdy or flexible accepted)
There will be a box in the hallway for those items toward the end of July and the month of August.
Thanks to all those that have supported this mission.
Kathi Hemmis
Youth News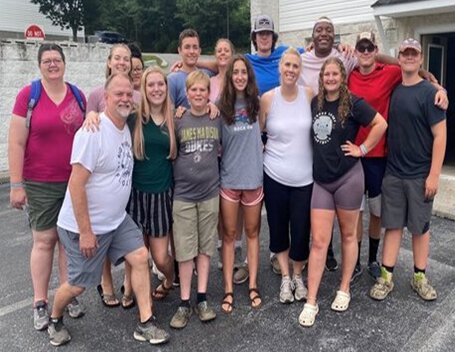 2022 Mission Trip with Team Effort
Blue Knob, Pennsylvania
On June 19th, the youth group departed from the church and drove north to Blue Knob and Altoona In Pennsylvania. They partnered with TeamEffort and worked on a house for Ms. Jen. The home had numerous projects that were started but never finished, so they installed drywall in the kitchen, taped and muddled the drywall, and started to sand the mud for the next coat!
Outside of the home, groups cleared out a large section of the yard that had overgrown, cleared out a dilapidated shed, scrubbed, and repainted the shed, and repainted the house. After the week of work, the youth group stopped at Hershey Park for a "fun day" and arrived home in the early morning on Friday. Thank you to all who loved, prayed for, and supported the youth group on this wonderful trip!
Back Row L to R: Pastor Mary Dadisman, Whitney Reusser, Taylor Ann Joralemon Colton McDorman, Kim Hohenstein, Tyler Hohenstein, TeamEFFORT's group leader Kevin, Blake Hohenstein, Dalton Robinson.
Front Row L to R: Tracy Wright, Molly Wright, Samuel Wright, Molly Early, Rebecca Wright, Callie McDorman.
~Whitney Reusser,
Youth & Children's Ministries Director
Youth Group News
Our first events since the joining of the BUMC youth and the Dayton UMC youth are coming up! On August 6th, we will meet at Dayton UMC for the Dayton Muddler! Our meeting time is TBD. At 5 pm that evening, we will gather for our Parent/Youth meeting, picnic, and slip-n-slide at the Wright's house @ 4661 Spring Creek Road. Sign up in the Youth Corner!
Blessings, Whitney Reusser
Director of Youth and Children's Ministries at Bridgewater UMC
Director of Youth Ministry at Dayton UMC
Calling All Detectives!!! Vacation Bible School
CALLING ALL DETECTIVES!! Our Vacation Bible School is fast approaching and we need your problem-solving skills to help decipher Jesus's parables during our investigations on August 2-4! Our VBS is from 5:30-8:30p.m. and we will be On The Case, enjoying crafts, games, music, and other clues to help us navigate each day's case! Sign up at the Kid's Corner by the front door OR give Whitney a ring on 540-560-6691.
BUMC VACATION BIBLE SCHOOL
AUGUST 2 THROUGH AUGUST 4
Reach and Relate News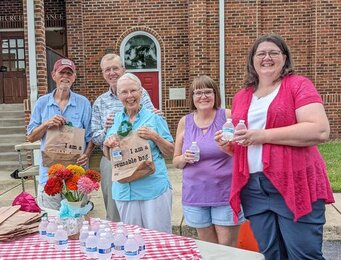 The Reach and Relate Team's Lawn Party Parade Outreach was on Friday and Saturday evening. The team distributed 455 bottles of water and 185 gift bags the two nights. Those welcoming our friends and neighbors pictured left to right are Tony Mancari, Jim and Judy Tongue, Sharon Coakley and Pastor Mary.
Children's Clothes Closet Needs
As the "Back to School" sales begin don't forget to consider purchasing some socks and underwear for the children at the Children's Clothes Closet. Many companies have "bonus packs" this time of year where you get extra pairs in a pack for a great price. The need there is great and the joy on the faces as the children choose their pairs is wonderful to see. We need all sizes 2T-teen, both boys and girls. The Closet is currently low on the boy's selection right now, especially sizes 4 to 10. if you prefer to give a donation instead and have us shop for you let me know as that work too!
Also, as you go through your children's clothes for the fall we are always looking for donations of gently used clean clothes - newborn to teen. No children at home any more, spread the word to your grandchildren, neighbor, etc... There is a red hamper in the downstairs hallway for your donations. Also, the Closet is always having requests for highchairs, booster seats, walkers, strollers, car seats, etc... I will be happy to make arrangements to pick these items up if you would have any of these items to donate. Thanks for your continued support, Dawn Kern
Visitor Parking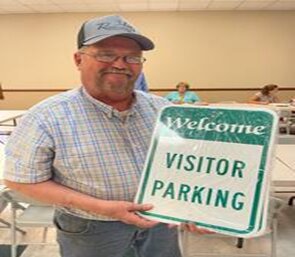 We have long had Handicapped Parking at our church. Once the preacher had reserved parking, and Gregg says the first sign read: "You Park, You Preach!"
Soon we will have "Visitor Parking" spaces along Green Street. Why? Perhaps you have visited another church. It may have been true for you as it is for most folks in that situation. The first question for visitors is "Where do I park?" Visitor friendly churches across the country have reserved significant spaces near the doors for visitors. Our first summer at Timberlake the church reserved four such spaces for visitors; they were full almost every Sunday. The only "problem" we had was visitors saying they hated to give up their parking when they joined the church.
Speaking of parking, we have plenty available to us. On Sundays, the town has permitted our parking around the Town Hall. Bob-A-Rea's lets us park in their grass lot. United Bank is fine with our parking there on Sundays. It's a bit of a walk, but walking is good if you are able. Some of our members walk from home! With households having multiple cars, even a modest attendance will nearly fill our own lot, so it's good to remember we have such spacious overflows. Visitors unfamiliar with us can be frustrated by what appears to be no spaces available. So "Visitor Parking" will soon appear.
~ Jim & Judy Tongue, Reach & Relate
Update on Edward Stoops
As most of you are aware, Edward Stoops, our custodian has suffered a minor stroke. He is on the road to recovery, but he will not be able to work for 6-7 weeks. Our main focus is of course Edward's health and healing, so the SPRC voted that Edward will be put on "paid short term disability leave" which we will continue to evaluate as he recovers. This eased Edward's mind considerably as we all know how conscientious he is about his job. The committee will be hiring a cleaning company to clean the church in the interim and Scott Ridder has volunteered to take care of mowing the church lawn (thank you Scott!). In light of these new developments we ask for everyone to chip in and help where they can - set-up in the fellowship hall will be the responsibility of the group using the hall (ask for help if you need it) and please take out your trash if you host an event. Also, please be mindful of locking up, checking all of the doors and being sure that all of the lights are off if you are the last to leave. Communicate with the church office if you find any problems. With everyone's help, we will make this work. As Edward has cared for BUMC, it is now our time to care for him. Thank you! - BUMC SPRC
Birthdays and Anniversaries

BIRTHDAYS
1 Dwight Campbell
Ashton Rawley
5 Caroline Cubbage
Emma Hughes
9 Andy Smith
Jerry Swecker
10 Doris MacDaniel
12 Michael Hill
13 Spenser Davis
John Johnson
Brad Powell
Ty Rexrode
14 Caroline Miller
15 Ella Virginia Balser Walton
18 Betsy Craun
Marnie Lewis
20 Mark Kipps
21 Laura Gilkeson
23 Samuel Briggs
26 Jon Higgs
30 William Creekbaum
Alison Hanifee
31 Frank Vetting
ANNIVERSARIES
1 Dan & Erin Breeden
John & Debbie Harter
6 Ed & Betsy Craun
Kevin & Julie Kunowsky
Todd & Amy Slaubaugh
8 Sam & Ann Teter
14 Curtis & Mary Glover
13 Phil & Ramona Evans
14 Robert & Leslie Bates
Richard & Eileen Phillips
15 Dick & Janice Harper
16 Chuck & Sue Rexrode
17 Don & Susan Gilkeson
Jim & Judy Tongue
20 Dewey & Peggy Swicegood
28 Kevin & Nancy Puffenbarger
30 Dennis & Mary Jane Rawley
A Place to Belong, A Place for You.
Our address is: 219 North Main Street, Bridgewater, VA, 22812