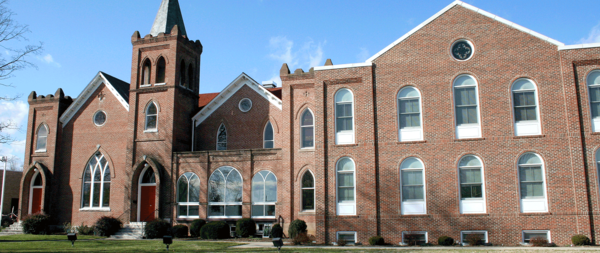 Thursday Thoughts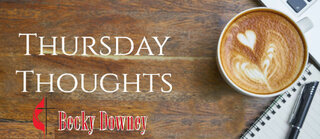 March 2, 2023
You have learned way too much about me through these little devotionals. I have another little tale to tell about myself, but it is okay, it keeps me humble.
On Sunday morning, a freezing fog descended upon the area. My vehicles were encased in a thin layer of ice. I got in the car, in a hurry of course. The windows were all covered in ice. I had the defrosters all set on the maximum setting and was waiting for the ice to melt away. That wasn't happening as fast as I wanted so I decided to use the rear backup camera to at least get the car turned around. The camera lens was not obstructed by ice so I started backing out of my parking space. I was a little close to the other vehicle in the driveway so I decided to pull forward just a tiny bit. Now, remember, I could not see a thing out of any of the windows. I was driving blind except for the backup camera. So I pulled forward thinking I knew exactly where I was and about that time I hit something! I was befuddled, how could I hit something? I knew my driveway better than anyone else. I jumped out of the car and in front of me was the pole light beside my front walk leaning at a precarious angle. There was a slight dent in the pole but nothing on the front of the car. I just couldn't help it, I started laughing. How could I do such a silly thing? I repositioned the pole and straightened the light that was askew tamping down the mulch around the pole as best I could. By that time, the ice had melted from the windows and off I went down the road. I am still chuckling about how unnecessary and foolish my little adventure had been. It's never a good idea to drive blind.
Sometimes we can see clearly and still miss where we should be heading. Jesus was exasperated at times because his disciples couldn't see what was in front of them. Jesus had given the disciples the ability to call on God to heal the sick but they did not appreciate that it was God's power that could heal, they were relying on themselves. In Matthew 17, the disciples tried to heal a boy with seizures but were unable to do so. The boys' father brought the child to Jesus to be healed when the disciples failed and he healed the boy. This is what Jesus said to the disciples and the others around him, "O unbelieving and perverse generation, Jesus replied, how long shall I stay with you? How long shall I put up with you?" v 17. Jesus' purpose was not to criticize the disciples but to encourage them to open their eyes and grasp the truth and grow in faith.
In another example, Jesus and the disciples were crossing the lake of Galilee, and they forgot to bring bread for their trip and evidently, they were lamenting the fact that they had forgotten food. This is what Jesus said to them, "'Be careful,' Jesus said to them. 'Be on your guard against the yeast of the Pharisees and Sadducees. They discussed this among themselves and said, 'It is because we didn't bring any bread'. Aware of their discussion, Jesus asked, 'You of little faith, why are you talking among yourselves about having no bread? Do you still not understand? Don't you remember the five loaves for the five thousand, and how many basketfuls you gathered? Or the seven loaves for the four thousand, and how many basketfuls you gathered? How is it you don't understand that I was not talking to you about bread? But be on your guard against the yeast of the Pharisees and Sadducees.' They then understood that he was not telling them to guard against the yeast used in bread, but against the teaching of the Pharisees and Sadducees." The disciples were blind and Jesus had to open their eyes so they could see.
Even after the resurrection, the disciples were still struggling to understand who Jesus really was. It took his appearance afterward to help them see. Their eyes were opened. Are we ever like the disciples, failing to acknowledge the power, love, and grace we are offered with every breath we take? Jesus is not physically on the earth now but the Holy Spirit is in us. Do we have our eyes open to recognize that we have the living Spirit of the Trinity living in us? What does that achieve for us? For one thing, we cannot remain as if we are entombed in an ice-covered car and move forward. No, we are going to move and grow spiritually. We cannot stay in the same place we were five years ago, last year, or last month. When we open our eyes to see, we will find there is work to do for the Kingdom, be it small or large, be it subtle or drastic, be it quiet or loud, we bring glory to Christ.
If we feel like we are not moving spiritually then we are the one that needs to make the change. God is already there living in us, waiting on us to clear the windshield and move forward.
Blessings,
Becky
A Place to Belong, A Place for You.
Our address is: 219 North Main Street, Bridgewater, VA, 22812