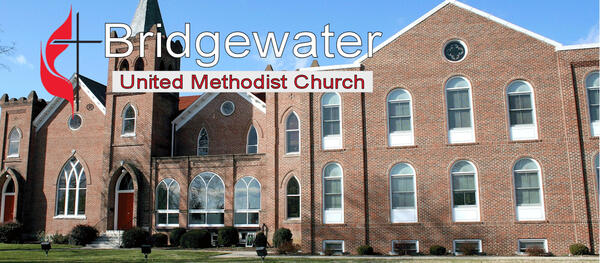 Friday BUMC eBlast for Friday May 21, 2021
What's going on Sunday at BUMC? GIFT AND FELLOWSHIP CLASSES RESTART Veteran's Celebration TOMORROW "The Girl Who Believes in Miracles" Thank You from the Salvation Army
Experience Pentecost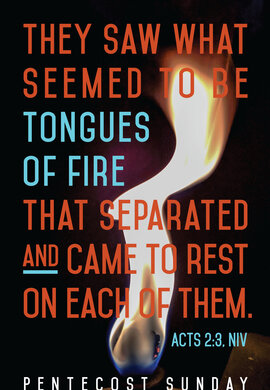 Come to worship at 8:30 a.m. or 11 a.m. this Sunday. You don't want to miss:
The scripture Acts 2:1-21, 40-41
The sermon "Finding your Fire for God" by Pastor Steve
The Children's Story "The Fan and the Holy Spirit" by Pastor Jonathan
Hymn singing
Music performed by Joey Capuano
In-Person Sunday morning worship service at 8:30 a.m. and 11 a.m.
If you prefer to worship on line, please use the church website using the link below.
Generations In Faith and Fellowship Class Sunday School Restart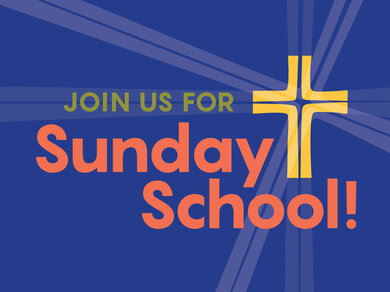 It has been a long time since we were able to gather as a class, but that time is coming to an end! The GIFT Sunday School class will meet in our upstairs classroom this coming Sunday, May 23 at 9:45 a.m. to elect class officers and have our lesson. We will join the Fellowship Class at about 10 a.m. We will be studying the Max Lucado book, Anxious For Nothing.
I am not sure when the members of the Fellowship Class are planning to meet, but they are invited to join us if they wish.
It's time to celebrate!
Becky Downey
Admin. Asst. Note - Don't forget that the Faith Bible Sunday School class is also meeting at 9:45 on Sundays in the Fellowship Hall.
If you are not sure which of the Sunday School Classes (GIFT, Fellowship Class, or Faith Bible) best suits your needs, try each one until you find one that "fits."
Peanut Butter and Jelly Needed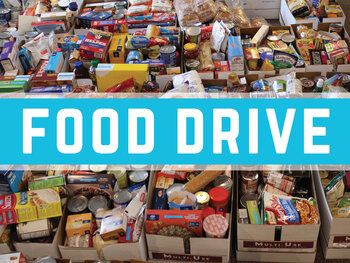 The Conference Kit Collection Team has requested that each United Methodist church collect donations of non-perishable/canned foods to be taken with the Kits for Conference to a drop-off point. BUMC has been approved to take our food donations to the Bridgewater Inter-Church Food Pantry at the Bridgewater Church of the Brethren. BUMC will still get credit for our donations.
We will be collecting the food in the grocery cart as you come into BUMC. The food will be taken to the Food Pantry by June 19. The Pantry currently has a lots of canned corn and green beans, but is low on peanut butter and jelly.
Thank you in advance for your donations.
Kathi Hemmis
Kits for Conference
"Food Drive" artwork from Newsletternewsletter.com used with permission.
Celebrate Veterans on Saturday, May 22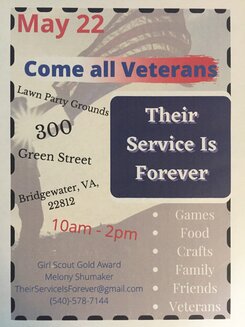 Melony Shumaker, Girl Scout, is hosting a get-together to celebrate veterans on Saturday, May 22 (a week before Memorial Day weekend) from 10 a.m. to 2 p.m.. The event is at the Bridgewater Lawn Party Grounds. You do not have to be a veteran to come and have a great time. Start your Memorial Day celebration and be sure to thank all the veterans you meet for their service.
This Sunday - BUMC Youth Go Canoeing.

BUMC Youth are going canoeing on the South Fork of the Shenandoah River.
Youth will meet at BUMC at 12:30 p.m. on Sunday, May 23 for lunch from Subway and the one hour trip to Luray. Canoeing starts in Luray and will take about 3 hours.
If you are going to the 11:00 a.m. Sunday worship service at BUMC, there will be time for you to go home and change after the service.
This event will include supper at Pastor Jonathan's parent's home. We plan to be back to BUMC by around 7:30 p.m.
Come in a swim suit and old clothing, including shoes that you don't mind getting wet.
Bring suntan lotion.
Bring a towel.
Bring dry clothes including dry shoes to change into for dinner and the ride home.
Learn more about where Pastor Jonathan grew up.
"Canoe on a River" photo from Faithlife.com and used with permission.
"The Girl Who Believes in Miracles" Showing at Sipe Center
Be sure to watch the trailer and "read more."
SHOWINGS AT THE SIPE CENTER
Saturday, May 22: 4:00 p.m. & 7:00 p.m.
Sunday, May 23: 2:00 p.m. & 5:30 p.m.
Cost - only $5 per person
From the Bridgewater Buzz News
"This week, The Girl Who Believes in Miracles is playing at the Sipe Center! This audience favorite has a 93% positive rating on Rotten Tomatoes. When Sara hears a preacher say faith can move mountains, she starts praying." Then . . . .
THANKS to Jim Tongue for sending the church office this information.
Want to learn more about King David?
PRESS RELEASE from VaUMTalk
Larry Buxton Coaching is excited to announce the launch of "Preaching David," a 10-week video series on key events in the life of King David. The videos coincide with the upcoming summer lectionary readings on David in The Revised Common Lectionary.
The author, United Methodist clergyperson and clergy coach Larry Buxton, will be your companion as together you examine key events in David's life and relate them to living faithfully today. The videos serve as "sermon starters" for preachers as well as additional material for students.
The popular weekly newsletter "Read the Spirit" just featured Buxton's work in its most recent issue here.
The brief videos are grounded in Buxton's recent book, 30 Days With King David: On Leadership (Front Edge Publishing, 2020), which has Forewords by Sen. Tim Kaine and Andrew H. Card, Jr. The book is available through Amazon and Barnes and Noble. Notable endorsers include Dr. Bruce Birch, Dr. Lovett Weems, Rabbi Amy Sapowith, Imam Mehmet Ayaz, and countless others.
The Rev. Dr. Buxton is a United Methodist clergyperson in Virginia, a part-time teacher at Wesley Theological Seminary in Washington, D.C., and an ICF accredited coach. You can access his videos, book, coaching and contact information at www.larrybuxton.com.
Warm regards,
Larry
Rev. Dr. Lawrence W. Buxton, ACC, BCC, Leadership Coach
Adjunct Faculty, Wesley Theological Seminary
Author, Thirty Days With King David: On Leadership
44402 Livonia Terrace
Ashburn, VA 20147-7130
Cell / Text: 571-225-1668
Thank you from the Salvation Army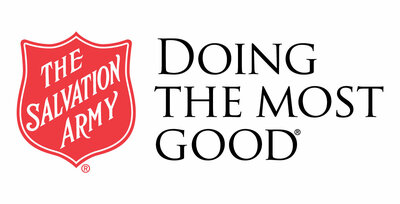 To: Bridgewater United Methodist Church
From Hannah Lapp, Salvation Army Advisory Board member
Date: May, 2021
Thank you for your generous support in ringing the bells for over 40 hours during the Christmas holidays as well as your donations.
Your assistance helps families put food on their tables and smiles for the holidays and beyond.
Thanks for your faithful giving. Have a good, safe summer.
God bless: Captains: Harold and Eunice Gitan
Mission Encounter - Hosted by VaUMC
Mission Encounter - beginning July 1 through August 5, 2021
Mission Encounter is an annual event sponsored by Va Conference United Methodist Women and The Serving Ministries Office of VaUMC. This year's event will be virtual, spread across 6 weeks. Studies to choose from are:
Finding Peace in an Anxious World by Erin James-Brown
Pushout: The Criminalization of Black Girls in Schools by Monique Morris
Bearing Witness in the Kingdom: Living Into the Church's Moral Witness Through Radical Discipleship by Darryl Stephens
Youth: Becoming Peacemakers in a Culture of Violence by Jay Godfrey
Children: Responding to Violence by Sue Raymond
Serving 101, The Mission of God's People by Christopher Wright
Note that one study is designated for those working with youth and another for those working with children. To learn more, please visit (https://vaumc.org/me/)
Registration ($10)
Contact church office at 828-0890 to register.
Helping Young People Understand the Intersection of Faith and Science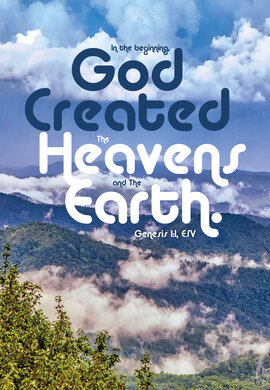 Do you know a rising 10th, 11th, or 12th grader who would love to explore the intersection of Christian faith and Science? Please tell them about Convergence: A Youth Theology Institute on Faith and Science at Randolph-Macon College in Ashland, VA. This year's event will be via virtual format where participants can sign up for the sessions/themes that interest them OR for the entire event. Themes are listed below and registration details are at convergence.rmc.edu. Each session is limited to 30 participants. Those who participate in the full event can earn a $1,000 scholarship to R-MC. Questions? Contact the Rev Kendra Grimes, Chaplain at Randolph-Macon College, at kendragrimes@rmc.edu. Find us on Facebook at https://www.facebook.com/convergencermc.
June 21-22 Session 1: Origins
Consider how faith and science fit together
The origins of the Universe
The origins of Life
What about artificial intelligence?
June 28-29 Session 2: Our Interconnected World
Science in Music
The Neuroscience of Social Media
The Physics of Food
Chemistry and Crime
June 30 POPular Science (free and open to all Convergence participants) – meet a person of faith who has excelled in a science-related career.
July 7 Session 3: The Chemistry of Fun
Explore the Psychology of Fun
Discover the Chemistry of Fireworks
July 25-28 Virtual Week of Service
A Voice for Creation (Rev. Pat Watkins)
Healing Humanity (Rev. Anne Kesner)
Food and Faith (JaemiO, Jamie O. Grant)
Clean Water (Rev. Dottie Yunger)
July 30 POPular Science (free and open to all Convergence participants) – meet a person of faith who has excelled in a science-related career.
Your prayers are needed.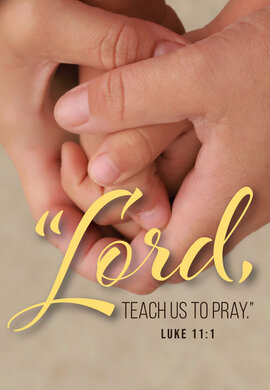 Bridgewater UMC Prayer List - May 21, 2021
Prayers of Sympathy in May for families and friends of
Glen Langston
Dan Garrett
Jack Losh
Mike Paytner
Delan Lambert
Reba Rawley
Kelsey Burch
Those who has passed away due to Covid-19
Answered Prayers and May Joys!!!
Bill Creekbaum
Grace Fishback
Steve McMillion
TR Williams
Irene LaGuarde
Seth Davis - engaged to Janine Henze
Family healing
Vaccine clinics and broader distribution worldwide
May Prayer Concerns
Rev. Gayle Thornberry
Glen Thomas
Nancy Thomas
Frank Harrell
Peggy Poole
Dorothy Seal
Ashley Keller's boyfriend
Ray Wiseman
Jim Barnes
Brandon Bowersox
Ann Fullerton
Gary Cave
Angie Myers
Addalyn Joseph
Steve Peppers
For protection and wisdom to stop violence among all members of our community and our nation
People around the world, especially India and South America with severe COVID surges
Those recovering from COVID & struggling with lingering side effects
Ongoing Bridgewater UMC church family prayer needs
Mike Bennett
Harold Burkholder
Betty Foley
Forrest Frazier
Vickie Gibson
Bob Holden
Anthony Jorelamon
Anna Keller
Dr. Bob McDonald
Becky Miller
Donald Usry
Leon Waters
Thank you for supporting Bridgewater United Methodist Church.
Thank you for all the time, efforts, support, and financial help that you have given to each other, to other members of our community, and to support the church's ministries.
Please remember the opportunities and ways you can provide financial and other support for God's ministries through Bridgewater United Methodist Church.
You can:
Give during BUMC in-person worship services at 8:30 a.m. and 11 a.m.
Drop a check off by the church office in person between 9 a.m. and 3 p.m. Monday through Friday).
Mail a check to the church at BUMC, 219 North Main Street, Bridgewater VA 22812.
Give through the BUMC website at www.bridgewaterumc.com/Giving.
NEW!! - App for Giving @ FaithLife.com - Download the app, find BUMC, and give through your smart phone!
NEW!! - Secure, locked outside box at Green Street entrance in which you can leave papers for the church office.
"Your Giving Matters!" artwork from Newsletternewsletter.com used with permission.
How many came? How much was given?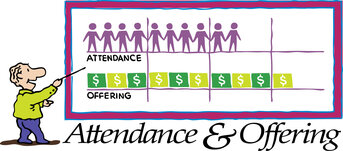 Sunday, May 16
8:30 a.m. Worship Service - 42 total
1 age 0 to 4
3 age 5 to 17
38 over 18
11 a.m. Worship Service - 41 total
0 ages 0 to 4
5 ages 5 to 17,
36 over 18
83 - TOTAL In-person ATTENDANCE AT 8:30 AND 11:00 SERVICES ON MAY 16
Sunday, May 9 to May 15, 2021 - Online Attendance
Online Attendance for the week of May 9 to May 15 - 124
Sunday, May 16 to May22, 2021 - Estimated Online Attendance
Estimated Online Attendance for the week of May 9 to May 15 - 124
Total estimated attendance May 16 to May 22, 2021
207- Total estimated attendance for May 9 to May 15 (83 in-person + 124 online)
In-person worship services at 8:30 a.m. and 11 a.m. are offered every Sunday.
OR participate in worship on our website by clicking the link below https://bridgewaterumc.com/sermons.
Sunday, May 9 to May 15 Offerings
Last Week's Offerings of $7423.00 includes all contributions to BUMC (general fund for operating expenses, electronic giving, mission, and special giving).
BUMC needs to average $9,478.85 a week in giving to the general fund to keep up with projected costs in 2021. The BUMC operating budget for 2021 is $492,900.
"Attendance and Offering" artwork from Newsletternewsletter.com used with permission.
Thank you for your prayers, leadership, and assistance
A Place to Belong, A Place for You.
Our address is: 219 North Main Street, Bridgewater, VA, 22812