Happy Thanksgiving from Biblical Solutions
Solutions for Life ~ You are a Loved, Saved, Forgiven, Child of God
Meet Your Thanksgiving Helper - PAM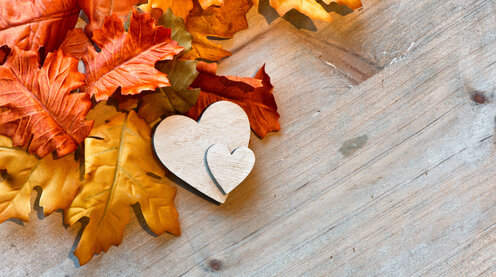 The holidays can be a stressful time of year. What I have found is that when you have stress in your life, it usually means you aren't prepared.
I'd like to share three ways that you can prepare to speak the truth in love this Thanksgiving as well as the rest of the holiday season.
I'm not sure how Thanksgiving goes at your house, but for me, growing up, someone always got into an argument about something and no one wanted to deal with it. Everyone just wanted to have a peaceful time together, but things got sticky, tempers flared, words were exchanged, feelings were hurt, and we all left with the same thoughts of, "Maybe it will be better next year."
When we don't deal with conflict, the residual effect builds up until we become calloused and jaded. This leads to bitterness and strife. Our words aren't sweet and our tone is less than loving.
I'd like to introduce you to a friend of mine named PAM. No, I'm not talking about the cooking spray! PAM is an acronym that helps me prepare for stress in my life.
The P in PAM stands for POSITION. I remember what God's word says about me, that I am a loved, saved, forgiven, child of God. This helps me stay centered when I'm in the middle of a storm. Everything can be raging about me, yet I can remain calm, because I am a loved, saved, forgiven, child of God. That is my position, my identity, and it is not changed because of any remark that a family member makes.
The A in PAM stands for AIM. What is my aim in the conversation? What is my aim in spending time with family? 2 Corinthians 5:9 tells us what our aim is, it says, "So whether we are at home or away, we make it our aim to please Him." Whether at home or away, whether you're hosting Thanksgiving or you're going over the river and through the woods to your grandmother's house, your AIM should be to please Him. Not your mother or your father, brothers or sisters, aunts, uncles, or cousins. Your AIM should be to please Him.
The M in PAM stands for MOTIVATION. What is your motivation this Thanksgiving? Is it to "get through" the day? Is it to root your team on to victory? Is it to enjoy a good nap? Is it to spend quality time with family? Is it to beat the crowds for the best Black Friday deal?
Motivation is about a need that requires satisfaction. All the items I just mentioned will satisfy you for a while, but they won't bring lasting peace and joy to your life. Family will fail you, your quarterback will throw an interception to lose the game, turkeys will trip you up, and there will be a clearance sale in January.
The only true satisfaction in life comes from Christ living in you. Christ "In You" is the thing we should all be thankful for. That is what motivates us. His love for us, His love through us.
John 13:34-35 says, "A new commandment I give to you, that you love one another: just as I have loved you, you also are to love one another. By this all people will know that you are my disciples, if you have love for one another." That's a great motivation for you and me, to be known by all people as a disciple of Jesus.
PAM is a cooking spray that helps food not stick to the pan. PAM is also the acronym that allows hurt and pain to be transferred to the Cross, where all is healed.
This Thanksgiving, remember your POSITION as a loved, saved, forgiven, child of God. Remember your AIM is to please Him, and finally, remember your MOTIVATION is to love one another as Christ loves you.
Christ's love In You, For You, To You. Spread this love to others, and by this all will know that you are His disciple, because of your love for one another.
From our family to yours, Happy Thanksgiving!
John & Carrie Echols
Our address is: 7502 Westover Pl, Amarillo, TX 79119, USA