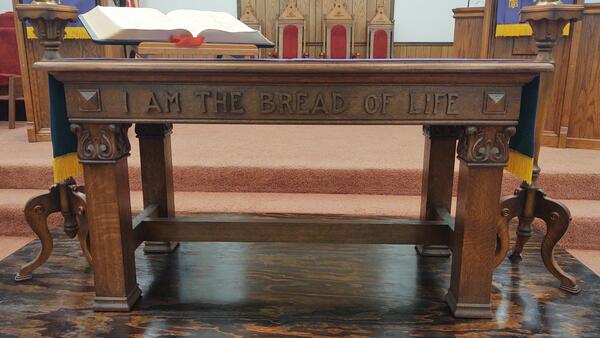 Boiling Springs Presbyterian Church
The Christian Outreach Newsletter March 2021
A/V Equipment and Livestreaming
Most of you probably have not been inside our sanctuary for months. If you peek inside, however, you might be surprised to see heavy duty electric cords strewn about the floor, a tripod and camera on a table in the center aisle, a number of microphones on upright stands placed between various pews, and lots of other assorted video equipment. Our sanctuary looks more like a tv production studio, but only for a few more months. Because when (yes, "when" is coming!), when we all start re-gathering for worship in the sanctuary, all that video equipment must be removed. But the session strongly believes that live-streaming our services still needs to continue. Though the pandemic, in effect, has closed our doors for the past year, it also has opened the doors to 2021 in which all signs point toward the need for live-streaming services and, therefore, the need to invest in the proper video equipment to do so —which is expensive!
Over the past month, therefore, a sub-committee of the session has met with three different vendors of such equipment, and is now assessing the pros and cons of each vendor as well as formulating follow up questions and issues. Soon, the session anticipates making a decision about which vendor with whom to contract. Then we purchase, install, and pay the bill.
The last part – paying the bill – that is the part where we all need to try to dig deep into our pocket and contribute what we can to make this essential project a reality and not just a hope. When the session decides on the exact equipment and its accompanying price tag, then that information will be communicated to everyone as well as the request for donations. In the meantime, please feel free to talk with any member of the session's sub-committee (see below) about this project—the more questions and concerns raised now increases the chances of making the best decision.
--Donna Rupert, Jackie Brice, Josh Dunmire, Melissa Ray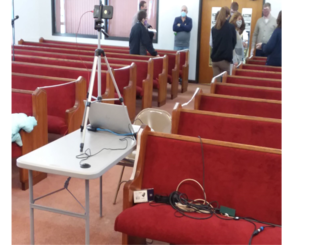 Sanctuary equipment setup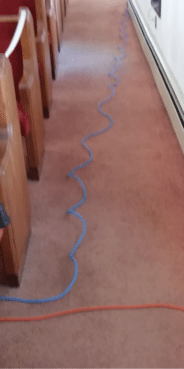 Ethernet cords being run from the office to provide internet access.
Confirmation class
Our confirmation class (Gabriel Kavulic and Lacey Ray) devoted their First Sunday in Lent class to packing over 50 snack bags, tee-shirts, and socks for the "First Food & Friends" Soup Kitchen in Pittsburgh. In past years we have traveled there for a hands-on experience, but the ongoing pandemic prevented our physical presence this year. So, we improvised, and packed the snack bags at church and, then, Peter personally delivered them to the Soup Kitchen. THANKS also to Alicia Kavulic for supplying and organizing this Lenten service project!
Birthdays and Anniversaries
MARCH BIRTHDAYS
1 Lance Foster
4 Dan Sloan
11 Tim Blystone
13 Bob Schall
14 Harley Sloan
19 Kate Myers
20 Dianna Sloan
21 Kiersten Spires
26 Roger Ray
27 Maryann Shirley
29 LaRue Householder
MARCH ANNIVERSARIES
9 John and Darlene Peace
14 Bob and Rhonda Schall
25 Dana and Lance Myers
27 Bob and Maryann Shirley
Summer Outing
Summer Outing: Saturday, 28 August 2021 - 4:30 p.m. supper @ Peter's home + Pirates vs. Cardinals
Our tickets from last summer were rolled over to this year but, obviously, a lot of factors are still in play, including how many fans will be permitted to attend. So, no need to pay any money yet until we receive firm details, but please do SAVE the DATE on your calendar
Understanding Corporate Worship
UNDERSTANDING CORPORATE WORSHIP: Call to Worship-2
The words used to "call us to worship" are scriptural, and remind us that "our worship centers in God and not in ourselves" (BCW 35). Thus, adoration is central at the beginning of worship.
We acknowledge God's holiness and offer our love and devotion.
We praise God and affirm the good news of the divine saving activity among us.
We worship precisely because of what God has done for us in Christ.
In addition to these verses which recite God's work in Christ, sometimes we employ the familiar words "Our help is in the name of the Lord, who made heaven and earth" (Psalm 124:8) (BCW 49) used by worshipers in Geneva and, subsequently, by Presbyterian congregations in Scotland and the U.S.. Please take the opportunity to pass along this understanding of corporate worship to the children of this congregation.
Called To The Life Of Unlikeness
Almost a year ago, we taped signs to our entry doors announcing that our building was "temporarily closed" as we sought to do our part to "flatten the curve" (a phrase from what now seems a long ago era).
Overnight, store shelves emptied as humans hoarded hand sanitizers, disinfectants, and rolls of toilet paper like nuts for the winter. Some people were virtually paranoid about touching anything handled by someone else–groceries, photo copiers, even hymnbooks–so they disinfected every item brought into their home from the outside world, and constantly wiped down anything and everything brushed against by another person.
Meanwhile, many people fretted that death might extend its tentacles to ensnare them in its grip or snatch a loved one. We were confused and frightened and fearful because we did not yet understand (and maybe still do not) the do's and don'ts of this insidious coronavirus and its variants or its toll on our new world.
Our calendars, like etch-a-sketch pads, were instantly wiped clean of all appointments, meetings, community events, school activities, sports contests, . . .and church services and programs!
Virtually unknown software programs named Zoom, Skype, Microsoft TEAMS, Google Hangouts, and Discord became commonplace means of daily communication from the sequestered privacy of our homes.
Home, for many, became our new workplace as we quickly learned to adapt to the challenges of completing tasks, assignments, and projects via technological means. In living technicolor, online, we presented ourselves to others as half-people from our upper body or shoulders up and, sometimes, only half-dressed from waist up (be honest!) communicating with other half-dressed people from the privacy of their home. Who would have ever imagined this was an acceptable way to transact public business?
Moreover, too often, we bizarrely converse with voices emitted from blank squares displaying a person's initials as if we were transmitting intergalactic messages. Some people resist the sci-fi nature of impersonal communication by substituting pictures of pets, cartoon characters, or panoramic scenes as stand-ins for photos of themselves. Our remote, electronic mode of communication also includes "chat lines" in the margins where "posts" are instantly rewarded with encrypted language symbols of "likes," "shares," or emojis. Is this our future means of social interaction rushing toward us? If so, Lord, have mercy!
Our daily vocabulary has expanded to include the aforementioned "flatten the curve" as well as "synchronous" and "asynchronous". Even the phrase "social distancing" has emerged from the back pages of our lexicons to frequent daily use.
We invoked words such as "pause," and "on hold," treating the pandemic as a temporary timeout in our world, hoping we could hold our breath and wait for the infectious air to clear so things could resume and we could resurface. Our human instinct insisted that we could tread in place for a bit, even as the world around us came to a ghastly standstill in photos of ghost-like villages in Italy, burgs in Germany, and pueblos in Spain. No way that could or would happen to us, right?
So, in clinging to what turned out to be false hope in a brief pause to our daily routines, we sensed no need for radical alterations to our life, just a brief interlude between acts. Schools would close for a few weeks, and then resume. Athletic contests, theater productions, work schedules were only temporarily interrupted. But now, in hindsight, we realize how naive we were back then. How little did we know How little did the infectious disease researchers know about this new-to-the-world, pernicious virus. Some politicians overrode such knowledge gaps with false assurances of the inconsequential infectious nature of the coronavirus, that its spread was under control, and all would be normal again by Easter when churches could pack in hordes of worshipers. We have paid a steep price for such injurious disinformation.
Meanwhile, we were hurtling toward this unknown abyss of seclusion and social distancing and masks which were going to change our life in unsettling and permanent ways. Strongly advised to seek safety in our homes, we hunkered down for the duration behind our shuttered windows on the world. Throughout our lockdown days, we were compelled to figure out how to stay sane in isolation with no discharge date.
Most critically, we were, still are, and will be called upon to keep our social distance from each other in public if not simply stay away from one another. No handshakes or backslaps, and absolutely no embraces or hugs – that is to say, no touching! – even omitting physical exchanges of "the peace of Christ" with others.
Our severely decreased physical interaction with other people has desensitized our humanness, and will continue to do so because coronaviruses often circulate for years, causing respiratory infections and the common cold. The world is not going to extinguish coronaviruses anytime soon, nor will it stamp out this particular strain. The coronavirus and its ongoing variants are here to stay for years to come. So, the reasonable goal is to make it manageable, much like the seasonal flu for which we receive annual boosters.
But this lingering lack of physical, in-person contact and interaction with other people is of serious concern. We have markedly reduced exposure to the virus by eliminating as many personal interactions as possible. So only minimal shopping – not just food markets, but drugstores, clothing, and window shopping as well as avoiding public theaters, concerts, school plays, sports events, even curtailing holiday gatherings.
Such disconnections from others have radically constricted our interpersonal talking, dining, laughing, playing, enjoying, as well as crying, listening, grieving, mourning, . . . our gift of life together. Tossed into survival mode, we are exhausted, weary, sick of it and, at times, ready to surrender in the aching silence of our isolation.
How long, O Lord? Will you forget me forever?
How long will you hide your face from me?
How long must I bear pain in my soul,
and have sorrow in my heart all day long? (Psalm 1:1-2)
We desperately yearn to return to a "normal" or at least more typical ways of living, especially by renewing our personal relationships.
Thankfully, now, as vaccines are administered and the gears of life slowly start churning again, life becomes perceptible on the horizon, enabling us to contemplate our re-entry to un-quarantined days. We may be tempted to move quickly, to unpack old routines, to think life will be restored to what we knew a year ago.
Life as we knew it in past years, however, is not waiting for us to re-live; rather, a new life beckons, a life indelibly imprinted with memories of our vulnerability, of how our "secure" life of routines could be so quickly and totally disrupted, how swiftly and soundlessly life can deliver us into unwanted realities. So, remember, remember, remember what we have endured, take inventory of all we have lost, and in what ways we have changed this past year.
A grace note to this pandemic trial is that through online telecommunications most people have invited more people into the privacy of their homes in the past year than in the past decade. For the sake of even a smidgen of human interaction albeit via a computer screen, people viewed our personal choice of wallpaper, wall hangings, window treatments, fireplace mantel displays, knickknacks, family photos, pets, plants, musical instruments, and, sometimes, piles of laundry in the background in the name of Christ!
–Peter C. Bower
Swiss Steak Dinner
* Swiss Steak
3 48 oz. Beef Broth
5 lb. Flour
50 lb. Potatoes
* Cole Slaw
8 # 10 Cans of Green Beans
*Loaves of Bread
12 Yellow cakes made
12 Chocolate cakes made
We are having a Swiss Steak Dinner on March 27,take out only, from 4:00 – 6:00. We would like the following items. If you wish to donate please content Patti Townsend. The (*) items are for money donations only. Remember not all of one items has to be donated by one person, they can be divided up.
We will need to know by March 21, who will donate cakes.
Our BSPC Church Officers
SESSION
Class of 2021
Natalie Jaworskyj
Alicia Kavulic
Roger Ray
Patti Townsend
Class of 2022
Jackie Brice
Dale Burns
Dana Myers
Raymond Varner
Class of 2023
Josh Dunmire
Donna Rupert
Muriel Stewart
Susan Stewart
BOARD of DEACONS
Class of 2021
Nancy Burns
Debi Harker
Dianna Sloan
Class of 2022
Bobbie Jo Dunmire
Mary Ann Shirley
Linda Waitkus
Class of 2023
Jean Pugliese
Karen Thimons
Bethany Toland
Welcome to Our Community of Faith
Our address is: 1668 PA-56, Spring Church, PA 15686, USA