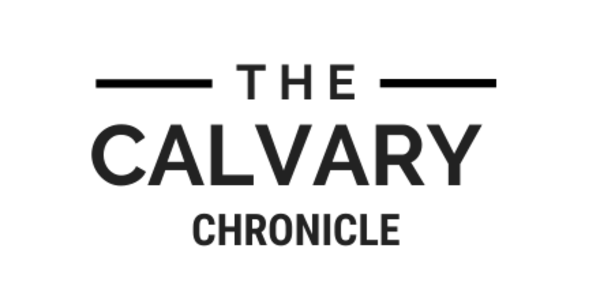 This Week at Calvary!
This Week's Readings
Week 9
Leviticus 24-25; Psalm 81; Hebrews 9
Leviticus 26-27; Psalm 112; Hebrews 10
Numbers 1-2; Psalm 64; Hebrews 11
Numbers 3-5; Hebrews 12
Numbers 6-7; Hebrews 13
Daylight Savings Starts Sunday!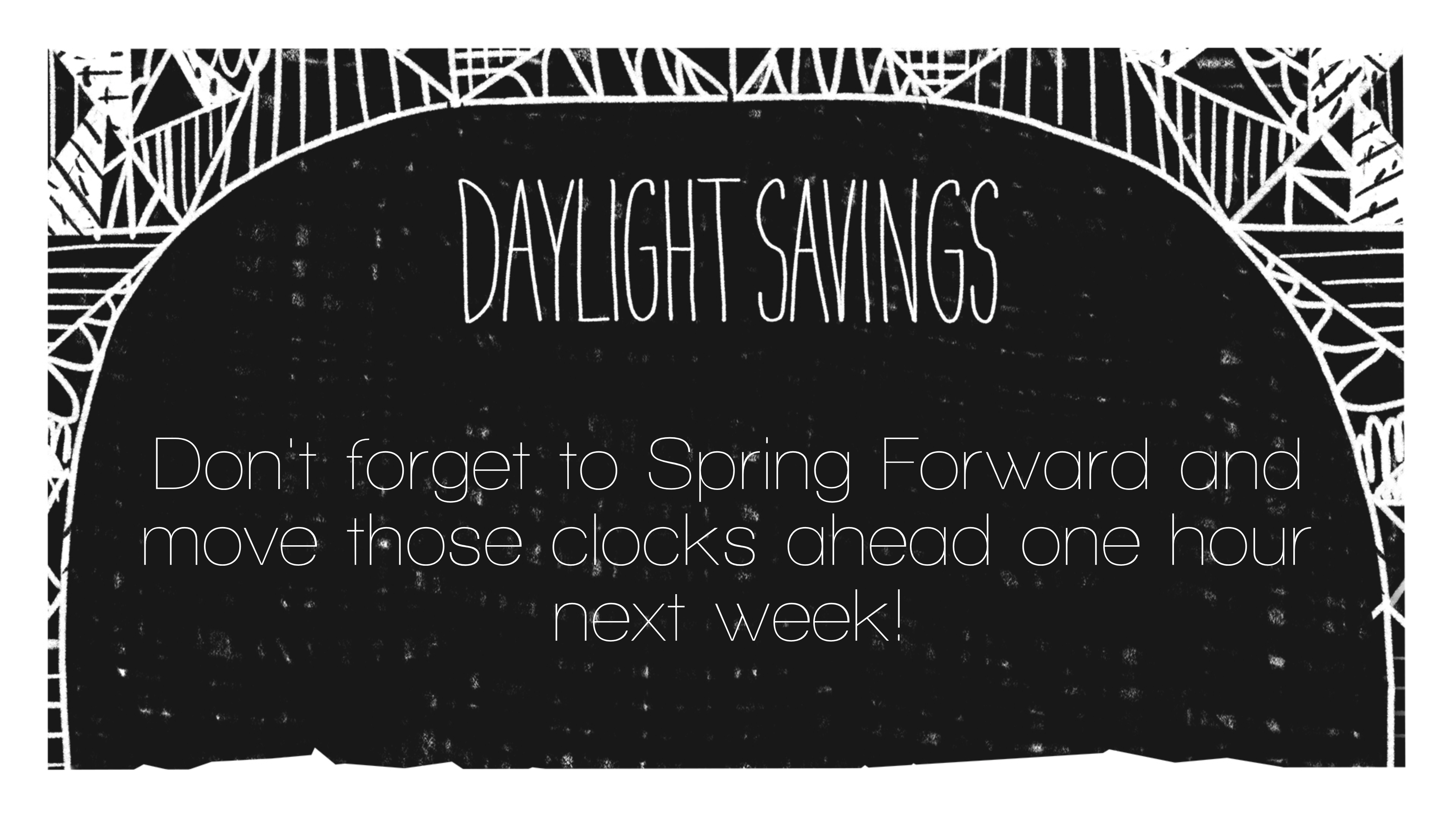 Daylight Savings starts Sunday, March 8th!
Bumper Bag Sunday March 22nd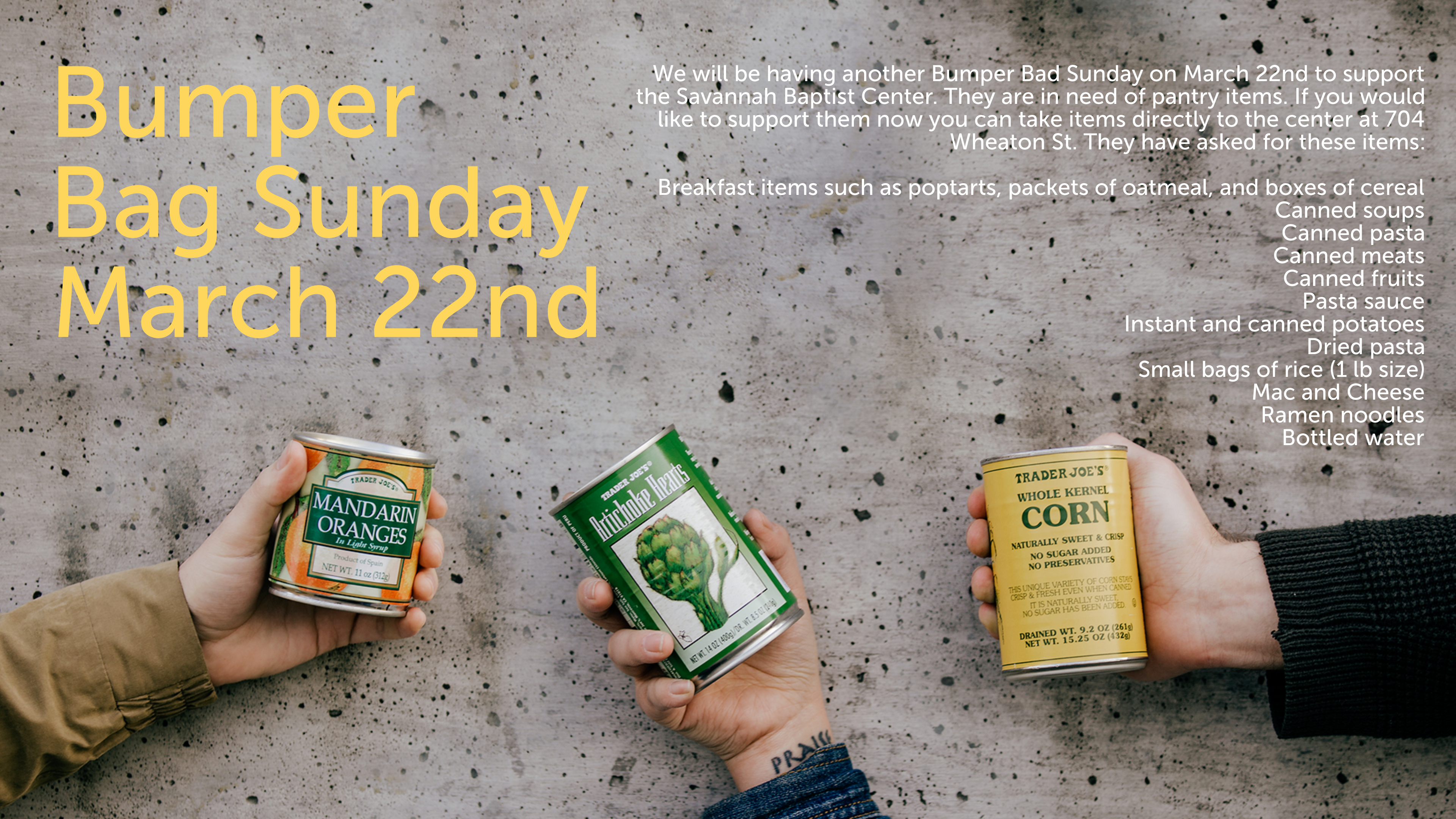 We will be having another Bumper Bad Sunday on March 22nd to support the Savannah Baptist Center. They are in need of pantry items. If you would like to support them now you can take items directly to the center at 704 Wheaton St. They have asked for these items:
Breakfast items such as poptarts, packets of oatmeal, and boxes of cereal
Canned soups
Canned pasta
Canned meats
Canned fruits
Pasta sauce
Instant and canned potatoes
Dried pasta
Small bags of rice (1 lb size)
Mac and Cheese
Ramen noodles
Bottled water
Annie Armstrong Week of Prayer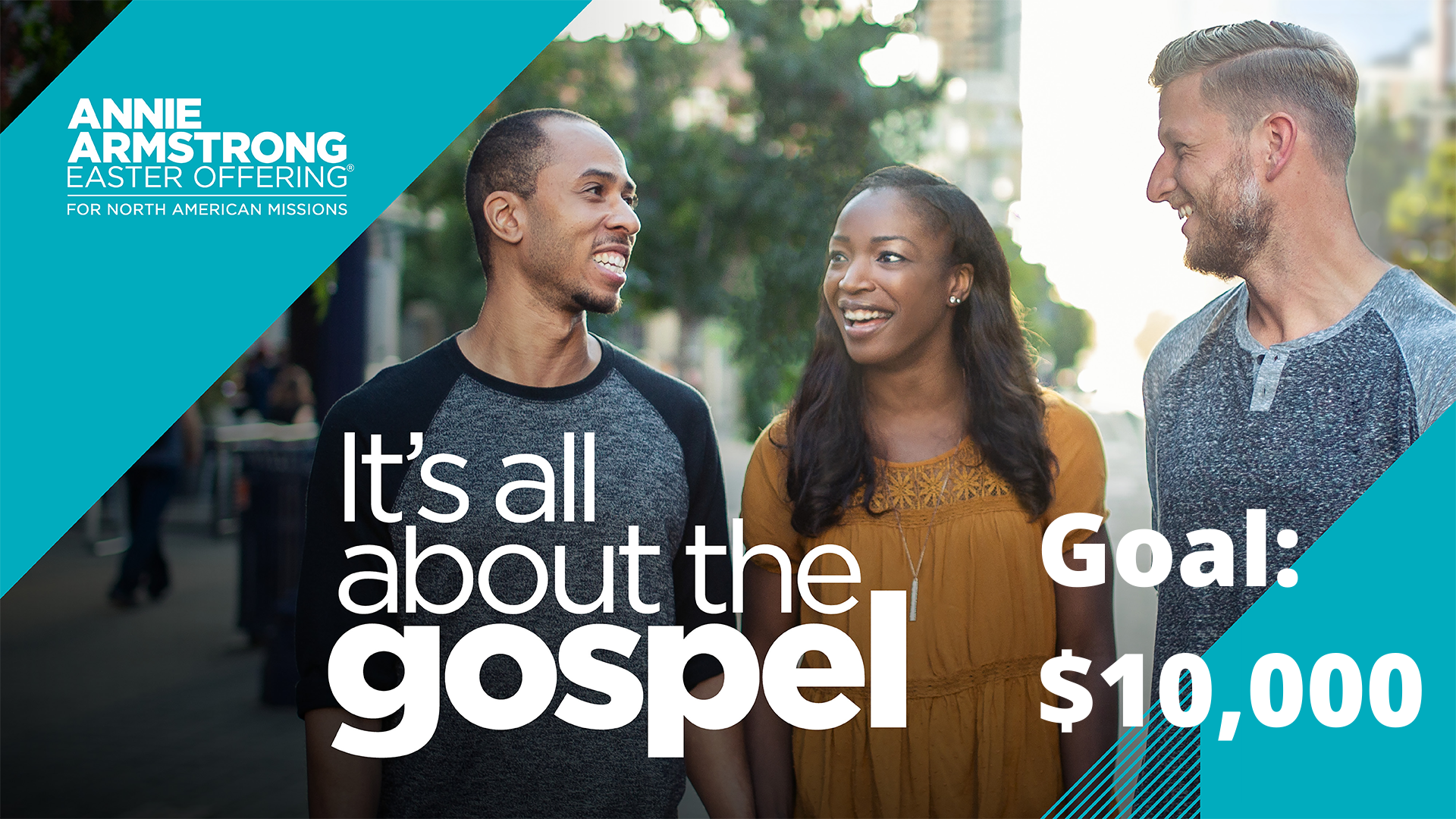 This year our Annie Armstrong Easter Offering goal is $10,000! Please prayerfully consider giving! In addition to giving, March 2nd has been set aside as a week of prayer for this ministry. There are two events that week on Monday the 2nd and Tuesday the 3rd where missionary speakers will be in the Savannah Room at 10:30 am followed by a covered dish lunch. All are invited!
This Week's Blog!
Psalm 81: Let us Praise the Lord!
By Jacob Mock
This week as our Bible reading brings us to Psalm 81, we are reminded of the importance of praising and thanking God. Verse 1 says to "Sing aloud to God," and to "Shout for joy to the God of Jacob." As I read this I am faced with a question: When is the last time I stopped for just a few minutes and thanked the Lord for everything He has done for me? I know sometimes I can get so caught up in the busyness of life that I almost completely forget to thank God for blessing me the way He has. So before you read any further, take a moment and thank God for His blessings on your life.
I love how the psalmist first says "Sing aloud" and "Raise a song" to God, but it doesn't stop with that. The psalmist says "Praise Him with your tambourine, your lyre, your harp, or your trumpet!" Essentially he's saying, "Hey, whatever you have in your hands, go ahead and praise God with it!" I think sometimes we can put praise and worship in a box, and then reserve that box for Sunday mornings only. Maybe you associate the word "worship" with "Sunday morning service." The psalmist would most definitely disagree with that! You can praise God wherever you are, no matter what's happening around you. Maybe that's in your car on the way to work tomorrow morning. Maybe when you're in the carpool line picking up your children from school. Maybe it's right in the middle of a frustrating day at work. Wherever you find yourself during your days, you can worship Him there!
Church, let's get serious about offering our praise and worship to God! Don't let another day go by without thanking Him for His blessings. Don't let yourself get so caught up in day to day life that you forget to be thankful. Verse 7 of this very Psalm reminds us of a reason to be thankful. "In distress, you called, and I delivered you; I answered you in the secret place of thunder…" God never leaves or forsakes you. When you are stressed out, lonely, and don't see how you can carry on another minute, God is right there with you. Let's take comfort in that truth, and let's not forget to thank Him for it!
Connecting People to Jesus by Sharing Life Together.
Our address is: 4625 Waters Ave, Savannah, GA 31404, USA