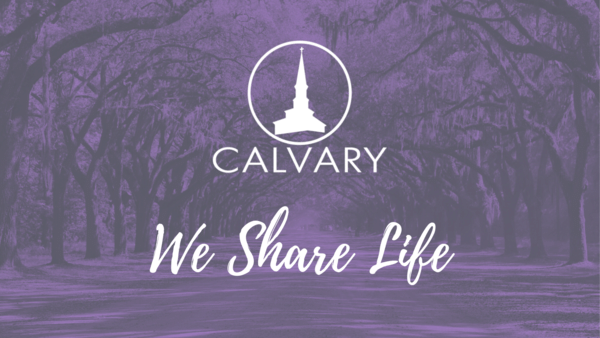 Special Statement: Coronavirus
March 10, 2020
Dear Calvary Family,
As things further develop with Coronavirus (COVID-19), I wanted to provide you all with some information going forward to help us respond effectively.
Let me be clear that our response is not one of fear, "for God gave us a spirit not of fear but of power and love and self-control" (2 Tim. 1:7). We believe confidently in God's power, provision, and protection during this current state of affairs and into the future.
This being said, faith does not negate caution. The church should be an example for the world to follow and we will be vigilant and precautious. Thus, we want to encourage you to follow the Center for Disease Control's (CDC) guidelines for protecting yourself against this disease and others. They are:
Avoid close contact with people who are sick.
Avoid touching your eyes, nose, and mouth with unwashed hands.
Wash your hands often with soap and water for at least 20 seconds. Use an alcohol-based hand sanitizer that contains at least 60% alcohol if soap and water are not available.
Clean and disinfect frequently touched objects and surfaces using a regular household cleaning spray or wipe.
If you are running a fever or are sick it is best to stay home and away from others.
Cover your cough or sneeze with your elbow or a tissue, then throw the tissue in the trash.
Let me also say, that as of the date of this statement, we have no plans to cancel or change any services. We will proceed as normal and monitor the disease in Georgia.
In an effort to follow the CDC's suggestions, Calvary would like to encourage the following:
Instead of shaking hands or hugging, you can smile, wave, fist bump or elbow tap to greet others. Use this time to be creative in showing the love of Christ!
When the next communion service takes place, we will use prefilled communion cups that come with the juice and wafer. This is to help minimize the spread of germs.
If you feel sick or are uncomfortable attending services during this time, as usual, we will be livestreaming Sunday Morning and Wednesday evening services. You can head to our website for the link.
The most important step we can take during this time is prayer. Please be in prayer for those infected, the families of loved ones lost, the CDC and World Health Organization to compact this disease, for a vaccine, for our missionaries in countries with a more severe outbreak, and that we may respond with love and compassion.
In Christ,
Pastor Kenny Grant
Connecting People to Jesus by Sharing Life Together.
Our address is: 4625 Waters Ave, Savannah, GA 31404, USA