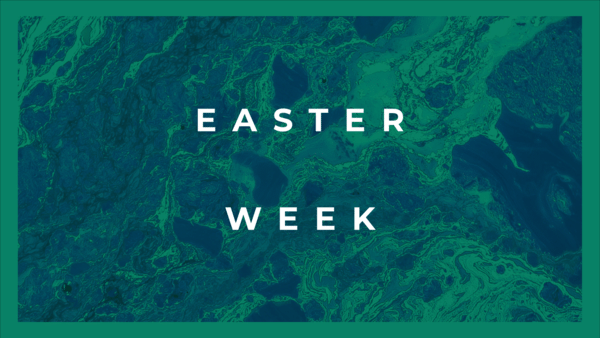 Easter Week at Calvary!
Dear Calvary Family!
We hope all you have been able to stay home and stay safe! These days are definitely some weird ones, but we are thankful that we can still communicate with you all.
As we head into Easter Week, we wanted to give you all some updates as to how we plan to conduct having Easter while being apart. We want to make this week special, so we have some exciting plans!
First, we will be including in this email a reading plan for all of you to follow along with the final days of Jesus. Starting on Palm Sunday, we have a passage for you to read every day through Easter Sunday. A part of this, we will have a Pastor on staff conducting a 10 minute devotional that will go live on our channels (Facebook, YouTube, and our Website) based on that day's readings. You can join us live each day at 5:00 pm starting today! Here are the readings:
Palm Sunday - Matthew 21:1-11
Monday - John 12:1-11
Tuesday - John 12:20-36
Wednesday - John 13:21-32
Thursday - John 13:1-17
Friday - John 18:1-19, 42
Saturday - Matthew 28:1-10
Easter Sunday - John 20:1-18
Second, on Good Friday we will be offering a unique service that we hope you all can participate in! As we hope you all know, we have put speakers in our bell tower that have begun to play bells each evening at 7:00 pm for those who are essential workers. This is a way to say "thank you" to all who are working for us. For our Good Friday Service, we want to incorporate this "thank you". Here's our plan:
6:30 pm - We will play worship music through the speakers,
6:55 pm - Bro. Kenny will say a prayer for all essential workers through the speakers
7:00 pm - We will ring the bells for all essential workers
7:01 pm - Bro. Kenny will go live on our channels with a Good Friday Message that will also play through the speakers.
7:15 pm - End Service
Here's how you can participate! We would like to invite you to campus to participate drive-in style! You can bring your family, a meal, and your vehicle to listen to the message through the speakers. Here's how that will work:
Please do not exit your vehicle at any point.
There will not be any facilities open, including restrooms.
All playgrounds will be locked.
If possible, please park 6 ft apart.
If not possible, please do not roll your window down any further than 6 inches.
We hope you have a great time and are able to see your church family in person, even if it from a distance!
Third, on Easter Sunday we will be having the Lord's Supper together. We are asking you to participate from home. You can use items from home, whether it's an oyster cracker or saltine and some grape juice! We hope you will join with us in the Lord's Supper! We also want you to look out for a post on Facebook where we will be asking you to post your Easter outfit! It's hard to imagine having Easter without looking our best, so we want to see you in your Easter outfits! Comment below the post with a picture of you and your family on Easter!
While we may not be able to be together for Easter week, we hope this will help you feel like we are somewhat together! We look forward to worshipping this week with you! COVID-19 cannot stop Easter!
In Christ,
Pastor Kenny Grant
Connecting People to Jesus by Sharing Life Together.
Our address is: 4625 Waters Ave, Savannah, GA 31404, USA