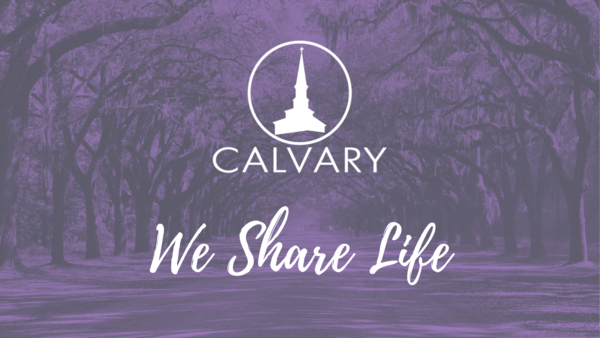 COVID-19 Update
April 29, 2020
Dear Calvary Family,
We hope this email meets you all well! We have been praying for you over the last few weeks and we long to be back together with you all. We really appreciate your patience and support as we have moved to online-only services. You all have continued to participate and we thank you for that!
As the State begins to open up and things seem to take a more promising turn, we wanted to reach out with an update on our plans for services. I recently had a conference call with Mayor Johnson, along with other pastors from Savannah, and the Mayor has asked that we continue to do as we have been doing for a few more weeks. With this in mind and our commitment to the safety of our members, we have decided that the earliest return date for Calvary is tentatively set for June 14th. We hope and pray that this will become a reality for us and that we do not have to push the return date back any more.
Thank you all for your continued support! We hope you have been enjoying our online services, as different as they may be. I want to remind you that we are continuing our Wednesday Night Revelation Study at 6:30 pm each week. I have included in this email an outline of what we have covered thus far in our study so that we can all be caught up! Please join us this evening on all our channels: Facebook, YouTube, and our website.
I also want to let you know that we will be having another drive-in service on Mother's Day, May 10th at 10:15 am! We will also be partaking in communion together that day and will have pick-up communion locations made available. Look out for more information to come!
Thank you again, Calvary Family, for your continued support! We are praying for you all and can't wait to back in the same space together again!
In Christ,
Kenny Grant
Senior Pastor
P.S. I want to say a special Thank You for all of you who have continued to give to Calvary! Whether you have switched to online giving or have been mailing in your gift, you have played a huge part in what we do each week and God is pleased with a cheerful giver!
Revelation Outline
Chapter 1:
John's vision of Christ on Patmos (in the spirit on the Lord's day)
Chapter 2 & 3:
John's vision of Christ amongst the churches (the seven churches of Asia Minor)
Chapter 4 & 5:
John's vision of Christ in heaven (the Throne, the Book, the Lamb)
Chapter 6 – 20:
John's vision of Christ in Judgement
Chapter 6
The Breaking of the Seals
White Horse – 1st seal = Antichrist
Red Horse – 2nd seal = War
Black Horse – 3rd seal = Famine
Pale Horse – 4th seal = Death & Hell
5th seal = Martyred Souls
6th seal = Ecological Upheaval
Chapter 7
1-8: 144,000 Jewish Evangelist Witnesses
9-17: Unnumbered multitudes worshipping
Chapter 8
1: 7th seal broken – silence (30 minutes)
2-6: Priestly angel at the altar in heaven
7: Judgement upon the earth – 1st trumpet
8-9: Judgement upon the sea – 2nd trumpet
10-11: Judgement upon the waters – 3rd trumpet
12: Judgement upon the sky – 4th trumpet
13: Announcement of 3 woes
Chapter 9
1-2: An open abyss (1st woe) 5th trumpet
3-11: An outpoured army
12: An ominous announcement
Connecting People to Jesus by Sharing Life Together.
Our address is: 4625 Waters Ave, Savannah, GA 31404, USA