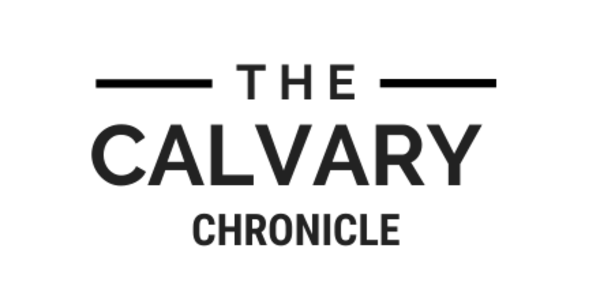 This Week at Calvary!
June 8, 2020
This Week's Readings
Week 23
Proverbs 3-5; Romans 10
Proverbs 6-7; Psalm 7; Romans 11
Proverbs 8-10; Psalm 144; Romans 12
Proverbs 11-13; Psalm 8; Romans 13
Proverbs 14-15; Romans 14
Take 5 at 5!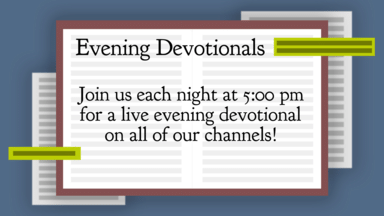 This Week's Blog!
Romans 12: Living as a Christian
By Jacob Mock
This week, our Bible readings bring us to two of my favorite verses in the Bible: Romans 12:1-2. "I appeal to you therefore, brothers and sisters, by the mercies of God, to present your bodies as a living sacrifice, holy and acceptable to God, which is your spiritual worship. Do not be conformed to this world, but be transformed by the renewal of your mind, that by testing you may discern what is the will of God, what is good and acceptable and perfect."
I believe that these verses get to the heart of what it means to be a Christian. As followers of Jesus, our bodies should be exactly that-- living sacrifices. Every single day it should be our goal to wake up and ask the Lord, "How can I bring you glory today?" We should be laying our lives down for the sake of others, just as Philippians 2:3-4 states as well. Our lives as Christians should not be selfish in any way; we should be loving others, serving others, and most importantly glorifying God with our bodies. In doing this we will be holy and acceptable to God, which is what we should all be striving for! As the Church, we should be aware that when we live our lives this way we are truly worshipping God. Worship is not just something we do on Sundays and Wednesdays inside our church doors. Every second of every day is an opportunity to worship the Lord and bring Him glory! I believe if we start to live with this in mind, it can radically change our lives.
The second verse brings up another challenge: "Do not be conformed to this world…" The truth is, our world is fallen and sinful. Human nature is sin, and sin is at the center of all the problems in our world. And we, as Christians, must not conform to this world! Church, we are not citizens of this world, but citizens of heaven. Philippians 3:20 says, "But our citizenship is in heaven, and from it we await a Savior, the Lord Jesus Christ." As citizens of heaven, we cannot be conformed to this fallen world that we live in. We are awaiting our Savior, Jesus Christ. And as we wait for Him, we must live for Him. This means living in the will of God and making sure our lives can be described as "good and acceptable and perfect" just as Romans 12:2 states. Let's start out our days by asking the Lord, "How can I bring you glory today?"
Connecting People to Jesus by Sharing Life Together.
Our address is: 4625 Waters Ave, Savannah, GA 31404, USA