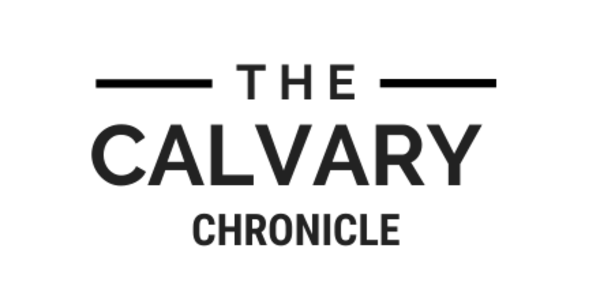 This Week at Calvary!
September 21, 2020
This Week's Readings
Week 38
Isaiah 64-66; 2 Corinthians 2
2 Kings 21; 2 Chron. 33; Psalm 71; 2 Corinthians 3
Nahum; Psalm 149; 2 Corinthians 4
2 Kings 22-23; Psalm 73; 2 Corinthians 5
2 Chron. 34-35; 2 Corinthians 6
Christmas Backpacks Mission 2020
Dear Fellow Members,
The cataclysmic times are upon us to a degree we've never before witnessed or experienced. It calls us as Christians to be more vigilant than ever before, not only watchful for danger but also watchful for opportunities to advance God's kingdom.
These times have created greater needs among the needy and new needs among those never before having known what that is. This is a time to deepen our faith and live it out in tangible ways in our community where people can see Jesus living in and through us as we serve and love others in Jesus' name.
"Missions" is not an abstract term; it has very concrete dimensions that can impact peoples' lives for eternity. When we live in that frame- missional- with clear purpose to be on God's mission every day, we will see God draw others to himself as he is made visible through us, his people.
The next opportunity we have as a church working together is the annual Christmas Backpack Mission which provides school supplies, personal hygiene items, Bibles or New Testaments, small toys or accessories, and non-perishable food items for school-aged children living in poverty.
This year we are making it more affordable and convenient by providing these backpacks at no cost to you if you sign them out by number with your name and phone number and bring them back filled with items within the guidelines listed by the Georgia Baptist Mission Board which is provided with each bag. Perhaps you can commit to filling more than one bag as some have done in previous years. It is a wonderful time for families to engage in missions together as well.
Backpacks will be available in the main lobby near the doors leading to the parking lot prior to and after worship services the first two Sundays in October and must be returned by the first Sunday in November (the 1st.)
Please participate to bless by giving and receive a blessing in so doing.
Sandra Sammons
WMU Director
State Mission Offering
The Month of September is State Mission Offering Month! Out goal is to raise $3,000 for the Georgia Baptist Mission Board. This years offering will go to help fund state care in these areas: human trafficking, pre/post natal care, childhood literacy, refugees and internationals, and foster care and adoption.
This Week's Blog!
2 Kings 22-23: Look to the Book
By Chris Watson
Those of you who know me know that we have had an addition to the family approximately every 2 years for the last 9 years. Over that time there are a few things that I have grown accustomed to: Diapers, stepping on toys in the middle of the night, and kid's shows on the television. Over the years there have been many shows that have come and gone based on my different child's preferences, but one of the shows that have remained the same has been Super Why! It is all about the values and things you can learn while reading. Typically the show is set up with a problem and when they need to find the answer they "Look in a book."
In 2 Kings 22-23, we see Josiah, the boy king take over the throne at the ripe old age of 8 years old. He had inherited considerable problems from his predecessors Manasseh and Amon, as they had driven God's people into further disobedience to the Lord. Unlike his father and grandfather, it tells us that Josiah did what was right in the eyes of the Lord and followed completely in the ways of David. One day as they were repairing the temple, The Book of the Law was found. They brought it to Josiah and read it to him and at the hearing of these words, Josiah tore his robes and wept. He began to tear down all of the temples and sacraments to false gods and renewed a covenant to follow the Lord alone and keep His commandments.
So where do we look when we have a problem? We look in The Book. God's word has the answers to all of the problems that have surrounded us in the past, that surround us now, and that will come in the future. His word is timeless and can penetrate the soul. We see in the days of Josiah, that much of the lawlessness, wickedness, and evil that are going on today, was going on during that time as well. So as we look for answers to the problems we face, the hurts that we experience, and the struggles we encounter, look to the Lord and to His word, for in Him we find life, meaning, purpose, and hope.
Missionary of the Week!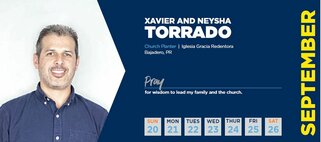 Xavier and Neysha Torrado serve with NAMB in Puerto Rico . This area has 3,294,616 people there is 1 SBC church for every 44,522 residents. Pray that God will bring forth more indigenous church planters and strengthen the Torrado family.
Connecting People to Jesus by Sharing Life Together.
Our address is: 4625 Waters Ave, Savannah, GA 31404, USA