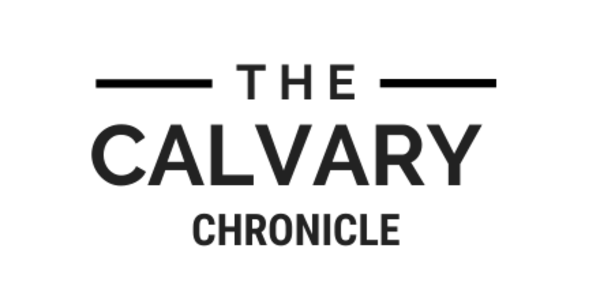 This Week at Calvary!
October 26, 2020
This Week's Readings
Week 42
Ezekiel 1-3; John 1
Ezekiel 4-6; Psalm 82; John 2
Ezekiel 7-9; John 3
Ezekiel 10-12; Psalm 83; John 4
Ezekiel 13-15; John 10
This Sunday: Bumper Bags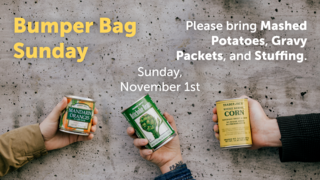 As we did last year, we will be packing 100 holiday meal bags for needy families. To fill those bags, we will be have two bumper bag Sundays. The first will be November 1st in which we are asking that you bring:
Boxed Mashed Potatoes x2
Gravy packets x2
Boxed Stuffing x2
Place these items outside your car before service and they will be collected from there.
Join us for Candy Crush!
This year, we will be hosting Candy Crush, and event for the whole family! At the end of service on November 1st, kids can enjoy getting some candy by walking around the foyer to different decorated tables for candy! They can come dressed in their costumes and have a blast gathering lots of candy! We will also have snacks and a family photo booth! This event is free and open to everyone attends service. Please register your children to ensure we can follow safe protocol.
Also consider hosting a table! There will a prize for the best decorated table!
To register you children or sign up to host a table head to cbtsavannah.org/candycrush
This Week's Blog!
John 1-5: Close Encounters
By Kenny Grant
The book of John is an amazing book. Written for the expressed purpose of pointing people to the Lord Jesus so that they might be saved. The key verse of the book is hung near the back door, John 20:30-31, which states: "Now Jesus did many other signs in the presence of the disciples, which are not written in this book; but these are written so that you may believe that Jesus is the Christ, the Son of God, and that by believing you may have life in His name".
The miracles recorded in John were specifically chosen to prove who Jesus was. They offer many insights into the heart of God.
Of particular interest to me, are the people who cross our paths as we read through this book. Their close encounters with Jesus instruct and encourage us as we seek to live as His disciples today. Those who truly encounter Him, then or now, can truly ever be the same.
In John 1, we see Jesus simply and sublimely introduced to us as the one who is coexistent, coequal, coessential, and coeternal with the Father. We are told of John the Baptist's close encounter with Him as he sees the Holy Spirit descend and remain upon Him. John's mission as the forerunner or messenger was drawing to a close as he pointed to Christ as the Lamb of God who takes away the sins of the world. (vv. 29). We are soon in the company of Andrew and John as they leave John the Baptist to follow Jesus (vv. 37). We see Simon Peter's first encounter with the Christ as he is brought by his brother Andrew (vv. 42). The very next day Jesus Himself marks Philip as a disciple and bid him to simply follow Him (vv. 43). An enthused Philip finds his somewhat skeptical friend Nathaniel and brought him to Christ. The lives of these men would never be the same after each of their close encounters They each set out on life's greatest adventure of following Christ.
In chapter 2 we find ourselves as guests at a wedding. But for Jesus, the wedding would have been a disaster, "NO WINE". We are not introduced to the bride and groom and know little to nothing about the other guests who were there, but we do know that Mary, the mother of our Lord was there, and she notified Jesus of the crisis. The interesting thing about this His first miracle was that lowly servants were really the only ones privy to it. The bride and groom were clueless, the master of ceremonies didn't know about it, the guests were beneficiaries of the 'good wine", but didn't know where it came from. The scriptures clearly state that the servant who cooperated with Jesus knew what happened (vv. 9). They had a life-changing close encounter. So it is today; those who cooperate where He operates are the ones who see the miracles.
In chapter 3 We are brought into the presence of a man who was by all accounts truly conflicted. Nicodemus was an influential and wealthy man who also held a seat in the Jewish senate. He comes and encounters Jesus at night. We know that during his close encounter with Christ that the darkness of confusion began to give way to the dawn of conviction, (7:50ff) and finally to the daylight of confession, (19:39) as we see him in full faith identify himself with the crucified Savior.
In chapter 4 we see the loving and redemptive way Jesus deals with the woman at the well in Samaria. Her close encounter with Him shows us again something of the heart of God. Jesus had dealt with one of Israel's most respected leaders in the last chapter, and now he deals with this woman who would have been considered a social "throw-away". She came to know who it was with whom she was talking. She had perceived him to be a prophet (vv. 19), but she found out that He was more than just a prophet. At the end of the chapter, we see a desperate Jewish official's plea for the life of his son. Again Jesus who is the Christ of every crisis graciously heals his son. His close encounter with Christ had changed his life, and the life of his entire household (vv. 53).
Chapter 5 introduces us to an invalid with a chronic and critical case for 38 long years. This man's life would be radically and dramatically changed as Jesus interrupted his daily routine of waiting for the moving waters in the pool. Because of his close encounter with Christ, he would experience the person and power of the God who could make him walk (vv. 9). Sadly there were those in this chapter who persecuted Jesus and sought to kill Him (vv. 18). The close encounter with Him revealed the nature of their own hearts. They would forever be lost if they would not repent.
As it was, so it is; those who have a close encounter with Christ can never be the same. Some will be made the better, but some, the worse. The very name of Christ draws or it drives. The gospel of Christ brings conversion or aversion. The people of God are a fragrance of death unto death or a fragrance of life unto life (2 Cor.2:16). Which is it for you?
Missionary of the Week!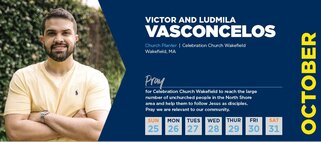 Victor and Ludmila Vasconcelos serve with NAMB in Wakefield, MA in the Boston area. This area has 6,002,598 people and 86.9% of the population is considered lost. There is 1 SBC church for every 35,730 residents. Pray that 20 new church plants will be established by 2022 and 300 churches by 2030 when Boston celebrates its 400th anniversary.
Connecting People to Jesus by Sharing Life Together.
Our address is: 4625 Waters Ave, Savannah, GA 31404, USA