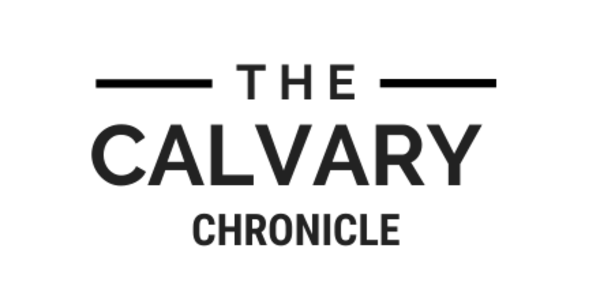 This Week at Calvary!
November 2, 2020
This Week's Readings
Week 44
Ezekiel 16-18; John 6
Ezekiel 19-21; Psalm 84; John 7
Ezekiel 22-24; Psalm 134; John 8
Ezekiel 25-27; Psalm 85; John 9
Ezekiel 28-30; John 10
Matthew West Concert!
Join us in hosting Matthew West in concert on November 11th! Tickets are on sale now at HISRadio.com!
This Week's Blog!
Psalm 134: Praise God at all Times!
By Jacob Mock
Our Bible reading this week brings us to Psalm 134, which is a brief Psalm:
"Come, bless the Lord, all you servants of the Lord,
who stand by night in the house of the Lord!
Lift up your hands to the holy place
and bless the Lord!
May the Lord bless you from Zion,
he who made heaven and earth!"
As I read over Psalm 134, I'm tempted to look past it without reflecting on the words because of its brevity. How could such a short Psalm be significant? First of all, it's God's holy, perfect, precious, inspired, inerrant word! All of it is significant all the time. Second, it's a Psalm all about singing praises to God.
Praising God is something that we should do every day! Too often we think that giving God praise is something that has to be done inside the church building. Or even if we don't necessarily believe that, we still only praise Him once or twice a week while we are at church. We can stop any time we want and offer praise to the Lord because of the work that Jesus did on the cross! We don't have to wait for Sunday to come around to sing His praises.
Have you stopped and praised Him today?
Missionary of the Week!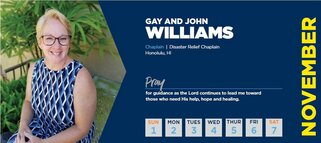 Gay and John Williams serve with NAMB in Honolulu, HI as the Disaster Relief Chaplain. Southern Baptist Disaster Relief brings help, healing and hope to those in need. Pray for a large number of Disaster Relief volunteers to participate in long-term recovery efforts. Pray that they effectively share the hope of Christ in very multicultural environments. Pray for Southern Baptist Disaster Relief volunteers who respond to disasters of all kinds around the world.
Connecting People to Jesus by Sharing Life Together.
Our address is: 4625 Waters Ave, Savannah, GA 31404, USA