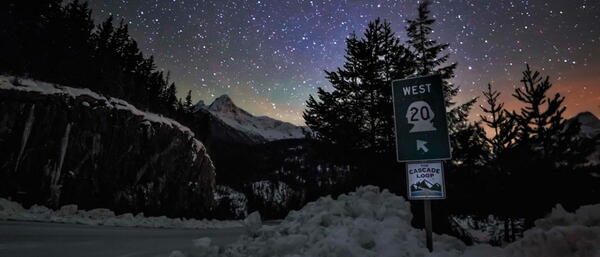 Cascade Loop
October 7, 2022
Preparing for Communion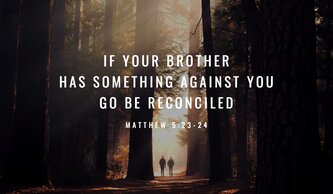 In Matthew 5:23-24 Jesus shared a radical command:
"Therefore, if you are offering your gift at the altar and there remember that your brother or sister has something against you, leave your gift there in front of the altar. First, go and be reconciled to them; then come and offer your gift."
With this command, Jesus puts our worship services on notice. We either do the hard work of being at peace with the people around us, or we shouldn't come at all.
Just imagine, you'd made your pilgrimage to Jerusalem with a sacrifice you had worked toward for months. It might be a perfect lamb. Maybe it is a sheaf of wheat or some spices. You are walking toward the holy place and remember a grudge. Maybe a new conflict or perhaps a long-standing feud you're embroiled in.
With reluctant hands, you set down the gift, turn around, and walk all the way back home. You have business to do before you can do business with God.
There are traditions where churches only celebrate communion a few times a year. I recently learned that these long pauses between celebrations were connected to times of community healing and reconciliation. In Scotland, there were villages that would take the month before communion as a time to reconnect and work through issues, all so that they could come to the Lord's Table without barriers.
I know this isn't always possible. I've had relationships where people have refused to even talk to me, let alone reconcile. In those cases, I hold onto Paul's words, "If it is possible, as far as it depends on you, live at peace with everyone." - Romans 12:18
It isn't always possible. But as far as it depends on us, we are called to seek reconciliation.
This coming Sunday we'll be celebrating Communion and studying those words from Jesus. During the service, we'll have time to pause and think, pray, and maybe even queue up a conversation.
Between now and then, do you have business to do before you can do business with God? Is there a brother you need to call? A parent you need to reach out toward? An old friend you've been distant from?
Jesus calls us to be a counterculture of love. The phone call, conversation, or text you initiate just might be the beginning of something beautiful.
With you;
Pastor Tim
Nominations are Due This Sunday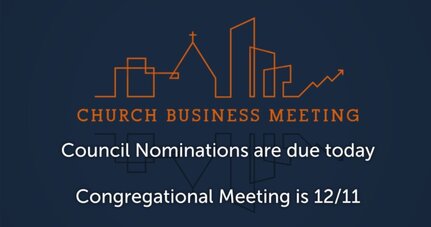 We are in the nomination process for our next class of Elders and Deacons. Nominations will be accepted from today until October 9th. To nominate, you can fill out this online form or use the printed nomination ballots that are in your church mailboxes. (If you don't have a mailbox, please let me or the church office know and we'll set one up.)
In the past, we've only asked people to submit names. This year, we'd like you to write a few sentences explaining why you think they would be a good fit to serve. You don't have to write an essay. Our goal is to make this a prayerful and thoughtful activity. The Council truly shapes the spiritual health of the church, and we want to bring on two new elders and one new deacon who are called by God to help bring Cascade into a season of blessing.
The Council has developed job descriptions for elders and deacons. These explain the biblical background of the two offices, their jobs, and time commitments for service.
These nominations will be reviewed during the October 12th Council meeting. Candidates will have some time to prayerfully consider their nomination. Our annual congregational meeting is Sunday, December 11th.
We look forward to your nominations and to what God has for us next!
You can fill out the online nomination form here.
Sunday's Playlist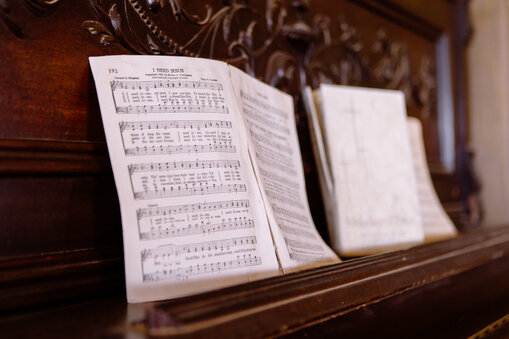 This weekend we'll celebrate the Lord's Supper. We will also study Matthew 5:21-26, Countercultural Obedience.
The songs for the weekend will include:
Trunk or Treat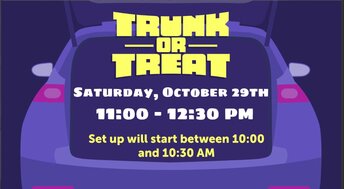 TRUNK OR TREAT will take place on Saturday, October 29, from 11:00 AM to 12:30 PM.
Set up will start between 10:00 and 10:30 AM. We would love candy donations if there's anyone who doesn't want to decorate their car. We also will have a drink table set up if someone would like to volunteer to sit there rather than decorate their car. Contact Amy Kass to sign up or use the sign-up sheet on the table in the foyer.
Upcoming Events
Download
Come join us every-other-Monday from 6:00 pm to 8:00 pm for a fun night of volleyball. Men and women High school age and up and players of all skill levels are welcome.
Monday, October 10th  •  6–8 pm (PDT)
Download
Discover Your Bible studies give people the tools to read, understand, and dig into what the Bible says and means. Whether you're familiar with the Bible or have never picked one up before, Discover Your Bible is easy to understand while fostering learning and deep discovery about the Bible and ourselves. Groups meet weekly around the world and encourage asking questions, sharing observations, and experiencing God's love in a small, casual setting.
Tuesday, October 11th  •  10:00–11:30 am (PDT)
Download
Join us Tuesday nights from 6:00 pm to 8:00 pm for open gym basketball. Men and women High school age on up and players of all skill levels are welcome.
Tuesday, October 11th  •  6:30–8:30 pm (PDT)
Our address is: 13908 51st Ave NE, Marysville, WA, 98271