February 2020 Newsletter
Calvary Bible Church
Our first try!
Welcome to our very first newsletter! We are trying out this platform as a way to reach our whole congregation while they are here and away! We have many snowbirds that enjoy the warm sun over the winter and we wanted to be able to share the happenings of the church with them. We also know that the winter is sometimes hard to navigate getting to church so this is a place to come if getting out is hard to do! We will do one of these every few months, just subscribe to the newsletter or scroll through the page to find out what is happening!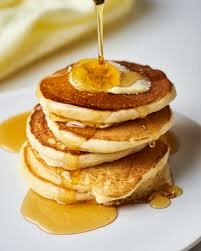 Who loves pancakes?
Our Jr. Church group is hosting a pancake breakfast for the entire congregation and visitors on Sunday February 16th from 9am-10am, followed by our regular church service. Our young people are ready to show their love of God and love of our church family by serving up delicious pancakes and bacon.
Notes from our clerk from 2019
Having just had our annual business meeting I wanted to share the "summary" from 2019 with you all. It was a blessed and fruitful year for Calvary Bible Church

The church had a busy and fruitful 2019. 
The Leadership has continued with monthly planning meetings that are held to organize meeting the needs of the church.  

Easter services saw over 50 people attend either the sunrise or the regular Easter service 

We have welcomed several new members this year, Ken and Bev Merril, Yushen Merril, Sharon Hutchins and Daryl and Brenda Baker. 

The July 4th camp out was a blast and enjoyed by all who attended. We also enjoyed a week of VBS which saw 10 kids throughout the week. 

Outreach meals continue and are always well received. 

Our Shoe box ministry hit a new high this year with 201 boxes

Our Christmas Eve service featured our Christmas Choir again this year and we had  67 people attend the service. 

Amidst the happy we also mourned the loss of a congregation member with the passing of Gary Meisner in October. Although funerals are hard it always amazes me how the church and the community come together to honor the lives of our fellow Christians and neighbors. I feel like this church is continuously looked upon to help, because we always do in the name of our Lord,  This was highlighted in the amazing service our town as a whole honored the life of Ken Dixon. 


Prayers

Yushen has been asking for prayers for her family in China and the whole Coronavirus scare. Please keep Yushen, her family and all those affected by this scary virus in your prayers
Our address is: 1063 ME-5, Andover, ME 04216, USA