Calvary Bible Church
March 5, 2020
Celebrating Easter during Covid 19
Join us on Friday April 10th at 6:30pm for a Facebook live event. We will be reading from the book of Matthew and reflecting upon the crucifixion of our Savior. Below is a link to our facebook page.
https://www.facebook.com/groups/714571265362100/?ref=bookmarks
On Sunday April 12 we will do an Easter message via Facebook live stream at 10:45am.
This may not be the way that we want to celebrate our Easter season but we still can indeed CELEBRATE our Risen King.
A Special Easter Viewing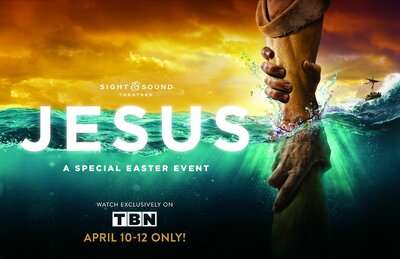 We are thrilled to announce that JESUS will be made available for FREE in celebration of Easter! For three days only, experience the greatest rescue story of all time as it comes to life right in your living room. Exclusively available on TBN, watch it on your favorite device by downloading the TBN app, or stream it online: April 10-12 only!
While we may not be able to gather together for Easter this year, may you still experience the joy of celebrating the one who came to save us all.
Behind the scenes of our Live Stream operation!!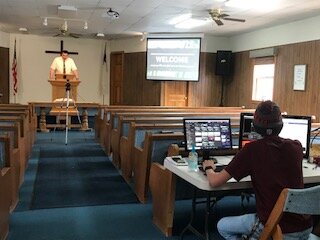 Here is a sneak peek of Dillan at his "command station" making the live stream happen each Sunday. Keith and Dillan worked as a team to quickly adjust everything about our Sunday service to make our service happen and available to all. We are soo grateful for their time and thankful for their ability to figure technology out and make it happen!
Continuing to pray, and never ceasing
Here is a list of general prayers that we would encourage all of you to lift up each and every day as we move through this pandemic:
Our nation, the leaders, experts and people of this great nation
Our state, the leaders, experts and people who have been affected by the virus
Our medical providers, all of them. If they go into a hospital or Dr.'s office, or even transport sick people, they need prayer!
Our church, that we hold string and grow closer to God and each other during this time of physical separation
All of those families who have suffered some loss of a loved one due to this virus
Uplifting Passage from God's Word (Philippians 4:4-7)
Rejoice in the Lord always. I will say it again: Rejoice! Let your gentleness be evident to all. The Lord is near. Do not be anxious about anything, but in every situation, by prayer and petition, with thanksgiving, present your requests to God. And the peace of God, which transcends all understanding, will guard your hearts and your minds in Christ Jesus.
Our address is: 1063 ME-5, Andover, ME 04216, USA