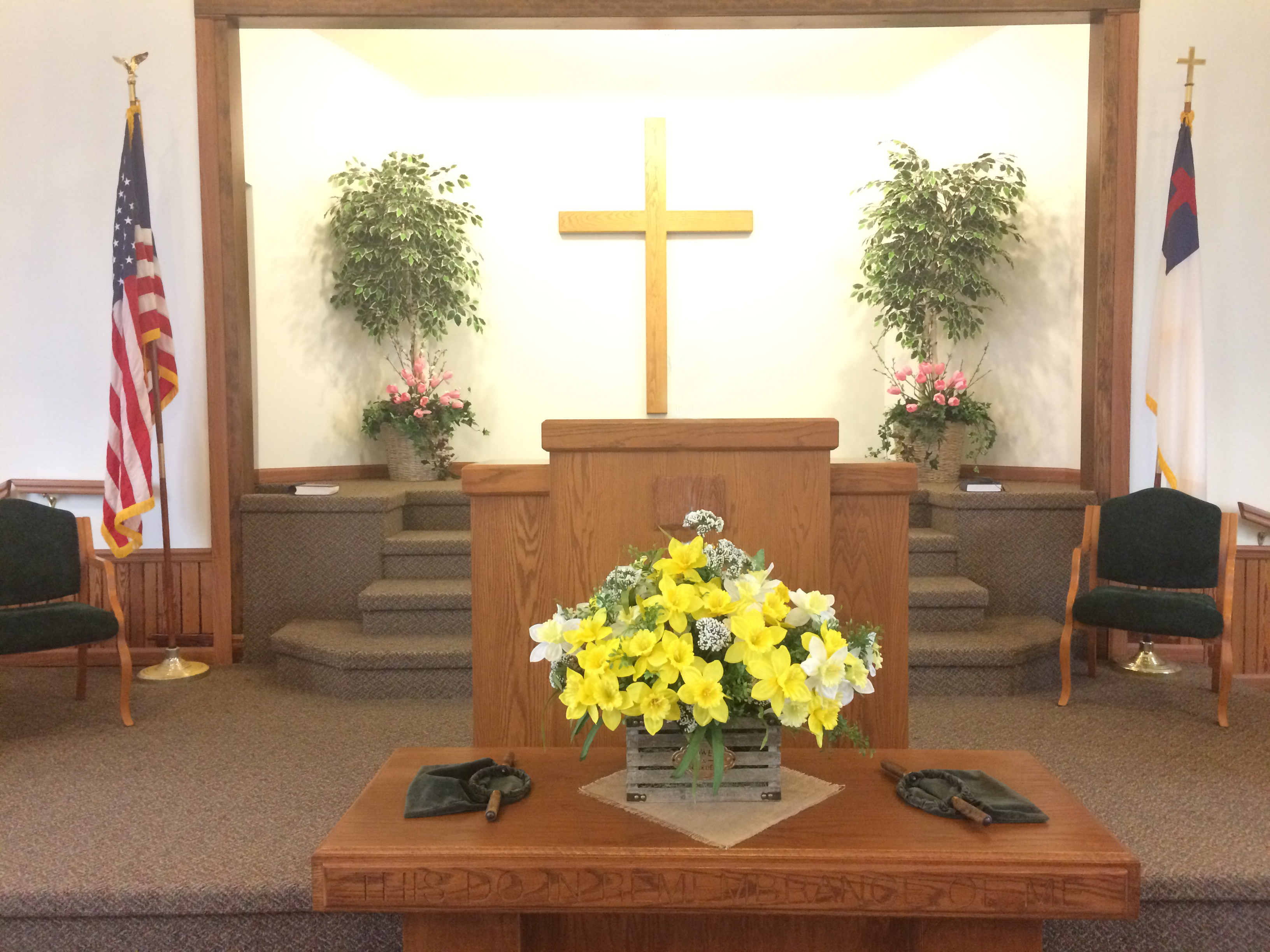 Chewelah Baptist Church
May 3, 2020
Hymn
In Heavenly Love Abiding – Hymn #187 Great Hymns (PD)
In heavenly love abiding,
No change my heart shall fear;
And safe is such confiding,
For nothing changes here.
The storm may roar without me,
My heart may low be laid;
But God is round about me,
And can I be dismayed?
Wherever He may guide me,
No want shall turn me back;
My Shepherd is beside me,
And nothing can I lack:
His wisdom ever waketh,
His sight is never dim;
He knows the way He taketh,
And I will walk with Him.
Green pastures are before me,
Which yet I have not seen;
Bright skies will soon be o'er me,
Where darkest clouds have been.
My hope I cannot measure,
My path to life is free;
My Saviour has my treasure,
And He will walk with me.
Video Sermons
The Wednesday Bible Study and Sunday Morning Worship sermons will be posted at chewelahbaptist.org. Links will be sent through email and through our church Facebook account until Washington State lifts restrictions on public gatherings.
Kids' Missionary Story Time
Reopening Update
Currently, churches are not allowed to worship together in their building until Governor Inslee declares the state to have reached his phase 3 level, and then only 50 people at a time.
A federal class action lawsuit was filed on May 1 in the U.S. District Court, Tacoma, challenging this decision. Part of this suit is asking the court to allow "freedom to practice religion, peaceably assemble, and move and associate freely."
While we wait and pray for a positive outcome, we will continue to share the good news of God's Word as the gospel goes out "to the ends of the earth."
Giving
Giving to the church can be done in a variety of ways:
1) Mail a check to the church – PO Box 315
Chewelah, WA 99109
2) Use "bill pay" from a financial institution.
3) Online: https://chewelahbaptist.org/give
4) Text-to-Give: text the word Give to 509-255-8811
with a dollar amount (Give 100)
Thank you for your generous giving to Chewelah Baptist
through this time of being apart.
Monthly general fund budget need - $9,410
Prayer Requests
Pray for:
1) Acceptance of God's plan.
2) People to watch church services and receive Jesus as Savior.
3) Missionaries on the field to stay healthy, safe, and have wisdom in how to serve during this time.
4) Missionaries on deputation to raise support even during these unknown times.
5) Our President and leaders to have wisdom.
6) Our governor's salvation.
7) For the federal court to rule in favor of businesses and churches so they can freely open.
8) For businesses not to close and for the economy to recover.
9) God-honoring people to get elected this fall.
10) For those who have had medical procedures postponed to remain healthy.
11) Peter's back surgery on Tuesday, May 5.
Praises:
1) People are receiving Jesus as Savior!
2) The gospel is being shared around the world!
3) God is still in control!
Sermon Notes
Let Love Be Your Guide - Romans 14:1-23
I. Our Relationship to God's Authorities
II. Our Relationship to Our Neighbors
III. Our Relationship to Other Believers
A. Be Careful of Your Attitude
B. Be Careful of Being a Stumbling Block
Let us get to know you!
Please take a moment to send us your information so that we may stay connected with you. Your information is carefully managed and protected.
How did you hear about us?