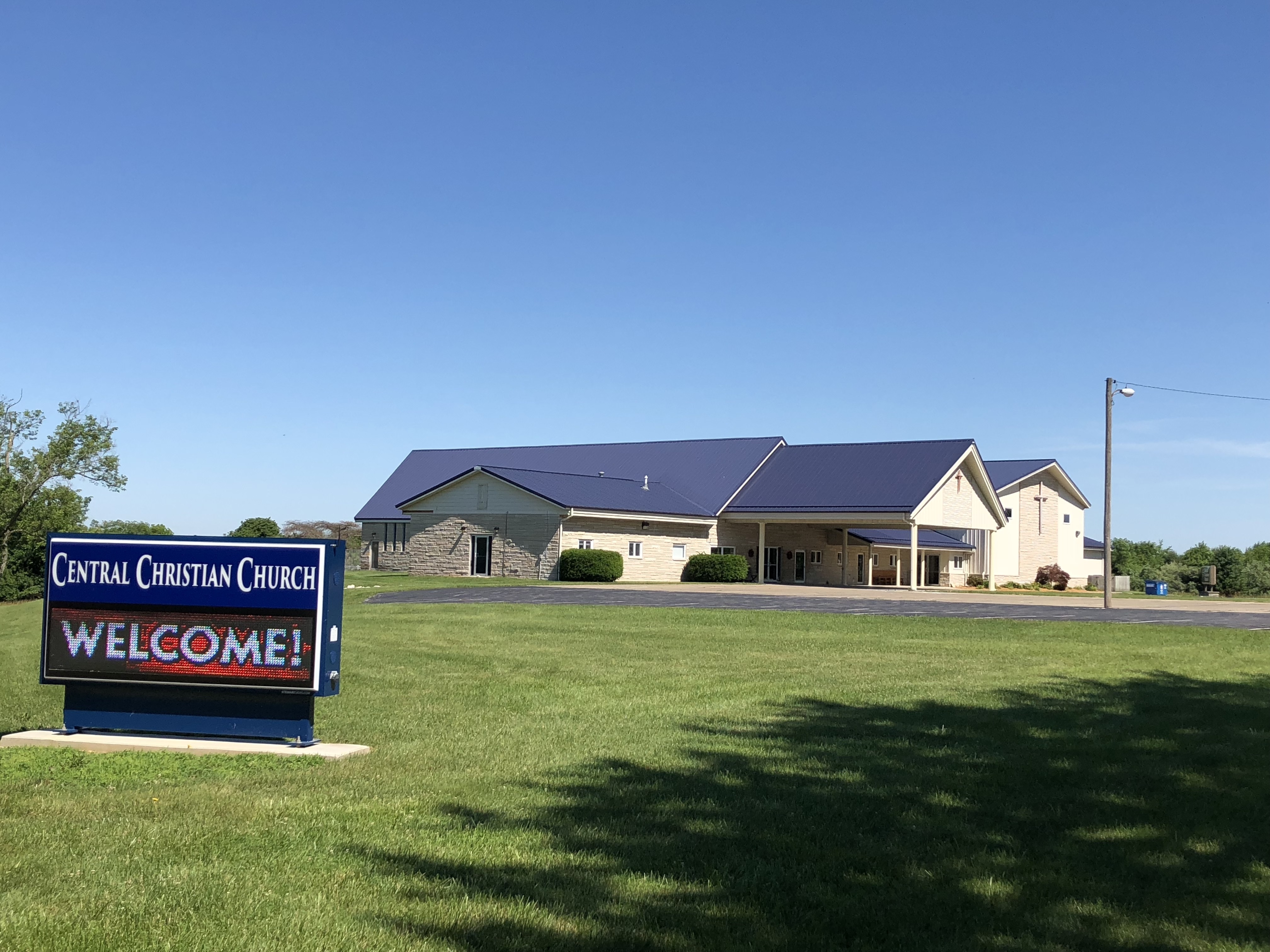 Central Christian Church -s
January 19, 2020
Today's Events
Today's Events
9:00 AM - Worship Service
10:15 AM-Sunday School
Nursery - The nursery is open and staffed for the 9 AM service. A short lesson is offered during Sunday School in the nursery for birth through 3 years of age.
Children's Church - During the worship service, children age 4 through 5th grade will be dismissed during the sermon time for an age appropriate lesson. Children's Church will conclude when the morning worship service is over.
Sunday School - Classes are provided for adults and children of all ages during the 10:15 hour.
This Week's Events
Monday-Mission Meeting 6 PM
Tuesday-Prayer Room Prayer Time 6:30 –7:30 PM
Wednesday-Open Gym 6-10
Friday-Set Up in gym for KSD Breakfast
Saturday-KSD Pancake Breakfast 7-10:30 AM
Central Christian Main Office
618.943.4217
Website:
www.centralchristianchurchlc.com
Facebook:
Central Christian Church
Information
Sunday School-Classes for all ages
Bill Tucker: Adults - Acts Activity center
Mike Mosier: Adults - Ecclesiastes Conference Room B
Tim Zehner: Women of the Bible Classroom #7
Jim Luthe: Adults- Standard Lesson Conference Room A
Gayle Billingsley: Ladies- Men of the Bible Classroom #8
High School & Jr High Loft area upstairs
Children ages 4 through 5th grade meet in age appropriate
classes in the children's wing.
Prayer Room
The prayer room is available to everyone on Tuesday evenings from 6:30 –7:30 PM. Please feel welcome to come and pray on Tuesday evenings during the designated time.
Parents Night Out!
Free babysitting!!! We have several volunteers who will provide parents an opportunity to have a night out on January 31st from 5:30 –8:30 PM. This is for children ages 4 years through 5th grade. Please call 618-240-1075 or 943-4217 to register your children.
Kid's Shopping Day Breakfast
The Kid's Shopping Day Organization will have their annual KSD Pancake Breakfast on Saturday, January 25th from 7 –10:30 AM. They will be serving pancakes and biscuits and gravy. Kid's Shopping Day is non profit organization that provides free school supplies, clothing, and hygiene products each August for the children of Lawrence County. A freewill offering will be taken for the breakfast. Please help support KSD and bring your family and friends to the KSD breakfast
Kid's Shopping Day Father/Daughter Dance
The KSD will have their annual Father/Daughter Dance on February 8 from 6-8 PM in the activity center here at Central. You may register and pay your fees at the dance.
Open Gym
Open gym is available to everyone who would like to come and enjoy an evening playing basketball. A regular crew comes every Wednesday evening and everyone is invited to join them. Open gym is on Wednesdays from 6-10 PM.
Central will be packing food for the children on Thursday, January 16th beginning at 6 PM. Please meet at the Free Methodist activity building on Chestnut St. in Bridgeport, IL. All volunteers are appreciated!
Blood Drive
Central will be hosting an American Red Cross blood drive in the activity center on February 11th from 2-6 PM. You may go online and schedule an appointment at RedCrossBlood.org and enter: Central Christian-Lawr to schedule an appointment
McKinley Orchard Dinner
Last year the McKinley Orchard Dinner was such a success that the adult dinner is returning to McKinley Orchard. Plans are to travel to McKinley Orchard on February 22. Please meet at the church at 4 PM and then carpool to McKinley Orchard. This dinner is for adults only. Sign up at the Welcome Desk so reservations can be made.
Guest Speaker
Our guest speaker this morning is
Mike McElyea
Highland Church of Christ
In
Robinson, Illinois
Zach Johnson will be our guest speaker on January 26, 2020
Let us get to know you!
Please take a moment to send us your information so that we may stay connected with you. Your information is carefully managed and protected.
How did you hear about us?