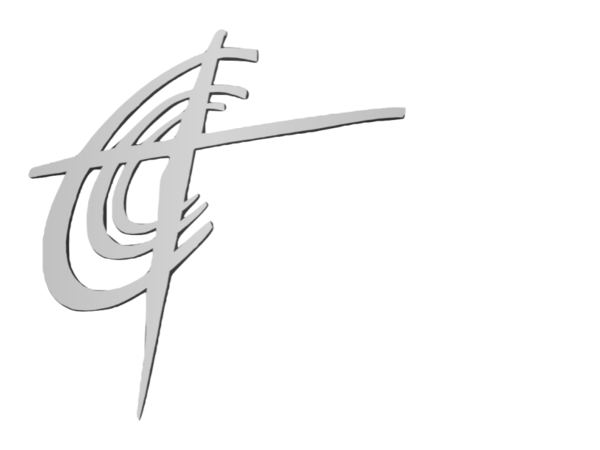 Brian's Article
Be Thou my Vision
I'm often confused by life. I don't understand a lot of things that are going on around me. Because I don't immediately understand them I tend to ignore them. By ignoring things around me I live with tunnel vision. I only connect and react to things that I am accustomed to. This makes my world very small and, typically, something that I think I can manage. When this is consistently "my world", then I begin thinking two things; One, I don't have room for God in "my world", and, Two, I don't NEED God in "my world".
With this as my mantra or philosophy my only way to reach out is to find others who share my narrowed view of existence. With this new "tribe" identified we can then agree that, in our detached, controlled environments we can officially call this form of existence, LIFE.
Folks, this isn't life! Life requires living, not existing! Being committed to routine is not living, functioning maybe. Life needs horizons to chase, goals to pursue, challenges to overcome. We need an aspect of our world that requires faith; believing in something beyond ourselves. When the numbers don't add up and we believe anyway ~ that is faith. The disciples often asked Jesus to strengthen their faith or restore their faith. It seems that faith is a spiritual commodity that varies in shelf life and durability. Thomas told Jesus, "I believe, help my unbelief."
Believing means I can look ahead and not be discouraged by indicators of failure. We don't like discouragement. It is draining. It takes its toll on our emotions. We get down (and not in that funky, dance-move kinda way). We can lose sight of what we were after in life. Where were we going? What was our objective? This is why we need to repeatedly ask God for his insights, his perspective. We need to see this world through the eyes of Christ. He needs to be "our vision". By this, I do not mean that he is our goal or target. When we ask Him to be our vision, it means to see things as he sees them. This is life changing! By removing our fear and insecurities, the challenges of life become achievable. This is the life God wants us to live; seeing ourselves as over-comers, not just passengers on a roller coaster.
Brian Lakin
From Roger
May 2019
As this school year winds down, VBS is on the horizon along with one of our new ministries. As always, vacation bible school is an excellent opportunity to interact with children both from our church and from our community. This year, we invite you to join us with Paul during his time in Athens. Like last year, this Holy Land adventure will feature daily worship time, an interactive Bible story about Paul's ministry, and a trip to the marketplace. Each day, children will spend time learning in small groups with their tribe leaders. We will be collecting props and materials soon. Watch for a list on the welcome desk. It is a wonderful chance to build relationships and sew seeds of faith in our children. We also still need to fill some of the volunteer spots. See me or Lydia! To register for this year's event, please visit https://vbspro.events/p/events/2019cccvbs.
I am also excited to announce our new children's summer program: Mobile Ministries. Each week, we will take a team of volunteers to Mills Terrace Apartments to share a Bible lesson, play games and activities, and deliver sack lunches. Just like the Blue Bus at the American Indian Christian Mission, this ministry seeks to build positive relationships and share God's love with children in a place where they are comfortable. I look forward to watching this ministry grow as we go through our first season.
As the end of the school year approaches, please join me in praying for the Mobile Ministries program, its volunteer staff, and its impact for the Kingdom of God. Pray also for our graduates as they celebrate accomplishments and take on new challenges.
Roger II
The Voice
Paul's Dangerous Journey
to Share the Truth
VBS will be June 9-13 from 6-8:15 PM. Come and share an exciting week of crafts, snacks, stories and lots of fun. This week come and hear about Paul's journey. VBS is for ages 4 years though 5th grade.
Mission Trip
Our mission team is gearing up to travel to the American Indian Christian Mission in Show Low, Arizona in June. The summer break is time to provide maintenance on the buildings at AICM. Our team will not only help with maintenance they will also create a relationship with children on the near by reservation. The mission trip this year will be June 21 through June 29th.
Mission Trip Fundraisers
May 31– A Spaghetti Supper will be in the activity center from 5-7 PM. The mission team will have spaghetti and the fixings for a freewill donation.
June 15-There will be a 3 on 3 Basket Ball Tournament from 9-2 PM. Registration will be $15 per person and include a T-shirt. The mission team will also be selling burgers and hot dogs for lunch. Watch for a sign up sheet at the Welcome Table.
Sr. Saints
Time is running out to register for Sr. Saints. Sr. Saints will be June 3-7th. Sign up or contact Brian Lakin if you want to go. Sr. Saints is at Johnson University in Knoxville, TN.
Serving
May 26, 2019
At the Table:
Mike Mosier
Nursery 2nd Service:
Donna Mosier, Jamie Wimberly
June 2, 2019
At the Table:
Jim Luthe
Nursery 2nd Service:
Gerry Paulin, Deborah Bailey
June 9, 2019
At the Table:
Gerry Breault
Nursery 2nd Service:
Aaron & Liz Mays
June 16, 2019
At the Table:
Tom Overbay
Nursery 2nd service:
Sherrie Zeigler
June 23, 2019
At the Table:
Aaron Mays
Nursery 2nd service:
Donna Mosier, Jamie Wimberly
Prayer Chain:
Donna Mosier 928-4628
Jane Benson 812-291-0099
Communion
Preparation for
June :
Calendar of Events
May:
20-Mission Meeting 6 PM
21-Blood Drive 2-6 PM
27-Office Closed
JUNE:
2-Youth Cookout @ lake 5-8PM
3-7-Sr. Saints
9-13-VBS 6-8:15 PM
15-AICM BB Tournament
21-29-AICM Mission Trip
JULY:
4-Community Fish Fry
8-11 CIY
Attendance
4/21 4/28 5/5 5/12
1st service 96 80 80 100
2nd service 111 57 60 62
Sunday School n/a 64 60 54
Offering $2,977.00 $2,633.00 $5,617.75 $3,123.55
Amount needed to meet weekly budget $4,495.87
Public Prayers
Public Prayers
"I knew that you always hear me, but I said this for the benefit of the people standing here, that they may believe that you sent me."
JOHN 11:42
IN WORD Too often our prayers are the private matter of our own hearts. That is, of course, where they begin. That is where God deals with us and speaks to us. But not all prayers are to be left there. The glory of God is a public matter and nowhere on earth is God more glorified than when He is clearly at work. Miracles occur every day, but they often go unnoticed or are considered "coincidental" because no one heard the specific prayer of someone's heart that God answered in His mercy and power. When mercy and power come, the prayer needs to have already been on record. God is glorified as He responds to public requests.
Jesus spells this out for us. As He approaches the tomb of Lazarus, He is grateful for the public forum. He could have done this miracle with a minimum of onlookers and in the privacy of the tomb. He could have lifted up a silent prayer, leaving people to wonder whose prayers were answered. Was Lazarus raised because of Mary and Martha's goodness? Because of Lazarus's faithfulness? Because of a huge medical misunderstand? No, it was a divine response to Jesus' prayer. It was, in essence, yet another sign from heaven saying, "This is My Son." It was validation that God was at work in Jesus and that Jesus was doing God's work. How do we know? Because before Lazarus got up, Jesus prayed. Out loud.
IN DEED We're afraid to pray such risky prayers. That's understandable; we should only pray them after we've arrived at a positon of faith and confidence in God's will and with sensitivity to His timing. But once we're there, we need to let God show His glory publicly. His demonstration of power is usually not a private, personal matter. It is more often a showcase for His mercy. When our prayer are witnessed by others and then God answers, He received honor, and the faith of others is strengthened.
Copyright © 2003 by Walk Thru the Bible. All rights reserved.
Central Christian Church
Our address is: 303 Buchanan Drive, Lawrenceville, IL