Christ Community News
Christ Community Church in Collinsville Volume 3, #12, December, 2021 Conservative Congregational Christian Conference
WELCOME TO THE CHRIST COMMUNITY NEWSLETTER!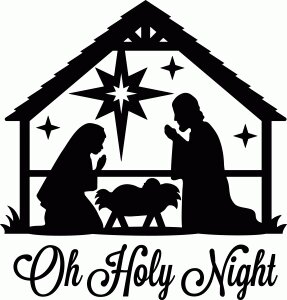 Here you will find news of events inside and outside of the church, articles, opinions, testimonies and other interesting tidbits to inspire and amuse.
If you would like to contribute a short article, testimony, encouraging word or quote, or an interesting or funny church sign, please speak to Rose. Contact the church and the office manager will get the information to Rose.
The Christmas season is upon us! Hard to believe 2021 is almost over. And what a year it's been! Yet, by God's grace, here we are almost at the finish line.
But before the year is out, we have the joy of celebrating the birth of our Savior Jesus Christ! To use an old worn out phrase, let's not forget the reason for the season. It was a miraculous birth that took place a little more than 2000 years ago that we commemorate on December 25. While we aren't certain of the date, we certainly know that the event took place!
The birth of Jesus is truly a lesson in what theologians call the "Great Reversal" in Scripture. God doesn't do things the way we would expect them. Who would have imagined that God incarnate would appear in an animal feeding trough? Who would have thought that the King of kings and Lord of lords would be born to a young peasant couple from a no-name town? Who would have thought that one day that little baby would perform great miracles and preach the arrival of the kingdom of God? And we certainly wouldn't think that He would end up on a Roman cross.
That's how God works though. Paul said to the Corinthians, "The wisdom of this world is foolishness n God's sight" (1 Cor 3:19).
We would have figured Jesus would have been born to some great
Jewish royalty in an exclusive home and that He would have had
all that He needed. He WAS born in royalty! His lineage is from
David and Solomon, both great kings. His lineage goes back to Abraham. And Luke traced it back to God Himself. And, as God, as being One with God, He had everything He needed. "All things have been created through Him and for Him" (Col 1:16).
So, as we settle in for the rush of the Christmas season, let us not lose the joy in knowing that the Messiah arrived that night. Let us not lose sight of the grace of God shown to us that night. Let us set our eyes upon that wonderful gift from God and experience the awe of Simeon who, when he saw the baby Jesus brought into the temple, said, "My eyes have seen Your salvation that you have prepared in the presence of all peoples, a light for revelation to the Gentiles, and for glory to your people Israel."
Have a blessed Christmas!
UPCOMING CHRISTMAS EVENTS
Friday, December 3 - Christmas Caroling at the Collinsville Tree Lighting and around Collinsville! Meet at the church at 5:00 PM for a rehearsal, and we will all walk together. DRESS WARM!!
Saturday, December 4 - Christmas Concert, "Holy Hush, Heavenly Peace". Starting at 4:00 PM. It's been advertised in 104.9's calendar, the Canton Patch calendar, and on the flyer for Christmas in Collinsville. Hopefully there will be a wonderful turnout to see and
hear all the wonderful music and dance! The more the merrier!
MONTHLY PRAYER BREAKFAST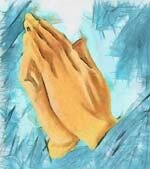 Saturday, December 18.
Starting approximately 9:00 AM for breakfast and fellowship. Please bring your own breakfast. Prayer time will start after lunch and lasts about an hour.
SERMON DISCUSSION GROUP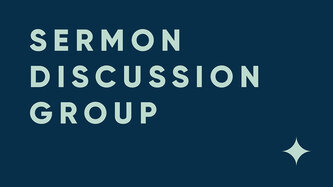 Our "What Was He Talking About?" midweek sermon application discussion group meets Wednesdays at 7:00 PM in Room 4.
ALL are Welcome!
If you would like to be in the small group, but cannot make it to the church, please let Pastor Chris know (pastor@christcommunitychurchct.org) and a Zoom meeting can be set up. Even if you missed the sermon that week, you are still welcome to come to the meeting - it's a wonderful time!
COFFEE HOUR VOLUNTEERS
The sign up sheet is in Collins Hall. There are still lots of dates open for the new year. MANY THANKS to all who have been signing up.
FOOD DONATIONS EXPLAINED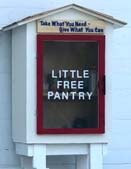 There's been some confusion about the Canton Food Bank donations, and the Little Free Pantry. Let's try to clear that up.
The Canton Food Bank is something that CCC has been doing for quite some time. On the 3rd Sunday of every month we called food and pray for the people that receive it. That stays the same and we strongly encourage everyone to bring something in to help keep the Canton Food Bank filled. Special thanks to Victoria DuBois for dropping the food off every month!!
Little Free Pantry is something completely different. The Proclaim Team came up with this idea to help the community. It should be self-sufficient, and we have had some people of the community donate food for us to put in there. No one is obligated to bring food for the Little Free Pantry, HOWEVER, if you feel led to bring something and drop it off, please do. If anyone still has questions about this, please let Pastor Chris know. ~ Patty Bauer
CHRISTMAS FLOWERS

If you are placing plants/flowers on the platform in honor/ memory of someone, please indicate this on the sign up sheet in Collins Hall.
Flowers must be in place in the sanctuary BEFORE the 12/19 service at 10:AM so we have time to arrange them.
Put your name on your plants (labels & markers on the platform) so we can return them to you after Christmas. Thank you. ~ Laura Salch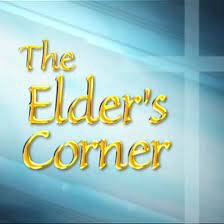 ♦ Advent is here and Christ Community Church is a bustling place!
The greens and wreaths have been hung in the Sanctuary, and
the Christmas trees are standing in anticipation of our Lord's
birthday celebration. Keep your eyes on Jesus, the reason for
the season
♦ The Elders are planning a voluntary missions giving opportunity
that will make it easier for anyone to support selected outreach
organizations. This will be a self supporting account outside of
our regular church resources. We would like to thank Rachel
Salch for managing this ministry scheduled to begin early in the
new year
♦ We also decided to reinstate the "Day of Blessing Prayer" in
January, 2022 and are delighted that Judy Byrne has agreed
help us organize the event. Thank you Judy!
~ Isaiah 7:13-14 Then Isaiah said, "Hear now, you house of David! Is it not enough to try the patience of humans? Will you try the patience of God also? Therefore the Lord himself will give you a sign: The virgin will conceive and give birth to a son, and will call him Immanuel. ~ Bob DuBois
HEALING PRAYER MEETINGS
There is a weekly Healing Prayer meeting at Buddy & Debbie Laws house on Tuesdays from 6:30 - 8:00PM.
You are invited to join us beforehand at 6:30 PM when we gather to talk, laugh, catch up and enjoy some light, healthy snacks.
Please let Debbie or Buddy know by Monday evening if you're planning on coming for prayer, in case of schedule changes. You can also send Debbie a note through FB Messenger if you are on Facebook.
It is our sincere hope that anyone who is in need of encouragement, hope, and prayer will come and allow us to minister to you.
OPERATION CHRISTMAS CHILD SHOEBOX PACKING PARTY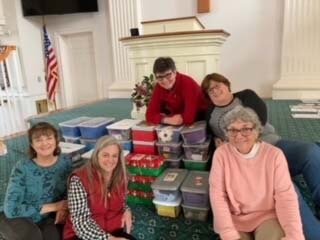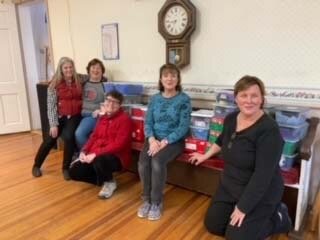 It was a great success! Thanks to all who participated and/or donated, and all who brought shoeboxes on Sunday!
~Pix by Linda Kulick & Caryn Turek

RECAP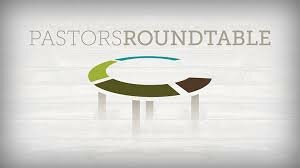 EXALT TEAM
- Planning for Advent and the Christmas season
- Team usually meets the first Sunday of the month
MAKE DISCIPLES TEAM
- Hope to restart the Triad Groups (to disciple each other). More
information to follow.
- Team usually meets the second Sunday of the month
PROCLAIM TEAM
- Team usually meets the third Sunday of the month.
CHURCH POWER WASH has been done!
INDUCTIVE BIBLE STUDY OPPORTUNITY
- Karen Adajian will be running a class on inductive bible study. It is
not a bible study, but HOW to study the bible
- Karen said that it would be okay regardless of how many people
would like to learn this. Right now we have 2-3 and Laura will be
talking with Karen soon to set up a time.
CHRISTMAS DECORATIONS are done! Thanks to all who helped!
ADVENT POTLUCK BREAKFAST December 12
at 8am. Sign up sheet in Collins Hall. We may be needing volunteers to set up on Saturday and for cleanup on Sunday since there's a bridal shower after service.
DAY OF BLESSING PRAYER Saturday, January 8 1:00 - 4:00 PM. Sign up for a 15-20 minute session of individual or family confidential prayer for your 2022 concerns with a prayer team. Refreshments will be available in Collins Hall before and after your session - a great time for fellowship!
CHURCH/SCHOOLHOUSE PROJECT LIST: Thanks to those that have been signing up and completing things on the list that Pastor Chuck and Patty made. The list is in the back of Collins Hall!!
MEMBERS CLASS Pastor Chris is thinking about having a New Members class in the end of January/ beginning of February timeframe. If you are interested, or have questions about becoming a member, please let Pastor Chris or one of the Elders (Sepp, Bob, or Robb) know and he will be happy to sit with you answer any questions you have
MISSIONS We're hoping to restart the Missions ministry, this time to be self sustaining with second envelopes for contributions. Working on selecting the recipient missions
DEACONS Would like to have backup volunteers to prep Communion when deacons can't. Contact deacons via email: deacons@christcommunitychurchct.org or call the church office: 860-693-6333
SNOWPLOWING Will pay per storm this season due to high cost of flat season rate.
~ Round Table Recap based on info from Patty Bauer & Rose
UPCOMING EVENTS
HEALING PRAYER WEEKLY MEETING
Tuesdays, 7:00 PM at Debby & Buddy Laws' home
CHRISTMAS IN COLLINSVILLE
Christmas Caroling at Collinsville Tree Lighting
Friday, December 3 - meet at church at 5:00 PM
CERT FOOD DRIVE FOR FOOD BANK
Saturday, December 4, 9:00 AM - 2:00 PM at Ocean State store
CHRISTMAS IN COLLINSVILLE
Christmas Concert, "Holy Hush, Heavenly Peace"
Saturday, December 4 - 4:00 - 5:00 PM in Sanctuary
EXALT TEAM MEETING - Sunday December 5 in Conf Room
ADVENT BREAKFAST - Sunday, December 12, at 8:00 AM
MAKE DISCIPLES MEETING - Sunday, December 12 in Conf. Room
GIRLS' NIGHT OUT - Thursday, December 16 at George's Restaurant in Unionville. Let Jennifer know if you are attendingMeet at 6:30 PM at our reserved table
MEN'S DINNER FELLOWSHIP - Thursday, December 16 at 6:00 PM. at Michel Angelo's on RT 44 in Barkhamsted. Meet at 6:00 PM.
PRAYER BREAKFAST - Saturday, December 18 at 9:00 AM in Collins Hall. Prayer starts after meal.
LAST DAY TO PLACE CHRISTMAS FLOWERS - Sunday, December 19 IN TIME TO ARRANGE FLOWERS ON PLATFORM BEFORE 10:00 AM SERVICE!
PASTOR'S ROUNDTABLE - Sunday, December 19 in Collins Hall
CHRISTMAS EVE SERVICE - Friday, December 24, 5:00 pm
CHRISTMAS DAY
SUNDAY SERVICE - Sunday, December 26, 10:00 am. Pastor Chuck will be preaching as Pastor Chris and Patty will be away
Our Vision: Where we Exalt the Lord Jesus Christ, Proclaim the gospel, and Make Disciples.
Our address is: 7 South St, Collinsville, CT 06020, USA