Christ Community Newsletter
Christ Community Church in Collinsville. Volume 4, #4, April, 2022. Conservative Congregational Christian Conference
Welcome to Christ Community Church Newsletter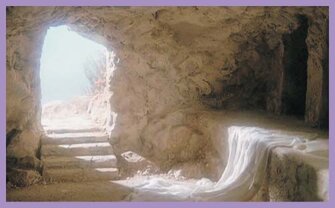 Here you will find the news of events, inside and outside of the church. Articles, opinions, testimonies, and other interesting tidbits to inspire and amuse.
If you would like to contribute a short article, testimony, encouraging word or quote, or an interesting or funny church sign, please speak to Rose. Contact the church and the office manager will get the information to Rose

Up from the grave He arose;
with a mighty triumph o'er His foes;
He arose a victor from the dark domain,
and He lives forever, with His saints to reign.
He areose! He arose! Hallelujah! Christ arose!
These are familiar words to a powerful Easter season hymn that will be sung at many churches this coming Easter. It proclaims the foundation of Christianity - Christ arose! He conquered death, the final enemy. Not even death could keep Jesus down. It's on authority of His resurrection that we can be assured that all He taught is true.
Many doubt the resurrection. Let's take a look at the circumstances surrounding the resurrection:
History has never disproven He was crucified. Crucifixion was a brutal execution method employed by the Romans. Jesus was crucified after being scourged to near death, dragging His cross, and being nailed to a cross. The nails were not the typical 10-penny nails we see at Home Depot. They were spikes. He hung on the cross for 6 hours, was speared in the side, and died.
He was buried in a borrowed tomb. The tomb was much like a small cave and had a large stone rolled in front of it. The Romans also posted a couple of guards in front of the tomb. Given the hostile climate of the time, The Romans were not going to take any chances that the body would be taken!
Women were the first to see the empty tomb. In those days, women did not enjoy any sort of status among the mend in the world. Marriages were arranged, women were essentially servants to their husbands - meant to be seen and not heard. Men ruled the day. It took these couple of women to share the Good News!
His followers saw Him, ate with Him, and watched Him ascend.
Some say Jesus wasn't dead when He was laid in the tomb. This they say after He was beaten, crucified, and spears in the side. And after that, He got up three days later, rolled a large stone, subdued two Roman guards, and went out without any signs of beatings or crucifixion. Not very likely, right?
Some say His followers made it up. That would mean that men who scattered during His trial mustered up the courage to make up a story that would get them killed. What are the chances that many people would agree to that sort of plan? Not very likely, right?
Some say the women discovered the wrong tomb. Wouldn't the guards have pointed that out? They also were in danger of being killed if they didn't guard the right tomb. Not very likely, Right?
There are many, many other attempts to refute His resurrection, but if one takes a look at the conditions surrounding His crucifixion, the tensions between Rome and the Jews, the culture, etc., you can only deduce that it had to happen. Based on that alone, we could conclude that He is who He said He is. Add to that the miracles, signs, and wonders He performed to also declare who He is.
And that is what our hope is based on. Our assurance that we will follow Him in resurrection. As the hymn says,
Hallelujah, Christ arose!
The Elders' Corner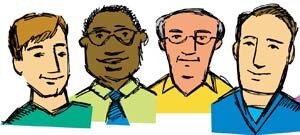 The Elders would like to thank Nate Zimmerman for his "Messiah Jesus as Seen in the Passover" presentation given at our March 27 worship service. Nate explained some of the historical connections between our Holy Communion celebration and the Passover Seder. Thank you Nate!
Our main focus has been on preparations for Holy Week. Plans for Palm Sunday, Good Friday Tenebrae Service, and Resurrection Day - Easter Sunday are nearly complete. Let us keep it all about Jesus and not tradition!
Spring is rapidly approaching along with the need for a proper spring cleaning of CCC buildings and grounds. We must practice good stewardship with all the Lord has entrusted with us. Expect a date and time for "Spring Clean-Up Day" to appear in the bulletin and on the website soon.
1 Peter 1:3 "Praise be to the God and Father of our Lord Jesus Christ! In his great mercy he has given us new birth into a living hope through the resurrection of Jesus Christ from the dead," ~Bob DuBois
RECAP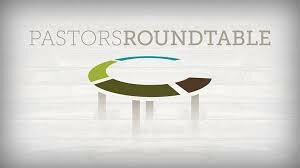 Some of the information in the recap is elsewhere in the newsletter, but here are some of the things discussed.
PLEASE remember to take home the bulletin - it's full of great information and the calendar in the back is very detailed about all the happenings in the church!
UPCOMING IMPORTANT DATES:
Sunday, April 10. Palm Sunday Breakfast at 8:30am in Collins Hall. It's potluck and a sign-up sheet is by the kitchen
Friday, April 15. Tenebrae Service starts at 7pm. As of this writing Pastor Chris still needs 4 people to read
Sunday, April 17. Resurrection Day/Easter Sunday Service at 10am
EXALT TEAM: They will be meeting on Sunday, April 3, to get back on track with things since Sepp has been out.
MAKE DISCIPLES TEAM:
Concentrating on the current recurring events we have going on, trying to get more people involved
Victoria Are is working on the details for an online Bible Study that the Elders approved. Stay tuned for more information
PROCLAIM TEAM:
An ad went into the April 1 Valley Press for our Easter Services. These 2 dates (4/15 & 4/17) were also added to the WIHS radio station calendar, and the local Patch online websites/news information (Canton, Avon, Simsbury, Farmington)
The Soup-a-thon was a success! $283 was raised for the Canton Food Bank! Thanks to everyone that helped with setup, making the delicious soups, serving, cleaning up!! SPECIAL THANKS to BAGEL DELI for donating the bagels
Next event is Palm Sunday Breakfast on April 10 at 8:30am
Working on a blood drive in May, June
Other ideas in the works
MISSIONS COMMITTEE:
Rachel Salch is heading the committee. At this time it's just her and Elder Robb
Rachel explained that she still needs at least one more person to help her with Missions
Nothing can be started until the committee has at least 3 people. It doesn't take up too much time - an occasional meeting and to help determine missions
PLEASE PRAY about this to see if you are called to be a part of this committee
DEACON UPDATE: They have helped one person so far this year, and are still doing well financially
SCHOOLHOUSE COMMITTEE: Met on March 31 to get things started on what needs to be done and what to do with/for the schoolhouse. Pastor Chris also mentioned that the Lions club is willing to help us clean it out when ready
Easter Flower Signup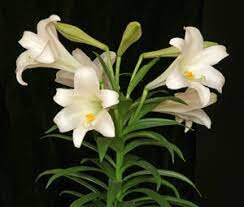 If you will be placing flowers on the platform for the Easter Sunday service in honor/memory of someone, or to the Glory of God, please indicate this on the sign-up sheet in Collins Hall by this Sunday so we can include it in the Easter bulletin.
Flowers MUST be placed on the platform in the Sanctuary by 9:30AM at the latest. If you can stop by during the week, or even bring them in on Palm Sunday - that would be great! Multiple plants are more than welcome!
Use markers or labels to put your name on your plants so you can take them home after Easter!
RECURRING EVENTS
MONTHLY PRAYER BREAKFAST
This group meets on the third Saturday of each month. Saturday, April 16, 9AM in Collins Hall. CCC has this monthly prayer breakfast on the third Saturday of each month, and it is a blessed time with the Lord. We'll begin with grace and enjoy food and fellowship, and then begin praying together (usually around 9:30). This is a "Bring Your Own Breakfast" event. ALL ARE WELCOME!
***********************
COFFEE VOLUNTEERS
Thanks to all who volunteer to do coffee hour on Sunday mornings. We love you lots! There are still some slots open for April, May, etc.
***********************
ADULT BIBLE STUDY
Pastor Chuck is presenting a series on Back to Basics at 9AM sharp on Sundays in the conference room. All are invited to attend!
***********************
HEALING PRAYER MEETING
There is a weekly meeting at Buddy & Debbie's home on Tuesday from 7-8:30PM. You can send Debbie a note via email or Facebook Messenger if you are planning on attending.
***********************
SERMON DISCUSSION GROUP
"What was he talking about?" meets on Wednesday at 7PM in Room 4. All are welcome. It's how we can adapt what Pastor Chris' sermon in todays society. If you cannot make it to the church, a Zoom meeting can absolutely be set up!
***********************
WOMEN'S BIBLE STUDY
Linda Papertsian is facilitating, "Galatians: Why God Accepts Us," using the study guide by Jack Kuhatschek. Women are welcome to join this weekly study, starting at 10:30AM in Collins Hall. P
***********************
MEN'S DINNER FELLOWSHIP
At Michel Angel's Pizzeria Restaurant & Lounge, 256 Main Street (Route 44) in New Hartford. They meet on the last Thursday of each month at 6PM.
***********************
GIRLS' NIGHT OUT
This will be at Dish 'n 'Dat again in April. It's on Route 44 in Canton. The girls meet on the third Thursday of each month at 6:30pm. Please let Jennifer Dickinson-Hanley know for reservations!
***********************
Thursday, May 5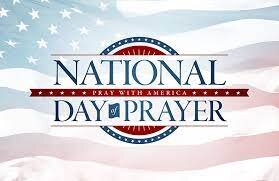 The town of Canton needs a Coordinator for NDP. If you have a heart for prayer, especially prayer for our nation, this could be your role. There are resources available: people who have coordinated prayer for Canton before; helpers at the county and state levels; and resources on the national website.
Victoria Arel has volunteered to take this on. If you would like to help her, please contact her!
Canton Food Bank Needs
"And God is able to bless you abundantly, so that in all things at all times, having all that you need, you will abound in every good work."
~ 2 Corinthians 9:8 (NIV)
PLEASE bring your donations to the church on the 3rd Sunday of each month. The food will be prayed over and delivered to the food bank. The need is for nutritious, non-perishable food items such as:
Breakfast cereal * Peanut butter * Jelly * Canned Fruit * Soup
Bottled juice * Small sugar boxes * Coffee * Tea * Canned tuna
Mac & Cheese * Canned vegetables * Pasta * Pasta Sauce
Canned pasta (Chef Boyardee) * Canned meat (stews)
Low sale and sugar free items * Powdered Milk
We cannot accept any food item that is past its expiration or "best by " date. Thank you!!!
CERT PRESENTATION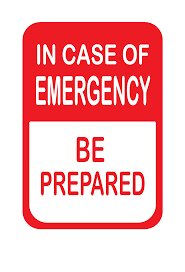 Last month Laurie Crowley gave a fantastic presentation about how to be prepared for emergencies, whether it's in the home or car. What Laurie spoke about most is what to keep in your car in the event of an emergency, natural disaster, etc. She went through her own backpack and gave us examples of certain items to have in it. Below is a list of some fo the things Laurie suggested.
MEDICINES/MEDICAL SUPPLIES
Aspirin/Tylenol Bandaids Tums/Antacids
Medical Tape Benadryl Gauze - all sizes
PERSONAL CARE SUPPLIES
Toothpaste & brush Toilet Paper Handwipse
Hand Sanitizer Hair brush Soaps/Cleaners
FOOD AND BEVERAGES
Water & water tablets Sodas Bottled Milk (almond, etc.)
Other drinks (powdered) Gatorade Energy Drinks
Canned foods (& opener) Soups Canned Meats
Peanut Butter Jelly Crackers
Granola Bars Cookies Chocolate bars/treats
Pudding Seeds/nuts Cereal/Oatmeal
MRE (Meals ready to eat) Baby food (if needed0
Pet food (if needed) Dehydrated items (jerky, etc.)
OTHER ITEMS
Cash Bleach Water purifiers Matches
Flashlight Batteries Glow sticks Blanket
Sleeping bag Pillow Hand warmers Hats/gloves
Can opener Wind-up or battery-operated clock
Plasticware (containers, utensils, bags, etc.)
Fire extinguisher Scissors
There are all kinds of articles and documents that can be searched online for emergency preparedness. If you have any questions, feel free to talk to Laurie; she would be happy to help you be prepared. Thank you Laurie!
GOT APPS?
I recently downloaded new apps to "test drive" for future reviews. I was quite excited, but I'm finding that discretion is a virtue! Checking websites for an app's parent organizations beliefs (as well as looking at apps' ratings for reports of unresolved glitches) is a smart thing to do. There are religious' wolves in sheep's clothing' apps, which will no doubt pop up based on your search history. The search is deifnitely worth it, but please be careful, and ask for help if you need it.
Pre-COVID, several of us from CCC visited Cape Cod when Pastor Chuck Schleich invited us to an excellent Songtime Conference on discipleship. One of the speakers was Donald S. Whitney, author of Praying the Bible, et al. Many Christians know they ought to pray, but do not because:
We are afraid to do it wrong
We become bored as we pray the same things over and over.
Dr. Whitney is an enthusiastic proponent of using the Bible, particularly the Psalms, to jump start one's prayers. As an exercise, he had the entire crowd pray through the same Psalm individually, in writing. Several people read their resultant prayers aloud. All the prayers were different, and most people felt their prayers had more strength and focus. He suggested a scheduled o5 Psalms per day (based on the day of the month, plus 30, plus 30 gain, again, and again) and challenged us to find a day when at least one of the 5 Psalms scheduled doesn't speak to our current prayer needs.
A young friend of Dr. Whitney's created an app to make findings these 5 daily Psalms simply and easy. Open the 5 Psalms app, and the first Psalm for that day pops up; just swipe from right to left to see the next one. There are 5 English Bible translations and one Spanish one, as well as font, font size, and just a few other variables which can be changed in the settings. This app does one simple thing well. When stress and too many choices overwhelm and make one hesitate to open the entire Bible, this app narrows it down, and makes it easy to pray meaningfully and creatively using God's own words.
5 Psalms is available for free on both iTunes and Google Play. The icon is a royal blue hand with white Hebrew lettering on the palm. For more information, click here.
YouTube videos of Dr. Whitney explaining Praying the Word.
Our Vision: Where we Exalt the Lord Jesus Christ, Proclaim the gospel, and Make Disciples.
Our address is: 7 South St, Collinsville, CT 06020, USA