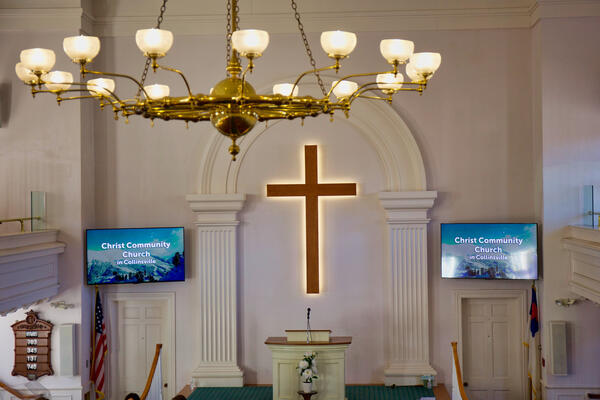 Christ Community Newsletter
Christ Community Church in Collinsville. Volume 4, #7, July, 2022. Conservative Congregational Christian Conference
Welcome to Christ Community Church Newsletter

Here you will find the news of events, inside and outside of the church. Articles, opinions, testimonies, and other interesting tidbits to inspire and amuse.
If you would like to contribute a short article, testimony, encouraging word or quote, or an interesting or funny church sign, please speak to Rose.
Contact the church and the office manager will get the information to Rose.

The first verse of Psalm 122 says, "I rejoiced with those who said to me, 'Let us go to the house of the Lord'" I had to pause and reflect on that verse for a moment. David is the psalmist here and this verse tells us a little bit more about him. He wrote--and most probably sang--that he rejoiced with people that agreed with him that it is good to go to the house of the Lord. His heart was filled knowing that others saw the distinct significance of heading to the temple to worship the living God.
David was a man after God's own heart (1 Sam 13:14) and even though his life was filled with tremendous success and failure, he remained faithful to God first. Simply skimming through the Psalms attributed to David gives us a sense of his thankfulness and worship of God. We also know his throne was established by God forevermore.
There is much for us in this verse. It's encouraging, to say the least, when we know others are worshiping with us. We are built-up when someone says, "I'll see you Sunday at church!" and our hearts are filled when we sing praises to God together. I believe this is why David rejoiced when others said to him, "Lets go worship together!"
I wonder how David would have reacted if he ran into people who said, "I won't be able to go with you." There is a sense of a family member missing from an important gathering when a brother or sister isn't able to join us in worship. It's for this reason that the write of Hebrews insists that we not give up meeting together, but instead encourage each other--and all the more as you see the Day approaching (Her 10:24-25).
It's important for the body of Christ to worship together these days. The world continues to offer new ways of keeping us out of the house of the Lord and in the world, and if we follow that path, corporate worship will suffer, the local body of Christ will suffer, and the church as a whole will suffer.
So, let us be aware of how we can encourage one another through corporate worship and be filled with joy like David. Let us seek to have hearts after God's own heart and live for Him first.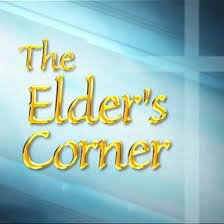 On May 10, 2022 the Elders met and agreed that, despite some health challenges among the Church leaders and others, the congregation is in pretty good shape! We have Christian Education Classes, Men's and Women's Fellowship Nights, Sermon Discussion Night, and Prayer Groups, Praise the Lord!
We are also financially stable and have online capabilities available to those who cannot join us in person for Sunday worship services or the sermon discussion on Wednesday night.
The Elders also agree that the Church property should be the most beautiful place in Collinsville. Therefore we are seeking volunteers to help with landscaping and the overall beautification of Christ's estate. Please let us know if you can help.
Song of Songs 2:11-12 "See! The winter is past; the rains are over and gone. Flowers appear on the earth; the season of singing has come, the cooing of doves is heard in our land."
~Bob DuBois
The Recap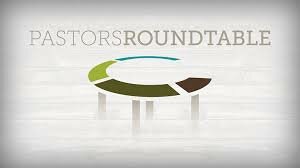 (Some of the items that are covered in the roundtable are covered separately in this newsletter).
EXALT TEAM: Will be meeting on June 5 to continue talking about the service and start on upcoming events.
MAKE DISCIPLES TEAM:
Worked with the Proclaim Team on Memorial Day parade outreach.
Still working with the Gideons to have an evangelism seminar at the church.
Next meeting will be Sunday, June 12.
PROCLAIM TEAM:
Worked with the Make Disciples Team on the Memorial Day parade outreach.
Red Cross blood drive will be in Collins Hall on September 29.
Going to start to work on a CPR class for the fall. Open to the public.
The one thing being discussed for the summer would be some kind of movie night - be it inside, or outside like a drive in. Genevra has been working to get this happening for at least a year now
Next meeting will be Sunday, June 12.
SCHOOLHOUSE TEAM:
Pastor Chuck mentioned that the Task Force will be sending out a letter describing, in detail the plans for the "Clean-Up" of the schoolhouse after the next meeting.
An email went from Pastor Chuck with more information.
If you didn't get the email, please let Laura know and she will make sure you get it.
DEACONS: Recently helped someone with a financial burden, and are currently helping that same person get social services started and things are proceeding well.
SURVEY: To keep on your radar, some time in June there will be a survey handed out to see how you feel things are going with the church. It will be completely anonymous.
GARDENING: Caryn and Cheryl would like some help in the gardening. In general they would like to have 1-2 more people to help them so they can split up how they have been doing the gardening. In the short term, they need help getting the Japanese grass (by the office door) out as well as some work on the sumac bushes (not poison sumac). If you are able to help, especially with the Japanese grass and pruning bushes, please let Caryn or Cheryl know.
CRISIS PREGNANCY CENTER CLOSING: Debbie Laws mentioned that there has been a change in what's happening with the Crisis Pregnancy Center (CPC). The landlord is changing he building, so the center has no office. So, the CPC has been dissolved. In the near future there will be a clean out day to get the rest of the items out of the office. There's furniture (bookshelves, couch, chairs, etc.), books, and other items. If you come and there is something you would like, you have to take it that day, and it cannot be stored at the church. Laura has pictures of the items if you are curious.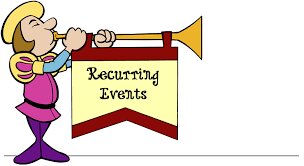 COFFEE VOLUNTEERS. There are several weeks that are open for those that wish to volunteer. Thanks to those that have been helping. We would like to keep this going, so please pray about signing up and helping out.
ADULT BIBLE STUDY. Pastor Chuck is continuing his series on the Beatitudes at 9AM sharp on Sunday mornings before church. They meet in the conference room. All are invited to attend!!
HEALING PRAYER MEETINGS. There is a weekly Healing Prayer meeting at Buddy & Debbie's home on Tuesdays from 7-8:30PM. You are invited to join beforehand at 6:30PM when we gather to talk, laugh, catch up and enjoy some light, healthy snacks. It is our sincere hope that anyone who is in need of encouragement, hope, and prayer for yourself or your loved ones will come and allow us to minister to you. Please let Debbie or Buddy know if you will be attending by Monday evening.
SERMON DISCUSSION GROUP. "What was he talking about?" This group meets every Wednesday at 7PM in room 4. All are welcome to join as we discuss the sermon and look at how to apply it in today's world. If you cannot make it to the church but are still interested, please email Pastor Chris and he would be more than happy to set up a Zoom meeting.
MEN'S DINNER FELLOWSHIP. Meet on the last Thursday of each month, at Michel Angelo's Pizzeria Restaurant & Lounge, 256 Main Street (Rt. 44) in New Hartford. They meet at 6pm. All men are welcome, and feel free to bring a neighbor, friend, etc.
GIRL'S NIGHT OUT. The girls are going back to George's Restaurant in Unionville. Still on the 3rd Thursday of the month at 6:30pm. We'll have a reserved table and meet at 6:30 pm. All are welcome!! Please let Jennifer know for reservations.
We are still looking for options that are quieter. If anyone has any ideas and can do the legwork on the restaurant to see if it would be suitable for Girls' Night Out, that would be greatly appreciated. Please let Jennifer know once you've researched and if it's feasible.
Monthly Prayer Breakfast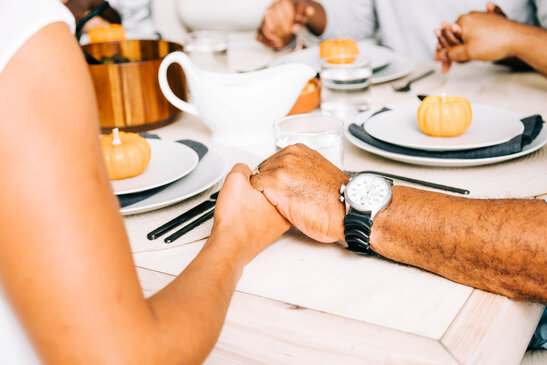 Saturday, June 18, at 9AM in Collins Hall
CCC has a monthly prayer breakfast on the third Saturday of each month. It's a blessed time with the Lord.
Starting at 9AM with a bring your own breakfast with grace and enjoy food and fellowship, then we start praying when all are done eating.
Please join us for a wonderful time of prayer.
COMMUNICATION AVOIDS CONFLICTS!
With the church getting more busy during the week, we want o make sure there's no room double booked.
PLEASE, keep Laura in the loop on any meetings planned at the church.
There is a calendar in the hallway by the office that is in the process of being updated - please check that for reference.
WHICH TASK IS CALLING YOUR NAME?
The spreadsheet of tasks that Chuck and Patty created, by going through the church and the schoolhouse, are still on the back table in Collins Hall There are small things, like changing lightbulbs, replacing blinds in room 4, and other things like that to be done. There is also some yard work on the list - maybe some weeding around the church. Take a look and sign up if there's something you might be able to do! THANKS!!!!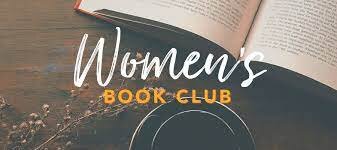 LADIES!
Please join us for our first summer Bible Book Club!
We are reading the Gospel of John. On Thursday, June 16, 2022 at 10:30 am we will meet in Collins Hall to discuss the Gospel. All of you are welcome to participate in the discussion of the book. The guidance of our study is coming from across the pond through the UK Bible Society. They have a user-friendly website that tells you about the book and some questions to consider (biblesociety.org.uk/biblebookclub).
A few printed paper guidelines on the Gospel of John are in the lobby (Narthex). We will be picking out other books for future monthly Bible Book Club meetings. If you have any suggestions or questions, please contact Linda P.
CANTON FOOD BANK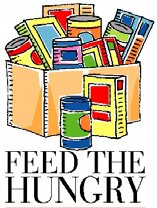 "And God is able to bless you abundantly, so that in all things at all times, having all that you need, you will abound in every good work."
~ 2 Corinthians 9:8 (NIV)
PLEASE bring your donations to the church on the 3rd Sunday of each month. The food will be prayed over and delivered to the food bank. The need is for nutritious, non-perishable food items such as:
Breakfast cereal
Peanut butter
Jelly
Canned Fruit
Soup
Bottled juice
Small sugar boxes
Coffee
Tea
Canned tuna
Mac & Cheese
Canned vegetables
Pasta
Pasta Sauce
Canned pasta (Chef Boyardee)
Canned meat (stews)
Low sale and sugar free items
Powdered Milk
Spices (salt, pepper, paprika, etc.)
We cannot accept any food item that is past its expiration or "best by " date. Thank you!!!
GOT APPS?
When I first began writing these articles reviewing Christian apps, I was excited about the idea of making sure that all the apps we review mesh with our church's vision statement: Exalt the Lord Jesus Christ, Proclaim the Gospel, and Make Disciples. I still think that's a great goal. However, while there are tons of apps covering Proclaim the Gospel and Make Disciples, the number of apps making it easy to Exalt the Lord Jesus Christ is less obvious to me.
How do we define this category, Exalt the Lord Jesus Christ in terms of apps? It seems likely to mostly include apps which play music, which we can sing or dance along to, or which somewhat lead us into worship, with or without music. This seems narrow to me, but I'm not sure how else to define it. If I'm showing a lack of creativity, please give me your ideas. There are several apps which play music and/or podcasts. I generally count podcasts in the Make Disciples category so I may double up reporting on an app which does both well. Two of the best known music/podcast apps are Spotify and Pandora. I like and use both of them even though they are not specifically Christian, but they have a lot of terrific Christian music and podcasts to choose from.
In some cases the Exalt-is apps I've seen look boring; some I tried and deleted because they didn't work well. In other cases, I'm just not qualified to review them. For example, I got good results from worshipleader.com, which has articles listing apps which offer to help one become a better worship leader or a better musician...except that I'm neither of those things.
I am determined to include apps which I have reviewed personally, or which someone else we trust has reviewed, and which could be used by most of us. Therefore, I may need input from other people, or Exalt app articles may be fewer and farther between than those in the other two categories.
Do you have a favorite app which supports our church's vision?? LET US KNOW!! ~Laura Salch

When we address God as our Father, we know that a blood-relationship is involved, for no man can approach God as Father save through the mediation of all His Son accomplished at Calvary. "No man cometh unto the Father, but by me" (John 14:6). Father, then, is the cry of the Spirit of the father in the believer (Romans 8:15), and the language the babe in Christ (1 John 2:13), and a name only fully known and enjoyed by the practically separated saint (1 John 2:15-16)...
It is a most profitable exercise to discover the varied ways in which Christ and His apostles employ the most precious relationship title of Father. Of all the divine names, there is none more full of comfort or more touching to the heart than that of the one before us...
The eight distinguishable terms used by the Son of God are The Father, Father, My Father, Your Father, Our Father, Holy Father, Righteous Father. Added to these we have several relative expressions in the epistles which, along with those found in the gospels, emphasize the many-sidedness of the fatherhood of God.
A Father (2 Corinthians 6:18; Hebrews 1:5)
God the Father (2 Timothy 1:2, 2 Peter 1:17)
God our Father (Ephesians 1:2)
God and Father of our Lord Jesus Christ (Ephesians 1:3)
Father of mercies (2 Corinthians 1:3)
Father of spirits (Hebrews 12:9)
Father of lights (James 1:17)
father of glory (Ephesians 1:17)...
~ All the Divine Names and Titles in the Bible, by Herbert Lockyer
Pentecost is for Every Believer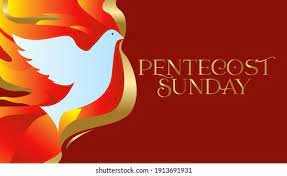 Before ascending to heaven, Jesus directed his disciples (who had already believed in Him, been born again and baptized in water) to wait for the separate event of the baptism of the Holy Spirit, to be empowered before going out to minister. John the Baptist said that Jesus would be the One to baptize in/ with/ by the Holy Spirit. (Matt. 1:11, Mark 1:8, Luke 3:16). Every believer has the Holy Spirit when they become born again, (1 Corinthians 12:13) but sometimes the empowering baptism/ release of the Holy Spirit by Jesus happens at a later date. "If you then, though you are evil, know how to give good gifts to your children, how much more will your Father in heaven give the Holy Spirit to those who ask Him?" ~Luke 11:13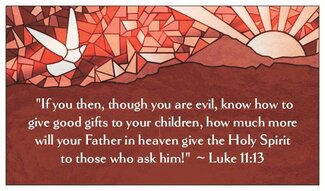 Our Vision: Where we Exalt the Lord Jesus Christ, Proclaim the gospel, and Make Disciples.
Our address is: 7 South St, Collinsville, CT 06020, USA