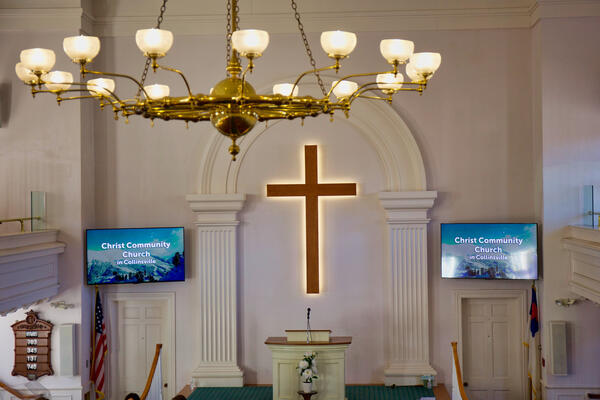 Christ Community Newsletter
Christ Community Church in Collinsville. Volume 4, #, August, 2022. Conservative Congregational Christian Conference
Welcome to Christ Community Church Newsletter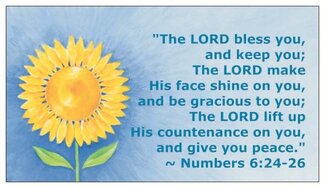 Here you will find the news of events, inside and outside of the church. Articles, opinions, testimonies, and other interesting tidbits to inspire and amuse.
If you would like to contribute a short article, testimony, encouraging word or quote, or an interesting or funny church sign, please speak to Rose.
Contact the church and the office manager will get the information to Rose.

On July 19 I traveled to Warwick, RI to attend the 74th annual Gathering of the Conservative Congregational Christian Conference, otherwise known as the 4C's. The 4C's is a wonderful network of around 400 churches and close to 800 ministers that our church has been a part of since 1993. Since it is a conference of congregational church, the 4C's isn't a denomination in the way the Presbyterians or Methodists are. As a congregational church, we acknowledge that Jesus is King and Lord over the church as do the other churches in the 4C's.
The Gathering attendance was close to 300 this year. From the moment I arrived on Tuesday afternoon until we all departed on Friday, there was something going on. There were plenary meetings where all the attendees would gather for worship and a talk/sermon. I have to say that hearing 300 voices singing praises to God was incredible! The keynote speaker was ED Stetzer who is part of the Billy Graham organization, a published author, and has made numerous TV appearances among many other things. one of the challenges he issued to us all was "don't live in a cul-de-sac off the highway of God's plan." Ed spoke in the morning and afternoon plenary sessions on Thursday.
There were a number of workshops that I also had the opportunity to attend. The first being an intro to the 4C's which was very informative. The speaker, Nick Granitsas, was pastor of First Congregational Church in Revere, MA for 45 years! He's a wonderful brother whom I was fortunate enough to meet back in March at a New England 4C's conference. We can all be encouraged to know that the 4C's has been around since the 1930's but has roots further back than that.
There were two other workshops that were edifying. The first was on knowing our identity in Christ. I was so taken by this workshop that I will be basing a sermon off of it in the coming weeks! the other was a workshop on starting a Grandparenting Ministry at our church. I ended up purchasing two books from the organization that led that workshop and will be praying about that ministry for us.
There were also delegate meetings where the administrative and business matters of the 4C's were discussed. During the first one on Wednesday morning I was officially acknowledged as a minister in the 4C's along with around 50 others. I had the opportunity to meet Ron Hamilton who is the Conference Minister of the 4C's and has been for some time. He is another wonderful brother in the Lord.
I met quite a few pastors from all around the country. Talking with other pastors is always a good thing to do. It is very edifying to do that. And we also share some ministry ideas with each other. And of course pray for each other.
So it was a blessed week that I believe will benefit us all! As we are al praying, let us also include prayers for the 4C's!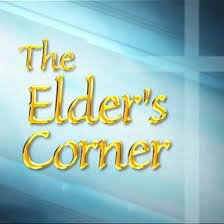 We would like to thank everyone who completed and returned the surveys that were distributed in July. The Elders' focus in August is to review the results of those surveys and use them to help us determine the bet way to serve our Lord Jesus Christ moving forward. Jesus is our "Chief Shepherd" who leads his flock, he knows our names and directs our discussions. Therefore we want to know what the Lord is revealing to each of you about CCC and our spiritual health.
Many of us vacation in August, visiting friends and family, or hosting them in our homes. This can be a great opportunity to "tell them what you know" about the gospel. Please invite them to attend worship services with us if you are home, or to join you in virtual worship while you are away.
1 Peter 3:15 "But in your hearts set apart Christ as Lord. Always be prepared to give an answer to everyone who asks you to give the reason for the hope that you have. But do this with gentleness and respect."
~Bob DuBois
The Recap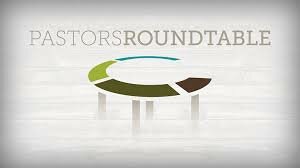 (Some of the items that are covered in the roundtable are covered separately in this newsletter).
MICE! Pastor Chris said there has been evidence of mice in the kitchen, so PLEASE clean up after any kitchen use! Laura is getting an exterminator quote.
MISSIONS TEAM:􏰀􏰇􏰊􏰄􏰎􏰂􏰍􏰒􏰅􏰃􏰍􏰎 􏰀􏰇􏰊􏰴􏰂􏰎􏰴􏰒􏰅􏰃􏰇􏰊􏰒􏰌 􏰀􏰁􏰂􏰃􏰄􏰅􏰃􏰒􏰊 􏰀􏰇􏰊􏰹􏰎􏰂􏰎􏰊􏰀􏰎Needs more members!! Rachel and Robb are currently the only ones. Please pray about joining so we can restart our missions effort. Hoping to help at least one mission by year end. Donations have been coming in.
DEACONS LIST: On the back table in Collins Hall are the lists if you need one. All folks for whom we have info for have been assigned a deacon with home to share needs. If you are not on the list, please let Debbie Laws know.
BAPTISM: If you would like to be baptized, contact Pastor Chris for information. We're planning a baptism ceremony on September 11 after the Sunday services, using the 2-1/2 ft. deep pool that Bob Dubois bought for us (Thanks Bob!!!)
HALLOWEEN PARADE OUTREACH: Pray for God's direction for an effective outreach on October 29. Possibly have folks available to pray with parade goes in sanctuary who desire prayer during/after the parade.
EXALT TEAM: "Time with God is timeless."
Team is exploring music for the baptismal service
Also discussing Rally Day, which will be on September 18. We will need canopy set up the day before. "All hands on deck" to make this a wonderful fellowship time!
Investigating security measures, possibly outside cameras. Please keep in prayer protection of church and attendees
If children start to attend, we need to be ready to teach them. Pray that younger families start attending CCC!
Will need someone to coordinate prayer on October 29
MAKE DISCIPLES TEAM:
Pray and invite folds to our services and events
We NEED some younger folks to keep CCC going because the majority of current attendees are getting "very mature"...(In other words, if things get better with age, we're approaching Magnificent"! ~Rose)
Discussing possible later afternoon bible study in the fall, especially for those who can't make a morning session
"Watch the bulletin...September is loaded!"
PROCLAIM TEAM:
Red Cross blood drive will be in Collins Hall on September 29. Need to finalize advertising and who will be doing what that day here
Movie night - possibly in October
Schoolhouse cleanup crew is saving past costumes for another potential Live Nativity (we can hope!)
Other possible future events being discussed include a potluck dinner, a talent show, and/or a game night
It's important to get everyone involved in at least one team (Exalt, Make Disciples, Proclaim) and/or event.
SCHOOLHOUSE TEAM:
Pastor Chuck said the Lions Club will help with manpower to get schoolhouse cleanup done on Saturday, September 3
IF you have ANYTHING in the schoolhouse, it MUST be removed before SEPTEMBER 3 or it will be tossed!
Don't touch any items marked with yellow tape
MUSIC LOFT STORAGE:
Laura Crowley said lots of non-music related items stored there that are blocking the sound of the organ and should be removed
Old choir robes are not good and should be discarded.
VACATION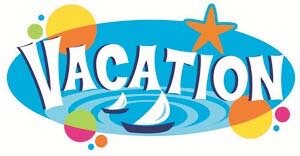 Pastor Chris and Patty will be on vacation August 8 - August 21.
Pastor Chuck will be preaching to fill in, with the elders doing communion. For all church related issues, please contact one of the Elders (Sepp Markkanen, Bob Dubois, Robb Storm, Dan Dickinson, or interim elder Kevin Salch).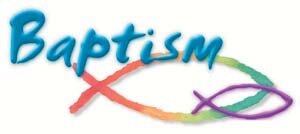 If you would like to be baptized, contact Pastor Chris for information. We are planning a baptism ceremony outside on September 11 after the Sunday service, using a 2-1/2 ft. deep pool that Bob Dubois bought for us.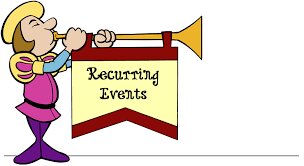 COFFEE VOLUNTEERS. Now looking for volunteers to sign up for September. If you have not done it before but would like to, there are several of people that are more than willing to help show the ropes.
ADULT BIBLE STUDY. Pastor Chuck is off for the summer.
HEALING PRAYER MEETINGS. There is a weekly Healing Prayer meeting at Buddy & Debbie's home on Tuesdays from 7-8:30PM. You are invited to join beforehand at 6:30PM when we gather to talk, laugh, catch up and enjoy some light, healthy snacks. It is our sincere hope that anyone who is in need of encouragement, hope, and prayer for yourself or your loved ones will come and allow us to minister to you. Please let Debbie or Buddy know if you will be attending by Monday evening.
SERMON DISCUSSION GROUP. "What was he talking about?" will be taking the month of August off. They will start up again on Wednesday, September 21
MEN'S DINNER FELLOWSHIP. Meet on the last Thursday of each month, at Michel Angelo's Pizzeria Restaurant & Lounge, 256 Main Street (Rt. 44) in New Hartford. They meet at 6pm. All men are welcome, and feel free to bring a neighbor, friend, etc.
GIRL'S NIGHT OUT. The girls are going back to George's Restaurant in Unionville. Still on the 3rd Thursday of the month at 6:30pm. We'll have a reserved table and meet at 6:30 pm. All are welcome!! Please let Jennifer know for reservations.
Monthly Prayer Breakfast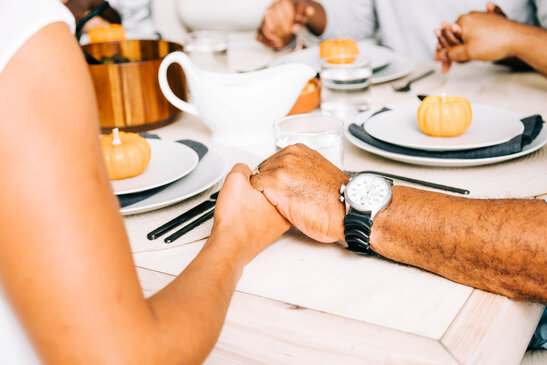 Saturday, August 20, at 9AM in Collins Hall
CCC has a monthly prayer breakfast on the third Saturday of each month. It's a blessed time with the Lord.
We'll begin at 9:00 AM with grace ad enjoy food and fellowship, and then begin praying together. This is a "Bring Your Own Breakfast"event.
You don't have to bring food to eat, and you can show up about 9:15-9:30 if you would like to come just for the prayer time. We know that where 2-3 are gathered, God and the Holy Spirit are there.
DEACONS ARE HERE TO HELP!
If you have a physical or financial need, direct communication with a Deacon Board member is always the best and fastest way to receive help! Our board includes Pastor Chris Bauer, Victoria Dubois, Caryn Turek, Carolyn Roberge, and Buddy and Debbie Laws. You may reach the Deacons at home using the church directory or you may email them directly and confidentially at deacons@christcommunitychurchct.org.
There is a Deacon Sector list on the back table in Collins Hall if you need to see who your Deacon is.
PLEASE: If someone expresses a need to you, direct them to a Deacon right away. If you are in need, contact a Deacon as soon as possible. This is the best way to receive prompt assistance.
WHICH TASK IS CALLING YOUR NAME?
The spreadsheet of tasks that Chuck and Patty created, by going through the church and the schoolhouse, are still on the back table in Collins Hall There are small things, like changing lightbulbs, replacing blinds in room 4, and other things like that to be done. There is also some yard work on the list - maybe some weeding around the church. Take a look and sign up if there's something you might be able to do! THANKS!!!!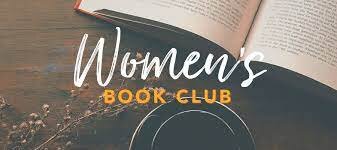 LADIES!
Please join us for our first summer Bible Book Club!
On Thursday, August 18, 2022 at 10:30 am we will meet in Collins Hall to discuss the books of James and Jude. All women are welcome to participate in the discussion of the book. The guidance of our study is coming from across the pond through the UK Bible Society. They have a user-friendly website that tells you about the book and some questions to consider (biblesociety.org.uk/biblebookclub).
A few printed paper guidelines for the books are in the back table of Collins Hall. If you have any suggestions or questions, please contact Linda P.
CANTON FOOD BANK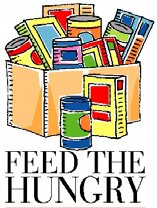 "And God is able to bless you abundantly, so that in all things at all times, having all that you need, you will abound in every good work."
~ 2 Corinthians 9:8 (NIV)
PLEASE bring your donations to the church on the 3rd Sunday of each month. The food will be prayed over and delivered to the food bank. The need is for nutritious, non-perishable food items such as:
Breakfast cereal
Peanut butter
Jelly
Canned Fruit
Soup
Bottled juice
Small sugar boxes
Coffee
Tea
Canned tuna
Mac & Cheese
Canned vegetables
Pasta
Pasta Sauce
Canned pasta (Chef Boyardee)
Canned meat (stews)
Low sale and sugar free items
Powdered Milk
Spices (salt, pepper, paprika, etc.)
We cannot accept any food item that is past its expiration or "best by " date. Thank you!!!
EAGLE CHRISTIANS ARE 'NOT' CHICKENS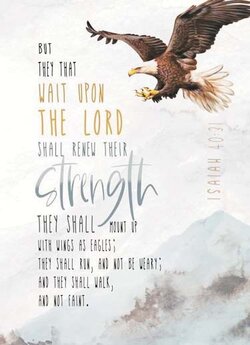 Eagles are born with big and heavy wings, and part of the survival mechanism they are born with is that they have to learn how to fly without actually flapping their big wings. As eagles fly, their wings are spread straight out and they are literally soaring with perfect ease on the wind currents. They have to learn how to do this in order to conserve energy; they can literally die if they expend too much energy flapping their wings during flight as opposed to soaring without flapping their wings. They have to learn to wait for what are called wind thermals to come up on them. A wind thermal is a big gust of wind that will rise up from the atmosphere. Sometimes eagles will remain perched for days before they can catch a good, strong, wind thermal, where they can then launch onto it and combine a mixture of flying and soaring on that strong wind thermal to take them to where they want to go.
"NOT BY MIGHT, NOR BY POWER, BUT BY MY SPIRIT," SAYS THE LORD. (ZECHARIAH 4:6)
What God is trying to tell us in this verse is that all things will get fully accomplished for Him in this life by the power of the Holy Spirit operating through us not by our own power or by our own might. Just like the eagle has to learn how to fly on the wind thermals - we, as born-again, Spirit-filled Christians, have to learn how to fly on the power of the Holy Spirit in our lives. It is God's power flowing and operating through us, not our own power. Our power is weak and limited, but God's power is pure and absolute.
The eagle has so many great attributes that are analogous to us as God's people such as superior eyesight (vision), live and fly in the heights (ruling and reigning with Christ), fearless (faith), and they are majestic (king's kids).
~Tom Stewart, an American pastor in Donegal, Ireland, writes many excellent posts on Facebook. Used by permission.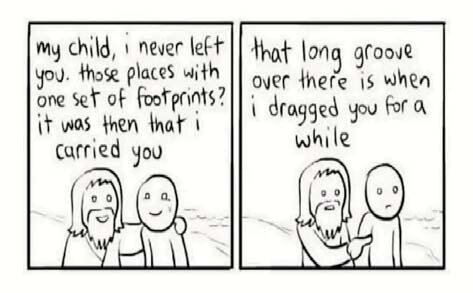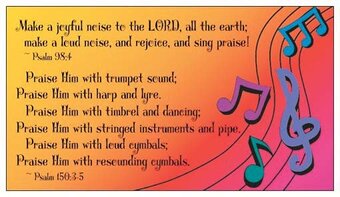 Our address is: 7 South St, Collinsville, CT 06020, USA