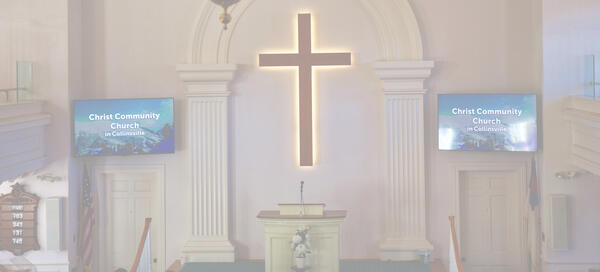 Christ Community Newsletter
Christ Community Church in Collinsville. Volume 4, #11, November, 2022. Conservative Congregational Christian Conference
Welcome to Christ Community Church Newsletter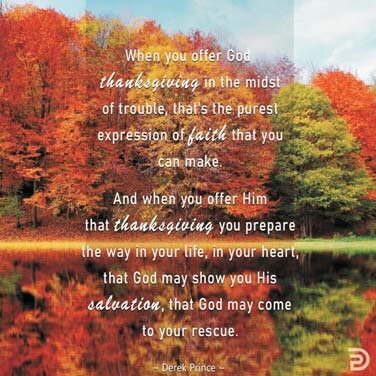 Here you will find the news of events, inside and outside of the church. Articles, opinions, testimonies, and other interesting tidbits to inspire and amuse.
If you would like to contribute a short article, testimony, encouraging word or quote, or an interesting or funny church sign, please speak to Rose.
Contact the church and the office manager will get the information to Rose.

"But--when God our Savior revealed his kindness and love, he saved us, not because of the righteous things we had done, but because of his mercy. He washed away our sins, giving us a new birth and new life through the Holy Spirit. He generously poured out the Spirit upon us through Jesus Christ our Savior. Because of his grace he declared us righteous and gave us confidence that we will inherit eternal life." (Titus 3:4-7, NLT)
I know it seems odd to start a passage off with the word 'but' because that imp lease there is something before this. And there is a sentence before this passage, which we will get to later. I first want to look at this little passage in a small epistle Paul wrote to Titus. There are five key words for us to think about:
Revealed
Saved
Washed
Poured
Declared
Notice each word is active but past tense. Everything has been done already.
He revealed or "brought to light" HIS kindness and love. God did it on His own. He wasn't persuaded or commanded to do it. He did it on His own. And what happened as a result?
He saved us. Saved or rescued us from eternal separation from Him due to our sinful natures. Our sinful nature is who we are. It's how we were born. It's in our DNA. And how did He do that?
He washed our sins away. Sin leaves us covered in the dirt from our lives. He cleansed it from us, giving us a new birth, a new life, a fresh start, a clean slate, all through the Holy Spirit.
And this Spirit He poured, which imp lease He gave us His Spirit in a full and unrestrained way. It flowed from His heart. It flowed from His love for us. And that ONLY through Jesus Christ. No others. And that led to an amazing thing.
He declared us righteous. Sin is paid for. Our wrongs are made right. Our wrong-ness becomes right-ness. And we can be confident that we will inherit (not earn, not work for, not deserve, but inherit) eternal life with Him.
Two more key words. Mercy and grace. His mercy. His grace. Nothing from us. Nothing from anyone else. Entirely His mercy on us, and His grace toward us. Remember I said there was a sentence before this passage. Here it is:
"Once we, too, were foolish and disobedient. We were misled and became slaves to many lusts and pleasures. Our lives were full of evil and envy, and we hated each other." Titus 3:3 NLT
That's who we are left to our own devices. We are misled, lost. We are slaves, addicted to habits, pleasures, worldly desires. We are FULL of envy, evil, prod. And we hate each other because we are ultimately self-centered people.
What side of that word are yo on today?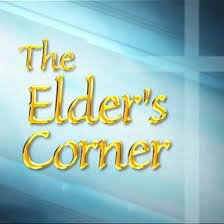 We are told in 1 Thessalonians 5:18 "give thanks in all circumstances; for this is God's will for you in Christ Jesus." The Elders are thankful for all of you who graciously contribute your time and talents to keep C.C.C. operational.
Updating and painting our building and grounds on a small budget is challenging to say the least. We recently replaced a leaking hot water heater in the basement with a new one that was generously donate by a person who wishes to remain anonymous.
Did you know that the Elders deal with many things that do not make it to the newsletter or the Pastor's Roundtable? If you have a matter that you would like to discuss with us directly, it will be held in confidence.
Our events calendar for November if full of opportunities to learn, fellowship, and spread the Gospel. Please attend whatever you can and invite your friends, neighbors, and families as well.
1 Timothy 4:4-5 "For everything God created is good and nothing is to be rejected if it is received with thanksgiving, because it is consecrated by the word of God and prayer." ~ Bob Dubois
The Pastor's Roundtable Recap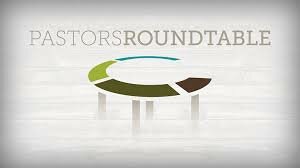 (Some of the items that are covered in the roundtable are covered separately in this newsletter).
EXALT TEAM:
Working on the Halloween Parade Outreach and Sanctuary
Working on upcoming holiday events (Thanksgiving, advent)
Discussing after New Year events
MAKE DISCIPLES TEAM:
Gideon training will take place after the New Year
Holidays are a time to reach out to family and friends
Discussing how to best use "Salvation Made Simple" pamphlet Bob ordered. This great tool will be available for sharing
PROCLAIM TEAM:
Organizing Halloween Parade Outreach
Will start planning a Family Movie Matinee (November 19), Advent Breakfast and other events
DEACON'S UPDATE: We are blessed to have 2 new deacons: Pat & Dorene Grace!!
CCC BROCHURE: The new trifold brochure bout CCC is finished and now available in the Narthex. Supplies are limited, so please only take what you need to give out. It lists all our contact info, address, website, Facebook page, YouTube info and more. Lots of information about services, vision teams, and other things that a person looking for a church home might want to know.
LITTLE FREE PANTRY: Nan Schleich mentioned that our free pantry needs more stuff, but nothing that will freeze (in jars, bottles, cans, etc.) now that cold weather is approaching.
HALLOWEEN OUTREACH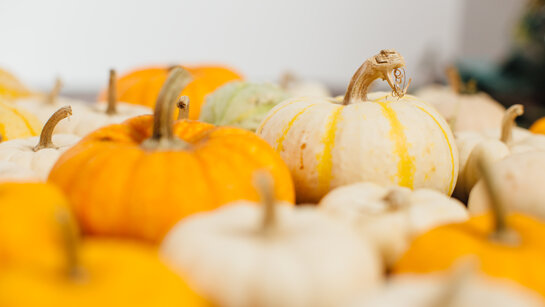 Thanks to all who contributed toward and/or volunteered for this event! Many adults and children received free beverages, donut holes, and tracts, and a good number watched the gospel videos in the sanctuary. Please pray that the Holy Spirit will water all the Gospel seeds that were planted, and that He will draw all to Jesus, and those He wishes to come to CCC>
FREE EMERGENCY CANDLES
Free candles (used for years in the CCC Christmas Eve candlelight service) are available in Collins Hall on the small table to the right of the kitchen. They have been replaced, but still have a lot of light to give and we have lots, so take what you need!
Operation Christmas Child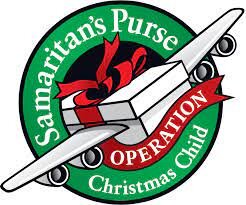 On Wednesday, November 9 in Collins Hall, we will have a packing party for Operation Christmas Child Shoe Boxes. Boxes are available, along with information on the best gifts to go into the boxes. Linda Kulick is in charge this year, with Rachel Salch as backup. If you have any questions, please contact Linda or Rachel.
On Sunday, November 13, we will dedicate the shoeboxes during the service. Please have your boxes completed and on the platform before the service starts, so we can bless them and send them on their way.
Deacons are Here to Help!!
If you have a physical or financial need, direct communication with a Deacon Board member is always the best and fastest way to receive help! Our board includes Pastor Chris, Victoria, Caryn, Carolyn, Pat and Dorene, Buddy and Debbie. You may reach the Deacons at home using the church directory or you may email them directly at deacons@christcommunitychurchct.org.
Please: If someone expresses a need to you, direct them to a Deacon right away. If you are in need, contact a Deacon as soon as possible. This is the best way to receive prompt help.
FAMILY MOVIE MATINEE
Saturday, November 19, at 3:00 PM in Collins Hall!!!
This is a free event!!
We will be showing A Charlie Brown Thanksgiving, followed by Chronicles of Narnia: The Lion the Witch and the Wardrobe.
Total running time is about 3 hours. Light refreshments will be served. This is a community outreach event, so PLEASE invite friends and neighbors, and PRAY that lives will be touched by God through us.
There will be a sign-up in Collins Hall or RSVP to the church office via email by 11/16 so we can estimate chairs and refreshments.
MASTER CLASS ON MEDICARE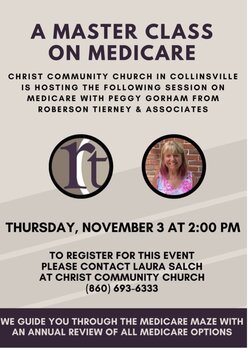 On Thursday, November 3, Peggy Gorham of Roberson Tierney & Associates gave a Master class on Medicare. She gave a presentation on how Medicare works, and how to get through the Medicare maze with an annual review of all the options, especially those that will be changing.
For those that attended, there was quite a bit of information given along with questions answered, which should help those deciding what's best. Peggy also went over how the state of CT helps with those with in need of financial assistance.
If you couldn't attend, Patty has a couple of copies of the presentation she can give you. She can also give you Peggy's contact information if you have any questions.
DECORATE CCC FOR CHRISTMAS

CHANGE IN THE DATE FOR DECORATING
On Saturday, November 26, there will be a crew decorating the sanctuary and Collins Hall for Christmas.
With advent starting on Sunday, November 27 - they would like to have it all done before hand.
There will be a sign-up sheet in Collins Hall for whatever you would like to help with. Along with a sign-up sheet for Pointsettias!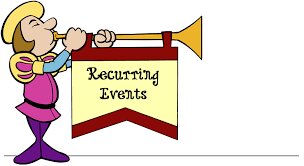 COFFEE VOLUNTEERS. Now looking for volunteers to sign up through the end of the year. If you have not done it before but would like to, there are several of people that are more than willing to help show the ropes.
HEALING PRAYER MEETINGS. There is a weekly Healing Prayer meeting at Buddy & Debbie's home on Tuesdays from 7-8:30PM. You are invited to join beforehand at 6:30PM when we gather to talk, laugh, catch up and enjoy some light, healthy snacks. It is our sincere hope that anyone who is in need of encouragement, hope, and prayer for yourself or your loved ones will come and allow us to minister to you. Please let Debbie or Buddy know if you will be attending by Monday evening.
SERMON DISCUSSION GROUP. "What was he Talking About?" The sermon discussion group meets on Wednesdays at 7:00 pm in Room 4. All are welcome. If you cannot make it to the church, we can ABSOLUTELY set up a Zoom meeting for you to call in and join us! Just contact the church office to let us know by noon on Wednesday. All are welcome!!
MEN'S DINNER FELLOWSHIP. NOTE: There will be NO meeting in November. Stay tuned for the date for this dinner in December.
GIRL'S NIGHT OUT. NEW LOCATION. Will meet at Good Friends restaurant (formerly Portabello's) on Main St. (Rt 44) in New Hartford on the third Thursday of the month. We'll have a reserved table and meet at 6:30PM. All are welcome! Please let Linda P. know for reservations.
Monthly Prayer Breakfast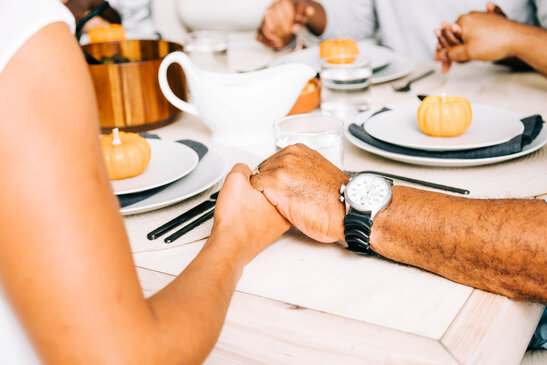 Saturday, November 19, at 9AM in Collins Hall
CCC has a monthly prayer breakfast on the third Saturday of each month. It's a blessed time with the Lord.
We'll begin at 9:00 AM with grace ad enjoy food and fellowship, and then begin praying together. This is a "Bring Your Own Breakfast"event.
You don't have to bring food to eat, and you can show up about 9:15-9:30 if you would like to come just for the prayer time. We know that where 2-3 are gathered, God and the Holy Spirit are there.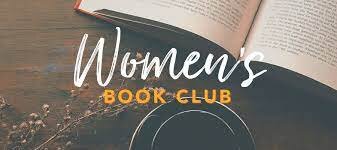 An Autumn Bible Study for Women began on September 21 through December 14 (not on 11/23). We meet weekly from 1:00 pm to 2:30 pm on Wednesdays in Collins Hall. Linda P. will facilitate the study of "The ACTS of the Apostles" in the New Testament. Our teacher will be Max Lucado, using his book Life Lessons from ACTS: Christ's Church in the World (Thomas Nelson, 2018). Max says on the back cover "What God did for the early Christians he can do for you." Join us if you can to dive into scripture together, by the power of the Holy Spirit, as we have since the church of Christ was founded.
CANTON FOOD BANK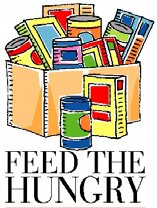 "And God is able to bless you abundantly, so that in all things at all times, having all that you need, you will abound in every good work."
~ 2 Corinthians 9:8 (NIV)
PLEASE bring your donations to the church on the 3rd Sunday of each month. The food will be prayed over and delivered to the food bank. The need is for nutritious, non-perishable food items such as:
Breakfast cereal
Peanut butter
Jelly
Canned Fruit
Soup
Bottled juice
Small sugar boxes
Coffee
Tea
Canned tuna
Mac & Cheese
Canned vegetables
Pasta
Pasta Sauce
Canned pasta (Chef Boyardee)
Canned meat (stews)
Low sale and sugar free items
Powdered Milk
Spices (salt, pepper, paprika, etc.)
We cannot accept any food item that is past its expiration or "best by " date. Thank you!!!
Our Vision: Where we Exalt the Lord Jesus Christ, Proclaim the gospel, and Make Disciples.
Our address is: 7 South St, Collinsville, CT 06020, USA