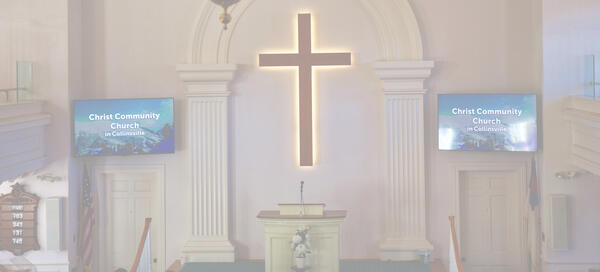 Christ Community Newsletter
Christ Community Church in Collinsville. Volume 5, #2, February, 2023. Conservative Congregational Christian Conference
Welcome to Christ Community Church Newsletter
Here you will find the news of events, inside and outside of the church. Articles, opinions, testimonies, and other interesting tidbits to inspire and amuse.
If you would like to contribute a short article, testimony, encouraging word or quote, or an interesting or funny church sign, please speak to Rose.
Contact the church and the office manager will get the information to Rose.

As we enter a new calendar year, I like to ponder the blessings that God might bestow upon our church. My prayer is that God will use us all as instruments in His hands to work out the spread of the Gospel and growth of the kingdom in order to reflect His glory into the world.
This coming year my prayer is that we see God working in two of our newer ministries: the Post-Abortion Trauma ministry and our reconstituted Missions Committee. Both of these ministries follow the same vision as our church. They both exist to exalt the Lord Jesus Christ and to proclaim His Gospel with a goal of making disciples. Bringing the compassion and love of Christ directly to those who suffer the after-effects of abortion or to help equip those in the mission field who are bringing the love of Christ to the lost serve to exalt His name through the proclamation of the Gospel in word and in deed. As God's love is made evident and hearts are changed, disciples are born. So we have two very exciting ministries that can have a tremendous impact on the world.
I am also looking forward to how God will open up more connections for us in our community. Let us be mindful of the lost souls in the square mile around our church! Not to mention those who live in the communities we live in. While you might not think you are called to evangelism, we are all told to always be ready to give an answer to anyone who asks for the reason of our hope (1 Peter 3:15). And the motivation is out of our love for Jesus Christ and His love for us. So, let us all be prepared to tell our friends about the place!
My prayer for all of you is that the Lord will bless you this year beyond your expectations! May He shower His love upon you and fill you with overwhelming hope and joy. May He also keep you and your family both physically and spiritually healthy.
"Give thanks to the Lord, for He is good; His steadfast love endures forever!" Psalm 107.1
Annual Meeting Recap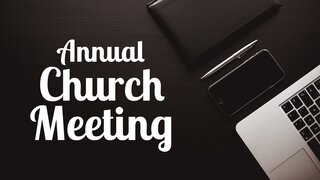 (Some of the items that are covered in the roundtable are covered separately in this newsletter).
The meeting was brought to order and the annual report was gone through section by section.
FINANCES. This income and expenses were discussed, there was one error in the chart that was stated and entered into the meeting minutes. The estimates for the Ministry Spending Plan for 2023 are also in the report. The members voted unanimously to accept the Estimated Income and Expenses Report. Pastor Chris wanted to let everyone know that 'special gifts' are not estimated as income for the coming year, but are not expected income. He also noted the growth in attendance, both in person and livestream over the past year.
SMALL GROUPS. Pastor Chris offered a comment in regards to the Pastor's Report; three small groups are meeting in a church wide study. The Monday night meeting is all on Zoom, and Zoom is available for the Wednesday afternoon adn Wednesday evening on request.
HOSPITALITY. Nan request more volunteers sign up to serve for coffee hour.
ANNUAL GIVING STATEMENTS. Patty said an email went out regarding giving statements. It has a link to Faithlife where you can get the statment. If you can't find the email, or are having trouble, let Patty or Rex know and they will get a printout emailed to you.
ANNUAL REPORT. The report went through section by section - with all the groups. No questions were asked about the reports.
CCC 200TH ANNIVERSARY. It was noted that there will be a 200th church anniversary in three years!
ORDINATION OF NEW ELDER. The second main concern (after the finances) was to elect an Elder. It was noted that Daniel Dickinson remains an elder but is on sabbatical. Kevin was elected as an elder by a unanimous vote. An ordination was held, as directed by Pastor Chris.
~ Based on the meeting minutes by Maureen - Thanks!
SOUP-A-THON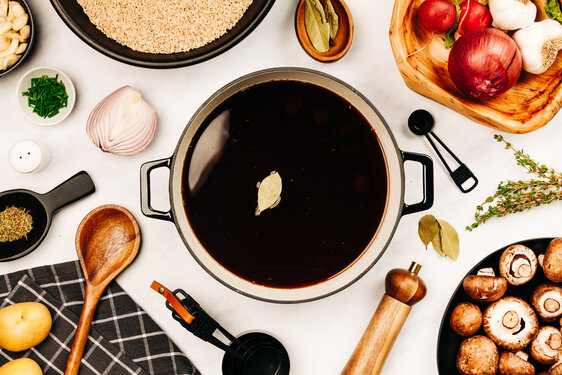 On Sunday, February 12, we aill have a Soup-A-Thon in Collins Hall, to benefit the Canton Food Bank!
Since we have many good cooks in our congregation, we are asking those who can to prepare a soup or chili at home, and bring it to church already hot in a crockpot. Bring it to the kitchen or Collins Hall BEFORE the service to plug in and keep warm.
After the service, the crockpots will be se tup and we can all take part in the scrumptiousness! There are takeout containers for those that can't stay, and for leftover soup once the event is over.
The soup really is FREE!
We will, however be collecting donations for the Canton Food Bank (cash, check made out to CCC with 'Canton Food Bank' in the memo, or even food). All the money and food that is collected this day, will be delivered to the Canton Food Bank. Let's show them that CCC cares and send some love to the community.
POST-ABORTION MINISTRY SERIES

This month Debbie was gracious enough to give us a 'testimony' from a woman that she counseled through her post-abortion ministry at Crisis Pregnancy Center.
"Before I was old enough to speak, I kenw. I knew that I was an accident. My parents, both just 17, were overwhelmed and struggling, and I was the reason why. They divorced when I turned two. Eventually my father moved across the country to start a new family, and his new family did not include me.
"From that point on it was just my mother and me, and I decided that to survive I needed to swear allegiance to my mother at all costs. She was all I had. And I must always be "good", manageable, and have no needs of my own.
"By early adolescence the empty places in my heart demanded to be filled. At 15, I was hurting, angry, rebellious...and pregnant. At that time, I considered abortion my only "real" option. I believe "it" wasn't really a baby. Abortion was my right. Afterwards my life would return to normal. At 12 weeks pregnant, my mother brough tme to her doctor, and I had an abortion. I remember the long, lonely weeks that followed. One hot July night, I watched as the sun set in the west. I knew I should feel something, like awe or gratitude or simple pleasure. All I could feel was an aching, cavernous hole in the depths of my chest. Something was missing. Only I didn't know what. I couldn't be missing the baby. It wasn't even a baby. Besides the abortion solved the problem. Right?
"Over the next couple of years, the empitness and darkness haunted me. I believed that no on could possibly help me, no one would understand. Around this time, I began to experience an overwhelming carving. I yearned for my baby. So, at the age of 18, sitll in college and living at home, I became pregnant. I was thrilled! I couldn't wait to have that baby! I told my parents right away. Caught up in the excitement, I never anticipated their response. They were furious and, beyond my worst fears, they began insisting that I have an abortion. I felt sick, like I had swallowed a bowling ball. I told my parents I didn't think I could survive another abortion, but they refused to relent. They dismissed all other options, even adoption! The baby's father quickly followed my parent's lead and I found myself alone. My parents hounded me daily, sometimes subtly, sometimes visciously. Some days I felt I could barely move beneath the weight of theri hatred. In the end, they made it clear that i had to choose between the baby or my parents. So, the little girl in me, so afraid to lose her mother's love, stayed faithful to the vow of allegiance she took years before and I chose to sacrifice my baby to the false gods in my life.
"During the nights before the abortion, I would lie in bed and talk to my baby and tell her how sorry I was. Sorry that I wasn't brave enough. Sorry I was such a terrible mother. The day came in Late March. This time, while at a Planned Parenthood Clinic, while fully awake for the procedure, I lay there knowing that my baby, helpless and defenseless against the world, with no voice of her own, was being destroyed; and I, the one God purposed to protect her, I let the doctore take her life. I fully expected to die that day, believing that if God did not destroy me as I deserved, the pain certainly would.
"Thank God, He doesn't give us what we deserve. Even in my darkest hours, He never abandonded me. While I was willing to let the pain consume me, He was not. About ten years ago, my husband and I gave birth to our oldest daughter. Instead of experiencing the joy I had hoped for, I was terrified. Horrible thoughts swarmed around my mind: "What are you doing? You can't be a mother. Your are a Baby Killer. That baby won't love you. You are worthless." I became depressed and ridden with anxiety to the point of panic.
Through a series of events only God could have designed, I found about the Crisis Pregnancy Center in Unionville, CT, where they offer Post-Abortion Counseling.
"I remember feeling that going there would be a waste of time. After all, I had two abortions, and I was a Christian when I had one of them. I believed I had stepped outside of God's grace. I clearly remember the first day I met with Debbie. I sat in the rocking chair, talking and crying for well over an hour. When I had finished, I lookp at her thorugh blurry, tear-filled eyes. She just looked back and said gently, "Well, I believe we can help you." Next to the gospel, those were the sweetest words I had ever heard. Hope. A light in the darkness. In the next weks and months that followed I met with Debbie every week in her office. Every week I watched and waited for the judgement I deserved. Only it never came. She was, to me, the arms and hands of God - gracious, compassionate, and merciful.
"Thus began a long process of healing. Above all I learned that I was not alone and that I was not crazy. I was experience Post Abortion Syndrome; something many post-abortive women experience, only because of our grief and shame, we suffer in silence. For the first time ever, someone validated my loss, my pain, and the physical psychological, and spiritual trauma of the abortions. The CPC was a haven, a hospital, a safe place to talk. Debbie helped me to understand that athough accepting Chris did not erase the pain, He would help me bear the burden. I learned that God created, lvoed, and wanted me and that I was not an accident. And i Learned that the only one I ever need swear allegiance to is Jesus Christ. The hardest part of all has been truly accepting that my babies are real; because that also menat accepting their death and saying good-bye for now. I wrote letters to each of them, telling them all I had longed to say and asking their forgiveness.
"Many times, as part of the healing process, Debbie had suggested that, when remembering the abortion experiences, I invite Jesus into the operating room with me. This was very difficult, and I avoided that thought for years. Then, one Sunday morning after listening to another woman's testimony about her post-abortion experience, God granted me this picture:
"I am lying on the table in the abortion room, and I can see
the faces of the doctors and nurses. I hear their voices and
the groaning of the machines, and I feel them ripping my
baby from my body. I am alone and afraid. Then, suddenly,
just over the doctor's shoulder I see Him. Jesus is walking
toward me, and, in his arm, He is holding my babies and
smiling at them. Then He slowly looks up at me, and He
smiles. And while I keep my eyes on His face, the noise of
the machines and the doctors and the nurses and the
pain and the fear all fade away. Until all I see is Him.
"And I know that while all that is in this world tried to destroy the lives of my babies, Jesus has the victory. My babies are not missing or lost or even left for dead. They are safe, in his arms, in Heaven. God's mercy alone is more than I will ever deserve.
"Three years ago, after the birth of my youngest daughter, I had a feeling in my heart that I could not recognize. When I asked the Lord about it, He answered me with a vision of an old-fashioned wax seal on my heart and impressed upon it was the name: Jesus. This was the first time in my life I experienced true joy.
"You see my God didn't take me back as a hired hand, offering me leftovers and hand-me-downs. He took me back as His daughter. He ranto me and brought me His ring and His robe. He threw a celebration and is returning to me all the gifts he ever intended since before the beginning of time - restoring fulling unto me the years that the locusts had eaten. ~N"
What an amazing testimony on how this woman worked through her pain and suffering, and how Christ used Debbie and her ministry to help Nicole through her process. Debbine and Ihope that this touched you and that you would love to learn more about her ministry and want to help. If so, please contact Debbie.
~Reported by Patty Bauer
HOW TO GET ONTO THE CCC LIVESTREAM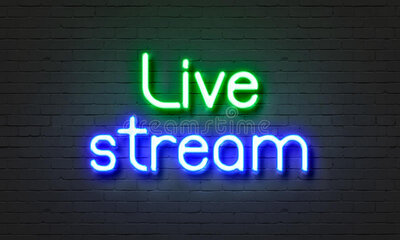 There have been several questions about how to get onto the livestream when you can't make to to church. I thought this would be the best way to let you know how to do it.
Go to the church website - www.christcommunitychurchct.org
Scroll about halfway down the home page, you'll see 'Virtual Worship with CCC'
Click where it says "Watch Sundays at 10". Hit that button at 10 or a couple of minutes before.
It will bring you to the church YouTube channel. This is what the YouTube home page looks like:
In the lower right corner, you will see "LIVE"; click on that picture and you are in.
You should be able to see the links for the bulletin, lyrics, and scripture readings in the description underneath the video. They are also on the website home page.
IF you have a 'gmail' account and are logged into YouTube, you should be able to chat with us.
SO you don't miss anytime we are live, you can SUBSCRIBE to the church. To do that:
Under the livestream you should see a button that says SUBSCRIBE.
Once you hit that button, you will be subscribed and it will look like:
Click the down arrow on the right of the Subscribed bell, you will see this list - click ALL
You will then be subscribed and will receive a notification every time CCC is online.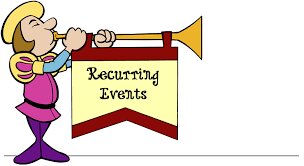 WOMEN'S BIBLE BOOK CLUB. The study of Revelation 1-3 will begin on Wednesday, January 11 at 1:00PM in Collins Hall, and runs for 8 weeks. This is the same study that the other groups in our church will be doing during the same weeks. Everyone is encouraged to get a copy of the "Seven Letters to Seven Churches" LifeGuid study guide, available in the CCC office for $5. Linda will facilitate the study. Contact Linda if you are interested.
~~~~~~~~~~~~~~~~~~~~~~~~~~~~~~~~~~~~~~~~~~~~~~
HEALING PRAYER MEETINGS. There is a weekly Healing Prayer meeting at Buddy & Debbie's home on Tuesdays from 7-8:30PM. You are invited to join beforehand at 6:30PM when we gather to talk, laugh, catch up and enjoy some light, healthy snacks. It is our sincere hope that anyone who is in need of encouragement, hope, and prayer for yourself or your loved ones will come and allow us to minister to you. Please let Debbie or Buddy know if you will be attending by Monday evening.
~~~~~~~~~~~~~~~~~~~~~~~~~~~~~~~~~~~~~~~~~~~~~~
SERMON DISCUSSION GROUP. "What was he Talking About?" The sermon discussion group meets on Wednesdays at 7:00 pm in Room 4. All are welcome. If you cannot make it to the church, we can ABSOLUTELY set up a Zoom meeting for you to call in and join us! Just contact the church office to let us know by noon on Wednesday. All are welcome!!
~~~~~~~~~~~~~~~~~~~~~~~~~~~~~~~~~~~~~~~~~~~~~~
MEN'S DINNER FELLOWSHIP. NOTE: At Michel Angelo's Pizzeria Restaurant & Lounge, 256 Main Street (Rt. 44) New Hartford, CT. We usually meet the last Thursday of each month at 6:00PM. All men are welcome.
~~~~~~~~~~~~~~~~~~~~~~~~~~~~~~~~~~~~~~~~~~~~~~
GIRL'S NIGHT OUT. The girls meet on the third Thursday of each month. Please keep an eye out for where we are meeting this month. We will have a table reserved and meet at 6:30PM. All women are welcome. Please let Linda know for reservations.
Monthly Prayer Breakfast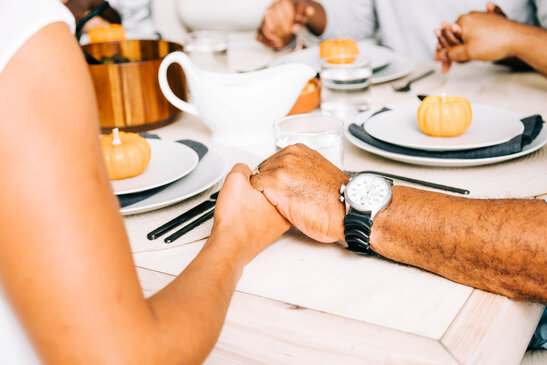 Saturday, February 18, at 9AM in Collins Hall
CCC has a monthly prayer breakfast on the third Saturday of each month. It's a blessed time with the Lord.
We'll begin at 9:00 AM with grace ad enjoy food and fellowship, and then begin praying together. This is a "Bring Your Own Breakfast"event.
You don't have to bring food to eat, and you can show up about 9:15-9:30 if you would like to come just for the prayer time. We know that where 2-3 are gathered, God and the Holy Spirit are there.
DEACONS & GREETERS for FEBRUARY
Below are the Deacons that will be taking care of Communion:
February 5 - Pat & Dorene
February 12 - Victoria
February 19 - Caryn/Buddy & Debbie
February 26 - Buddy & Debbie
The Greeters will be:
February 5 - Buddy & Debbie
February 12 - Chuck & Nan
February 19 - Pat & Dorene
February 26 - Buddy &
CANTON FOOD BANK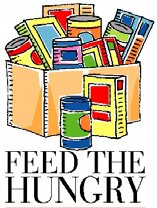 "And God is able to bless you abundantly, so that in all things at all times, having all that you need, you will abound in every good work."
~ 2 Corinthians 9:8 (NIV)
PLEASE bring your donations to the church on the 3rd Sunday of each month. The food will be prayed over and delivered to the food bank. The need is for nutritious, non-perishable food items such as:
Breakfast cereal
Peanut butter
Jelly
Canned Fruit
Soup
Bottled juice
Small sugar boxes
Coffee
Tea
Canned tuna
Mac & Cheese
Canned vegetables
Pasta
Pasta Sauce
Canned pasta (Chef Boyardee)
Canned meat (stews)
Low sale and sugar free items
Powdered Milk
Spices (salt, pepper, paprika, etc.)
We cannot accept any food item that is past its expiration or "best by " date. Thank you!!!
Our Vision: Where we Exalt the Lord Jesus Christ, Proclaim the gospel, and Make Disciples.
Our address is: 7 South St, Collinsville, CT 06020, USA