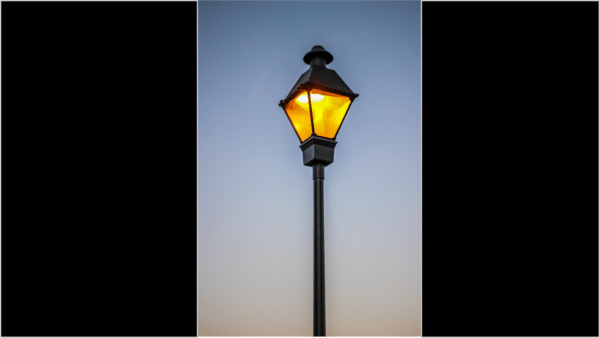 The Lampstand
Newsletter of Christ Community Church Hagerstown, MD
Welcome to Faithlife Equip
Faithlife Equip is a host of online applications to help you in your walk with Jesus, as well as to be a part of the Community of Faith at Christ Community Church.
We were looking for an online giving platform and we found this host of applications that is Faithlife Equip. Each of these will be detailed in this newsletter, so you can make use of as few, or as many as you desire. Faithlife Equip includes:
Online Giving
Faithlife TV, think of it as a Christian version of Netflix or Hulu. It include tons of free stuff, Bible School and Seminary lectures, as well as Christian Entertainment.
Proclaim for worship slides and the Digital Bulletins
Christ Community's own online streaming station for Worship Services
Bible Screen, a continuous playing of soft music with Bible verses displayed as worship slides
A new website which integrates our calendar, newsletter, sermons
Faithlife App, which includes our own church application through which you can access: Events, Prayers, online giving, a directory, and a link to our newsletters
Logos Bible Software. This powerful Bible study tool can take you deep into God's Word to discover for yourself the truths of the powerful Word of God.
If you are already a part of Christ Community Church, you should have received an invitation to be a part of Faithlife Equip. If you are interested in becoming a part of Christ Community Church, talk to one of the leaders, or Pastor Kris Nyman
Thanks for your interest in, or having become a part of Christ Community Church, and the way the tools within Faithlife Equip can take you into all that Paul describes this way:
"For this reason I bow my knees to the Father of our Lord Jesus Christ, from whom the whole family in heaven and earth is named, that He would grant you, according to the riches of His glory, to be strengthened with might through His Spirit in the inner man, that Christ may dwell in your hearts through faith; that you, being rooted and grounded in love, may be able to comprehend with all the saints what is the width and length and depth and height—to know the love of Christ which passes knowledge; that you may be filled with all the fullness of God." (Ephesians 3:14–19, NKJV)
Online Giving
Access Online Giving from the comfort of your home, or anywhere you have internet access.
We started looking for a way to incorporate online giving when the Pandemic hit and we were all worshipping from home. Pastor Kris continually reminded us of the importance of giving and many of you took the time to write and mail checks to the church office.
We found Faithlife Equip, and in addition to Online Giving, it comes with lots of other stuff, which you can explore in other articles in this newsletter.
As a part of Christ Community Church you should have already received an email invitation to get started. If not, just send an email to Pastor Kris ccchurchpastor@gmail.com and he will get you started.
You need to download the Faithlife App from either Apple or Google Play
Welcome To Your Faithlife Church Group
Welcome to your church group on Faithlife.com! This group is designed to be the online hub to help your church communicate, coordinate, and grow. The easiest way to find your group is to go to Faithlife.com and create your personal account, or sign in if you already have a Faithlife account. This shows your personal Faithlife feed. It contains content from every group you've joined. To view a specific group, select it on the left. If the images below are not big enough, hopefully you can pinch zoom them to enlarge them.
The image below on the left-hand Community panel inside your group is the main navigation for all the resources and connection points available in your group.
Now that you're a part of your Faithlife group, here are some of the things you can do.
Christ Community's Church Group Page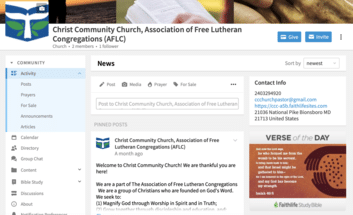 Note: Some of these options may be restricted, depending on how your admin has set up the group. If you have specific questions about your group, contact Pastor Kris.
View the Directory
The Directory displays the names, contact information, and other relevant details for people in your group.
Note: Learn more about using the Directory.
Directory view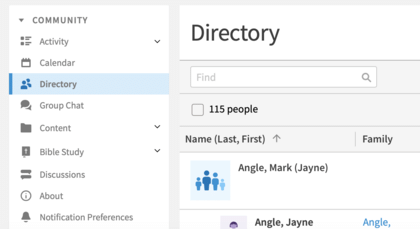 In the Find search box you can type a first name, last name, etc to find the person you are looking for.
Send a Message
Messaging via Faithlife is a great way to keep in touch, send updates, and encourage your community.
Click the messaging icon in the upper right and select New message
Select whether you want to send a message to your church group, start a conversation on a topic, or message an individual.
If you select Group, type the name of your group in the address box and press Enter. You'll enter the group chat for your church group, where you can send messages and more (Note: Your group permissions may not allow messaging the group).
If you select Topic, type a description for the topic, then enter the people you want to be included in the discussion.
If you select Person, type the name of the person you want to message and press Enter. You'll enter a one-on-one chat with that person.
Note: Learn more about messaging with Faithlife messages.
Messages in FaithLife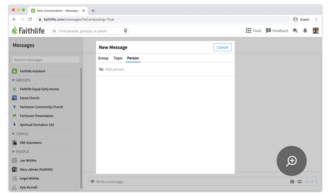 Install the Faithlife Mobile App
Installing the free Faithlife Mobile App gets you access to your Faithlife group from anywhere (cellular data or a WiFi connection is required). You can use the mobile app to send messages, share photos, view events, watch sermons, and more. Learn more

When you go to get the app from your App Store, this is what you are looking for.
Access Resources Licensed to Your Church
Since your church has subscribed to Faithlife Equip, you get access to three broad categories of resources in Logos for the Church:
Here's how you can access your material:


Logos Bible Software
Logos empowers anyone for in-depth Bible study. You received 260+ resources, including commentaries, Bible dictionaries, and more, including:
English Standard Version
Spurgeon Commentary Collection: New Testament Letters (10 vols.)
NT176 The Gospel Message in the Early Church
Louis Berkof's Systematic Theology
You can access your content via the web, desktop apps, or mobile apps. With any method, sign in with your email and password for your Faithlife account to access your content licensed through your church.
Connect on the web: To access your resources on the web, enter app.logos.com into your web browser. If you're not already logged in, provide your email name and password for your Faithlife account.
Connect through a desktop app: You can also access your Logos content through our Windows or Mac apps. Download for free
Connect through a mobile app: You can also access your content through our Logos mobile apps


Faithlife TV: Christian TV and movies
Faithlife TV is a Christian video-streaming service featuring Bible teaching, documentaries, dramas, kids shows, and more. You can watch it on your phone, iPad, laptop, or Smart TV. You can also use it to share your church's own video content.
Stream thousands of hours of video
Choose from hundreds of kids shows, documentaries, and more
Watch your church's own video channel
Turn on the Faithlife Bible Screen to fill your home with Scripture
Watch it on mobile, desktop, or a Smart TV
Seminary-level teaching
To access your Faithlife TV content at FaithlifeTV.com, sign in with your Faithlife email and password to see all your content.
Notable features:
Kids Mode: Parents love Faithlife TV because it's safe and entertaining for their kids.
Browse menu: Scroll to see the available categories of content or expand the Browse dropdown menu.
Ways to Watch: You can watch anywhere, on your TV, mobile device, or on any computer
Note: There are three tiers of content available on Faithlife TV: 1) Free content, like anything your church posts, 2) Faithlife TV subscription content, including hundreds of movies, shows, and educational content, 3) individual items available for purchase in the store.
Faithlife/Logos Mobile Ed. Courses
Faithlife Courses bring seminary to your living room—but without the homework. Enjoy over 200 courses spanning more than a dozen topics in 5–10 minute segments for manageable, digestible learning. The courses available to you through your church are video-only courses. The best way to access them is from Faithlife TV.
Learn from trusted Christian professors, pastors, and scholars as they teach on a wide array of subjects, like Bible, theology, leadership, church history, and counseling.
Go to FaithlifeTV.com and sign in with your Faithlife email and password.
Navigate to Logos Mobile Ed.
Expand the Browse menu and select the Logos Mobile Ed category.
Choose a course to watch.
You have access to dozens of courses across a variety of topics. Choose one to get started. A course description provides a basic preview of the content.
A Large Variety of Bible School and Seminary Level Courses are Available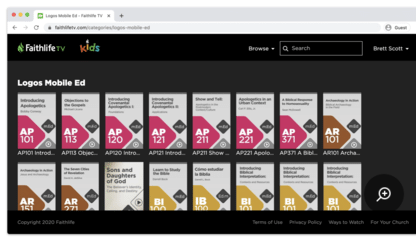 You get One-on-One Instruction
Scroll down to access a dropdown menu displaying all the sections included in your course. Most segments are 5–10 minutes long so you can learn step-by-step—even on the go!
Note: Because your courses are available on Faithlife TV, you can access your content anywhere—on your TV, computer, or even on the go!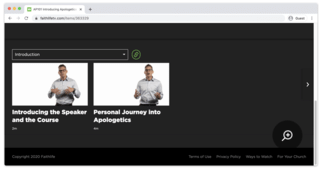 You can pause, go back, take notes and use your tools in Logos Bible Study to dig deeper into God's Word!
Magnifying God, Growing Together, Engaging Lives!
Our address is: 300 S Artizan St, Williamsport, MD 21795, USA